What to invest in this year?
With uncertainties caused by COVID-19 persisting, gold, stock, and real estate are still promising investments for Vietnamese investors in 2021.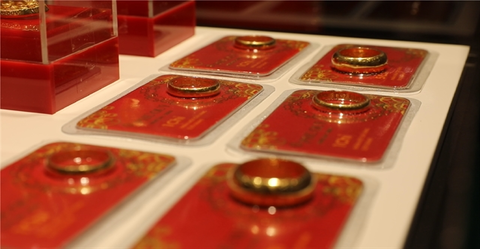 Gold is expected to rise back to over $2,000/ounce levels in 2021. 
Gold is still a safe heaven
The price of gold in international markets has been on a downward trend since the second half of last year as many investors have turned to the US dollar as a new safe haven and COVID-19 vaccines are developed and manufactured.
However, the gold price is expected to bounce back to US$2,000/ounce in 2021, so the precious metal is still a good investment for idle money.
The successful trials of COVID-19 vaccines have taken away some of gold's appeal, but the rapid spread of new variants of coronavirus, which have been found in Viet Nam recently, and prospects of more stimulus packages from central banks and governments to kick-start economies after the health crisis will support the precious metal.
"The prospect of more stimulus packages after US President Joe Biden took over the White House will boost gold in the near future," said Phan Dung Khanh, Head of Investment Advisory at Maybank Kim Eng.
"So investors can take advantage when the gold price is in low territory to invest. However, gold is just suitable for long-term investors and they need to invest when the difference between local and international gold price is low."
Right after the inauguration, US President Biden proposed a US$1.9 trillion stimulus package. Gold is usually considered a hedge against rising inflation and currency debasement that can result from massive stimulus.
Last year, the gold price fluctuated a lot in both local and international markets.
In international markets, gold hit over $2,000/ounce for the first time in history in August as the US dollar receded, then plunged after that.
Meanwhile, in the local market, the gold price surged in the second half of 2020 and even peaked at a historic level of over VND62 million/tael from around VND42 million/tael at the beginning of 2020.
Stocks an attractive investment
The expert from Maybank Kim Eng expects the market's positive level to fall in 2021 despite impressive economic growth last year.
"Even when the economy recovers well, if new investors and individual investors still dominate the market while lacking other large cash inflows from foreign investors and organisations, the the market will struggle to cross new peaks," Khanh said.
However, he believed that "stocks remain an attractive investment in the near future but couldn't beat that of 2020," and investors have to choose sectors that attract capital.
The market strongly fluctuated since the beginning of the new year. It continued last year's rally in the first half of January with many analysts expecting the market could hit its historic peak of over 1,200 points.
But it witnessed corrections in the next sessions due to selling pressure for profit booking. Especially, the VN-Index posted its biggest daily loss in history at the end of last month after new COVID-19 community cases were reported. And it recovered again.
However, analysts are still optimistic about the market and expect it will recover in the short-term.
Stocks have become more popular as an investment channel during the pandemic as transactions can easily be done via phone calls or mobile applications.
The market's benchmark VN-Index rose nearly 15 per cent last year despite a deep fall at the end of March.
Real estate still has room for development
With economic recovery, real estate is also a promising investment in 2021.
Prof. Dr. Dang Hung Vo, Former Deputy Minister of Natural Resources – Environment, said that Viet Nam's real estate including agricultural, industrial, resort and housing segments, has huge potential. In the housing market, our urbanisation rate just reached 38 per cent which means to become an industrial country the level of urbanisation must be around 70 – 80 per cent.
"Therefore the potential growth for housing and urban development is really high," said Vo.
The shift in foreign investments from China will lead a huge amount of cash flow to Viet Nam's market and support the industrial segment.
However, the downside of Viet Nam's real estate industry is that the law on land and real estate is not strong enough and too complicated for businesses and foreign investors.
"Our potential is really huge but our law on land and real estate is not consistent. And the law on land, which is its foundation, has not yet been fixed, leading to a reduction in housing demand," said Vo.
In 2019 and 2020, the number of projects receiving approval fell ten times, which meant that in the next 3 – 5 years, housing supply will decline significantly, he added.
"Viet Nam has more real estate investment opportunities than other more mature Asia-Pacific markets, although certain difficulties remain," Matthew Powell, Director of Savills Ha Noi, said in a statement.
"The standout prospects are in industrial, logistics, and Grade A offices in Ha Noi and HCM City. For individual investors, real estate remains a favourite investment channel for its mid-term capital growth potential."
Some domestic developers might focus mainly on residential real estate, while other more specialist investors like industrial and logistics sector from apartment or resort development. — VNS

Investors are pinning their hopes on different investment channels this year despite the many difficulties and risks brought about by COVID-19, analysts have said.

China's Newsweek ran an article recently highlighting the positive outlook for Vietnam's economy.