Stock investors advised to hold fire in sell-down
Recent index falls could trigger another correction in Vietnam's stock market, despite a positive long-term outlook among foreign investors.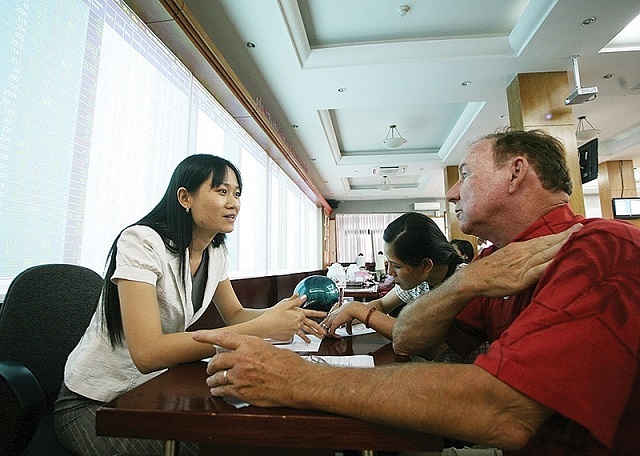 Stock movements have helped the country remain competitive against rival markets
In the second half of March, the country's stock market witnessed dramatic drops in its main gauge, the VN-Index. Most notably on March 21, the index tumbled below the 1,000-point mark to 981 points, losing 2.05 per cent of its overall value in just one day of trading. The downward trend continued for four days, when another fall of 19 points saw the index fall to 970 points, after which the trend turned and the index has been on a steady climb to reach 990 points on April 5.
In light of these bearish movements, analysts at Vietcombank Securities advised short-term investors to stay out of the market in the short term. According to researchers, the nation's stock market currently lacks any major updates that could potentially push stock prices up, with negative sentiments expected to persist for the time being. As a result, investors are recommended to hold their ground, rather than rushing in to buy cheap stocks.
Do Bao Ngoc, deputy research director at Kien Thiet Securities, pointed out that recent declines in the market were caused by a number of large-cap stocks, all of which had been strong performers beforehand. Most of the smaller stocks remained stable, which supports the view that the market is currently not entirely pessimistic. He added that the falls could be attributed to profit-taking measures such as investors wanting to cash in after enjoying a three-month rally of stock prices.
"I think it is a part of market mechanisms to return the value of a stock back to a reasonable level. Some stocks, especially blue-chip ones, have risen in recent months, prompting some investors to lock in their profits," Ngoc noted.
The researcher believed that the VN-Index may linger around the 960-point mark throughout April, before heading upwards to around 1,050 points during the second quarter of 2019.
This sentiment is shared by other researchers, who said that the equities market needed a small correction period after enjoying three months of strong growth from 860 to more than 1,000 points. Moreover, slight decreases can be considered healthy for a market in the long run. In fact, the market had already witnessed a similar, more dramatic shift last year when the VN-Index hit a 10-year peak at 1,200 points in April before plummeting in July and August.
This correction essentially ended a year-long boom in the domestic stock market where concerns of a bubble were ­beginning to emerge. It also sent the VN-Index's valuation down to 15x or 16x, making stocks more reasonably priced to investors. This price ­stabilisation also helped ­Vietnam maintain its competitive edge against other similarly sized stock markets, whose ­valuation ranges between 15x to 20x.
Despite seeing market volatilities in late March, foreign investors remain net buyers of Vietnamese equities. They remained on the buying side for five consecutive sessions of the Ho Chi Minh Stock Exchange, with VND197 billion ($8.56 million) worth of purchases. The Hanoi Stock ­Exchange also recorded net purchases from non-­Vietnamese investors.
The fact that foreigners continue to purchase Vietnamese stocks could positively affect the entire market, as many domestic investors use this as a reference for their own trading. In other words, when Vietnamese investors see foreigners investing in a stock, their sentiment is likely to become more positive, despite the fact that foreigners only account for 20 per cent of trading in the nation's stock market.
Strong liquidity is another reason to remain optimistic. For example, on March 25, at least VND6 trillion ($260.87 million) worth of Vietnamese stocks exchanged hands, despite the index undergoing a dramatic drop, helping some in the market maintain a bullish outlook.
Le Vuong Hung, head broker at Viet Dragon Securities, said that he expected the price of the country's blue-chips to level out during the corrective period, reducing the possibility of another great swing.
Moreover, Hung pointed out that recent volatilities in Vietnam may have been a spill-over effect from international markets, rather than intrinsic problems within the domestic stocks themselves. Late March in particular saw interest rates from the United States' 10-year Treasury bonds fall below the three-month rate for the first time since 2007, which usually indicates a recession. The concern rattled stock markets in the US and Asia, along with news that US President Donald Trump may maintain tariffs on Chinese imported goods.
"Vietnam is part of the regional and global slipstream," said Hung. By the end of last month, however, global markets edged up as the US Federal Reserve delayed its hike whilst trade relations between the US and China showed signs of improvement. Other central banks, from Japan to Europe, also offered stimulus programmes which could provide new funds for global investors. The impact of these positive updates may also spread to Vietnam, according to Hung.
In their latest report, SSI Securities forecast that consumer goods firms, such as Phu Nhuan ­Jewellery, Mobile World ­Corporation, and Minh Phu Corporation, are likely to post strong earnings. Financial ­institutions, from Vietcombank to Military Bank, are also ­expected to be strong ­performers.
"These firms either benefit from the New Year business season or are already showing signs of long-term growth. In the short term, we'd advise ­investors to seriously consider these stocks," SSI wrote. VIR