VN-Index may face correction pressure when nearing 1000 points

The VN-Index is forecast to face correction pressure when approaching the 1000-point milestone this week as market sentiment is responsive to global market fluctuations, analysts said.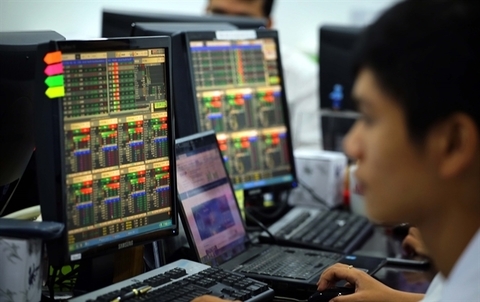 Brokers at a stock trading floor in Ha Noi. — Photo baochinhphu.vn
The benchmark VN-Index on the Ho Chi Minh Stock Exchange dropped 0.48 per cent to close on Friday at 992.45 points.
The southern market index gained a total of 1.27 per cent over last week.
An average of 170.6 million shares were traded in each session on the southern bourse, worth VND4.2 trillion (US$181 million).
On the Ha Noi Stock Exchange, the HNX-Index ended Friday down 0.24 per cent at 103.25 points.
The northern market index had rallied a total of 0.88 per cent last week.
Nearly 26 million shares were traded on the HNX in each session last week, worth VND354 billion.
According to Tran Minh Hoang, market analysis director at Vietcombank, the VN-Index recorded a strong increase last week with the bottom catching demand always ready to support it whenever the index fell.
However, the market tended to face declining pressure when it neared the 1000-point level as investors seek profits. Therefore, volatility is likely to continue in the coming weeks, Hoang told tinnhanhchungkhoan.vn.
Tran Duc Anh, director of Macroeconomics and Market Strategy, KB Securities Viet Nam (KBSV), said next week, with the market undergoing a lack of supportive information as the second-quarter earnings season had finished, global developments in political and economic conditions would have a dominant influence on the market, especially results of the annual meeting of central bankers in Jackson Hole.
The VN-Index was fluctuating while moving nearer to the "sensitive" landmark of 1,000 points, the index might experience choppy trading sessions next week, he said.
US President Donald Trump announced on Friday that Washington would impose an additional 5 per cent tariff on Chinese goods, hours after Beijing announced its retaliatory tariffs on about $75 billion worth of US goods in the latest tit-for-tat moves in their bilateral trade spat.
The escalating US-China trade war stoked worries about a global economic recession and this will drive the market sentiment down and result in negative responses among investors.
According to Bao Viet Securities Company, next week, the VN-Index is forecast to move sideways between the support zone of 975-980 points and resistance zone of 1000-1005 points.
"It is forecast to continuously face correction pressure to fall to the resistance zone around 985 points early next week. Stock divergence will be present by stock group and even stock sectors. Investors should also pay attention to oil stocks and bank stocks. Money flow could be attracted to stocks of industrial zone, farming and fishing stock," BVSC said in its Friday report.
Viet Dragon Securities Company said in its report that buying forces were weakening because VN-Index was approaching its important resistance at around 1000 points. Traders should not use high leverage at this stage.
The group of "Vin" stocks performed well last week with Vingroup (VIC) and Vinhomes (VHM) gaining strongly. VIC rallied 2 per cent and VHM had an impressive increase of over 4 per cent.
Oil and gas group also gained strongly. PetroVietnam Drilling and Well Services Corporation (PVD) was the market's darling with a sharp rise of nearly 13 per cent last and was in the top 10 stocks with the most positive influence on the market last week. — VNS