VN corporate giant in worrying situation
Vietnam's top dairy company – Vietnam Dairy Products Joint Stock Company (Vinamilk) - has witnessed a strange financial movement, contrary to the strong uptrend of the stock market.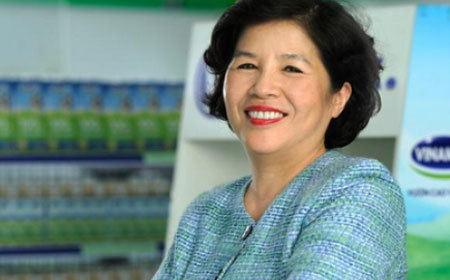 CEO Mai Kieu Lien of Vinamilk.
Since early 2021, the price for Vinamilk shares (VNM) has decreased by about 22% from the peak of VND116,000 per share to VND90,000 per share, while the VN-Index increased by about 20% and many blue-chips recorded an increase of 50-70% during this period.
For many years, VNM was a stock of growth. Its prices rose steadily even when the market was quiet. It was once the company with the largest market capitalization in the stock market for the longest time.
With the breakout of many large stocks and the backward move of VNM, Vinamilk's market capitalization dropped quickly and fell out of the top 5 largest market capitalizations.
Currently, Vingroup of billionaire Pham Nhat Vuong is the largest enterprise on the stock market with more than VND410 trillion ($17.6 billion), followed by Vietcombank with VND370 trillion, Vinhomes with VND350 trillion, Hoa Phat Group of billionaire Tran Dinh Long with over VND220 trillion ($9.4 billion) and Vietinbank with VND190 trillion.
In fact, Vinamilk stock has remained at the average price in the past three years, not decreasing or increasing much. Vinamilk shares were sold by foreign investors recently while the demand from domestic investors is not high.
While banks, steel and real estate companies reported unprecedented profits, Vinamilk recorded a decline in profits.
In the first quarter, Vinamilk's profit was less than VND2.6 trillion, 9% lower than the same period in 2020. Its revenue also decreased and fell to the lowest level in the past two years.
At the company's shareholders' meeting 2021, CEO Mai Kieu Lien said that Vinamilk planed to do business cautiously because the situation has many uncertainties.
In late 2019, Vinamilk for the first time boosted exports to China - the world's second largest dairy market. The potential of China's billion-people market is huge. However, there were risks for Vinamilk because of policy instability and huge competition in this market. It took Vinamilk 10 years to find a foothold in this market.
Vinamilk's growth problem must also take into account the general decline in demand. In Vietnam and China, the demand for milk is still increasing due to population growth. However, the increase in people's living standards along with the need for nutritional control may also be something that dairy companies like Vinamilk must consider in the future.
Vinamilk has diversified products and developed organic products, and expanded its distribution channel network with separate store chains. However, these moves increased selling costs, and without good control and governance, Vinamilk may face difficulties.
In fact, the amount of fresh milk consumed by Vietnamese people is still low, only about half that of Thailand, but consumption trends can change quickly and competition in the domestic dairy market is huge. Vinamilk's rival - TH True Milk - is also thriving, with strong financial potential.
V. Ha

Statistics by securities companies show that in 2020, foreign investors had net sold more than VND39 trillion in the stock market.