Virus rouses food safety awareness in Vietnam

Supermarkets and retailers in Vietnam are making bank from the public rushing to stock up on indispensable food supplies, which could ultimately push forward an increase in awareness of food handling and safety.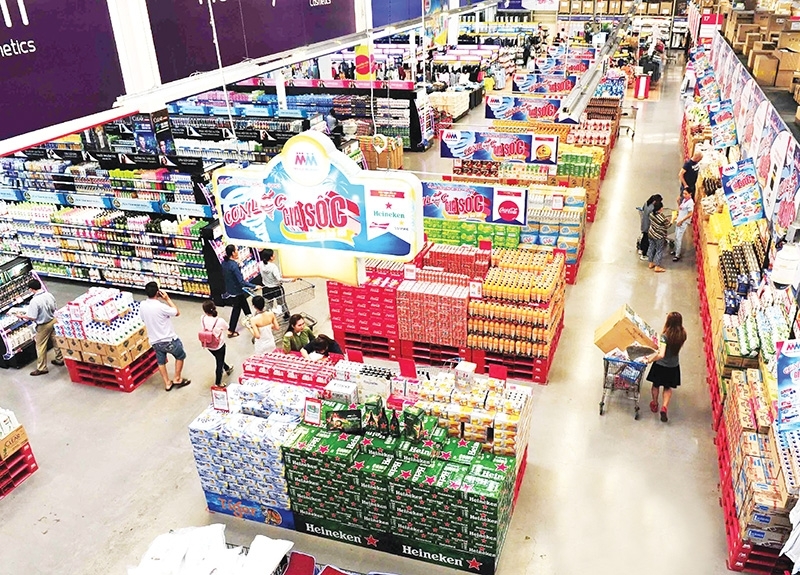 Sparked by the outbreak and high prices after the holiday, supermarket food quickly depleted
After finishing work at the office, Ngo Thai Bao in Cau Giay district, Hanoi dropped by the nearby VinMart to buy some food, but there were only a few shrivelled old cabbages and carrots left on the shelves.
"With the coronavirus spreading across the world, I do not feel like letting my family eat out, and will keep our children at home. For this, I need to stock up our fridge but there are no vegetables left and most of the fresh meat is also gone," she said, leaving the shop empty-handed.
A cashier at the same store explained, "We receive a lot of vegetables and meat every morning, but most products are sold in only half a day. Just an hour ago, a woman filled her car with food."
She added that since the end of January when the coronavirus was first detected in Vietnam, people have been buying food in far larger quantities to hoard at home in case the epidemic strikes the area.
Tran Phuong, a resident from Hanoi's Thanh Xuan district, told VIR of very similar difficulties, failing to find satisfactory vegetables or meat on the shelves. "It is the same with cookies and bread – the popular brands are always sold out," said Phuong, who then had to go to the wet market to buy food for dinner.
Last week, Trinh Hoa, a teacher at a primary school in Hanoi's Hai Ba Trung district, left the building earlier than usual to visit the Intimex supermarket on Le Duan street to buy groceries, with her usual buying habit of asking her husband to come along and carry home as much food as possible.
"On the TV, in the media, on Facebook, and at every office, everyone recommended avoiding crowded places to eat, so I will only eat food I made by myself," Hoa said. That day, they bought 30kg of rice, three cartons of noodles, and dozens of cartons of milk, along with almost 10kg of meat, dozens of eggs, and canned food.
These should last her family for two weeks. "I will make breakfast, lunch, and dinner every day, instead of having breakfast and lunch out like we did before. Anything we buy outside could lead to us being infected, so I would rather not touch anything to keep my family away from the virus," she explained.
Due to worries about the coronavirus, city dwellers have been flocking to supermarkets, some of which have been running empty.
VinMart+ convenience stores stock their shelves full of vegetables every morning. "We managed to draw in a lot customers because wet markets are too expensive after the holiday, while our prices remained unchanged during and afterwards. Especially, with the coronavirus outbreak, retail units like us are working much harder than last year to ensure adequate supply," a cashier at VinMart+ told VIR.
At an MM Mega Market supermarket, a staff member from the imported meat division, also told VIR that sliced beef, of which they imported 150 plates after the Lunar New Year, was sold out within two days. "Customers kept asking for it, and we are waiting for new shipments," she explained.
The rising demand has contributed to increasing the sales of meat and vegetable suppliers. Vu Anh Tuan, vice senior general director of C.P. Vietnam, the largest farming company in the country, told VIR that the group sold an average of 16,000-17,000 pigs a day, up 5 per cent on-year. According to the group's forecast, its sales will retain that growth momentum in the coming time.
Raised awareness
According to international medical professionals such as Food Standards Australia and New Zealand and the German Federal Institute for Risk Assessment, the chance of the coronavirus being transmitted via food is "unlikely", as was the case during the SARS and MERS outbreaks previously.
However, in the words of Bui Bich Lien, CEO of Orfarm, an organic farm operated by Japanese standards, the current epidemic highlights the need for people to pay more attention to food hygiene and safety, which plays a key role in strengthening the immune system.
"Vietnamese people stock up on medicines while improving their immune system," Lien said. "In recent times, the increasing sales at our stores come from regular customers who are aware of the importance of clean food. They also prefer cooking at home instead of going out to make sure their food is safe and that they can avoid crowds. Besides that, sales have also increased thanks to foreign customers – however, they still spend less than our Vietnamese customers," Lien said.
A growing preference for safe food products is apparent among customers, who turn in larger numbers to brands they have faith in – and are even willing to fork out more for it.
This is apparent in the newly-earned popularity of Masan Group's MEAT Deli products. Before the holiday and the coronavirus outbreak, these chilled fresh meat items were often bypassed on the shelves of VinMart+ for cheaper alternatives that were also perceived as safe just for being on the shelves of VinMart+.
However, MEAT Deli products have been selling in increased numbers since the epidemic due to the brand's stronger reputation as safe and clean – factors some customers seem to be willing to splash out on.
Customers also have a strong preference for supermarkets over wet markets because they believe the former are cleaner and deemed safer for shopping.
Supermarkets also offer stable prices, even during the outbreak. Chicken and pork currently cost approximately VND130,000-160,000 ($5.60-7) per kg, while vegetables remained at the same price as before the Lunar New Year, at around VND5,000-10,000 (20-40 US cents) per pack.
Numerous supermarkets in Vietnam such as Big C and Lotte Mart came under fire last year for selling goods of poor quality or unknown origins, including withered vegetables, unlabelled food, non-certificated chicken and meat, and in the case of Big C, even veal overrun by maggots.
The coronavirus epidemic becomes the right time for customers to pay closer attention to the quality of the food they purchase and eat, and plans by authorities to stage irregular inspections at retail outlets to check the quality of goods and maintain market stability may be just what is required to change shopping, eating, and safety habits.
According to Article 17 of Decree No.109/2013/ND-CP issued in 2013 on penalties for administrative violations against the law on pricing, fee management, and invoicing, a fine of VND20-30 million ($870-1,300) shall be inflicted on taking advantage of economic crises, natural disasters, wars, fires, epidemics, unusual circumstances, and state policies to impose irrational prices. Remedial measures include compulsory remittance of the money earned from irrational pricing to the government budget.
Khuc Tien Ha - Managing director Big C North
Since the epidemic broke out, our customer volume has tripled compared to the figures before. The most sold-out products are vegetables, fruit, instant meals, and canned food, as well as essential goods such as face masks and handwashing soap.
People have rushed to supermarkets to buy these products because the supply at traditional and wet markets was impacted by the icy rain and the long Lunar New Year holiday. Meanwhile in supermarkets, including Big C, both the supply and the selling price of these products remain stable.
Regarding face mask products in particular, Big C has co-operated with Vinatex to provide customers with high-quality products at reasonable prices. Especially, we reserved face masks which are strong enough for Big C's staff to use for up to three months.
Vu Thanh Son - General director, Hapro Mart
Currently, the novel coronavirus epidemic has been causing difficulties for output of provinces specialising on planting dragon fruit and watermelons, in provinces such as Binh Thuan, Gia Lai, Long An, and Tien Giang. To realise the call of the Ministry of Industry and Trade, the Ministry of Agriculture and Rural Development, and Hanoi Department of Industry and Trade in supporting farmers in the wake of possible wider expansion of the epidemic, BRG Group has committed to buying over 200 tonnes of fruit.
The programme has been carried out in 24 stores such as Hapromart, Haprofood, Intimex Home & Food, Seikamart, and Fujimart under BRG Group since February 5, at a price without profit of VND6,900 (30 US cents). This is a practical way for us to express our responsibility to the community, suitable with BRG's motto of bringing the best service and products to consumers. The group's retail units such as Hapro have over the years been proactively stablising prices, promoted market demand, and took Vietnamese goods to rural areas.
Nguyen Anh Duc - Standing deputy general director Saigon Co.op
People's demand during the crisis for products such as masks and handwashing soap has risen. They rush to buy these two products at sky-high prices at pharmaceutical stores, medical markets, and on social networks.
However, many people are unaware of the stable prices at supermarkets which can afford because of their wide distribution and warehouse networks.
Notably, in our supermarket systems, which includes Co.opmart, Co.opXtra, Co.op Food, and Co.op Smiles, despite specialising in supplying food and essential goods, within five days all of them sold three million masks without increasing their prices.
In order to meet the soaring demand on masks and handwashing soap, the company worked with suppliers across the country to supply 200,000 masks and 10,000 handwashing bottles every day.
On regular days, Co.opmart and Co.opXtra sold from five to 10 packs every day, but at the peak time of the coronavirus so far, the figure reached 300-500 packs each with 50 units per pack, and these were sold out in one or two hours.
In a number of supermarkets, we further divided larger packs into small ones of either five or 10 units in order for every customer to be able to buy the product. VIR

Kim Hara

As Vietnam's population continues to grow, coupled with increasing incomes and the rising demand for new food and beverage markets, issues related to sustainability and food safety management standards have become crucially important.

The owner of a food processing facility in Ho Chi Minh City was sentenced to one and half a year in prison on Friday for breaking food safety regulations, according to court reports.