Vietnamese pepper farmers hit by huge losses

Pepper prices have been rapidly falling due to the global oversupply, causing Vietnamese growers to face massive losses.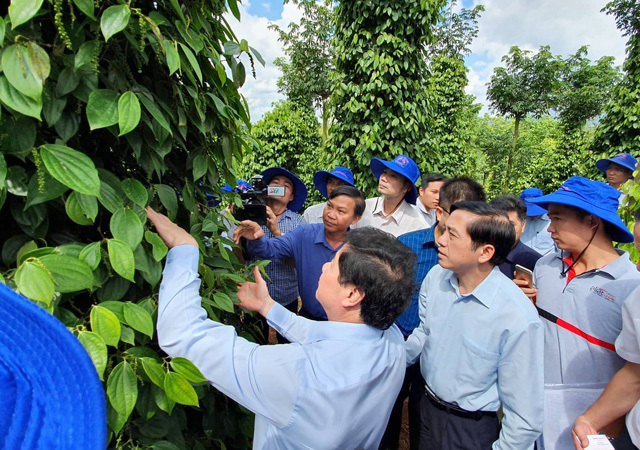 Pepper prices on the sharp fall
According to the Ministry of Agriculture and Rural Development, the country's pepper area was increased to 148,800 hectares in 2018 from 35,300 hectares in 2001, up 400%.
During the period, Vietnam accounted for 40% of the world's total pepper productivity and 60% of global exported pepper amount during the 2001-2018 period. 
Vietnamese pepper has been exported to 105 countries and territories worldwide. The product export value was estimated at USD90 million in 2001 and the figure grew to USD758.8 million in 2018.
Over the past three years, global pepper supply increased 8-10%, while the consumption increased only 2%, leading to the sharp price drop.
At present, Vietnamese pepper is sold at around VND46,000 per kilo compared to VND250,000 previously. With great losses, many farmers were unable to repay loans.
Despite being the world's biggest pepper exporter, the Vietnamese pepper industry still faces many challenges, including food hygiene and safety concerns in foreign markets.
The use excessive use of fertilizer and pesticides to boost productivity weakens the natural resistance of pepper trees. As the trees grow more vulnerable to pests, farmers apply higher doses of chemicals. So, in many cases, excessive chemical residue has been found in Vietnam's exported pepper.
The Ministry of Agriculture and Rural Development forecasted that the local pepper sector would continue struggling with difficulties because of oversupply and lower prices.
Experts suggested the necessity to ensure pepper quality to meet export requirements. It was essential to offer preferential loans for farmers and extend repayments for them.
Deputy Minister of Agriculture and Rural Development Le Quoc Doanh said that Vietnam's pepper area should be curbed at just 100,000 hectares.
Dan Viet/Dtinews

Experts have said Vietnam's pepper industry had better change its growth model and enhance quality to take advantage of free trade agreements (FTAs).  

Before the pepper price began to fall last year, trucks often rumbled into towns in the Central Highlands province of Gia Lai delivering batches of concrete pillars to pepper farmers.