Vietnamese cooking oil market heats up

The cooking oil market in Vietnam has become more competitive than ever, with many firms jumping into the industry.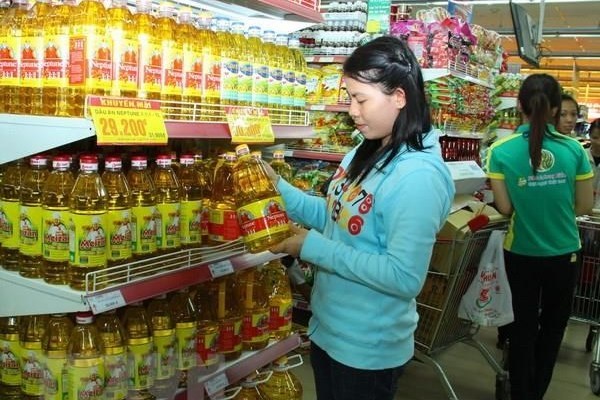 The cooking oil market in Vietnam has become more competitive than ever, with many firms jumping into the industry.
Fierce competition among domestic brands
A domestic cooking oil giant - the Kinh Do Corporation (KIDO) reported a fall in its cooking oil revenue in the second quarter due to considerable competition, with the corporation's earnings falling by more than 20 percent to 1.67 trillion VND (72.2 million USD).
Among KIDO's three member companies operating in cooking oil, which are Tuong An Vegetable Oil Company (TAC), Vietnam Vegetable Oils Industry Corporation (Vocarimex) and Golden Hope Nha Be Edible Oils Co.,Ltd, only Golden Hope Nha Be had profitable business during April-June.
TAC gained 869 billion VND in the period, a year-on-year decrease of 14 percent, while Vocarimex experienced a drop of 35.21 percent to 694 billion VND.
Despite formidable challenges, KIDO still saw cooking oil as an attractive sector thanks to the large market and potential purchasing power.
Sao Mai Group, which focuses on property trading and seafood processing, has also entered the cooking oil market with its Ranee premium fish oil in 2014. The firm said although the market is competitive, it is still firm on the decision as there are no domestic or foreign producers making cooking oil from tra fish.
Meanwhile, logistics services provider Daso Group launched two new vegetable oil brands of Ogold and Binh An, and Quang Minh Vegetable Oil Joint Stock Company produces cooking oil with its Mr Bean, Soon Soon and Oilla brands.
Cooking oil consumption in Vietnam is estimated at 9.5 kilogrammes per head per annum, lower than the level recommended by the World Health Organisation (WHO) of 13.5 kilogrammes. Therefore, the business community sees opportunities in the Vietnamese cooking oil market.
Relying much on import
According to Malaysia's Primary Industries Minister Teresa Kok, who led a Malaysian business delegation to a palm oil trade fair in Ho Chi Minh City recently, Vietnamese producers can meets only 40 percent of the total demand for cooking oil that is about 1.5 million tonnes each year, which means the country has to import the lion's share from other countries, including Malaysia.
In the first half of the year, Vietnam purchased 242,700 tonnes of cooking oil from Malaysia, or 23,200 tonnes more than the same time in 2018.
Teresa Kok suggested Vietnamese and Malaysian investors work together to expand business cooperation in cooking and palm oil. Relishing bright prospects in the Vietnamese market, many Malaysian firms are planning to invest or expand in the Southeast Asian country.
Consumers benefit from competition
Statistics from the Ministry of Industry and Trade show there are some 40 firms engaging in producing and trading cooking oil in Vietnam, of which palm oil makes up 70 percent and soil bean oil accounts for 23 percent.
More businesses joining in the local cooking oil market means consumers have more options to buy high-quality products at rational costs.
As for suppliers, they should improve production to sharpen their competitive edge./. VNA