Vietnam works towards responsible, sustainable fishery sector
Vietnam's fishermen, businesses and government have joined hands in implementing fishing regulations, in a bid to have the European Commission (EC)'s illegal, unreported and unregulated (IUU) fishing "yellow card" removed. ​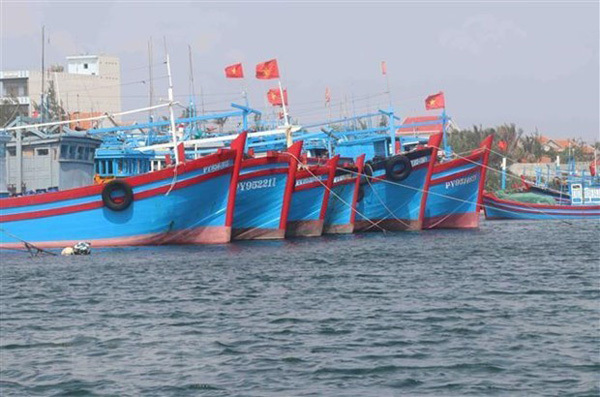 Illustrative image (Source: VNA)
According to the Directorate of Fisheries under the Ministry of Agriculture and Rural Development, the EC has lauded Vietnam's efforts in fighting IUU fishing over the past four years, saying the country has made progress in implementing domestic regulations and laws in this regard.

Vietnam's legal framework has basically matched international regulations, thus facilitating the building of a sustainable, responsible fishery sector with international integration.

The implementation of relevant regulations in the Law on Fisheries 2017 and documents guiding the enforcement of the law has borne fruits.

More than 87 percent of fishing boats measuring at least 15m in length have been equipped with journey monitoring devices, and all fishing boats with a length of 24m and above have completed the installation of the devices.

Forty-nine fishing ports in 28 coastal cities and provinces have traced the origin of caught products. Exports to the European markets have undergone thorough inspections.

Moreover, the IUU Committee of the Vietnam Association of Seafood Exporters and Producers (VASEP) has intensified communications among the business community.

For the Government, Prime Minister Pham Minh Chinh has issued Decision No. 339/QD-TTg dated March 11, 2021 approving the fishery development strategy to 2030 and a vision to 2045.

He asked relevant ministries and agencies and People's Committees of the 28 coastal cities and provinces to raise the sense of responsibility to complete key tasks and solutions.

Accordingly, the domestic fishery sector aims to reduce the exploitation volume from 3.8 million tonnes to 2.8 million tonnes.

Ministries, agencies, sectors and localities were requested to synchronously carry out solutions to combat IUU fishing, towards a sustainable fishery sector.
Source: VNA

The European Commission will convene an online meeting with the Directorate of Fisheries on October 27 to review Vietnam's efforts against illegal, unreported and undocumented fishing.

If Vietnam does not focus on removing the IUU (Illegal, unreported and unregulated fishing) yellow card and violations continue, it is very likely that the EC will switch from yellow card to red card.

Vietnam is determined to gradually reduce the number of fishing vessels violating regulations on illegal, unreported and unregulated (IUU) fishing in order to have the 'yellow card' issued by the European Commission (EC) removed by 2022.