Vietnam to face competition from India in aquaculture exports
 Vietnam's aquaculture exports will face stronger competition from India in the traditional market of Japan, because India is striving to triple the domestic aquatic product output in the near future.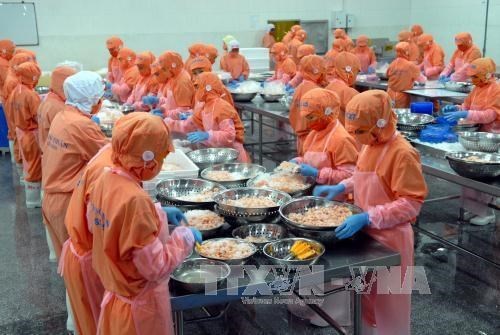 Processing shrimp for exports
The Indian Government has approved plans to support the building of shrimp breeding facilities and improve unused water resources for aquaculture.
India also moves to develop tiger prawn farming in western Bengal, Kerela and Karnataka to boost the export of shrimp to Japan, especially on the occasion of the Olympics Tokyo 2020.
Vietnam earned 1.8 billion USD from exporting seafood in the first quarter of 2019, a year-on-year rise of 0.5 percent, according to the Department of Farm Produce Processing and Market Development under the Ministry of Agriculture and Rural Development.
Japan, the US, China and the Republic of Korea were the main leading importers of Vietnamese aquatic products in the first two months of this year, making up 52.8 percent of the total export turnover from this product.
Strong growth was seen in Mexico (up 35.6 percent), the Philippines (up 25 percent), Malaysia (up 21.6 percent), the UK (16.6 percent), and Canada (up 13.7 percent).
The country also imported 416 million USD worth of aquatic products in the first three months of this year, up 2 percent on a yearly basis.-VNA