Vietnam targets contraband, counterfeit goods sold online

Jewellery, cosmetics, supplements, liquor, clothing and footwear sold online are among the Ministry of Industry and Trade's (MoIT) targets in their upcoming campaign to fight contraband and counterfeit goods.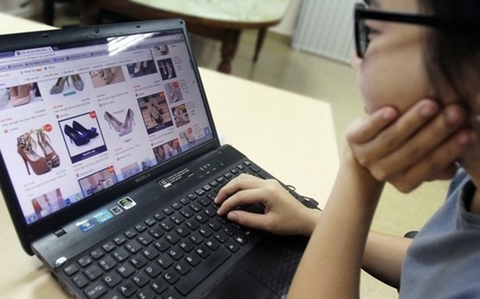 An online shopper looks at an e-commerce website. The Ministry of Industry and Trade plans to kick start a campaign targeting contraband and counterfeit goods across the country. — Photo thuonggiaonline.vn.
The campaign was reported to run until the end of 2020 in most commercial centres across the country, including in large cities such as Ha Noi, HCM City, Hai Phong, Thanh Hoa, Nghe An, Da Nang, and Can Tho, according to the MoIT.
Owners of online trading websites and e-commerce apps should expect at least a visit from market authority officials with many more to come should signs of contraband, counterfeit goods and violations of intellectual property rights be detected on their platforms. Websites and trading apps with such products advertised and traded face severe penalties.
Notably, MoIT's findings may give cause for the police to open criminal investigations and press charges against individuals and businesses that were found to be repeatedly and systematically breaking the law. Other forms of penalties such as administrative fines and citations will also be in effect.
The ministry said the campaign aims to protect the rights of businesses and consumers alike, while raising awareness on the adverse effects of smuggling, counterfeiting and commercial fraud.
Detailed guidelines and instructions will be provided to help vendors and buyers better understand online trading laws and regulations. Also, steps will be taken to detect and prevent the trade of contraband, counterfeit goods and items of unknown origin.
Throughout the campaign, shortcomings and limitations on current anti-contraband and anti-counterfeiting legislation will be documented and reviewed by the country's market surveillance agencies. The agencies, in turn, are tasked with submitting their input and recommendations to strengthen the Government's position in supervising and managing online trading activities.
Market surveillance agencies were asked to work together with the legal department and department of e-commerce and digital economy to review, make adjustments and improve current e-commerce legal mechanisms.
The agencies were ordered to produce a detailed report, which is to be submitted to industry and trade minister Tran Tuan Anh before the end of the year.
In 2018, Viet Nam's e-commerce revenue reached nearly US$2.27 billion and was on the list of the six most developed e-commerce countries, with 85 per cent of the population using the internet, ranking 13th among the 20 countries with the highest proportion of internet users in the world.
Vietnamese consumers spend an average of 7 hours a day online. 90 per cent of the urban population and 50 per cent of the rural population use smartphones. According to the Viet Nam E-Business Index 2019 Report 2018, the growth of e-commerce in the period 2017 - 2019 averaged between 25 per cent and 30 per cent per year. If Viet Nam maintains this growth, the market in 2025 will rank third in Southeast Asia, following Indonesia and Thailand. — VNS

Thousands of fake motor parts imitating the two leading motorcycle manufacturers Honda and Yamaha were found by Lang Son province authorities, showing that counterfeit and fake goods are growing into a serious social issue.

HCM City has handled 903 violations and arrested 863 violators since the beginning of the year for smuggling or counterfeiting goods.

Experts and members of the publishing industry talks to Tuổi trẻ newspaper about the rampant increase of counterfeit books on the market and how to address the issue effectively.