Vietnam sees strong demand for cold storage facilities
A strong demand for fruits and vegetables is driving food hygiene and safety requirements in Vietnam, which in turn are spurring investments in new cold storage facilities, said Cushman & Wakefield, in a recent report.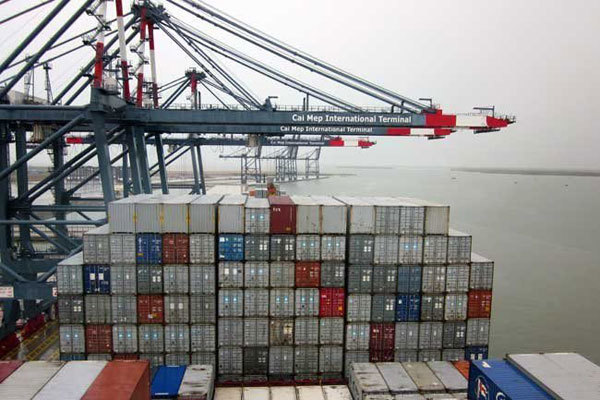 Containers are seen in Cai Mep International Terminal in Ba Ria-Vung Tau Province - Photo: Anh Quan
A cold supply chain is the process of maintaining a product within a low temperature range throughout the entire supply chain from production to consumption. Cold chain logistics involve the use of cold storage warehouses for storage and insulated transport vehicles for distribution. These transport vehicles include refrigerated trucks, trains, ships and aircraft.
In an interview with The Saigon Times, Paul Tonkes, Cushman & Wakefield Vietnam's Director for Logistics & Industrial Services, said: "The cold chain in Vietnam is underdeveloped in both logistics transportation and storage facilities, causing a large amount of post-harvest losses. This raises the demand for the cold chain logistics infrastructure to innovate in order to provide quality products, reduce losses and satisfy strict requirements from large export markets such as EU, USA, Japan, …". 
The average loss rate for Vietnam fruit and vegetable products is about 32% of the production, with a 14% and 12% loss rate for meat and seafood respectively.
Cold storage facilities are generally concentrated in clusters, most of which are in industrial parks or within the zones of river and seaports. It is also essential to have stable and sustainable power supply. "The adoption of Industry 4.0 will also help to save energy and increase operational efficiency which will help improve the return on investments for investors in this sector", said the report.
Currently, Vietnam is one of the five largest fruit and vegetable exporting countries in the world, thanks to strong demand from markets such as China, Japan, the U.S., Russia, Indonesia, Taiwan and South Korea. Demand for fruits and vegetables within Vietnam is also rising rapidly, as more people are consuming higher quality food products on the back of rising living standards.
According to Cushman & Wakefield, fruit and vegetable demand has paved the way for the development of a more modern retail system such as convenience stores, supermarkets, minimarts as well as the e-commerce business.
In 2019, the cold chain market in Vietnam already accounted for about US$169 million. Given the boom in the sector in anticipation of the Covid- 19 vaccine delivery, growth in seafood processing and consumer demand, it is expected to reach a value of US$295 million by 2025, which translates to about 12% growth on an annual basis, Cushman & Wakefield predicted.  

Cold transportation in Vietnam has two main segments: cold container and bulk. Approximately 11% of container throughput via seaport in Vietnam (equivalent to 2 million twentyfoot equivalent units (TEUs) in 2018) is refrigerated containers, driven by the continuous increment in import-export activities and infrastructure improvement.
The market is now facing fierce competition from many small and medium-sized players. Some of them include local players like ABA Cooltrans, Binh Minh Tai, Tan Hung and Quang Minh. Their competitive advantages are high-capacity fleet of refrigerated trucks, salespersons and service quality (delivery time, temperature control and value-added solution).
With the rise of the coastal HCMC, there is a growing need for intermodal solutions and barging ports and railway linkage, including the east west corridors linking to Laos, Cambodia and Thailand. SGT
Ngoc Tran

The COVID-19 pandemic has worsened the shortage of cold storage space in HCM City and surrounding areas as goods pile up as a result of lack of demand.