Vietnam's steel group in the world's top 15 for market capitalization
Hoa Phat Stee Group of billionaire Tran Dinh Long has entered the world's top 15 corporations in terms of market capitalization.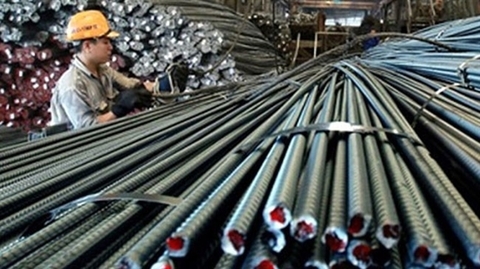 Illustrative image
This is a breakthrough not only for Hoa Phat but also an unprecedented position of a Vietnamese industry.
Reuters has just announced the Top 30 largest capitalized steel companies in the world, including Vietnam's Hoa Phat Group (HPG) in 15th, with US$11 billion, higher than JFE Holdings - Japan's leading steel corporation.
According to the ranking, the leading steel producer in Japan - JFE Holdings - with a market capitalization of $8.9 billion, stood at the 19th position. A famous large steel company in the world, BlueScope Steel of Australia, ranked 25th on the list, with $7.3 billion.
With a raw steel capacity of 8 million tons per year, Hoa Phat is the largest steel producer in Vietnam as well as in Southeast Asia.
Hoa Phat Group has charter capital of VND44,729 billion, the fourth largest among companies listed on the Vietnam Stock Exchange. In the trading session on October 6, HPG stock of Hoa Phat Group set a new peak - VND56,100 per share. With a total of 4.4 billion shares, HPG's market capitalization reached VND 247,000 billion, equivalent to $11 billion.
In the January-September period of 2021, Hoa Phat Group achieved a total crude steel output of 6.1 million tons, up 50% over the same period of last year. Its sales of steel products reached 6.3 million tons, up 43% year on year.
Hoa Phat Steel Group earned a profit of over VND9.7 trillion in the second quarter and VND16.7 trillion for the first half of 2021, three times higher than the same period in 2020 and higher than profit of the entire 2020.
By October 6, according to Forbes, Hoa Phat Steel Group's Chairman Tran Dinh Long had net assets worth of $3.8 billion, ranking 853rd in the world and is the second richest person in Vietnam, just behind Vingroup chairman Pham Nhat Vuong.
In the world market, steel prices have increased sharply this year, bringing impressive profits to many steel manufacturers in Vietnam such as Hoa Phat Group (HPG), Hoa Sen Steel (HSG), and Nam Kim Steel (NKG).
In 2021, the prices for shares of steel companies in Vietnam like Hoa Phat Steel increased strongly. HPG is the top money making machine in the VN30 group (30 stocks listed on the Hochiminh Stock Exchange with the highest market capitalization and liquidity), with over VND1 million of profit every second for shareholders, or VND92 billion per day.
V. Ha

The family of Vietnam's steel tycoon Tran Dinh Long will mark a turning point in power if Long's son successfully buys more shares of Hoa Phat Group (HPG).

Vietnam is expected to become an exporting country of iron and steel by end-2021 after decades of dependence on imported iron and steel from China.