Vietnam's priority objectives to rise above pandemic tides economy
Vietnam is now struggling to instrument the recovery of its economy that has been seriously rocked by the global health crisis. 
Prof. Dr. Tran Ngoc Tho writes about how the government can steer the correct course to drive the country forward, despite unpredictable developments in the wider economy.
The confidence of the public and investors in the Vietnamese government's pandemic prevention policies has increased strongly, with the country being praised internationally for its achievements in fighting COVID-19 and maintaining socioeconomic development.
The Economist recently published an analysis showing that confidence has been one of the main impetuses for economic achievements in many countries. The global economy is expected to decline 4 per cent this year, with growth rates of -3.5 per cent in the US and 2 per cent in China. Notably, the growth rate of the UK is projected to be -10 per cent, meaning the Brits are headed for the worst recession since the Great Frost of 1709.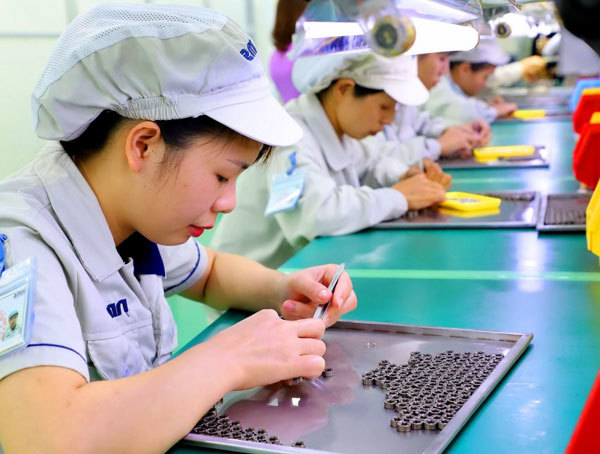 Vietnam is now boosting the reform of its economy for further growth in a sustainable manner.
Olivier Jean Blanchard, former chief economist at the International Monetary Fund, has warned that for the first time, policymakers worldwide will likely witness a rise in two types of savings at a very large scale: saving due to the public's limited consumption and saving to prevent risks in the future. This view is important to assess the effectiveness of economic stimulus packages as such big packages may become ineffective if the public shows bigger fear and a larger propensity for saving.
The issue here is that enterprises should show confidence so that they can stay afloat, especially in the context of the pandemic raging globally. The government must create strategic confidence in Vietnam to achieve its dual task of pandemic fighting and economic development at the same time.
Currently, it is necessary for the state to continue to act on the economy. If it is too optimistic and opens up the economy with too early stimulus packages, it may face numerous risks. However, if the state is too pessimistic and waits too long until the pandemic ends, it may need many stronger packages. Luckily Vietnam still does not have to select either of these situations and is instead standing somewhere between the two.
Opening the doors with close control while limiting the government's intervention in the market will be a more effective tactic than having to relaunch the blockade many times. This approach will help Vietnam take advantage of new demands from countries.
It is estimated that richer nations have issued fiscal packages worth $4.2 trillion, including about $2 trillion directly given to the public. This has increased the global consumption of goods and services.
At a government cabinet meeting in early September, Prime Minister Nguyen Xuan Phuc stated that it is necessary now to "strongly stimulate the economy, both in terms of demand and supply which remain weak now."
The state's intervention in demand aims at reviving the feeble aggregate demand in order to revitalise economic activities, while the state's intervention in supply aims to solve the economic bottleneck. Besides this, the government needs to encourage enterprises to engage in new markets like medical equipment and production of items related to food security, which is a big concern of many nations now.
In a nutshell, flattening the COVID-19 curve and removing the economy's bottleneck, together with boosting demand from supply, will be an effective economic package given the country's limited resources. 
Seizing opportunities 
Besides implementing the aforementioned dual tasks, Vietnam is also facing two other major challenges – how to place its economy in the orbit of leading economies and how to renew its growth model effectively.
In July, the World Bank published its study "Global Productivity: Trends, Drivers, and Policies" which specified five groups of economies from nearly 100 nations. The first three weak groups cover poor nations, while the fourth group includes major economies which have yet to fully tap into their potential such as Argentina, Brazil, Indonesia, Mexico, and South Africa.
The most successful group embraces developed nations and 16 emerging economies, including Vietnam, along with China, India, and Thailand. Poorer countries tend to grow more quickly than rich countries. However, it is estimated that it may take nearly half a century to narrow the gap in labour productivity among these nations, if other factors are kept as they are now.
According to the World Bank, the convergence of the groups of economies has happened by default but under conditions. Such conditions include the openness of the economy, foreign direct investment inflows, inflation, access to the internet, and education.
Studies have showed that there are up to 145 factors for nations to converge. However, what can be used to explain the centripetal force of convergence? According to the World Bank, geographic space is not a determining factor. The fact that Canada is near the US and Vietnam borders China does not result in a gravitational or a repulsive force for a nation to become richer or poorer.
Investment attraction and expansion of trade are important, but the government's efforts to improve education and management skills are more important as they can create the biggest differences, at least in the beginning stage of the economy's speed-up.
These are two factors that can be put under our direct control. The World Bank is concerned that the pandemic will slow down investment inflows and disrupt supply chains, while nationalism causes difficulties to the convergence process.
However, where there's life, there is hope. The crisis ushers in opportunities to boost structure reforms, with the radical removal of obsolete resources that are replaced with new ones and new technologies in order to accelerate the recovery process. Wasting opportunities resulting from a crisis is the biggest type of waste.
The world has become flat and rapid. The impacts of huge economic stimulus packages will cause a rise in the number of companies with slow innovation. It will not only fuel zombie companies but also obsess successful ones. The post-pandemic world may be that of obesity and slowness, and this is what we need to shun or we will be left behind further.
According to the World Bank study, growth in global productivity will fall strongly after the pandemic, and will affect the long-term growth trend among nations. If nations want to achieve effective recovery, they would need to have good understanding about what factors will drive long-term trends.
This is a very important viewpoint that policymakers need to pay attention to when they design economic stimulus packages while still heading towards long-term growth impetuses. 
Economic triumph 
Though they are quite indispensable, the stimulus packages – if focused too much on helping enterprises recover instead of on supporting the economy in achieving high growth permanently – will have a big aftermath that may be difficult to overcome.
It is just like a situation after a forest fire – part of the flora is destroyed but new buds can appear. The COVID-19 shock has created unheard-of instability.
It makes it very hard for policymakers to formulate sound policies to escape difficulties timely. Fiscal and monetary policies, especially in terms of tax, fees, debts, and public spending, need to pay special heed to "ways out" in order to avoid persistent mistakes. If necessary, such policies can be applied again, rather than applying peaceful defensive measures. VIR

Vietnam is expected to see an economic triumph. The COVID-19 pandemic is clearly bringing bad luck to everyone and the whole economy. However, it can open up a once-in-a-lifetime opportunity: while global racers are becoming weaker, Vietnam can emerge as a big winner.

With many businesses becoming gradually exhausted and in critical need of state support, many National Assembly members have asked the government to apply feasible solutions to lift them out of woes.

The second stimulus package to aid the economy amid the COVID-19 pandemic would focus on the most affected sectors, including aviation, tourism and consumption, according to the Ministry of Planning and Investment.