Vietnam's Macroeconomic Report-Fourth Quarter 2019 unveiled

The Vietnam Institute for Economic and Policy Research and the Konrad Adenauer Stiftung today unveiled the Fourth Quarter Update and 2019 Review - Independent Assessment of Vietnam's Macroeconomic Performance.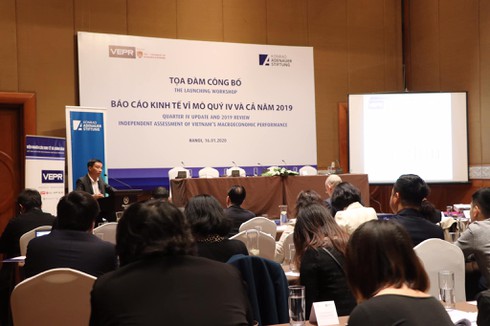 At the event
According to figures released by the World Bank, global economic growth is expected to suffer a decline as we move into 2020. Evidence for this can be seen in the fluctuation of oil prices as a result of trade tensions between the United States and China, in addition to these between Japan and the Republic of Korea, whilst geopolitics tensions in the Middle East remain high.
Moreover, China's economic growth is beginning to show signs of slowing whilst the price of Yuan remains unstable. In response to this, the People's Bank of China cut interest rates on one-year Medium-Term Lending Facilities to 3.25 per cent in October as a way of boosting growth.
2019 also saw the US economy continue to grow at an increasingly slow pace with inflation reaching 2.05 per cent, while the FED decided to lower interest rates to 1.5 per cent from 1.75 per cent in November. Elsewhere, the European economy continued to suffer falls with the ECB deciding to keep interest rates stable until inflation reaches 2 per cent.
Moreover, Japan's fertility rate hit an all-time low over the previous 120 years. Concerned about future economic slowdowns, the Japanese government launched a stimulus package of 13, 2000 billion yen as a way of dealing with the consequences of natural disasters, upgrading infrastructure, and investing in new technologies.
Regionally, the economic growth of ASEAN countries decreased slightly. Most notably, the price of Thai Baht continued to escalate, resulting in the Central Bank of Thailand deciding to cut interest rates to an all-time low of 1.25 per cent and loosening capital controls as a means of limiting the depreciation of the currency.
Locally, the nation's economy grew at rate of 6.7 per cent on-year during in the fourth quarter of 2019, with FDI continuing to be the main contributor to growth through exports. Elsewhere, growth in the agriculture, forestry, and fishing sectors decreased as a result of a number of unfavourable factors.
The number of businesses ceasing to operate plummeted during the fourth quarter of the year whilst social investment capital stood at an estimated VND669,800 billion adjusted to current prices, an increase of 10.4 per cent compared to the previous year's figure.
Furthermore, the GNI/GDP ratio widened further, from 98.6 per cent in 2000 to 93 per cent in 2018, indicating that currency outflows through expenditure and reimbursement loans were rising.
CPI in December 2019 rose sharply to 5.4 per cent on-year and 1.4 per cent month-on-month as a result of the fallout from the spread of African swine fever. It is estimated that during the first quarter of the year, CPI skyrocketed due to both the long Tet holiday and the rise in the price of oil prices due to geopolitics tensions.
The price of gold rose by 18 per cent, largely due to instabilities globally. Indeed, gold prices fluctuated at 16.7 per cent during 2019, higher than the corresponding figure from 2018 of 13.5 per cent.
The effects of tensions between the US and China, the US and Democratic People's Republic of Korea, and between the US and Iran, alongside the depreciation of strong currencies, were factors in increasing the global and domestic price of gold. VOV