Vietnam's business community gauges 13.5 per cent fall in 2020 revenue

Though still positive, the Vietnamese business community has a more negative outlook for the year ahead.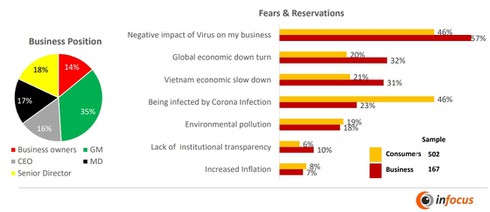 Biggest fear and reservations among Vietnam's businesses and consumers for 2020
Around 84 per cent noted business being negatively impacted by the coronavirus with an estimated reduction of 13.5 per cent in revenue in 2020, according to the first Business and Consumer Confidence Index Post Coronavirus Outbreakreleased by Infocus Mekong Research.
According to the study, the coronavirus has had a huge impact on the overall economic outlook of Vietnam's consumers for 2020, dropping 54 index points. Business sentiment is slightly more upbeat with 55 per cent noting 2020 being worse than 2019, and 20 per cent seeing 2020 as better than 2019.
From environmental pollution to the negative impact of the coronavirus on business and Vietnam/global economic slowdown – the Vietnamese business community has shifted its concerns to business specifics, while consumers are totally engrossed by coronavirus infection and the global/Vietnam downturn.
According to the study, 84 per cent noted that their business was negatively impacted by the coronavirus. They also predicted a decline of 13.5 per cent in revenue in 2020.
Overall, 2020 was already a year of caution, conservativism, and a decline in growth across multiple sectors, equalling reduced spending. The coronavirus outbreak has amplified these "Year of the Rat" conservative traits and will negatively impact Vietnam at least to the end of the first quarter and potentially the second quarter of 2020.
Schools being suspended till the end of March will have a substantial impact on all Vietnamese consumers as they need to support nannies, babysitters, and spend more time around the home, reducing productivity and further denting their pockets, beyond the fears of infection.
However, Vietnam's economy is structurally sound, its government one of the strongest in Asia, and Vietnam's hottest economic commodity, so though pain will be felt in the first few months of 2020, the country should rebound nicely, though not meet its GDP growth expectations. VIR

The Ministry of Planning and Investment (MPI) has predicted that the GDP would grow by 5.96 percent, a 7-year low.
Vietnam's GDP growth is expected to reach 6.25% this year if the outbreak of Covid-19 is contained within the first quarter, according to the Ministry of Planning and Investment.