Vietnam's airlines preparing to fly non-stop to US, resume international flights
Despite the Covid-19 crisis, Bamboo Airways and Vietnam Airlines have announced plans to fly non-stop to the US by the end of this year.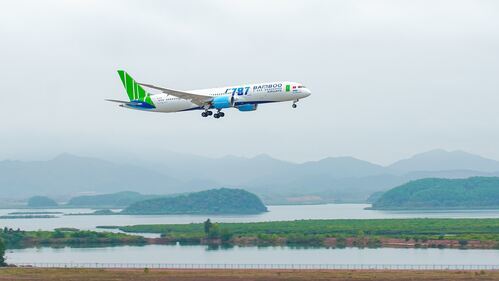 The UK Airports Commission has granted slots at Heathrow Airport in London to Vietnam's Bamboo Airways, commencing in May.
A representative of the private air carrier has confirmed the news, saying that it will provide six flights a week to the airport, with departure in Hanoi and HCM City.
Bamboo Airways plans to fly between Hanoi/HCM City and London with Boeing 787-9 Dreamliner. The airline use two large-body airplanes.
Aviation experts say that Bamboo Airways will not face direct competition in the immediate time.
Though traffic at Heathrow has decreased sharply because of the Covid-19 pandemic, airlines are still trying to apply for slots there because they can see great potential.
Bamboo had planned to fly non-stop to London and Frankfurt in the first quarter of 2021. However, the plan was postponed because of the pandemic.
However, the carrier still operated non-stop flights from Hanoi to London, picking up Vietnamese citizens with Boeing 787-9 Dreamliners.
It is also ready to fly non-stop to the US by the fourth quarter in 2021.
Vietnam Airlines also hopes its first non-stop flight from Vietnam to the US will take off by early 2022. Earlier, the board of management of the national flag air carrier approved a plan to fly directly to the US as per the proposal of CEO Le Hong Ha.
Since May 2020, Vietnam Airlines has operated 12 flights bringing Vietnamese citizens in the US home.
The number of Vietnamese who want to return to Vietnam is still high, but Vietnam Airlines had used up the number of repatriation flights licensed by US authorities by August 2020.
To serve demand from the Vietnamese community in the US, Vietnam Airlines needs to continue repatriation flights by asking for licenses for routine commercial flights.
However, the reopening of international routes will depend on the pandemic performance and Government's decisions. Speaking to Bloomberg news, Quyet said he hopes the Government will reopen international commercial flights in a cautious way from the end of the second quarter and early third quarter.
Quyet believes that vaccinations around the world will create a boom in the aviation industry by the end of this year, which is why Bamboo is preparing to fly.
As for Vietnam Airlines, the flight from Taipei to Da Nang on March 25 marked its international flight resumption.
Regarding the plan to fly non-stop to the US, experts said airlines need to find optimal solutions because of financial costs. It is estimated that airlines will be able to break even only within 5-10 years. 
Ngoc Ha

Developing a high-speed highway is a matter of special public concern. Under the 2021-2030 draft railway development plan, Vietnam's railway would undertake the transport of 16.5 million tons of cargo and 30.9 million passengers by 2030.

National flag carrier Vietnam Airlines will work with domestic and foreign agencies in building and applying a "COVID-19 vaccine passport" project, Dang Anh Tuan, head of the airline's Communications and Branding Department, has said.