Vietnam projected to be among world's top 10 remittance recipients in 2019

Remittances, along with foreign direct and indirect investment, and official development assistance are major sources of Vietnam's foreign currency supply.
In 2019, in current US dollar terms, Vietnam is projected to be among the 10 largest remittance recipient countries with an inflow of nearly US$16.7 billion, a slight increase from the US$16 billion received in 2018, according to the World Bank's latest data.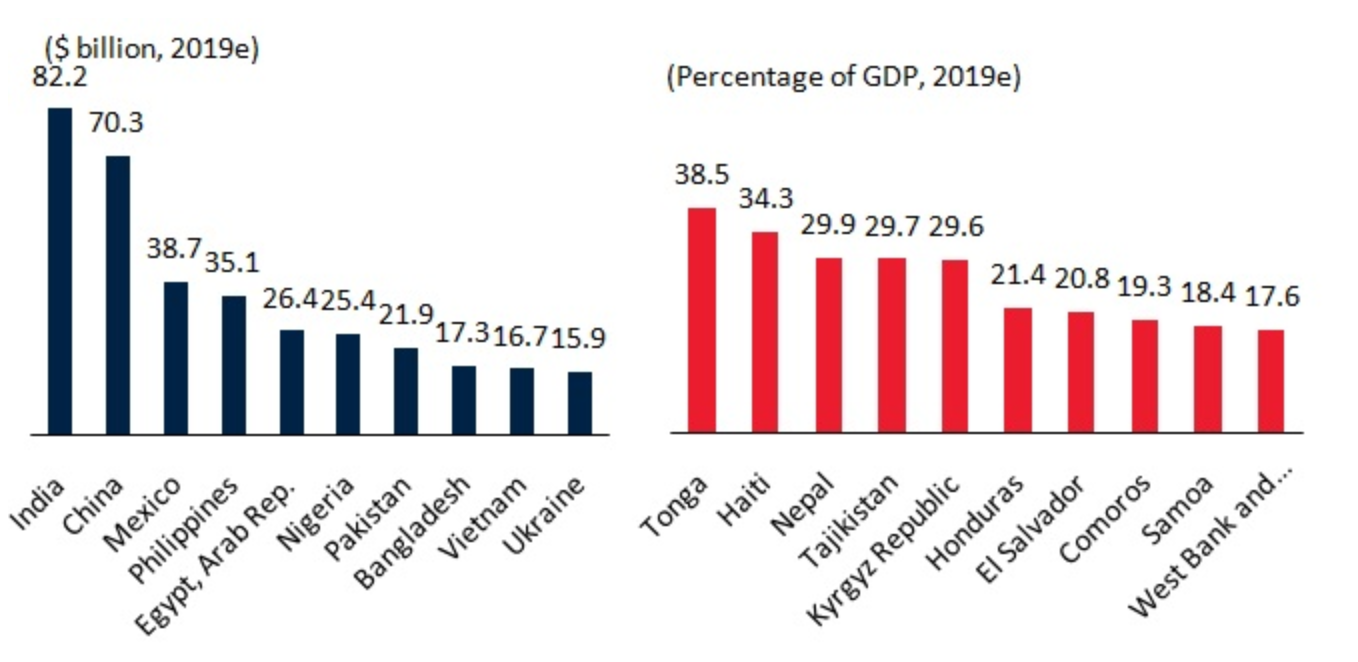 Top recipients of remittances, 2019. Source: World Bank.
The number would make up 6.4% of the GDP for 2019. 

Over the last two decades, remittances to Vietnam have been increasing steadily, growing from over US$1.3 billion in 2000 and only declined once in 2009, due to the impact of the global financial crisis.

However, compared to the Philippines, another ASEAN country  which is forecast to rank fourth in the list, the remittance inflows to Vietnam is only half of that of the Philippines at US$35.1 billion, or 9.8% of the Philippines' GDP in 2019. 

Vice Chairman of the Vietnam Business Association of Overseas Vietnamese Peter Hong said earlier this year the Vietnamese community abroad totaled 4.5 million. In addition to sending remittances to Vietnam, overseas Vietnamese have been directly involved in investments and businesses in the homeland.

The remittances have been sent to the country through four channels – commercial banks, economic institutions, customs and posts. About 72% of the remittances are wired to Vietnam via commercial banks. 

Annually, the proportion of remittance inflows measured in terms of their share in GDP  was 6-8%  in the period 2006-2017 in Vietnam, much higher than that of other developing countries (which averaged about 1-2% of GDP).

Such flows, along with foreign direct and indirect investment, and official development assistance are major sources of Vietnam's foreign currency supply.

Back to the 2019 ranking, India is expected to top the list with over US$82.2 billion in remittances, or 2.8% of its GDP, followed by China with nearly US$70.3 billion US, or 0.5% of its GDP. 
Estimates and Projections of Remittance Flows to Low- and Middle-Income Regions.
The remaining two countries in top five are the Philippines with US$35.1 billion and Egypt with US$26.4 billion.

In relative terms, the top 5 countries projected to receive the largest amount of remittances as a share of gross domestic product (GDP) in 2019 were: Tonga (38.5% of GDP), Haiti (34.3%), Nepal (29.9%), Tajikistan (29.7%), and the Kyrgyz Republic (29.6%)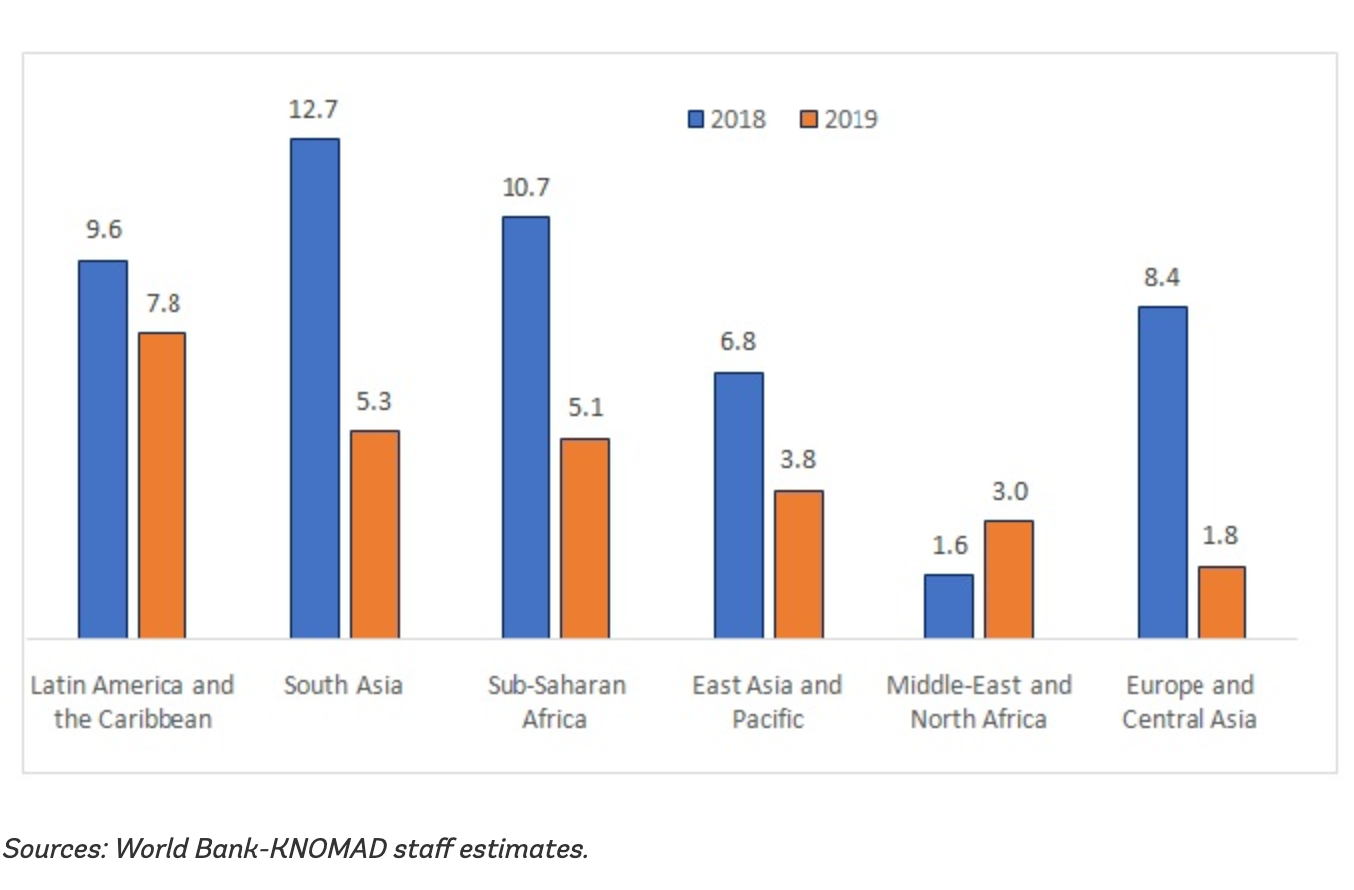 Growth of remittances by region (%).
Remittances outflows from some major sending countries other than the US have been impacted due to the depreciation of their currencies against the US dollar. For example, the euro depreciated by 8% and the ruble by 16% against the US dollar, as of the first quarter of 2019. As a result, even as outward remittances from Germany and Russia increased in local currency terms, they declined in US dollar terms. Hanoitimes
Ngoc Thuy
Remittance flows into Ho Chi Minh City in the first nine months of the year were estimated at around $3.8 billion, a year-on-year increase of 7 percent.
Overseas remittances to HCM City were estimated to reach $3.45 billion in the first eight months of this year, according to the State Bank of Vietnam's HCM City branch.