Vietnam may have new USD billionaires
If assets are calculated according to the value of the stock market, Vietnam will have more USD billionaires.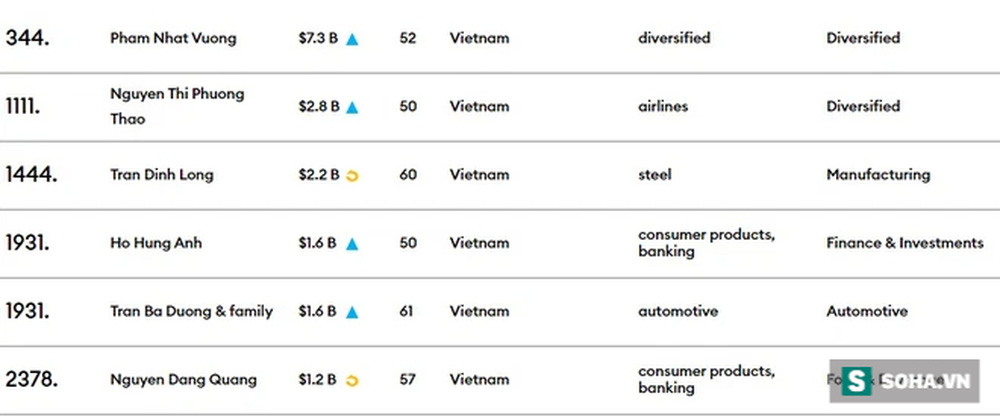 In 2013, Pham Nhat Vuong - Chairman of Vingroup – was the first representative from Vietnam named to the list of the richest people on the planet by Forbes magazine. Vuong was ranked 974th with assets worth US$1.5 billion.
So far, the number of Vietnamese dollar billionaires recognized by the magazine has increased to six. Vuong still ranks at the top with a fortune of $7.3 billion.
CEO Nguyen Thi Phuong Thao of Vietjet Air stands second with assets of $2.8 billion. Thao is known as the founder of Vietjet Air as well as Sovico Group.
The third richest Vietnamese is Tran Dinh Long, Chairman of Hoa Phat Group, with $2.2 billion, followed by Ho Hung Anh, Chairman of Techcombank, and Tran Ba Duong, Chairman of Truong Hai Group with assets of $1.6 billion. The last USD billionaire of Vietnam is Nguyen Dang Quang, Chairman of Masan Group, with $1.2 billion.
Thus, the total assets of six Vietnamese billionaires as announced by Forbes totals more than $16 billion.
If the assets are estimated based on the value of the stock market, Vietnam will have more USD billionaire.
The first name is Bui Thanh Nhon, Chairman of NovaLand Group. According to statistics, Nhon owns more than 317.3 million Novaland shares. On November 16, 2021, when the share price stood at 130,600 VND, Nhon had assets worth nearly 32,876 billion VND, equivalent to $1.49 billion.
The second name is Do Anh Tuan, Deputy General Director of KienLongBank, Chairman of Sunshine Group. Tuan holds shares of SCG Construction JSC, which went public in mid-April 2021 and Sunshine Homes Development JSC that went public this August, totaling 31,304 billion VND, equivalent to $1.39 billion.
The next is Nguyen Van Dat of Phat Dat Group who currently holds nearly 298 million shares of Phat Dat. At a trading price of 90,000 VND/share on November 16, Dat had assets of nearly 27,000 billion VND, equivalent to $1.20 billion.
The last two businessmen whose assets nearly reach $1 billion are Nguyen Duc Thuy, Vice Chairman of LienVietPostBank, with a fortune of about $0.93 billion, and Vu Thi Hien, billionaire Tran Dinh Long's wife with assets of about $0.79 billion.
Hong Hanh

The share price increases last week helped rich businesspeople become even richer.

Pham Nhat Vuong continues setting new records, while Le Phuoc Vu has gained a new high in his business career.