Vietnam improves ranking on global B2C e-commerce index 2020
The B2C E-commerce Index 2020 of Vietnam has climbed one rank over the last year, remaining among the top 10 developing and transition economies in the region.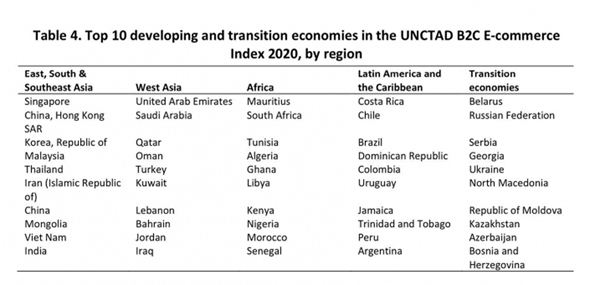 Vietnam in the top 10 developing and transition economies in the UNCTAD B2C E-commerce Index 2020 in east, south, and southeast Asia.
According to the newly-revealed report of the United Nations Conference on Trade and Development (UNCTAD), Vietnam has remained in the top 10 developing and transition economies in the east, south, and southeast Asia region, including Singapore, China, Hong Kong SAR, South Korea, Republic of Malaysia, Thailand, Iran, China, Mongolia, Vietnam, and India. Vietnam has also improved one rank over the last year.
All of the top 10 developing economies in the 2020 index are from Asia, and all are upper-middle-income or high-income economies.
In the 2020 edition of the UNCTAD B2C E-commerce Index, Switzerland replaced the Netherlands as the country with the highest readiness to engage in and benefit from e-commerce. European economies dominate the top 10 list, which also features Singapore, China, and Hong Kong SAR.
At the other end of the spectrum, least developed countries (LDCs) take up 18 of the 20 bottom positions in the index. The wide gaps between countries with the highest and the lowest level of e-commerce readiness point to the need to address weaknesses in the countries trailing behind for further digital transformation to bring inclusive development gains.
The COVID-19 pandemic has introduced a new dimension due to quarantine measures that have led to an uptick in e-commerce among those who have the ability to shop online.
While China and the United States are the world's largest B2C markets, they rank 12th and 55th respectively in the index. One reason they are not ranked higher is that their scale is not factored into the index. Even if the two countries lead in a number of absolute measures they lag in relative comparisons. For instance, internet penetration in the United States is less than any of the economies in the top 10 while China on this indicator ranks 87th in the world. With regard to online shopping penetration, the United States ranks 12th while China ranks 33rd.  VIR

In the past few years, Vietnam has achieved important milestones in the process of promoting the digital economy.  

When the Covid-19 pandemic, which started in Wuhan in China a year ago, broke out, even the most optimistic person could not imagine that the Vietnamese economy would stand firm.