Vietnam FTA portal to be upgarded
The Vietnam Free Trade Agreement Portal (FTAP) with people and businesses at the center of its service is aimed at improving the quality and efficiency of Vietnam's FTAs implementation.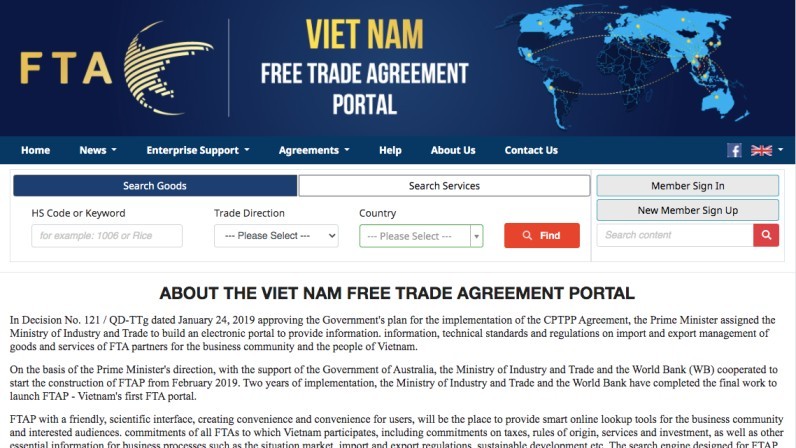 The interface of the FTAP.
Minister of Industry and Trade Nguyen Hong Dien has approved action plan No.1718/QD-BCT for the upgrade and development of the FTAP in the period 2021-2025, with a vision to 2035.
Under the plan, the FTAP would be designed and built with a number of key features, including online lookup of tariff commitments, rules of origin, services, and investment under FTAs; data and characteristics of markets engaging in an FTA with Vietnam, required procedures for imports/exports, licensing, etc.; updated action plans ​​of Vietnamese authorities to implement FTAs; updated legal documents ​​issued by regulators to implement FTAs; updated advocacy communication activities such as conferences, seminars, training courses, and publications to support businesses.
According to the Ministry of Industry and Trade (MoIT), the FTAP with people and businesses at the center of its service is aimed at improving the quality and efficiency of Vietnam's FTAs implementation, a key step in accelerating the process of international economic integration and affirming Vietnam's important role in the global trading system; realizing and taking full advantage of the benefits of FTAs; ensuring effectiveness in disseminating and guiding businesses and the people about Vietnam's commitments in FTAs.
In 2021, the MoIT would focus on addressing technical issues of the FTAP; integrating news portals from ministries, departments, provinces, and associations into the FTAP; upgrading policies, data, and training courses related to FTAs that Vietnam is a part of.
For the 2022-2025 period, the FTAP would focus on analyzing and publishing data of Vietnam's FTAs, with the priority being next-generation and multilateral FTAs, so that the public can search for any information related to these trade deals.
In the post-2025, the MoIT would continue to develop new features on the FTAP for greater experience from users.
The Prime Minister in early 2019 requested the MoIT to set up the FTAP. The process started in March with support from the Australian government and World Bank and the portal was officially launched on December 23, 2020.
Since Vietnam's entry into the World Trade Organization (WTO) in 2007, the country has negotiated and signed 17 FTAs, of which one is under negotiation, namely the FTA between Vietnam and Israel.
Source: hanoitimes

The customs sector will continue to introduce measures to help Vietnamese enterprises fully tap the benefits brought about by FTAs Vietnam has signed with foreign partners, an official from the General Department of Vietnam Customs has said.