Vietnam customs permits firm to handle huge aluminum stockpile

The General Department of Vietnam Customs said some 1.8 million tons of Chinese aluminum remains in possession of the importer, who can sell the product in Vietnam and pay all tax obligations.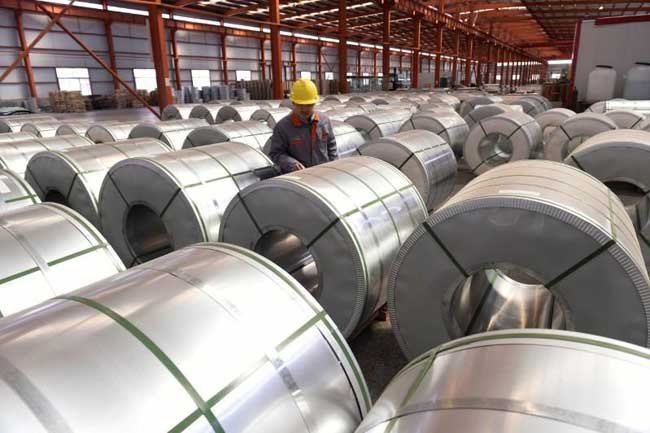 A worker checks aluminium rolls at a warehouse inside an industrial park in Binzhou, Shandong province, China on April 7, 2018. PHOTO: REUTERS
The aluminum was imported by Global Vietnam Aluminum Co., Ltd., based in the southern province of Ba Ria-Vung Tau, which tried to sidestep U.S. tariffs in 2016. The firm was a US$250 million joint venture between Jacky Cheung and Wang Tong, both Chinese-Australian businessmen.
Global Vietnam Aluminum has its own production line, but imports aluminum ingots, bars and semi-finished products from abroad to export to the U.S. and other countries, reported the Vietnam News Agency.
Nguyen Van Can, head of the General Department of Vietnam Customs, said on Friday that Vietnamese customs has worked with their American counterparts to investigate the massive aluminum stockpile and prevent the risk of counterfeiting Vietnamese origins for export at the company.
The official said Global Vietnam Aluminum may also export its stockpile to a third country, but must not conceal its Chinese origins. Otherwise, the U.S. government may apply trade remedies against Vietnam.
Trade tensions between the U.S. and China have been ongoing for more than a year. Their impacts, together with temporary trade protection measures around the world, such as anti-dumping and countervailing duties, are having impacts on the flow of trade worldwide.
Some products are being disguised with 'made in Vietnam' labels to evade U.S. anti-dumping duties. Can said Vietnam's aluminum exports to the United States were subject to a tariff of about 15%, but those from China were levied at up to 374%.
Even if businesses imported aluminum ingots, bars and finished aluminum products to process, they were still not eligible to be labeled made-in-Vietnam, according to U.S. customs. SGT

Ba Ria-Vung Tau Province's Customs Department had seized a suspicious aluminum shipment worth US$4 million that was heading to the US and other countries, a General Department of Viet Nam Customs official said.  
Currently, Vietnamese aluminum exported to the US is subject to 15% import tariff, while similar Chinese products are applicable to a tax rate of up to 374%.