VIETNAM BUSINESS NEWS SEPTEMBER 9
Wood exports plummet as amid virus outbreak
Wood production and exports have hit a slump in recent months after showing strong numbers during the first half of the year, according to a report by the Ministry of Agriculture and Rural Development (MARD).
The country exported US$8.71 billion worth of wood products in the first half of 2021, a 62.9 per cent increase year-on-year. However, the sector has been hard hit by yet another outbreak of the virus.
The virus has paralysed some of the largest production centres of the industry including the southern provinces of Binh Duong and Dong Nai, said Bui Chinh Nghia, deputy head of MARD's department of forestry.
"We have seen significant drops in wood exports in recent months. Exports for June, July and August dropped by 16 per cent compared to the previous three-month period. August saw the biggest drop at 22 per cent compared to July," said Nghia.
More than half of the country's wood producers have had to shutter or scale down their operations since the beginning of the pandemic, said a recent report by the Association of Vietnam Timber and Forest Product.
To make matter worse, other costs including transport, raw materials and container rental have also been on the rise. Some markets have started to deploy defence mechanisms against Vietnamese products after a period of unchecked rapid growth.
MARD Deputy Minister Le Quoc Doanh said wood producers must carefully study trade barriers and anticipate how certain markets might respond to Vietnamese products in advance.
"Firms must look at the big picture and come up with a long-term plan as we make the transition from forest production to a forest economy," Doanh said.
The US continued to be Viet Nam's top buyer this year along with Japan, China, the EU and South Korea. Together the big five markets account for 90 per cent of the country's total export of wood products.
The sector had been forecast to grow by 15 per cent this year, largely thanks to a number of free trade agreements including the European Union–Vietnam Free Trade Agreement (EVFTA) and the Comprehensive and Progressive Agreement for Trans-Pacific Partnership (CPTPP) that have recently into effect. 
VN-Index declines for a second day, weighed by Vingroup's shares
Shares fell for a second day on Wednesday on the Ho Chi Minh Stock Exchange with heavyweights like Vingroup's stocks and banks behind this fall.
Stronger selling pressure in the afternoon trade pushed the VN-Index below the threshold. The southern bourse's index decreased 0.62 per cent to close at 1,333.61 points. It lost 1 per cent in the last two sessions.
Liquidity also declined nearly 30 per cent in both volume and value, reaching 626 million shares worth VND19.6 trillion (US$852.2 million), the lowest in the last six trading sessions.
Vingroup (VIC) and its real estate arm Vinhomes (VHM) were the two shares pulling the index down the most. VIC slipped more than 2 per cent, while VHM fell 1.6 per cent.
Banking shares – which were used to the market's momentum – also slumped. Fifteen lenders lost value on Wednesday, three of them appearing on the list of top 10 stocks weighing on the market most. They included VPBank (VPB), down 2.4 per cent; Techcombank (TCB), down 1.7 per cent; and Vietinbank (CTG), down 1.5 per cent.
In addition, many stocks in the VN30 basket (which tracks the top 30 shares by market value and liquidity) also declined, such as PV Gas (GAS), insurer Bao Viet Holdings (BVH), Petrolimex (PLX), PV Power (POW), Masan Group (MSN) and Vinamilk (VNM) with a decrease of more than 1 per cent each.
Selling pressure also spread on the Ha Noi Stock Exchange, restraining the HNX-Index's rally to just 0.23 per cent to close at 347.28 points.
The rising streak on the northern bourse has extended for nine consecutive sessions with accumulative growth of nearly 5 per cent.
Liquidity decreased here, however, with nearly 134 million shares worth VND2.9 trillion traded, down 26 per cent in volume and 23 per cent in value compared to the previous session.
According to analysts at Saigon Securities Inc, the short-term outlook for the stock market is uncertain because it is still not possible to fully assess the economic effects of the 4th wave of COVID-19 as well as the official time when HCM City and southern provinces can return to normal trading activities.
In the third quarter, the profit growth of listed companies may slow down or decrease compared to the same period last year, which will not be too surprising when consumption, investment and net exports are all declining amid the pandemic, they said in its September report.
Foreign investors continued offloading shares in HCM City's market for a ninth session with net sell value of nearly VND446 billion on Wednesday.
They were net buyers in Ha Noi's market for 12 consecutive sessions for net value of VND8 billion. 
Dung Quat Oil Refinery on verge of suspension due to full warehouses
The Dung Quat Oil Refinery in the central province of Quang Ngai has reduced its capacity to 80% and is at risk of suspending its operations as its warehouses are full given the plummeting demand during the Covid-19 pandemic.
A leader of the Binh Son Refining and Petrochemical Company (BSR), the operator of the Dung Quat Oil Refinery, said if the southern localities, which are its large customers, extend social distancing until October, the oil refinery was likely to suspend its production and suffer from losses of some VND1 trillion per month, Thanh Nien Online newspaper reported.
Over the past month, the oil refinery has reduced its capacity twice and was forced to operate at a capacity of 80% for the first time ever.
According to a report by the Vietnam Oil and Gas Group, the parent company of BSR, delivered at a recent meeting with the Ministry of Industry and Trade, when the oil refinery cut its capacity to 90% on August 3, BSR had 200,000 cubic meters of processed fuels and 400,000 cubic meters of crude oil in inventory. The company had to store 25,000 cubic meters of its products at a warehouse outside the oil refinery and planned to store at least 100,000-120,000 more cubic meters at this warehouse.
However, the BSR leader said its inventories of processed products had reached 400,000 cubic meters, double the figure last month.
Meanwhile, its sales in August halved to 300,000 cubic meters.
BSR has no space for crude oil and has to sell one million barrels of crude oil and planned to sell another one million barrels.
The BSR leader expected the pandemic would be brought under control this month and social distancing would be eased so that it could sell its products in inventories in the last three months of the year.
Moreover, the oil refinery's expansion plan may be affected.
Dung Quat Oil Refinery is one of the most important links in Vietnam's fuel production chain. The oil refinery has an annual capacity of 6.5 million tons of crude oil, equivalent to 148,000 barrels per day.
After the expansion, its capacity will be raised to 8.5 million tons of crude oil per year, or 192,000 barrels per day.
Commercial banks sharply raise provisions to cover bad debts
Although commercial banks have restructured a lot of debts to support customers affected by the Covid-19 pandemic, in the recently released second-quarter financial statements of commercial banks, the total bad debts by June 30 still increased by 4.5 percent compared to the end of last year, equivalent to an increase of nearly VND124.9 trillion. In which, the ratio of debt group 5 (Potentially irrecoverable debts) at some commercial banks has recently increased rapidly.
Although the bad debts of many commercial banks are still below the threshold of 3 percent allowed by the State Bank of Vietnam (SBV), anticipating potential risks from loans affected by the Covid-19 pandemic, many commercial banks have sharply raised provisions to cover bad debts.
Statistics from securities companies show that there are 11 commercial banks with a bad debt coverage ratio of more than 100 percent in the first six months of this year. Some commercial banks even have a bad debt coverage ratio of up to 200-300 percent. Specifically, in the group of State-owned commercial banks, Vietcombank has a bad debt coverage ratio of up to 352 percent. VietinBank, Agribank, and BIDV also have bad debt coverage ratios around 130 percent. For private commercial banks, the bad debt coverage ratio of Techcombank is 259 percent, MBBank 236 percent, and ACB 208 percent.
The drastic move of commercial banks is not only to cope with the risk of bad debts arising in the future but also to avoid the pressure of increasing provision costs, affecting bank profits.
Mr. Nguyen Quoc Hung, General Secretary of the Vietnam Bankers Association (VNBA), assessed that the volume of bad debts in the first six months of the year did not fully reflect the current situation.
The bad debt of the banking system will be very large after the deadline to keep the debt groups unchanged for customers affected by the Covid-19 pandemic according to Circular No.03/2021 expires at the end of this year. In the context of a prolonged pandemic, many localities had to implement social distancing according to Directive No.16, so the cash flow of enterprises was interrupted, making it difficult for them to repay loans to banks.
In the recent update of Vietnam's economic situation in the first six months of the year, the World Bank (WB) said that although financial stability has been maintained by Vietnam, the quality of loans has begun to get worse in some banks. Therefore, the authorities need to carefully monitor the increase of bad debt to ensure the health of the financial sector and promote the application of capital adequacy regulations according to Basel II for all active banks.
Implementing Circular No.01/2020 and Circular No.03/2021 of the SBV on the postponement, extension, and restructuring of loans to reduce the pressure of financial costs on businesses, by June 14, credit institutions have restructured the repayment term with an outstanding balance of nearly VND326.3 trillion.
To continue to support people and businesses affected by the Covid-19 pandemic, the SBV is currently collecting opinions to amend and supplement some articles of Circular No.01/2020 in the direction of expanding the scope and extending the application period for debt restructuring and keeping the same debt group for debts affected by the Covid-19 pandemic.
Commercial banks said that this amendment not only helps people and businesses restore production and rotate capital but also reduces the pressure of temporary bad debts on commercial banks. However, experts said that with unpredictable consequences of the Covid-19 pandemic, the risk that bad debts of banks would continue to increase sharply in the near future is existing.
According to VNBA, the provinces and cities affected by the Covid-19 pandemic currently account for about 70-80 percent of the outstanding loans of the entire banking system.
The number of overdue debts and bad debts arising in the period from May 18 to the effective date of the new circular is huge, leaving heavy consequences for the economy in general and the banking industry in particular.
The view of the SBV is to be cautious, secure the system, not let credit institutions hide bad debts, classify debts, and set up risk provisions according to the nature of debts and following the law. "However, the SBV should report to the Government the situation of businesses and credit institutions that are seriously affected, thereby, suggesting the Government issue a separate resolution on removing difficulties for businesses and credit institutions affected by the Covid-19 pandemic," the VNBA said.
Meanwhile, Mr. Rahul Kitchlu, the World Bank's Acting Country Director for Vietnam, recommended that management agencies also need to issue a plan soon to handle bad debts and a strategy to end measures to allow restructuring clear repayment period, should not allow the burden of bad debts to last long in the banking system as this may limit the banking system's role in supporting inclusive growth.
According to the SBV, by May 31, the whole banking system had about VND425.4 trillion of bad debts determined following Resolution No.42/2017/QH14 of the National Assembly on handling bad debts. With nearly VND430 trillion of bad debts that have not been resolved, plus potential debts because of the Covid-19 pandemic, the SBV proposed to submit to the National Assembly to develop a law on handling bad debts to handle debts of credit institutions, especially in the context that Resolution No.42/2017 will expire in August 2022.
According to the State Bank of Vietnam (SBV), the promulgation of a law on bad debt handling will help maintain the bad debt settlement policy in Resolution No.42/2017, support credit institutions to accelerate bad debt handling, recover capital quickly, and open up capital sources for credit institutions to operate, speed up the restructuring process of credit institutions, and avoid potential risks of the economy.
Dak Lak seeks help for wind power companies
Dak Lak Province People's Committee said on September 8 that they had sent an official document to the Ministry of Industry and Trade to ask for support for wind power companies. 
The prime ministerial decision issued on September 10, 2018, increased the offshore feed-in tariff to 8.5 US cents per kWh. This has been applied to wind energy projects that go into operation by January 1 and last for 20 years.
Dak Lak has issued permits to eight wind power projects with a total capacity of 685MW. 85% of the Ea Nam Project has been completed and four other projects in Krong Buk District are 40-45% completed. However, the firms are facing many difficulties to follow the schedule as Covid-19 has badly affected import-export activities. Foreign experts have to be quarantined and the number of construction workers was limited.
Administrative procedures for a large project that needs 500kV substations and complicated ground clearance are also time-consuming.
Due to the difficulties, wind power firms have asked to extend the deadline for projects to go into operation to November 1.
Vietnam wants to bolster agricultural cooperation with Belgium
Minister of Agriculture and Rural Development Le Minh Hoan told David Clarinval, Minister for Small Businesses, the Self-Employed, SMEs and Agriculture, Institutional Reform and Democratic Renewal of Belgium that Vietnam hopes to further foster agricultural collaboration with Belgium during their meeting in Brussels on September 9.
Noting Vietnam and Belgium have shared fruitful cooperation in agriculture with the formation of agricultural ties to a strategic partnership in 2018, Minister Hoan proposed that the two sides bolster the partnership on the basis of optimising their potential and advantages.
He suggested that the Belgium side create favourable conditions for Vietnamese and Belgian agro-forestry-fisheries products to enter each other market.
Belgium is currently the fifth biggest agro-forestry-fisheries market of Vietnam among EU countries. Minister Hoan expressed his hope that Belgium will continue supporting the development of waterway logistics and cold storage using the Belgian technology in the Mekong Delta region of Vietnam, thus forming a network of transport for fresh agro-fisheries products from the region to Cai Mep port as well as Belgium's Antwep port and other major ports in the world.
He also asked for Belgium's support in developing cocoa products to meet Belgium standards, so that Vietnamese cocoa will be attached to the well-known chocolate trademark of the European country.
Hoan affirmed that Vietnam will create favourable conditions for Belgian firms to invest and seek partnership in Vietnam's agriculture as well as other strong sectors of Belgium such as logistics, saltwater desalination, remote sensing, and food preservation technologies.
Both sides should continue strengthening cooperation in technology research and transfer as well as training collaboration among training facilities and regions, he said, stressing that the two countries should make detail coopeation contents and mechanisms to implement the bilateral memorandum of understanding on food safety signed in October 2018.
The Vietnamese Ministry of Agriculture and Rural Development hopes to continue receiving ODA from Belgium to implement strategic cooperation contents with Belgium and boost its development, he said, adding that Vietnam is working hard to deal with illegal, unreported and unregulated fishing (IUU) with a hope that the European Commission will remove the 'yellow card' on Vietnam's fisheries soon.
For his part, Clarinval showed his wish to work with the Vietnamese side to promote the implementation of the bilateral agricultural strategic partnership, focusing on cooperation in personnel training, technology transfer, private investment encouragement, logistics development serving agricultural value chain.
The Belgian official agreed with Vietnam's proposals on collaboration in implementing and expanding ODA projects in Vietnam, including that to build a cold warehouse in the Mekong Delta region and develop sustainable rice and cocoa, as well as training cooperation.
He said he hopes Vietnam will continue assisting and creating favourable conditions for Belgium investors in logistics port development serving the export of fresh fruits to European markets at the lower Cai Mep port.
He also highlighted the need to create conditions for Belgium's products with competitive advantage, including cherry and pork, to be present in the Vietnamese market./.
Vietnam's coffee exports to UK drop in H1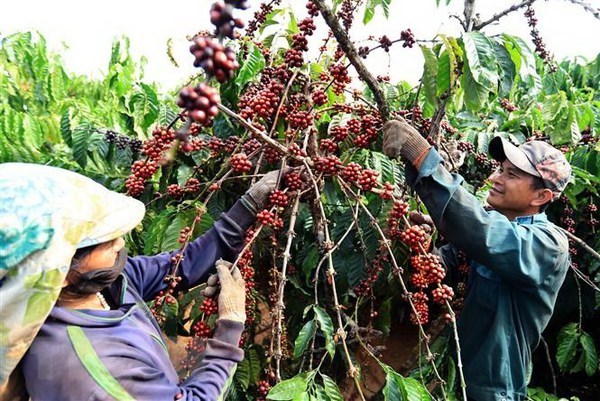 Famers harvest coffee.
Vietnam's coffee exports to the UK market have decreased significantly as its products fail to meet stricter requirements in terms of quality and consumption trends of British people, according to the Agency of Foreign Trade under the Ministry of Industry and Trade.
Statistics released by the International Trade Centre showed that the UK's coffee imports in the first six months of this year reached 100,300 tonnes worth 424.62 million USD, representing a year-on-year fall of 13.8 percent in volume and a drop of 10.9 percent in value, the agency said.
Notably, the UK increased coffee imports from most of the main supplying markets during the first half of the year, except Vietnam and Honduras.
The UK imported 16,400 tonnes of coffee worth 29 million USD from Vietnam, year on year decreases of 48.4 percent in volume and 49.3 percent in value.
The Vietnamese share of the coffee market as part of the UK's total imports decreased from 27.32 percent during the first six months of last year to 16.35 percent this year.
Vietnam's coffee exports are in the form of raw or semi-processed beans, while the UK's coffee consumption is mainly instant coffee, accounting for 41 percent of the overall market share, a far higher figure compared to the average figure of 17 percent in Europe.
The UK's coffee imports are forecast to bounce back in the long term with an average growth rate of around 2.4 percent between 2020 and 2024 regarding coffee shops which is considered to have a good recovery in the post-COVID-19 period.
According to the Agency of Foreign Trade, the UK is the second largest economy in Europe, has a free trade policy and has a great demand for agricultural products.
Following the signing of the UK-Vietnam FTA (UKVFTA) last year, Vietnamese agricultural products enjoy competitive advantages in the UK market compared to similar products originating from other countries.
Last year, the UK imported coffee products worth approximately 1 billion USD from Vietnam. However, local businesses are advised to meet stringent requirements set by this demanding market by complying with Global GAP standards in production to access the high-end market.
Businesses are recommended to produce products that suit British consumer tastes, while also devising proper strategies aimed at establishing long-term relationships with partners in the UK market./. 
HCM City considers permitting supermarkets and delivery services to operate from 6am to 9pm
The HCM City Department of Industry and Trade has asked the city's People's Committee to allow supermarkets, convenience stores, food stores and shippers to operate from 6am to 9pm every day during the period of social distancing.
The proposal aims to ensure the supply of goods and food to the public. The city has 92 supermarkets, 2,100 convenience stores and 522 grocery stores.
The People's Committee has instructed the Department of Trade and Industry and large supermarket chains like Co.opmart, Lotte, Bach Hoa Xanh and Vinmart to work with authorities in all 21 districts and Thu Duc City to ensure distribution of goods.
Nguyen Nguyen Phuong, deputy director of the department, said that starting from Tuesday (September 7) the city will reopen the Binh Dien Wholesale Market in order to ensure food supply for HCM City.
The average daily consumption in the city of nearly 10 million is 10,964 tonnes of rice, meat, fruits, vegetables, and processed foods.
Last week, more than 25,000 shippers were allowed to resume operation.
Every day at 5-6am, shippers in very high-risk districts undergo rapid COVID-19 tests at medical stations operated by the military in city wards, and if results are negative, they will be allowed to operate.
Shippers in the remaining districts of HCMC will be tested twice a week.
In order to ensure social distancing, the military and police personnel since August 23 have helped community-based COVID-prevention groups and volunteers shop and deliver food to people once a week.
Room remains for Vietnamese exports to Russia
There remains huge room for Viet Nam to boost exports of farm produce, seafood, foodstuffs and beverages to Russia, which has great demand for these goods, experts have said.
Currently many Vietnamese products are unpopular in Russia despite the huge market demand, online newspaper dangcongsan.vn cited Vice chairwoman of the Russia – Viet Nam Friendship Association (RVFA) Regina Budarina as saying.
For example, fresh Thai mangoes are available in Russia, but lack of consumption channels has led to the rare presence of Vietnamese mangoes in this market thus customers who have demand for this fruit have to go to markets or cafes operated by the Vietnamese.
Also, Russian customers prefer Indian rice to that of Viet Nam due to more competitive prices.
In order to effectively penetrate the Russian market, she suggested Vietnamese businesses follow the shortest path which is to promote market research. Although initially, market research might cost businesses a lot of money, but in the future, it would facilitate their exports to Russia, she said.
Frequent seminars and exhibitions would be also needed to bring Vietnamese products closer to the Russian market, she said, adding that Vietnamese firms should consider shipping their goods to Russia by rail through China to reduce transportation costs.
According to the Vietnamese Trade Office in Russia, farm produce, food and consumer goods are mainly sold at retail chains. Besides product quality and design, businesses also needed to ensure sufficient supply of goods.
In order to bring goods into these chains, in addition to product quality and design; businesses need to meet the important requirement of constantly having stock at the warehouse to supply regularly to stores.
The good news is that at present, a number of agricultural products and processed agricultural products from Viet Nam have gradually accessed Russian retail systems, such as mango, chili sauce, dipping sauce, pomelo and dragon fruit, the office said.
However, the quantity of items was still modest, it noted.
Over the past years, the office has connected many Vietnamese enterprises with suppliers who provided Vietnamese agricultural products such as ginger, grapefruit, and vegetables to the Russian supermarket chains.
However, Vietnamese firms have still encountered several difficulties due to their failure in ensuring stable and long-term supply of goods in large quantities. Therefore, in order to export to Russian stably, the firms needed to draw up a suitable strategy and build a supply system in the host country to supply supermarket chains there, the office said.
Along with the efforts of trade promotion organisations and domestic industry associations in connecting the two countries' businesses amid the complicated development of the COVID-19 pandemic, the office said it would continue to facilitate trade promotion activities in order to support businesses in the new context while organising seminars and business matching events on specific industries and fields in order to create opportunities for Vietnamese goods to enter the Russian market.
Meanwhile, in order to maintain growth and improve the market share of Vietnamese agricultural and seafood products in Russia, economists advised businesses to focus on ensuring the prestige and quality of export products, boost processed farm produce exports, and diversify the range of products made from fresh fruits to improve their competitiveness in Russia.
Relevant authorities needed to strengthen assistance for trade promotion and market forecasting, and provide specific information to help businesses prepare for approaching and expanding trade with Russia, they said.
Over the past six months of 2021, two-way trade reached US$2.62 billion, up 16 per cent per cent year-on-year, with Vietnamese exports worth $1.66 billion, up 31 per cent year-on-year, according to the General Department of Customs.
Among staples recording a significant turnover increase were textile and garment with $195 million, up 54 per cent; seafood with $87.5 million, up 64 per cent; fruit and vegetables with $42 million, up 50 per cent; cashew nuts with $25.3 million, up 48 per cent; electronics, computers and parts with $253 million, up 46 per cent, handsets and component with over $500 million, up 6.4 per cent.
From January to June, Viet Nam's imports from Russia saw a modest decline of 3.3 per cent to over $967 million with main goods including chemical products; paper, pharmaceuticals, plastic materials and automobiles.  
Dutch-funded project helps boost dragon fruit exports to EU market
A Dutch-funded project "Vietnam Tropical Fruit Quality Improvement" has been launched recently, creating a wealth of opportunities for Vietnam to export its dragon fruit to the European Union in a sustainable manner.
During a recent webinar, Peter Prins, the project co-ordinator, revealed that the objective of the scheme is to remove hurdles faced by businesses and expand the export capacity for Vietnamese dragon fruit within the EU, as the output of dragon fruit is largely dependent on the Chinese market.
The project aims to help improve farmers' cultivation methods in order to churn out products that fully meet the EU importers' technical standards, whilst simultaneously strengthening connectivity between Dutch importers and Vietnamese producers.
Most notably, the project will apply the Eurofins' soil quality control technology for dragon fruit within the Netherlands.
Through the application of science and technology and support from Dutch experts, the overall quality of dragon fruit will be improved, thereby meeting the requirements set by demanding market such as the EU, Prins noted.
John Dufill, CEO John Crop Development Vietnam Co, Ltd., emphasised that strict control over the residues of pesticides is key to Vietnamese dragon fruit making significant inroads into the EU market.
Furthermore, local firms should fully comply with other technical standards and maintain sufficient supply sources in order export their products to the demanding market in a sustainable manner.
Garment-textile, footwear may take long time to recover: insiders
Vietnam's garment-textile and footwear have borne the brunt of COVID-19 and firms in the sectors may take a long time to recover, experts said.
The sectors greatly contribute to the country's exports as well as generate jobs for a large number of workers. However, many factories remain closed due to difficulties triggered by the ravaging pandemic.
Estimates showed that a footwear firm with about 9,000 workhands needs to spend approximately 1 million USD on preventive measures, while the costs of input materials have risen 5-10 percent.
Some businesses said they are facing fines for late delivery and risks of losing orders for the next season.
To maintain orders for the following year, Phan Thi Thanh Xuan, General Secretary of the Vietnam Leather and Footwear Association (Lefaso), said the association has proposed easing the restrictions in three phases.
Prospects of this year and even of 2022 have become gloomy, she added.
Chairman of the Vietnam Textile and Apparel Association (Vitas) Vu Duc Giang said if the COVID-19 pandemic continues to spread, firms may not be able to maintain and stabilise operations as well as retain customers.
It is important to keep the workforce amid uncertainties of production plans, COVID-19 vaccine shortages and unpredictable developments of the pandemic, according to Vitas.
To restore production of the sectors, the Ministry of Industry and Trade (MoIT) will work to remove bottlenecks and provide the most possible support to help factories resume operation and take advantage of orders at year's end in the European and US markets.
In addition, the MoIT will step up the implementation of a development strategy for garment-textile and footwear to 2030, with a vision to 2035, and the building of a programme on sustainable development of the sectors until 2030.
It will also strive to expand export markets, capitalise on advantages of existing free trade agreements, diversify export items and improve the competitive edge of products and brands./. 
Food processing firms map out plans to restore production
Food processing firms in HCM City have mapped out plans to gradually restore production when the city relaxes social distancing regulations in the near future, according to the Food and Foodstuff Association of HCM City.
The association noted that a recent shortage of some processed food products was an unavoidable situation because firms have faced difficulties acquiring raw materials and have had to deal with transport congestion.
HCM City and 19 other cities and provinces in the south have been strengthening social distancing to contain COVID-19.
The association said difficulties faced by enterprises affect entire supply chains, not just one stage, one division or one factory.
Social distancing restrictions have affected the harvesting of crops and disrupted the supply of raw materials for food and food production from other cities and provinces to HCM City. Transportation and circulation of goods have also been affected.
The terminal manufacturers have had to reduce production capacity by at least 50 per cent because they have been operating the "3 on-site" model as prescribed by authorities.
"Any enterprise that can produce wants to run at full capacity, organise overtime work and try to keep prices stable," said Ly Kim Chi, the association's chairwoman.
Many enterprises, however, have been forced to cut production on several items to focus on key products with good revenue to maintain operations in the current situation. Some enterprises reduced product codes from above 100 to just more than 10 to optimise productivity and output as well as meet orders from distributors.
Bui Phuong Mai, chairwoman of VIFON, said although the company's output of its key products had increased many times compared to before, its total output fell by 50 per cent.
Last week, the company started to implement the "one road, two destinations" measure, which is expected to help the company to improve production capacity.
Chi said enterprises are currently developing scenarios to gradually restore production capacity when the city relaxes social distancing regulations in the coming time.
"In order to gradually increase the production rate, it is necessary to stop the three-on-site requirement, and all workers must be fully vaccinated against COVID-19. In addition, material supplies must be ensured."
If provinces and cities do not encourage farmers to grow new crops, then the possibility of not having enough input materials for food processing firms will be very high, and prices will surge.
She said better coordination is needed between ministries, localities, enterprises, agricultural production cooperatives and farmers in preparing for production recovery. 
2022 State budget expected to rise by 8.3 percent
The Ministry of Planning and Investment estimates the total State budget to reach 516.7 trillion VND (22.6 billion USD) in 2022, up 8.3 percent against 2021's plan.
Of the total, the central budget will be 222 trillion VND, equal to this year's plan, while the local budget capital will be 294.7 trillion VND, up 15.4 percent compared to that of this year's estimate, the ministry said.
Next year, Vietnam will continue improving the efficiency of public investment use; speeding up the implementation of key investment projects with focus on highways, seaports, digital infrastructure, and important databases; expanding investment in innovative start-ups, important national and inter-regional projects.
Attention will be paid to complete construction on roads along the coast, transited from 2016-2020 to 2021-2025, and start work on several urgent and important projects that have positive influences on the economic recovery and development process in the context of the COVID-19 pandemic, and urgent projects as regulated by the Law on Public Investment.
According to the Ministry of Planning and Investment, in order to remove difficulties in public investment-related institutions, mechanisms and policies, the Government issued a Decree dated August 16, 2021 on amending and supplementing a number of articles of Decree No. 97/2018/ND-CP dated June 30, 2018 on on-lending ODA and foreign preferential loans of the Government. As a result, the problem of loan security assets has been removed for sub-borrowers, including public non-business units.
The Prime Minister also issued Decision No.1388/QD-TTg dated August 6, 2021 on the establishment of the Prime Minister's Working Group to direct the development of a pilot project on separation of ground clearance and resettlement out of investment projects. At the same time, the Prime Minister also issued Dispatch No.1082/CD-TTg dated August 16, 2021 requesting ministries, central agencies and localities to speed up the disbursement of public investment capital./. 
Comprehensive digital transformation to improve business efficiency
The Ministry of Planning and Investment has drawn up a programme on supporting digital transformation in enterprises, cooperatives and household businesses during the 2021-25 period.
It has also sketched out a draft project, a draft proposal and a draft decision approving the programme that aims to materialise policies and guidelines of the Party, laws of the State and solutions of the Government in this regard.
The programme is expected to help accelerate digital transformation through changes in awareness, mindset and strategies of enterprises, as well as incentives towards digitalisation in business, administration and production activities.
Accordingly, all of the production facilities would have their awareness and mindset of digital transformation improved by 2025. Meanwhile, at least 500,000 of them will receive assistance from the programme in training, consultancy and access to digital packages.
Among the beneficiaries, at least 800 firms, 100 co-operatives and 4,000 household businesses are set to become models in digital transformation, especially in processing, manufacturing, agriculture, tourism and certain production spheres.
A network of experts will be set up, bringing together at least 500 organisations and individuals that will provide consultancy in digital transformation, and announce a database with at least 100 digital transformation solutions.
The programme targets enterprises, cooperatives and business households that seek digital transformation to improve their production and business efficiency and competitiveness.
To meet the set targets, the ministry will build documents and tools guiding digital transformation, roll out activities and boost cooperation between relevant sides.
The programme will focus on developing and raising the capacity of experts in digital transformation according to global standards and trends, and connecting them with production facilities.
It will select production facilities that have sufficient capacity and commit to adopting digital transformation, helping them put forth a roadmap for digital transformation, and offering them up to a 50 per cent reduction in consultancy costs.
The funding for the programme will come from the State budget, both at central and local levels, and contributions by organisations, individuals and businesses.
ASEAN economic ministers adopt Roadmap of Bandar Seri Bagawan
ASEAN economic ministers adopted the Roadmap of Bandar Seri Bagawan on digital transformation in the bloc to speed up regional economic recovery and digital economic integration at their 53rd meeting via videoconference on September 8.
A Vietnamese delegation led by Deputy Minister of Industry and Trade Tran Quoc Khanh attended the event.
The delegation offered opinions on the plan reviewing the ASEAN Trade in Goods Agreement, the handling of non-tariff barriers in member states and trade facilitation measures to step up internal trade.
They also suggested orientations for economic cooperation between ASEAN and outside partners in the coming time to bring practical benefits to Vietnamese and ASEAN enterprises, contributing to economic recovery post-pandemic.
Participants at the event discussed ASEAN's long-term plans and action programmes towards achieving sustainable economic development in the region.
After the meeting closes on September 9, a series of consultations between ASEAN economic ministers and dialogue partners will take place from September 13-15./. 
ASEAN economic ministers upgrade ATIGA
ASEAN economic ministers adopted revisions to several terms in the Operational Certification Procedures (OCP) in the first Protocol amending the ASEAN Trade in Goods Agreement (ATIGA) during the virtual AEM-35th ASEAN Free Trade Agreement Council Meeting on September 8.
Speaking at the event, the Vietnamese delegation, led by Deputy Minister of Industry and Trade Tran Quoc Khanh, said with the bloc's removal of 98.6 percent of tariff lines in ATIGA, the upgrade of ATIGA needs to help firms capitalise on its benefits via cutting compliance costs and increasing trade facilitation measures.
Participating ministers also approved the addition of 107 kinds of farm produce and food into the list of necessities in ASEAN, raising the total to 257, in a bid to cope with the COVID-19 pandemic.
The event also took note of results recorded in regional customs cooperation, especially in building the 2022 ASEAN Harmonized Tariff Nomenclature, which is expected to be launched in next January./.  
Vietrade, Alibaba.com shake hands in supporting SMEs to overcome COVID-19
The Vietnam Trade Promotion Agency (Vietrade) and Alibaba.com, the global business-to-business (B2B) e-commerce platform of the Alibaba Group, have jointly launched a programme to support Vietnamese small- and medium-sized enterprises (SMEs) in overcoming COVID-19.
The programme aims to provide domestic SMEs with knowledge and solutions from Vietnamese and foreign experts in digitalisation, while inspiring them with practical experience and successful stories in digital transformation.
Vietrade Deputy Director Hoang Minh Chien said that his agency has worked with e-commerce platforms to implement trade promotion activities on digital platforms, including collaboration with Alibaba.com in training activities.

He said that the activities have received strong support from State management agencies and Vietnamese trade offices abroad, as well as domestic and foreign trade promotion agencies, localities and businesses, helping form a relatively complete ecosystem in the field.
The programme is part of Vietrade's efforts to speed up the application of IT and digital transformation in enhancing efficiency of e-commerce activities of Vietnamese firms, he added.
During the programme, SMEs will receive information on e-commerce policies and training as well as market data analysis from Alibaba.com, along with solutions exclusively designed for Vietnamese businesses.
Roger Lou, Alibaba.com Country Manager in Vietnam, said that e-commerce is a cost-saving and effective measure for enterprises to expand new sale channels and maintain revenue.
Noting that the consumption of major markets such as the EU and the US has recovered and risen again, he held that this is a good chance for Vietnamese businesses to gain direct access to their promising customers abroad through Alibaba.com.
The online programme is also a new step forward in cooperation between Alibaba.com and Vietrade with an aim to support SMEs to regain their business advantages, he said, adding that it will give detailed guidelines for engaging firms in all five support packages.
Businesses interested in the programme can register to join it through the website https://seller.alibaba.com/pages/vietrade./. 
Bamboo Airways to operate first demo direct flight to US in late September
Bamboo Airways will operate its first two-way demonstration flight on the Vietnam-US direct route on September 23.

Under a certificate granted by the US's Transportation Security Administration to Bamboo Airways, the airline will conduct 12 two-way flights on the route between September and November this year. 
The flights will take off and land in different airports of Vietnam (Noi Bai International Airport in Hanoi and Da Nang International Airport in Da Nang) and the US (San Francisco and Los Angeles airports in California, and Seattle-Tacoma airport in Washington).
The operation of the first demonstration flight is the first of a series of activities of Bamboo Airways in the US, including the signing of MoUs with San Francisco International Airport and Los Angeles International Airport, the opening of a representative office in the US, and working sessions with Boeing and US partners./. 
Hai Duong looks to develop modern supporting industries
The northern province of Hai Duong is striving to develop modern supporting industries and become an important link in the global supply chain of multinational corporations by 2030.
Hai Duong is located at the middle of the Hanoi - Hai Phong economic corridor along National Highway 5 and the Hanoi - Quang Ninh economic corridor along National Highway 18. In addition, Hai Duong - Hai Phong - Quang Ninh is a key economic triangle in the eastern region of the northern key economic region. In the provinces adjacent to Hai Duong, many large global corporations such as Samsung and Microsoft have set up their production bases. These are considered advantages of the province in attracting investment in supporting industries.
Hai Duong province currently has 454 foreign investment projects from 26 countries and territories, with a total registered investment of 8.4 billion USD. The projects mostly focus on manufacturing hi-tech products, electrical products and electronic components, automobiles, and producing cement, iron and steel, and garment and textiles.
To date, the northern province has developed a number of supporting industries in three main fields: mechanical engineering, electricity - electronics, and garment - footwear. The growth rate of industrial production value of those three supporting industries during 2015-2019 averaged 15.4 percent a year.
There are about 130 enterprises producing supporting industry products in the locality. In 2019, the supporting industry's production value accounted for nearly 60 percent of the entire industrial sector's production value.
According to the master plan on industrial zones to 2020 approved by the Government, Hai Duong would have 18 industrial zones (IZs), with an area of more than 3,500 hectares. Currently, Hai Duong province has 14 industrial zones established with a total area under the approved detailed planning of over 2,560 hectares.
At the beginning of 2021, Hai Duong province received approval from the Prime Minister to set up four more industrial zones and continue the construction of two established industrial zones with a total planning area of about 1,097 hectares. These industrial zones are all oriented to attract competent investors, large-capital projects in modern industries that use modern technology and are friendly to the environment.
Among nearly 300 projects in Hai Duong's industrial zones, there are 252 foreign-invested ones, which have a combined registered capital of more than 5 billion USD. The northern province has attracted investors, and large corporations from over 30 countries and territories around the world such as Brother and Sumidenso of Japan, or Kefiko of the Republic of Korea.
The number of enterprises operating in supporting industries accounts for nearly 4.5 percent of the total number of enterprises in the processing and manufacturing industry in Hai Duong. In particular, the supporting industry only meets the localisation rate of about 5-10 percent in automobile production, and 20-40 percent in the electricity - electronics industry. Currently, the province has 10 industrial parks with synchronous infrastructure investment, and 38 industrial clusters. In the 2020-2025 period, the province plans to call for investment in infrastructure of 3-5 industrial parks, and 10-15 new industrial clusters, with a total area of about 2,000 hectares.
There are more than 14,000 enterprises registered for production and business in Hai Duong province, including about 450 FDI projects. The locality is also home to over 23,000 industrial and handicraft production establishments.
Hai Duong is focusing on attracting large enterprises and economic groups that can act as the locomotive to lead other businesses to participate in innovation and creativeness. The provincial People's Committee has issued many mechanisms and policies to develop supporting industries. On March 8, 2017, the committee issued Decision No. 754/QD-UBND approving the master plan on development of supporting industries in Hai Duong province to 2020, with a vision to 2030./. 
Hanoi villagers turn barren lands into profitable farms
Farmers in Hanoi's suburb district of Chuong My are turning barren, abandoned pieces of land into productive farms that yield high profit annually.
Despite multiple difficulties, they have been exploring new agricultural models and shifting to farming of new crops and livestock.
Residents in Thanh Ne Village of Chuong My's Thanh Binh Commune described their 48-year-old neighbour, Nguyen Van Tap, as a man who thinks outside the box when it comes to growing an agribusiness, is willing to help others and actively engages in local campaigns.
Tap, a solid white chicken grower, has been honoured as an outstanding farmer of the commune for years. His family has also received the excellent business household title by authorities of Hanoi and Chuong My for multiple times now.
He started his business in 2002 when he built a small farm of white chicken that raised 6,000 birds per litter. During early years, his farm suffered big losses as a result of lack of experience coupled with uncertain market prices and outbreaks of diseases.
But with high determination and hard work, he has gradually fixed his farm's problems and expanded production scale. In addition to his farm in Thanh Binh, Tap has leased more land to develop other ten chicken farms in Chuong My's Dong Ngac Commune as well as Lien Son Commune, Luong Son District and Ngoc Luong Commune, Yen Thuy District in the neighbouring province of Hoa Binh.
These farms have adopted modern farming practices to be capable of raising around 160,000 birds a litter in total, earning him some 2.5 billion VND (roughly 110,000 USD) in annual revenue. His farms also provide jobs for 20 locals who are paid 7 million VND per person per month.
Last years, he was awarded as an excellent business household by the central authority. 
Dang Dinh Tien, meanwhile, is a farmer born in the 1970s in Village 3, Dai Yen Commune. After completing his military service in 2017, Tien has done various jobs to support his family.
He was introduced by his friend about ostrich farming and became interested. Realising it could be a very promising business, he took his chances on the new farming model later that year. He and his wife leased a 0.36ha low-yield piece of land to build a commercial ostrich farm.
He said he had no money at that time and had to borrow cash for the construction of the barn. "In the first year, I just dared to purchase 50 breeding ostriches to raise for the start," he said.
Taking advantage of extra land of the farm, he has also made places for farming of chickens and pigeons. After three years, now his farm is cultivating 210 ostriches and more than 2,000 pigeons, generating billions of Vietnamese dong annually.
Chairman of Chuong My's farmers' association Chu Manh Khang said there are thousands of farmers across the district striving to beat the odds and become successful like Tap and Tien. They share one common thing – they and their family have worked tirelessly to learn from experience and expand farming in order to succeed today, he said.
They have also bravely applied new advanced practices to heighten productivity and product quality and at the same time, shared their experience to other farmers and participated in various charitable projects to support the elderly and poor families, he noted.
The successful farmers have donated tonnes of farm produce and cook thousands of meals to provide people working at the front line against the COVID-19, he added.
They do not only set a good example for others but also inspire people to stay united, resilient and creative to earn a far better living, said Vice Chairman of the Chuong My People's Committee Hoang Minh Hien. The district will offer further technical and financial assistance to scale up the successful agriculture models, he stated./. 
Vietnamese farm produce introduced at fruit & vegetable show in Italy
Vietnam is introducing its fruit, vegetables, and other farm produce at Macfrut 2021: the Fruit & Veg Professional Show, which opened on September 7 in Rimini city, the Emilia Romagna region of Italy.
On display at the Vietnamese booth are fresh fruits from northern Son La and southern Ben Tre provinces, including grapefruit, longan, avocado, and mango.
Other specialties such as coffee and tea were also brought to the event.
Macfrut 2021 is the first major event for the fruit sector to be held in the European region after a nearly two-year hiatus due to the COVID-19 pandemic.
It offers a good chance for Vietnam to set up partnership and seek export markets for its agricultural products in Italy and other EU member nations.
Vietnamese Ambassador to Italy Nguyen Thi Bich Hue emphasised that Vietnam's presence at Macfrut 2021 shows the desire and efforts of the embassy, localities and domestic businesses to promote Vietnamese fruits to international markets.
The fair also serves as a bridge helping Vietnamese businesses access and connect with Italian partners who possess advanced technologies for producing, processing and preserving fruits, she said.
The two-day event features 800 booths, and is expected to attract about 500 fruit importers worldwide.
Fruit production is a strategic field of Italy's agricultural sector, recording a growth of 9.4-percent in volume and 11.9 percent in value in the first five months of 2021./.
Source: VNA/VNS/VOV/VIR/SGT/SGGP/Nhan Dan/Hanoitimes  

Deputy PM heads State Steering Committee for Key Petroleum Projects