VIETNAM BUSINESS NEWS SEPTEMBER 7
Market extends rally after long holiday on pillar stocks
Shares inched higher on Monday, backed by gains in pillar stocks as investors' risk appetite remained high.
On the Ho Chi Minh Stock Exchange (HoSE), the market benchmark VN-Index closed the session at 1,346.39 points, up 11.74 points, or 0.88 per cent.
The index rose 1.63 per cent last week. It climbed for three straight sessions before the market closed for the four-day National Day holidays starting on September 2.
The market's breadth was positive with 300 stocks increasing, while 106 stocks declined and 42 stocks ended flat.
The liquidity was also high as investors poured over VND28.2 trillion (US$1.23 billion) into the southern bourse, equivalent to a trading volume of more than 944.4 million stocks.
The index extended rallies on the back of large-cap stocks in most sectors.
The 30 biggest stock trackers VN30-Index posted a rise of 14.6 points, or 1.02 per cent, to 1,441.51 points. Of the VN30 basket, 26 stocks edged higher while only six stocks slid, and one remained stable.
Hoa Phat Group (HPG) was the leading stock on Monday as it gained 4.07 per cent. It was followed by Vinhomes (VHM), PetroVietnam Gas (PVGas, GAS) and Vingroup (VIC). These stocks jumped in a range of 0.96 - 2.03 per cent.
Information technology (IT) and bank stocks also contributed to the market's uptrend. Of which FPT Corporation (FPT) surged 2.7 per cent, Techcombank (TCB) rose 1.35 per cent, Vietcombank (VCB) was up 0.6 per cent and MBBank (MBB) increased 1.43 per cent.
However, the index's gain was capped by losses in some big stocks like Masan Group (MSN) and Vietnam Rubber Group (GVR), with these two stocks reporting losses of more than 1.6 per cent.
In a monthly report, HoSE said that the market liquidity on the exchange was improved compared to the previous month, and hit a record high on August 20 with a trading value of nearly VND30 trillion, equivalent to a trading volume of nearly 1.2 billion shares.
This is the largest trading session in the past 21 years.
For the whole month, the total trading value and volume reached nearly VND506.8 trillion and 15.47 billion shares, respectively.
The average trading value per session was over VND23 trillion, up 13.95 per cent month-on-month, with an average trading volume per session of 703.36, up 16.63 per cent.
On the Ha Noi Stock Exchange (HNX), the HNX-Index also increased 2.21 points, or 0.64 per cent, to 345.63 points.
During the session, over 194.8 million shares were traded on the northern bourse, worth VND3.8 trillion.
Meanwhile, foreign investors continued to flee from the market as they net sold a total of VND343.85 billion on both main exchanges.
Of which, they net sold a value of VND291.59 billion on HoSE, and a value of VND52.26 billion on HNX.
Enterprises risk losing export markets due to ocean freight cost
Some of Vietnam's major export products are threatened to lose access to their usual markets as ocean freight costs continue to skyrocket.

SSI Research has issued a pessimistic forecast for Vinh Hoan Seafood JSC's (VHC) business results in the second half of this year, after meeting with the leaders of this company.
"Since global ocean freight costs started to increase last October, VHC had to sign more CIF orders – meaning that they had to cover the shipping costs – to maintain relationships with traditional partners. This also means that the company now bears most of the freight charges and related risks," stated SSI Research.
"Although the management is working hard to negotiate with partners for more FOB orders – in which buyers pay for shipping – for the contracts signed in October, the freight costs remain high and discouraging."
According to VHC's leadership, demand for its products or supply of raw materials are no issues. The orders from the US are increasing, and the company is maintaining operation with the stay-at-work model, with 65 per cent of its usual workforce stationed at the company. The main problem lies in exporting goods overseas as shipping charges climbed sky high due to a shortage of empty containers and the increased demand for freight.
Statistics of the General Department of Customs show that after the growth momentum in the first half of this year, in July, the export turnover of the seafood sector decreased by 4 per cent on-year.
In the first half of August, seafood exports reached a turnover of $264 million, down 41 per cent compared to the second half of July and down 30 per cent on-year. In which, basa exports fell by more than 30 per cent on-year.
The situation means that enterprises practically export goods with zero profit, even accepting losses to keep the relationships with traditional partners. On average, around 95 per cent of seafood goods from Vietnam are exported via seaway.
Thai Nhu Hiep, director of Vinh Hiep Co., Ltd. – the company that exported the first batch of coffee to Belgium and Germany under the trade agreement with the EU – told VIR, "At present, we have to accept exporting with little profit, sometimes even with losses. We have to ensure our credibility with foreign partners. Enterprises like us are forced to take advantage of all legal ways to export their goods overseas if they do not want customers to cancel the orders. There will be no compromise or sympathy from foreign partners for delays in completing contracts. However, only large-scale companies have the ability to maintain this situation. It is an impossible mission for small- and medium-sized enterprises," Hiep said.
Despite many enterprises trying their best to export goods smoothly, their concerns about losing the export markets remains. Nguyen Dinh Tung, CEO of Vina T&T Co., Ltd. – which specialises in exporting fruit to the US, Australia, and Canada – said that many firms are struggling to export their goods and partially had to suspend operations. Some of them also face competition and may lose their business to foreign competitors.
According to the Vietnam Pepper Association's (APV) observation, enterprises in the US and EU are increasing their orders for pepper products from Brazil because its quality is not too different compared to Vietnam's products, while freight costs from Brazil to the US are only one-third of that from Vietnam. Besides this, the charges from Brazil to the EU amount to only one-tenth of that from Vietnam.
The APV forecast that if the increase in ocean freight costs does not cease soon, Vietnam's pepper industry may completely its capacity in the US and EU markets. Similarly, other agricultural goods could also lose their market shares overseas.
In mid-August, SSI Research forecast that freight rates may peak in the fourth quarter of 2021, only declining slightly in the first half of 2022.
"Freight cost may see a significant decrease in 2023, when the supply of new ships rises, but the charges will still maintain a higher level than before the pandemic," SSI Research stated.
Thua Thien-Hue steps up construction of ports, shelters
The central province of Thua Thien-Hue has worked to accelerate the construction and repairing of downgraded ports and storm shelters for vessels in a bid to support offshore fishing.

The project has been implemented since 2019 with a total investment of 400 billion VND (17.56 million USD).

However, capital disbursement of its three sub-projects has been lagging behind.

The sub-project to build and repair the Thuan An fishing port and shelter hit only 60 percent of the target as the COVID-19 pandemic hinders the mobilisation of personnel and construction equipment, said a representative of the provincial Department of Agriculture and Rural Development.

Thuan An port, built over a decade ago, has become degrading and overloaded as the number of fishing vessels increased sharply in recent years.

The upgraded one will be built on an area of nearly 5ha, providing shelter for up to 500 fishing boats measuring 6m and more in length.

Local authorities have asked investors, constructors and supervisors to report progress of disbursement and tasks on a weekly basis, with an aim to finish the construction of items that are vulnerable to weather conditions by October, said Vice Chairman of the provincial People's Committee Hoang Hai Minh.

Meanwhile, the sub-project to upgrade the Phu Hai shelter area is scheduled to complete by the end of September and another to repair the Tu Hien area is set to begin next month, according to the provincial Department of Agriculture and Rural Development.

Although the Prime Minister has set the deadline for the entire project by December 31, the department is seeking an one-year extension.

Upon completion, the project is expected to meet requirements of the European Commission in fishing port management, contributing to efforts to remove the EC's "yellow card" regarding illegal, unreported and unregulated (IUU) fishing./.
Controlling the pandemic to promote production
With many good initiatives and creative actions, several provinces have initially contained the COVID-19 pandemic and are making every effort to foster production to realise the dual goal set by Government.
Residential areas, villages, communes, and towns in the provinces of Quang Ninh, Vinh Phuc, Thai Nguyen and others have effectively controlled the entry of people and vehicles into the localities.
Quang Ninh province quickly established a Command centre for pandemic prevention and control and consolidated Steering Committees at all levels in accordance with the direction of the Prime Minister.
The province has actively built a plan to stand ready for the concentrated isolation of 50,000 people and a treatment plan for 1,000 patients. Quang Ninh has also put into use a digital map of the pandemic situation and installed surveillance camera systems at concentrated isolation facilities in addition to increasing testing capacity to 50,000 pooled samples per day.
The province has persistently implemented this strategy to prevent the pandemic from gateways and key positions by tightening the movement of people, vehicles and goods into and out of the province.
Besides electronic medical declarations, people must be fully vaccinated and have a negative SARS-CoV-2 certificate from a maximum of 48 hours prior to entering the province.
For lorries and container trucks passing through pandemic checkpoints, cabs must be sealed and drivers are required not to get out of the vehicle until arriving their destination.
Quang Ninh has also given COVID-19 vaccines to 172,000 people since April 2021, with more than 105,000 people fully vaccinated.
Timely support for businesses has helped the coal industry, one of the key industries of Quang Ninh and the whole country, to overcome difficulties and stabilise production and business in the past eight months, with coal output of over 25 million tonnes, nearly 65% ​​of the year's plan.
General Director of Vietnam Coal and Mineral Industries Group Dang Thanh Hai said: "the coal industry has still effectively maintained the '3 on-site' production model to avoid any disruption in the supply chains of coal, electricity and minerals in the national economy".
Quang Ninh posted a GRDP growth rate of 8.02% in the first eight months of this year, much higher than the same period last year and the national average.
Import and export turnover also increased by 11.6% over the same period in 2020 while the number of newly registered enterprises rose by 5% and those resuming operations soared by 60%.
When the pandemic appeared in Vinh Phuc province in early May 2021, the province required all businesses in industrial parks to test experts, managers and workers within 10 days. At the same time, the local authorities asked agencies, units and enterprises in the area to make medical declarations through scanning QR codes.
Dr. Dang Ngoc Huy, director of the Health Department of Thai Nguyen province said that the province has seen no new cases of COVID-19 for more than 14 days thanks to its effective implementation of the directions from the Party, State, the National Steering Committee for COVID-19 prevention and control and the Ministry of Health.
The province has also issued more than 400 documents on directing epidemic prevention and control from January 1 this year while always listening to people's opinions to remove any arising problems.
Along with effective control of the pandemic, Thai Nguyen province also strives to boost production and attract investment for economic development.
As the largest company in the province, Samsung Electronics Vietnam has recorded no F0 cases since early this year and maintained normal production with 10% growth over the same period last year.
"We are assured and believe in the pandemic prevention and control measures that the Government and Thai Nguyen province are conducting and that the company has conditions to boost production," said General Director of the Samsung Vietnam complex Choi Joo Ho. 
Since the beginning of the year, Thai Nguyen has attracted and adjusted 21 FDI projects with a total investment of over US$100 million and established five new industrial clusters with total investment of VND1.5 trillion.
As many as 560 enterprises has been set up with total registered capital of more than VND5 trillion. The province also reported a 6.5% increase in GRDP and 5.7% increase in the export value of goods since early this year.
At a working session with Thai Nguyen province on the afternoon of September 3, Prime Minister Pham Minh Chinh acknowledged and praised the province for achieving good results in COVID-19 prevention and control, helping protect people's health and develop production.
Thanks to effective disease control, Vinh Phuc province has implemented many solutions to attract investment and create conditions for businesses to boost production.
By August 15, the province had attracted 24 domestic investment projects with total registered capital of more than VND11 trillion, up nearly 58% and 48 FDI projects with total registered capital of US$895.7 million, up 196% over the same period last year.
Han Jung Ho, chairman of the Republic of Korea Business Association in Vinh Phuc affirmed that "The leaders and authorities of Vinh Phuc province have done a great job in controlling the pandemic, creating a safe area for Korean enterprises".
Real estate remains attractive to foreign investors
With a total registered capital of nearly 1.6 billion USD during January-August, real estate continued to rank third among 18 sectors in attracting foreign investment (FDI).
Although the figure was much lower than the 2.87 billion USD in the same period last year, experts said that this is reasonable as the impact of the COVID-19 pandemic has made it difficult for investors to make fact-finding tours and have investment decisions.
However, the industrial property segment is still considered a bright spot with new industrial zones established and key industrial projects beginning operations.
This year has witnessed new M&A deals and improvement in industrial land supply. The largest manufacturing projects in the first half of 2021 came from Hong Kong (China) and Singaporean investors that targeted northern Quang Ninh and Bac Giang provinces.
According to data from Savills Hong Kong (China), Vietnam is still an attractive investment destination for foreign investors. In the context of the complicated developments of the pandemic, Vietnam is the only country in the world that has been upgraded to a positive rating by all three international credit rating agencies namely Moody's, S&P and Fitch.
Foreign investors such as Japan, the Republic of Korea and Singapore that have a strategy of expanding and diversifying investment channels also look to emerging markets or frontier markets like Vietnam to seek profits, Savills experts analysed.
Economist Dinh Trong Thinh attributed an increase in FDI inflows into Vietnam's real estate sector to political stability, positive economic growth, stable inflation, no major fluctuations in the financial and monetary market and high determination to fight the COVID-19 pandemic.
In addition, the urbanisation process in Vietnam, a rapid increase in the urban population and rising per capita income have also created more room for the development of the property sector, he added.
Experts said that the signing of many free trade agreements, most recently the Comprehensive and Progressive Agreement for Trans-Pacific Partnership (CPTPP), the EU-Vietnam Free Trade Agreement (EVFTA), the Regional Comprehensive Economic Partnership (RCEP), has made Vietnam become an attractive destination for many foreign investors./.
$1.82 billion Thai Binh 2 Thermal Power Plant urged to start operation in April 2022
Deputy Prime Minister Le Van Thanh asked PetroVietnam, the investor of the project, and relevant authorities to complete the unfinished components of Thai Binh 2 Thermal Power Plant to connect it to the national power grid by April 30, 2022.

The deadline was set by the deputy prime minister (DPM) during his second working visit to the construction site in the past month. During the previous business trip, the investor committed to taking the plant into operation next June.
The DPM said that shortening the construction time would save dozens of billions of dong each day and the sooner it is finished, the sooner it can help ease the pressure on the northern region's power system.
The DPM will either directly visit the construction site or organise quarterly meetings to monitor the construction progress and deal with difficulties. The investor was asked to strictly monitor the overall construction process as well as the construction of each important segment.
According to the representative of PetroVietnam, during the past month, 10 of the 12 sub-contractors resumed work onthe project after having to halt due to the pandemic. As of August 31, 86 per cent of the overall construction process was completed.
Thai Binh 2 Thermal Power Plant is an important component of Thai Binh Power Center. The plant was designed with two units with a total capacity of 1,200MW, invested by PetroVietnam. The plant is located in south My Loc commune, Thai Thuy district, about 20km to the east of Thai Binh city.
PetroVietnam Construction JSC (PVC) is the engineering, procurement, and construction (EPC) contractor with a $1.2 billion contract.
The construction was started in 2011 with operations expected to start in 2020 but the projec has been delayed by the pandemic.
Farm produce exports enjoy US$3.3 bln trade surplus
The agro-forestry-fisheries sector's export revenue reached about 32.1 billion USD in the first eight months of this year, up 21.6 percent, while imports were estimated at 28.8 billion USD, up 44.1 percent, resulting in a trade surplus of about 3.3 billion USD, a fall of 48.2 percent over the same period last year, reported the Ministry of Agriculture and Rural Development (MARD).
Revenue from major agricultural products recorded a 13.6 percent growth to 13.9 billion USD, while forestry exports rose 42.7 percent to 11.2 billion USD, and aquatic products' revenue increased 7.1 percent to 5.6 billion USD. Exports of livestock hit 286 million USD, up 15.9 percent.
Despite a fall of 1.3 percent in volume, export revenue of peppercorn still rose over 50 percent to 666 million USD. However, rice and tea suffered fall in both volume and value.
The major export market of Vietnamese agro-forestry-fisheries products was Asian countries which accounted for 41.5 percent of the market share, followed by America with 31.3 percent, Europe 11.3 percent, Africa 1.9 percent and Oceania 1.5 percent.
The US remained the biggest market of the sector with consumption of 9.3 billion USD worth of the products, accounting for 29.1 percent of the market share. It was followed by China with 18.9 percent of the market share.
In the first eight months of this year, Vietnam imported 28.8 billion USD of agro-forestry-fisheries products, up 44.1 percent year on year, including 2.9 billion USD worth of goods (mostly cashew nuts) from Cambodia and 2.7 bilion USD from the US.
In August alone, the sector earned nearly 3.4 billion USD from export, down 21.6 percent over the same time last year and 22 percent compared to the previous month.
Downturn was seen in export revenue of the majority of products, excepting for cassava, grain and milk products.
The sharpest fall was seen in the export value of furniture at over 50 percent, followed by tra fish at 30 percent, vegetable nearly 26 percent, fertilizer 24 percent, and peppercorn 21.5 percent.
The ministry explained that COVID-19 impacts forced factories to slow down operations or even shut down, affecting production for export.
The MARD said that in the rest of the year, it will continue to strengthen trade promotion to increase exports, while supporting localities and businesses in exporting farm produce, coordinating with relevant agencies and representative offices abroad to give market forecast, and applying online assessment on agricultural products./.
Coastal tourism real estate near HCM City attracts developers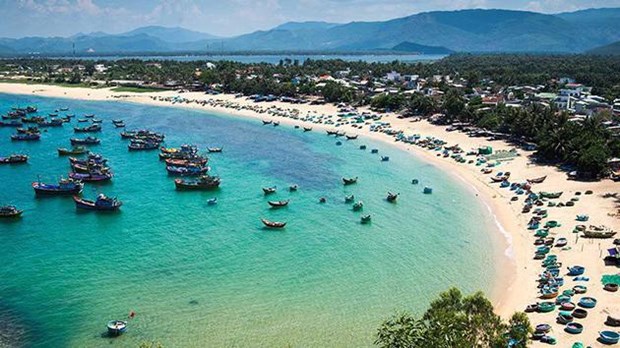 The coastal housing in Binh Thuan province's Mui Ne district. 
The change in tourism trends caused by the COVID-19 pandemic has made coastal real estate near HCM City attractive to tourism property developers.
COVID-19 is limiting the use of public transport such as planes, buses and trains and increasing the use of personal vehicles.
Developers are therefore looking at coastal tourism markets that are easily accessible by private vehicle within two to four hours from the city, experts said.
Binh Thuan province's Phan Thiet city seems set for a boom thanks to imminent transport upgrades too, they said.
Situated 2.5 hours from HCM City by road, Phan Thiet's holiday home products are attractive to affluent people in HCM City and Hanoi, who show great interest in them since they offer a combination of lifestyle and long-term investment, experts said.
The Long Thanh International Airport's first phase is expected to be ready by 2025 with a capacity of 25 million passengers annually. Situated 130 km from Binh Thuan, it is expected to attract many foreign tourists, a major advantage for the province since foreigners tend to spend more than locals.
Phan Thiet resorts are quite cheap now since infrastructure is still being built.
Dr Tran Nguyen Minh Hai of the HCM City Banking University said demand for property ownership one or two hours from HCM City by personal vehicle would explode after the COVID epidemic is completely controlled.
Duong Thuy Dung, senior director at property consultancy CBRE Vietnam's, said coastal real estate markets near HCM City such as La Gi and Mui Ne in Binh Thuan province and Ho Tram in Ba Ria - Vung Tau province would lead the southern real estate market in the next five years since they have advantages such as having a private space./.
Manufacturing officially kicking off for USI's Haiphong-based module facility
The Vietnamese plant of USI - a global leader in electronic design and manufacturing - is playing an important part in the company's global manufacturing footprint.

The Vietnamese plant of Universal Scientific Industrial (Shanghai) Co., Ltd. (USI), also its first manufacturing base in Southeast Asia, is based in DEEP C Haiphong I Industrial Zone (IZ) in the northern port city of Haiphong. With the first phase of construction now completed, USI has received a production certificate for system-in-package modules for wearable products.
The first-phase plant covering 18,000 square metres was officially put into use at the end of July, and will focus on manufacturing the modules.
The facility is expected to reach full capacity in 2022 with an annual output of more than 10 million modules and create approximately 1,700 jobs for local residents, becoming a key high-tech manufacturing company for Haiphong.
The remainder of the 65,000sq.m space is reserved to develop other businesses and meet the potential needs of future customers. The company aims to bring into full play the competitive advantages of the Vietnamese site and there develop electronics manufacturing services (EMS), original design manufacturers, and joint design manufacturers according to customer needs.
The Vietnam plant is expected to help USI to respond to orders from overseas customers more flexibly, strengthen supply chain management, and promote the development of the local economy and high-tech industries in Vietnam.
USI provides design, miniaturisation, material sourcing, manufacturing, logistics, and after services for electronic devices/modules for brand owners.
The company is a member of ASE Technology Holding, a world-leading provider of semiconductor manufacturing assembly and testing services. With many years of experience in the EMS industry and leveraging the industry-leading technology of ASE Group, USI offers customers diversified products in wireless communication, computer and storage, and automotive electronics worldwide.
The company has a sales service network in North America, Europe, and Asia as well as manufacturing sites in China, Mexico, Poland and more.
DEEP C IZ is a Belgian-backed developer and operator of an IZ and port infrastructure cluster in Haiphong and the nearby province of Quang Ninh, the most dynamic growth region in northern Vietnam. DEEP C's story began in 1997 with the development of Haiphong I, a collaboration between Belgian investor Rent-A-Port and Haiphong People's Committee.
After nearly a quarter of a century in Vietnam, DEEP C has become one of the largest industrial property developers in Vietnam with five IZs, forming the DEEP C IZ cluster covering 3,400 hectares at the epicentre of the region's manufacturing and infrastructure boom, with close proximity to the international airport, deep seaport, and extended expressway network.
USI selected DEEP C IZ for this important project by virtue of the latter's practical experience in assisting business setup, plentiful land availability for its future expansion, and great connectivity to a network of deep seaports, highways, and international airports. In addition, USI is one of the most environmentally-friendly and sustainable electronics brands worldwide, similar to DEEP C's vision to become the first eco-industrial park in Vietnam.
Additional three wind power plants put into commercial operation
Three more wind power plants with a combined capacity of 48.8MW began commercial operation in August, according to the Vietnam Electricity (EVN).
Specifically, they are the second phase of Hoa Binh Wind Power Plant with a capacity of 15.2MW, Ninh Thuan Wind Power Plant No.5 (21MW), and 7A Wind Power Plant (12.6MW).
As of the end of August, 24 wind power plants, which have combined capacity of 963MW, had been put into commercial operation.
Previously, by the beginning of August, a total of 106 wind power plants with a combined capacity of 5,655.5MW had submitted documents and applications asking for allowance to connect to the grid and seeking recognition of commercial operation./.
Red-flesh dragon fruit parlays success in Russia
Red-flesh dragon fruit cultivated under advanced technology in Thuan Chau district in the northern mountainous province of Son La has been warmly received by Russian consumers. The fruit has now been exported to several fastidious markets, opening up sustainable development opportunities for the Vietnamese staple.
 
Tran Van Dong's family in in Son La's province Thuan Chau district pioneered planting red-flesh dragon fruit in the locality.
Three years on, his four hectares of dragon fruit qualified for export to the Russian market, earning his family an average of 300 million VND (nearly 13,200 USD) each year.
The Ngoc Hoang agriculture cooperative in Mai Son district has joined hands with farmers in Thuan Chau district to develop a value chain for red-flesh dragon fruit, which are shipped to Russia through the Song Hong Co., Ltd.
Red-flesh dragon fruit has been grown in Chieng Pha, Phong Lai, Chieng Ly communes since 2018 under a project to develop a value chain for the fruit during 2018-2020. The fruit grows well in the localities, boasting a light aromatic flavour and good appearance.
A shipment of ten tonnes of red-flesh dragon fruit from Thuan Chau district affirms its quality and contributes to increasing value and stabilising markets for the staple during this tough time of COVID-19./.
NA Chairman attends Vietnam – Austria Business Forum 
National Assembly Chairman Vuong Dinh Hue attended the Vietnam – Austria Business Forum in Vienna, Austria, on September 6 (local time).
The event was co-hosted by the Austrian Chamber of Commerce, the Vietnamese Ministry of Planning and Investment, and the Vietnamese Embassy in Austria.
In his opening speech, Hue said Vietnam advocates drawing foreign investment selectively with quality, efficiency, high technology and environment protection as key criteria, contributing to the country's sustainable socio-economic development.
He described Austria as one of Vietnam's important export markets and now one of the five biggest importers of Vietnamese goods in the European Union. Two-way trade hit 3.2 billion USD in 2020, he said.
The European country is investing in 37 projects worth nearly 150 million USD in Vietnam, mostly in manufacturing, processing and science-technology.
According to the top legislator, both sides need to step up the exchange of information regarding each country's investment policies, particularly in clean energy, infrastructure, telecommunications, digital economy and application of bio-technology.
At the same time, he suggested upholding the role of the Vietnam – Austria Joint Committee on Economic and Trade Cooperation, as well as carrying out investment and trade promotion programmes in various forms, thus making it easier for firms to better understand each other and opportunities in each country.
The two countries' relevant authorities need to continue facilitating two-way trade and investment flows on the mutually beneficial basis, via the increased exchange of business delegations to explore opportunities, he said.
Hue also called on Austrian enterprises to urge the Austrian legislature and Government to complete procedures for the approval of the EU - Vietnam Investment Protection Agreement (EVIPA) at the earliest.
He affirmed that Vietnam commits to creating the best business environment towards meeting standards of the Organisation for Economic Cooperation and Development (OECD).
The Vietnamese NA is working on a comprehensive programme to perfect the legal system towards creating the best favourable conditions for investors at home and abroad, he said.
On the occasion, he proposed Austrian firms support the Austrian Government's supply of vaccines and medical equipment to Vietnam in the fight against COVID-19 pandemic.
Austrian businesses hailed Vietnam as an important investment market in Southeast Asia and wished to hold more business-to-business meetings to discuss more in detail.
Representatives from the Austrian Chamber of Commerce also pledged to help Vietnam attract quality investors from the European nation./.
Solid outlook for investment in Haiphong
Leveraging a host of factors such as fast growth and holding a large proportion in capital, foreign investment attraction is being considered a bright spot in the Haiphong's socioeconomic development.

During the 2015-2020 term, the northern port city of Haiphong lured in 218 foreign-invested projects with a total value of nearly $9 billion, up 1.5 times compared to the previous period, which stood at just $5.9 billion. It was almost double the committed domestic investment sum which amounted to VND106.3 trillion ($4.62 billion).
Despite the impacts of the current pandemic, foreign direct investment (FDI) volumes into Haiphong have still shown little interruption. By the end of July, the industrial zones (IZs) and economic zones (EZs) under the management of Haiphong Economic Zones Authority (HEZA) coaxed nearly $1.4 billion in total FDI value, accounting for 55.9 per cent of the plan for 2021. Taking into account $1.5 billion that South Korean electric giant LG Group plans to invest in the city by the end of this year, the total committed value exceeds the full-year target at $2.5 billion set at the beginning of 2021.
Today, Haiphong's IZs and EZs are home to 418 foreign-invested projects worth $17.37 billion in the total capital value.
According to Le Trung Kien, director of HEZA, the FDI flow has not only risen sharply but has also recorded a marked improvement in quality. Still, many challenges are ahead in future growth when it comes to investment promotion and attraction. "To reach the target of attracting $12.5-15 billion in FDI during the 2020-2025 period, the challenge is to lure in major investors who can make contributions commensurate with the resources the city has invested," said Kien.
Haiphong focuses on attracting projects using high, advanced, and environmentally-friendly technologies, producing items with high added value in the global production chain of major economic groups and multinational companies.
LG Group has landed four mega projects in the city with the total investment touching $5.05 billion. By the end of 2021, LG Display is expected to raise its capital by an additional $1.5 billion.
In addition, satellite and ancillary businesses of LG Group have also flocked to Haiphong. Meanwhile, Japan's Bridgestone Group has poured in $1.2 billion, or Regina Miracle Hong Kong at $0.9 billion in the port city.
Haiphong-based foreign-invested enterprises (FIEs) raked in $52.5 billion in total revenue between 2015 and 2020. During the period, FIEs in the city contributed $43.8 billion in total export value and $43 billion in total import turnover, representing 79 and 77 per cent in the city's total export and import value, respectively. Meanwhile, FIEs' total industrial production value accounted for 67.1 per cent of the city's total.
These FIEs had paid VND34 trillion ($1.48 billion) to state coffers; creating jobs for nearly 158,000 labourers by the end of 2020, an increase of 2.95 times compared to 2015 and with per capita average income in 2020 reaching VND10.5 million ($460).
Although city-based IZs and EZs have witnessed a sharp growth in foreign investment attraction over the last five years, analysis shows that the committed capital volume mainly targets a few well-known brands. Just three big players - LG, Bridgestone, and Regina Miracle Hong Kong - accounted for 82.2 per cent of the total capital volume. More than 200 remaining projects occupied only 17.8 per cent of the total capital, averaging $8.6 million per project.
The current workforce at city-based IZs is mainly unskilled with over 30 per cent of whom come from outside localities, at more than 50,000 people. It is proving hard to attract, train, and provide high-quality human resources to meet enterprises' burgeoning demands, irrespective of growing competitive pressure.
Currently, many localities bordering Haiphong are speeding up the investment pace, completing IZ and EZ infrastructure in an asynchronous and modern direction, and researching and promulgating mechanisms and policies that are attractive to push up the development of IZ and EZ infrastructure in their locations. They are also developing diverse investment incentives to attract investors into building social facilities and social housing for workers in a bid to attract a high-quality workforce.
HEZA will soon work on revising the general planning for construction of Dinh Vu-Cat Hai EZ, ensuring it to be attuned with the city construction master plan until 2040 with a vision towards 2050.
Hai Duong's dragon fruits get cultivation zone codes for export
Some 30 ha of dragon fruits in northern Hai Duong province have officially been granted with cultivation zone codes for export to the US, Australia and China.
According to the provincial Department of Agriculture and Rural Development's Authority of Crop Production and Plant Protection, the Ministry of Agriculture and Rural Development's Plant Protection Department agreed to issue three cultivation zone codes to 30ha of Dai Uyen dragon fruits in Bach Dang commune in Kinh Mon township for export to the US, Australia and China after they were tested free from pesticide residue.
The Plant Protection Department will send notifications to the authority after the General Administration of Customs of China and the US Animal and Plant Health Inspection Service approved cultivation zone codes.
Hai Duong's dragon fruits are harvested from July to November. Chi Linh city is home to about 170 ha of dragon fruits, mostly in Hoang Hoa Tham and Bac An communes, Hoang Tien ward.
Hai Duong is now home to around 200 ha of dragon fruits, which are mostly grown in Kinh Mon township and Chi Linh city. They are predominantly consumed in Hanoi, Hai Phong and Quang Ninh./.
Hanoi moves to develop supporting industries
The Hanoi People's Committee has issued a plan for development of supporting industries in the capital city in 2021, affirming the importance of supporting industries in providing components, spare parts and materials for the processing and manufacturing sector.
The city has identified the need to improve the capacity of supporting industry enterprises, focusing on producing spare parts and components to serve high-tech and supporting industries for the textile - footwear sector; attracting more investment from all economic sectors; and promoting industrial production in accordance with the global value chain and supply linkages in the key northern economic region.
Hanoi has set a target of having about 900 enterprises operating in supporting industries in 2021, of which around 300 enterprises have production systems and products meeting international standards and being capable of participating in the global production network. The industrial production value of supporting industries accounts for about 16 percent of the total value of the processing and manufacturing sector.
Accordingly, it focuses on helping supporting industry enterprises become product suppliers for domestic and foreign customers, promoting foreign investment attraction in supporting industries, applying a management system that meets requirements of global production chains in corporate governance and production management, and researching and developing technologies in making , components, spare parts, raw materials and materials.
The municipal Department of Industry and Trade has also implemented a programme to connect and support businesses, with an estimated 700 participating businesses. The programme targets 100 enterprises becoming direct suppliers for finished product manufacturers and assemblers, about 500 businesses receiving governance consultations and training, and about 300 enterprises receiving support in human resource training, and new technology research, development and application./.
PetroVietnam plans to embark on hydrogen industry
With the goal of helping to guarantee national energy security and in response to a downward trend in oil and gas extraction output, the Vietnam Oil and Gas Group (PetroVietnam) has identified the research and assessment of its opportunities in developing the hydrogen industry, including producing "green" hydrogen and exploring natural hydrogen sources, as a crucial task.
Energy transition is taking place strongly around the world. Many countries and energy and petroleum enterprises have been taking actions to build and implement hydrogen development strategies, aiming to become the leading players in the hydrogen industry in the future.
PetroVietnam recently held a workshop looking into development trends of the hydrogen industry and prospects for the group.
Participants looked into the PetroVietnam committee for strategic affairs' report on development trends of the global hydrogen industry, as well as advantages, difficulties, and development chances for the firm in the hydrogen energy sector, including "green" hydrogen.
They shared the view that hydrogen is not only a source of fuel but also an important source of material for sectors in the economy such as industrial production, transport, civil use, energy production and storage. It also serves as a material and fuel for production and business activities of PetroVietnam.
In the future, "green" hydrogen will gradually replace sources of fossil fuel and material to form a hydrogen economy in the near future, they noted.
Apart from hydrogen created from chemical synthesis processes in industry, the gas can also be found in nature, underground, in some places in the world. The exploration and extraction of natural hydrogen have attracted great attention from scientists and businesses recently.
In Vietnam, there are many areas where natural hydrogen is possibly available such as those with frequent volcanic activity and sedimentary basins related to coal formation.
Addressing the workshop, Chairman of the PetroVietnam Members' Council Hoang Quoc Vuong said the hydrogen industry in particular and the hydrogen economy in general in developing rapidly around the globe. Many countries are preparing for the formation of a hydrogen economy while energy, oil and gas enterprises are making moves to develop "green" hydrogen from renewable energy to prepare for commercial production after 2030.
Although there remain a number of challenges to the "green" hydrogen sector, especially high production costs, the recent rapid growth of renewable energy and the perfection of technology will help speed up the development of "green" hydrogen, making commercial-scale production possible from 2030, he pointed out.
To make preparations to access development trends of the hydrogen industry when possible and report hydrogen development prospects in Vietnam to specialised managerial agencies, Vuong said the group needs to quickly take part in the drafting of strategies and policies to create a legal framework necessary for promoting hydrogen energy. It should coordinate with research institutes and relevant ministries and sectors to facilitate the industry.
In its long-term scientific and technological research programme, PetroVietnam should focus on researching, applying, and accessing new technologies in hydrogen production, transportation, storage, and use so as to stay ready to participate in hydrogen production and trading when there are sufficient conditions.
Besides, it is also necessary to study development trends of "green" hydrogen on the basis of the specific features and existing advantages of Vietnam's oil and gas sector, the chairman said, elaborating that the group needs to identify if there are natural hydrogen wells and seams, and develop hydrogen value chains, particularly renewable energy - hydrogen - fuel cell/electricity production and renewable energy - hydrogen - petrochemical products.
Basing on its experience in maritime structure design and construction, it should also pay due attention to promoting offshore wind power projects to create a prerequisite for developing hydrogen energy. A detailed implementation plan needs to be devised to ensure that PetroVietnam can produce 1,400 MW of offshore wind power by 2030, the firm's leader added./.
Techcombank to issue six million ESOP shares for employees
Techcombank will issue at least six million shares under the employee stock ownership plan (ESOP) for foreign and Vietnamese employees.

Techcombank (HSX: TCB) announced that it plans to issue more than six million shares, including over 700,000 shares for foreign employees and more than 5.3 million shares for Vietnamese employees, under the ESOP.
The ratio of issued shares to total outstanding shares is 0.1714 per cent. Under the ESOP mechanism, the par value of shares amounts to VND10,000 (43 US cents).
ESOP shares are restricted from being transferred for one year.
Last November, Techcombank also issued more than 4.7 million ESOP stocks.
On June 7, Techcombank notified the Vietnam Securities Depository (VSD) and the Ho Chi Minh City Stock Exchange (HSX) to lock the maximum foreign ownership limit at 22.4908 per cent. This is also the current foreign ownership ratio of the bank.
Techcombank is one of the few local banks issuing ESOP for foreign employees.
This year, the bank continues to pay no dividends for 2020 in order to conserve capital for further business activities.
In the first half of 2021, Techcombank reported achieving $500 million in its pre-tax profits against the full-year target of nearly $870 million. Particularly, the bank's call deposit volume with low mobilisation cost soared more than 55 per cent on-year.
Vinamilk pins hope on Philippine market
The Vietnam Dairy Products Joint Stock Company (Vinamilk) has flexibly adapted to difficulties caused by the COVID-19 pandemic by applying advanced technology into production, negotiating raw material purchase contracts with suppliers, and boosting export of the products. Particularly, forming a joint venture to gain a bigger share in the Philippine markets is expected to bring about the high expectation for the company.
In the first six months of this year, the company earned 28.9 trillion VND (1.26 billion USD) worth of net revenue and 5.5 trillion VND (232 million USD) worth of after-tax profit. The figures decreased by 3 percent and 7.3 percent compared with the same period last year. 
The decline was attributed to lower demand and a surge in the price of raw materials.
Nevertheless, the company posted a record high in net revenue of 15.71 trillion VND (682.57 million USD) in the second quarter of this year, a year-on-year rise of 1 percent, according to its financial report. 
Its after-tax profit exceeded 2.86 trillion VND in the period, a year-on-year decline of 6.8 percent but up 10 percent against the first quarter.
The company's net revenue also surged 18.5 percent against the previous quarter.
However, in the coming months, it will be difficult for Vinamilk to maintain its domestic revenue at the same growth rate as July this year, due to the impact of social distancing measures on people's income, according to Ho Chi Minh Securities Corporation (HSC).
Vinamilk said on August 17 that it has forged an alliance with Del Monte Philippines Inc (DMPI), a subsidiary of Del Monte Pacific Limited.
Total investment capital for the first phase is 6 million USD, in which, Vinamilk and its partners contribute 50 percent each.
DMPI is a producer and distributor of healthy food and beverages including ready-to-drink pineapple juice. It has been operating for more than 95 years in the Philippines.
The joint venture will import dairy products from Vinamilk, and market and distribute them in the Philippines through DMPI. It will use the co-brand Del Monte-Vinamilk for its products and promote the brand strength of both businesses. The joint venture will take advantage of Vinamilk's strength in production and Del Monte in distribution.
For many years, Vinamilk has been an original equipment manufacturer (OEM) for several dairy companies in the Philippines. Last year, export revenue of processed goods to the Philippines reached 7 million USD, equivalent to 3 percent of Vinamilk's export revenue. 
The HSC said a joint venture with DMPI did not affect Vinamilk's export of processed goods to the Philippines but brought about a new source of income. 
The first-year revenue of the joint venture is estimated at 8.8 million USD and the potential for compound growth is around 50 percent per year in the medium term. Accordingly, the joint venture will contribute 0.4 percent to Vinamilk's net revenue growth in the first year of operation and 0.5 percent in the following year.
This is positive news for Vinamilk. Joint ventures with leading large enterprises are creating expected growth thanks to expanding market and businesses lines. Enterprises also focus on developing modern channels and taking advantage of the sales capacity of partners to optimise selling costs and business management.
In fact, Vinamilk is effectively exploiting export markets. Its export revenue reached 2.7 trillion VND in the first half of this year, up 13.1 percent over the same period last year and contributing 9.6 percent of the company's total net revenue.
According to Vinamilk, the increase mainly came from the Middle East market, accounting for 70-80 percent of export revenue and new orders from the US and Europe which showed signs of recovery in consumer demand in the world.
Business results of overseas subsidiaries also gradually recovered. 
Driftwood - a subsidiary of Vinamilk with its head office in California, United States, has double digit growth in the second quarter of this year, after experiencing a deep decline of 20 percent in the first quarter thanks to reopening of schools in the US after more than a year of closure due to COVID-19.
Angkormilk, another Vinamilk's subsidiary in Cambodia, also enjoy a year-on-year increase of 3 percent in the second quarter of 2021./.
Customs agency issues guidance for UKVFTA implementation
The General Department of Vietnam Customs has issued documents to guide the customs departments of provinces and cities to effectively enforce the UK-Vietnam Free Trade Agreement (UKVFTA) and related documents.
The Prime Minister has designated the general department as the coordinator for the implementation of the agreement's Chapter IV - Customs and trade facilitation.
The customs authority is also assigned to join the Customs Committee, and be responsible for answering information related to customs and trade facilitation.
The UKVFTA was officially signed on December 29, 2020 and became effective on May 1, 2021. The agreement is expected to help Vietnam and the UK maintain preferential trade conditions and economic benefits through the market opening commitments already in the EU-Vietnam Free Trade Agreement (EVFTA).
In order to carry out the UKVFTA, the Prime Minister issued a decision on May 18, 2021 approving a plan to implement the agreement, tasking the Ministry of Finance, specifically the General Department of Vietnam Customs, to build a decree on Vietnam's preferential export tariffs and special preferential import tariffs for the 2021-2022 period to implement the UKVFTA.
The decree was approved by the Government on May 21 and officially took effect from the date of approval.
According to economists, the UKVFTA will help reduce import tax on goods imported from the UK into Vietnam. This agreement is also expected to maintain the momentum of promoting trade and investment relations of the two sides in the coming years./.
Vietnam, Australia boost fintech cooperation opportunities
The Asialink Business Centre under Australia's University of Melbourne has announced to commence a new capability development programme, aimed at building awareness and positioning Australian business to engage in Vietnam's fintech sector.
The programme is jointly held by Asialink Business, the Australian Department of Industry, Science, Energy and Resources (DISER), and the Australian Trade and Investment Commission (Austrade).
The programme will complement and support the Australia-Vietnam Enhanced Economic Engagement Strategy. This strategy, due for completion in late 2021, will solidify Australia and Vietnam's shared commitment to trade and investment, liberalisation and economic connectivity, and help both countries take advantage of emerging market opportunities.
Asialink Business stressed that Vietnam has the fastest growing middle class in Southeast Asia, a COVID-resilient GDP growth rate (2.9 percent in 2020), and a young population that readily embraces new technology.
While the country has suffered from COVID-19, the pandemic has also accelerated the uptake of digital services. In 2020, more consumers moved online and tried new digital services for the first time, for example, in healthtech, edtech and fintech, helping to fuel growth of 29 percent in the country's digital economy.
According to the centre, demand amongst Vietnamese banks for technical and commercial expertise is growing, with many looking to partner with domestic and international fintech businesses to provide innovative customer solutions. Australian businesses may be well-placed to meet this demand.
However, to make the best use of the opportunities, Australian businesses need to be strategic in their approach.
Navigating Vietnam's fintech opportunities requires a well-thought-out strategy that helps Australian enterprises invest time and resources to understand Vietnam's people and businesses, and be ready for localising products in Vietnam's market, said the centre./.
Canadian businesses believe in Vietnam's medium-term economic outlook
Canadian entrepreneurs have voiced their belief in Vietnam's economic outlook despite the fourth wave of COVID-19 outbreaks and the adverse impacts of the pandemic on the country's activities and momentum growth.
In an interview with the Vietnam News Agency's correspondent, Marc Djandji, Chartered Financial Analyst (CFA) at the ASEAN Strategy Group Limited advisory firm, said the Southeast Asian nation is one of the world's most dynamic stock markets and its economy has stayed resilient until the first half of 2021.
Vietnam's economic activities will be restrained in the coming months due to the spread of COVID-19. Industries, manufacturing and construction, which serve as a driving force for the economy, are bearing the brunt of current outbreaks, he said.
Djandji underlined that Vietnam's recovery will depend on the implementation of COVID-19 vaccination drive in the country, speaking highly of the country's strong sense of collective responsibility and solidarity.
According to him, the Vietnamese economy will remain stable and be driven by industrialisation and urbanisation in the medium term.
The country will continue to benefit from its integration into the global supply chain, foreign direct investment attraction and a rapid growth rate in manufacturing, he added.
Echoing Djandji's views, Phil Witherington, Chief Financial Officer at Manulife insurance company said although the resurgence of COVID-19 may cause short-term impacts, the Vietnamese market's potential in the long-term remains robust and stable.
The Vietnamese Government has taken essential steps and joined hands with firms to protect workers and customers in Vietnam, as well as exert efforts in economic development.
He went on to say that Vietnam is among countries earning economic success in the region and one of Manulife's largest markets in Southeast Asia.
With a projected population of 120 million people by 2050, Vietnam is viewed as an attractive destination for Canadian businesses. In addition to trade, cooperation opportunities have emerged in other fields of investment, financial services and infrastructure development, among others.
The country posted a gross domestic product growth rate of 5.64 percent in the first half of this year.
Vietnam's GDP is forecast to hit 4.8 percent this year, according to the World Bank./.
Businesses advised to find potential partners to increase exports to UK
Vietnamese agricultural product exporters that want to establish long-term business relationship with the UK need to have appropriate strategies, and approach potential partners in order to take advantage of export opportunities to this important market – the second biggest economy in Europe, advised Nguyen Canh Cuong, Vietnamese Trade Counselor in the UK, at a recent consulting webinar.
The event was jointly organized by the Vietnam Trade Office in the UK and the Trade Promotion Agency under the Vietnamese Ministry of Industry and Trade with the participation of more than 100 delegates who are representatives of agencies, organisations and enterprises exporting Vietnamese agricultural products.
According to Cuong, the UK - Vietnam Free Trade Agreement (UKVFTA), which became effect on May 1, along with British businesses' need to find suppliers outside the European Union after Brexit have created competitive advantages for many Vietnamese agricultural products in the UK market as well as more room and opportunities for cooperation between the two sides.
In 2020, Vietnam exported more than 16,000 tonnes of cashew nuts worth over 92 million USD to the UK, accounting for 71 percent of the market share. It also shipped 5,620 tonnes of pepper and 27,915 tonnes of coffee to the European country, accounting for nearly 40 percent and 5 percent of the market share.
However, other agricultural products such as rice and fruits are only available in small supermarkets and have not gained access to big supermarkets in the country. This shows that there remains huge potential for Vietnamese farm produce and vegetables to enter the UK market, Cuong stated.
Stressing the market's high requirements on product quality, he suggested businesses adopt GlobalGAP standards as this is one of the prerequisites for Vietnamese agricultural products to be able to access high-end markets.
Sharing the same view, Nguyen Huy, a representative of Eurofins Assurance Vietnam Group, and Doctor of Agriculture Han Van Hanh, a post-graduate at Glasgow University, said that GlobalGAP will help Vietnamese businesses develop sustainably and stand firm at foreign markets.
In addition, for potential products such as tea, spices and fruits, Vietnamese businesses need to win trust of British buyers before they can sell goods, they added./.
Hyosung Vina Chemicals proposes removing import tax on propane
Hyosung Vina Chemicals Co., Ltd., a South Korean-invested chemicals company with about $1.3 billion investment in Vietnam, is waiting for the Ministry of Finance's approval to remove the 2 per cent import tax on propane, a material used for propylene production.

Hyosung Vina Chemicals has sent the proposal to the Ministry of Finance (MoF) to remove the import tax on propane, which it uses as input material to produce propylene, a major ingredient for plastic resins for the domestic market and exports.
According to the company, imported propylene materials are subject to zero tariffs but propane that would be used for domestic production of the same is subject to 2 per cent. As the investment and operating costs of Hyosung Vina Chemicals are quite large, the higher import tax rate makes it extremely difficult for the company to compete with imported propylene products.
"Moreover, the government has specially granted an enterprise in the same industry in Ba Ria-Vung Tau an import tax rate of 0 per cent on propane, which is unfair among enterprises in the same industry," the document noted.
It is not the first time that Hyosung Vina Chemicals submits this proposal to the authorities. The company submitted two official letters in October 2019 and 2020 and another in this May requesting the MoF to submit a proposal to this effect to the government.
to the May request, the MoF replied that the import tax on propane is necessary to ensure fair competition for domestic propane sources. However, the company also explained that currently Vietnamese producers can only make liquefied petroleum gas (a mixture of propane and butane) and cannot produce pure propane. Meanwhile, in order to produce propylene, Hyosung Vina Chemicals needs pure propane, which it has to import 100 per cent.
The company added that this is a relatively new industry in Vietnam, so the import tax would not affect the state budget because propane used as civil and industrial fuel will still be subject to 2 per cent import tax.
Last month, Hyosung Vina Chemicals officially took into operation its PP5 manufacturing facility in Ba Ria-Vung Tau with an annual capacity of 300,000 tonnes. With its first PP plant in the region kicking off operations in last April, the company's combined annual output of PP in Vietnam jumped to 600,000 tonnes, making it the biggest PP supplier in the country.
Source: VNA/VNS/VOV/VIR/SGT/SGGP/Nhan Dan/Hanoitimes  

E-commerce sales in Vietnam expected to reach $56 billion in next five years