VIETNAM BUSINESS NEWS SEPTEMBER 6
E-commerce sales in Vietnam expected to reach $56 billion in next five years
Vietnam is expected to experience a significant increase in e-commerce sales from $12 billion in 2021 to $56 billion in 2026, according to an annual report by Facebook Inc. and Bain & Co.

E-commerce sales in Vietnam will go through the roof with spending almost doubling over the next five years
Surveying more than 16,000 people across Singapore, Malaysia, the Philippines, Indonesia, Thailand, and Vietnam, the report reveals that online consumer spending in Southeast Asia continues to gain momentum as shown by e-commerce gross merchandise value (GMV).
By the end of 2021, the Southeast Asian region's e-commerce GMV is projected to reach $132 billion, which is 1.8 times higher than the $75 billion recorded in 2020. But it does not stop there. In five years, e-commerce GMV is expected to reach $254 billion., nearly double of the figure by the end of 2021, representing a compound annual growth rate of 14 per cent.
5-year growth will be even more dramatic for Vietnam, the Philippines, and Indonesia. By the end of 2026, Vietnam's e-commerce GMV is expected to grow 4.5 times from 2021 levels, while the Philippines' is projected to grow 3.8 times and Indonesia's by 1.6 times, the report claims.
Vietnam enjoys the second-highest growth rate in Southeast Asia at 8 per cent trailing behind Indonesia (15 per cent) and followed by Malaysia (5 per cent), the Philippines (5 per cent), Singapore (5 per cent), and Thailand (2 per cent). Vietnam's digital consumer population is expected to grow from 49 million in 2020 to 53 million in 2021.
In addition, Vietnamese consumers appear to be open to trying new stores, with 61 per cent of respondents expressing willingness to do so.
The reports also points out that digital spending continues its expansion amid the pandemic, with spending per person and overall e-commerce sales both seeing explosive growth on-year.
The average spending per digital consumer is expected to grow 60 per cent by the end of the year, from $238 per person at the end of 2020 to $381. This figure is projected to reach $671 by 2026, nearly double of this year's figure and 4.9 times as much as the figure in 2019.
The contribution of online retail to total retail for key categories rose faster in Southeast Asia than in Brazil, China or India, going from 5 per cent in 2020 to 9 per cent in 2021.
Gov't to issue new resolution on assistance for businesses affected by COVID-19
The Government will issue next week a new resolution on assistance for businesses, including foreign foreign-invested ones, affected by the COVID-19 pandemic, stated PM Pham Minh Chinh.
PM Pham made the above statement at his reception for Chargé d'Affaires of the U.S. Embassy in Viet Nam Christopher Klein and American business representatives. 
Given the difficulties posed by the pandemic, he said a special working group of the Prime Minister was established with the prime task of removing obstacles for businesses and people.
Pham also said he has tasked relevant ministries and agencies to envisage COVID-19 adaptive recovery plan while drastically implementing free vaccination campaign for all, including foreign experts and industrial workers.
As the COVID-19 pandemic is a global issue which requires stakeholders to join hands and share risks, the PM extended sincere thanks to the U.S. for having gifted Viet Nam with vaccines and medical equipment so far, calling on the Chargé d'Affaires and American investors to lend a voice so that the U.S. Administration and partners would continue assistance, especially vaccines, for Viet Nam's fight against the pandemic.
Klein and American business representatives expressed their belief that with the joint efforts of the Governments, business communities and people of Viet Nam, and the U.S., both nations would soon overcome difficulties caused by the pandemic and the Viet Nam-U.S. comprehensive partnership would grow and flourish in a more substantive and effective manner across fields./.
Bailout for corporate sector: In need of new measures, urgent implementation
Although all the current possible resources are being devoted to the pandemic fighting, support for the corporate sector is also urgent. Aside from maintaining production and distribution of necessities, financial assistance lent to businesses in different industries to help them withstand the raging pandemic is the prerequisite for their efforts to stabilize the livelihood of the relevant work force and reinstate production in the next phase.
How to support companies of various sizes and in various sectors? In addition to attempts made to increase the budget to assist enterprises and acquire more vaccine supplies to inoculate workers in line with reasonable priorities, it is essential to manage and implement effectively aid packages so that they reach needy firms as soon as possible.
The author would like to cite five issues and related measures.
First, the increase in resources for financial bailouts of companies. The amount of Government's leeway in expanding the budget of financial bailout for businesses and individuals remains significant. As Dr. Dinh Truong Hinh put it in his article "How Much Vietnam Can Increase Fiscal Spending to Cope with Covid-19" (the Weekly No. 35-21, dated August 28, p. 27), by mid-July 2021, Vietnam spent around 1.4% of her GDP supporting individuals and businesses from budgetary resources. The rate is way below 4% the average of GDP by emerging economies. Furthermore, there is still room for Vietnam's fiscal policies. The ratio of public debt to GDP in 2020 was 55.8% (according to the old method of calculation, and it may be lower if the new one is used), significantly below the rate of 62% of GDP in the end of 2015. That means the Government may opt to further raise the budget for aid packages. While the Government can spend more helping the people, it still has leeway for financial bailout to companies.
Second, aside from budgetary support, which has so far mainly been in the form of delayed tax payments or land rents, it needs as well other cost-cutting measures for businesses, for instance reduction of payments for social insurance, trade union fees, port charges and electricity rates. Social insurance and trade union funds are with huge balances currently, whose collections may be stopped or waived for a while, say, for one year.
Third, an urgent increase of vaccine supplies and inoculation of workers are among the crucial support for businesses. The vaccine supplies are now limited, but they will expand gradually later. The Government should clearly set the priorities for people to be immunized. The first to do so are healthcare workers and officials who have to be in close contact with the people. Next come staff members and workers in production and distribution of necessaries in the people's life.
Next in line are senior citizens, patients with chronic diseases and workers in export processing zones and industrial parks so that operation for export production can be sustained to help Vietnam retain her positions in global supply chains.
Vietnam's key export markets are currently little affected by the pandemic while their economies are coming back. Vietnam's exports to these markets will therefore significantly contribute to her production growth and maintenance of domestic workers' jobs. In 2020, despite the pandemic spreading on a global scale, Vietnam's exports to the United States posted a staggering growth rate of 24%, and to China, 17%. Vietnam's major export commodities—such as electronic components and cell phones—have been more attached to global supply chains and positively affected local production. In the first half of 2021, Vietnam's year-on-year GDP growth was 5.6%. Yet her processing-manufacturing industry jumped by 11.4% on account of the exponential growth of key exports (export of cell phone components soared by 39%, and that of cell phones grew by 18%).
Vaccines for workers in export processing zones and industrial parks are meaningful. The good news is at least one dose of vaccine has been administered to 80% of the workers there. However, in many northern provinces, where Covid-19 is raging, immunization of workers in export processing zones and industrial parks has not been paid due attention to. As far as I'm concerned, at a big company whose entire production is exported and work force is considerable, only 5% of the workers have been given one jab.
Fourth, the next thing to do is to make the aid packages accessible to needy enterprises. Complicated administrative apparatus, favoritism, cumbersome formalities and overlapping stipulations had existed prior to the pandemic outbreak. They were improved step by step, resulting in belated implementation of many policies on small and medium enterprises. Take for example, policies on businesses in the supporting industries which failed to reach their goals.
A project conducted by the World Bank to survey the impact of Covid-19 on Vietnamese enterprises (presented in November 2020), indicates that when it comes to aid packages implemented by September 2020, only 27% of small enterprises and 37% of big ones (of the respondents in the survey) had accessed the financial bailout. The key hurdles to businesses receiving bailouts were their failure to meet the conditions although they were in trouble; the procedures were too complicated; and they did not know about the bailouts.
Fighting pandemics is like fighting the enemy. Vietnam's administrative apparatus and officials who run it must be in a hurry now. They must assume full responsibility similar to that during wartime so as to combat Covid-19 efficaciously and to make aid packages accessible to needy enterprises. In the current state of emergency, new measures are needed, such as cooperation between officials in charge of local governments and business associations in urgently implementing government aid packages.
Finally, once again, it is necessary to make information on the pandemic and financial bailout policies known accurately to businesses. This issue has been raised to the author of this article on the phone by some business proprietors he knows. A World Bank report also indicated that up to 17% of the respondents said they did not know about government bailout policies. In addition to announcements of policies on websites of ministries and agencies, it is necessary to air them also on television and radio. For example, information on support policies, and pandemic developments and its effects should be aired three times a day at fixed timing so that the public can watch or listen to them easily. Additionally, a new policy should be aired repeatedly for one or two weeks.
Destinations from Vietnam and ASEAN to be introduced to ROK people
Tourists destinations from Vietnam and ASEAN countries will be promoted to people from the Republic of Korea (ROK) through videos produced by the ASEAN-Korea Centre (AKC).
The AKC say that the production and posting of videos promoting the tourism of ASEAN countries aims to enhance the cooperation and development of tourism between the ROK and ASEAN in the context that tourists cannot travel due to COVID-19 pandemic.
The first four episodes on Brunei, Indonesia, Myanmar and Vietnam will be published from now until September 8. The Korean actress So Yu-jin, along with young people from Southeast Asian nations, will talk about destinations in their native languages.
The videos will be posted on the Youtube channel of the ROK-ASEAN Centre and the official information channel of the tourism sectors of the four ASEAN countries.
The episode about Vietnam, one of ASEAN nations welcoming the most visitors from the ROK, introduces the traditional dishes of the Vietnamese people such as pho (noodle soup), banh mi (bread), banh xeo (literary sizzling cake or fried pancakes made of rice flour, turmeric powder, and slivers of fatty pork, shrimp) and Hue's imperial cuisine.
In addition, audiences will have the chance to visit the ancient town of Hoi An, recognised as a world heritage by UNESCO, as well as famous landscapes including Tam Coc, Trang An, Dong Van rock plateau, Phu Quoc island and Nha Trang.
Dong Thap Province keen to develop agricultural products with geographical indications
The Cửu Long (Mekong) Delta province of Đồng Tháp plans to develop at least one agricultural product with geographical indication by 2025.
It has prioritised rice, mango, flowers and ornamental plants, citrus fruits, longan, sweet potato, lotus, taro, tra fish, red tilapia, gourami, dried snakehead fish, eel, and egg-laying ducks for this.
It will have at least five farming areas zoned for key agricultural produce like mango, citrus fruits, vegetables, gourami fish, and sweet potato.
In 2021-25 it will establish at least two more showrooms for its key agricultural products and maintain the existing two in Hà Nội and Phú Quốc Island.
It will set up a portal to trace the origins of its key agricultural products.  
To promote those products both in domestic and foreign markets, it will strengthen quality inspections and support linkages between various stakeholders in producing and consuming agricultural products.
Its rice output last year was worth VNĐ15.7 trillion (US$686.8 million).
Farmers' income from rice increased by VNĐ12.9-28.6 million ($560-1,250) per hectare per crop from 2015 as they adopted advanced farming techniques which help reduce costs.
The province has focused on developing rice – related products to add value and promote their sales through modern distribution channels.
The largest mango producer in the delta, the province reported output worth VNĐ2 trillion ($87 million) last year, a 28.2 per cent increase from five years earlier.
Its mango co-operatives and farmers have adopted advanced techniques for growing, harvesting and post-harvest preservation to improve yields and quality.
To develop agriculture rapidly and sustainably, it has solicited private investment in it and sought to restructure it in combination with implementation of the national target programme on building new-style rural areas and reducing poverty.
It has licensed 75 companies involved in processing crops, seafood and livestock.  
It has focused on developing community-based tourism in farming areas such as Sa Đéc flower village, pink mandarin orchards in Lai Vung District and lotus fields in Tháp Mười District.    
Huỳnh Minh Tuấn, deputy chairman of the province People's Committee, said the aim was to develop "biological agriculture, modern rural areas and smart farmers" by 2025.
The province sought to increase agricultural production, adopt advanced techniques, foster international integration, and adapt to climate change, he said. 
Linking up
Farmers in the province are harvesting the summer-autumn rice crop, and those contracted with a company can earn VNĐ3-4 million ($130-180) per hectare higher than others since they get paid VNĐ100-200 per kilogramme higher than market prices.
Co-operatives and co-operative groups represent their members and sign contracts with companies.
Ngô Phước Dũng, director of the Mỹ Đông 2 Co-operative in Tháp Mười District, said contracts were signed with two companies at the beginning of the crop.
The co-operative's members produce rice seeds on a total area of 58.5ha. 
Nguyễn Phước Thiện, director of the province Department of Agriculture and Rural Development, said to sell agricultural produce amid the pandemic, his department had taken measures to harvest, transport and organise trade promotion and create linkages between various stakeholders.
Farmers associations and other organisations had also helped sell it, he said.
Phan Thị Kim Nhung, deputy chairwoman of the province Farmers Association, said the association used to only act as a link between farmers and companies, but amid the social distancing now it also helped farmers sell their products to households and others. 
Danang maintains favourable position as magnet for foreign-invested enterprises
As the central city of Danang continues to be an attractive destination for foreign-invested enterprises, the city is expected to see more scrutiny on transfer pricing from local tax authorities and rising demand for related consultation services.

American-based Vector Fabrication Inc. has been investigating areas in central Vietnam for a $60-million microelectromechanical systems facility, and Danang has emerged as an ideal manufacturing base thanks to the city's favourable investment climate and fast-paced development.
Other foreign investors are choosing Danang to set up their production facilities. Intex Development Company has received its investment certificatet to build a $12-million factory at Hoa Khanh Industrial Zone to produce water filters for swimming pools and water pumps.
Meanwhile, Japan's Fujikin Inc. is establishing a research and development centre worth $35 million at Danang Hi-Tech Park. The goal of the project is to accelerate scientific research and technical progress in areas such as robotics, drones, and nanotechnology.
As of present, Danang is home to 878 valid foreign-invested projects with the total investment capital of $5.7 billion. In the first eight months of 2021, the city attracted over $162 million in overseas capital, with 29 newly-registered projects and 15 adjusted capital projects, according to data by the Ministry of Planning and Investment.
The foreign inflows into Danang reflect the city's increasingly important role in the global supply chain of multinational corporations. It is also important for these companies to ensure compliance with transfer pricing tax rules.
Understanding this demand, accounting and advisory firm RSM officially opened a new office in Danang in June. RSM Vietnam's new office will provide transfer pricing consultation services to companies in both Danang and the central region. The office also helps clients to achieve their long-term objectives by providing audit, tax, and other consulting services.
Le Khanh Lam, chairman of RSM Vietnam, said that tax authorities from various jurisdictions have been collaborating to ensure equitable assignments of taxable profits for cross-borders transactions.
"Every business wants to reduce its taxes, but to do it legally and pragmatically isn't always that simple. Often tax strategies that look good by themselves can be less realistic, even impractical and unworkable, in the context of your whole business," said Lam.
"RSM takes a balanced and integrated approach. We focus on your total business picture, not just your next return," he added. "Our tax consultants help clients define the best overall tax position, designed to save their money, while meeting their larger business goals. Since we regularly provide advice on many aspects of a client's business, we can see opportunities that other tax specialists might overlook."
As a result, RSM gives clients practical, commercially-focused, and socially responsible advice from its most experienced tax experts. Therefore, the company can help clients to find the best possible tax solutions for their business.
RSM's new office in Danang will bring the transfer pricing consultation services closer to clients to facilitate their expansion and business operation in the city. Leveraging its global network and professional service experience, RSM is expected to contribute to improving the investment climate in Danang to attract more foreign investors.
Programme introduced to help connect producers and consumers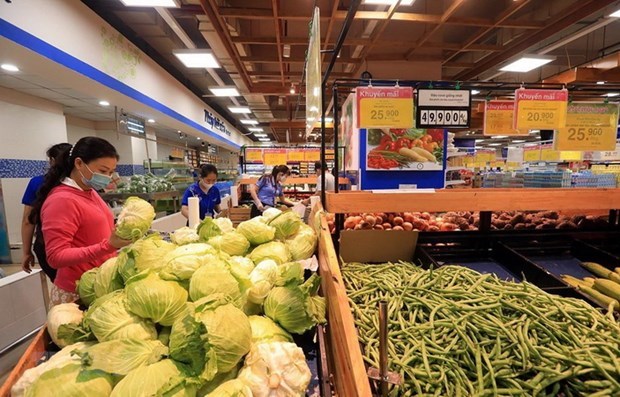 Customers choose vegetables at a supermarket in HCM City during an earlier lockdown. 
The Ministry of Agricultural and Rural Development (MARD) has launched a programme to connect and support the sales of agricultural products on a national scale.
During an online conference held by the ministry in Hanoi earlier this week, high-ranking officials, local leaders and businesses across the country discussed current challenges and limitations faced by agricultural producers in recent months, especially in light of the many recent lockdowns that have gone into effect to combat the spread of COVID-19.
Some 1,300 supply points and 58 depots have been built to distribute over one trillion tonnes of agricultural products per day during the most recent lockdown imposed in Ho Chi Minh City, the country's largest economic hub and home to more than 9 million people, according to a ministry report.
During the lockdown, the ministry established numerous websites and hotlines to connect and support sales of agricultural products. The ministry has introduced combo sales such as the 10-kg combo of products for 100,000 VND (4.4 USD), which has quickly become a best-seller in the southern city. Similar combo sales have also been rolled out in other provinces under lockdown in the Mekong Delta including the provinces of Binh Duong and Tien Giang.
In the future, the programme will help connect suppliers, producers, retailers and consumers. It will also provide producers with management training, digitalisation guideline and geo-tagging support and serve as a platform for local leaders to work with agricultural experts and policy-makers.
Minister of Agriculture and Rural Development Le Minh Hoan said the programme was designed to assist producers find the right markets, both domestically and internationally.
"It's the market that gets to decide what will be produced," Hoan said.
"Hopefully, the programme will help producers learn how to read the market demand and to produce the right products.
"Meeting market demand is the first step. The next step is to scale up production and minimise cost. Once we have high-valued products, it will be that much easier to find consumers."
The programme will also start collecting information on speciality products of localities across the country to build a database, which will support central and local government agencies in planning and in providing warnings and guidance on agricultural production in a timely manner./.
Planning lags behind market trends
 
Cat Lai Port in HCMC, one of the biggest container ports in Vietnam, has come under great pressure because of massive volumes of cargoes piled up at the port. There needs to be a review of all of this and a careful reconsideration of the relevant planning, some have opined.
Arguably, the congestion at Cat Lai has been particularly serious for five years now and the throughput via the port has constantly risen. It has already exceeded the capacity planned for the port by 2030. However, special care should be taken toward this argument.
Incomprehensive views
First, the problem of port congestion should be taken into account. By the end of July, there had been no concerns over congestions in seaport operations following the incident in mid-2018 related to imported scrap. After relevant agencies—such as the Ministry of Natural Resources and Environment, the General Department of Customs, and the Ministry of Transport—cooperated with seaport authorities in handling the situation, operations have become smooth. Even in the previous three attacks of Covid-19 in Vietnam, activities of the seaports were little affected.
In fact, congestions did happen at HCMC's seaport system in recent years. However, they involved mostly overland traffic jams on the ports' access roads for various reasons like traffic accidents at the bottlenecks or the peak shipping season. Although the congestions might have affected seaports and the related enterprises, say, late goods sending and delivery as well as higher logistics costs, they are not the cause of stagnation in port operations. In other words, that is a problem of traffic congestion, not port congestion.
It is this reason that the HCMC government has concluded the city's transport infrastructure fails to keep up with the growth of the cargo volume through local ports and has mapped out a plan to pour heavy investment to traffic infrastructure and facilities in the near future via the collection of seaport infrastructure fees.
Next comes port capacity. The proponents of the argument that Cat Lai Port has exceeded its capacity point to the planned capacity for this port area: 4.01-4.02 million TEUs by 2020 and 4.02-4.03 million TEUs by 2030 (Decision 3655/QD-BGTVT signed by the Minister of Transport on December 27, 2017 approving the detailed planning of the group of seaports in the southeastern region). The throughput reached more than 5.58 million TEUs in 2020, and thus far exceeding its operational capacity, they argued.
This point of view is inappropriate considering what actually happens in this port area and is in conflict with the HCMC's government's viewpoint. It is also at odds with the Ministry of Transport's planning.
The planning according to Decision 3655 only allows the facilities at Cat Lai Port to receive ships with a tonnage of up to 30,000 tons. However, the Vietnam Maritime Administration (under the Ministry of Transport) has granted permits for vessels with a tonnage of one and a half times greater (45,000 tons) to enter and exit this area. This suggests the capacity of Cat Lai is no longer at the level planned for the handling of smaller ships. Furthermore, the new draft of Vietnam's seaport planning has stated that ships that may make a call at the port may be up to 45,000 tons each.
Moreover, the total of approximately four million TEUs proves too modest versus the actual operational capacity of Cat Lai Port. The formula commonly used to calculate the capacity of a container terminal is one Panamax crane, three deck cranes and six tractors capable of handling 200,000 TEUs per year. At present, there are 26 Panamax cranes, 89 deck cranes and 255 tractors at Cat Lai. The port's annual capacity may thus total 5.2 million TEUs at the minimum. According to Saigon Newport Corporation, the maximum capacity of Cat Lai is 5.5 million TEUs per year, whereas in dossier No. 4602/TTr-UBND dated December 3, 2020 on the issuance of seaport infrastructure fee, the HCMC People's Committee noted that the capacity of this port is 5.3 million TEUs, which may expand to 6.5 million TEUs if all the access roads are developed in accordance with planning.
As a result, although in 2020, Cat Lai Port exceeded the capacity designed for it in 2017, this capacity estimated by the Ministry of Transport is outdated to a certain extent. 
The role of Cat Lai Port
As per the Ministry of Transport's scheme, in the port area of Cat Lai (or more exactly, the port area by the Dong Nai River in HCMC's seaport system), there are three container terminals, namely Tan Cang-Cat Lai, Ben Nghe-Phu Huu and SP-ITC—the last of which is for international shipping. Notably, in the list of the world's largest container ports, those in HCMC collectively rank 21st with a total throughput of 7.2 million TEUs. As the 20 ports with a higher rank are all deep-water, those of HCMC are unofficially the biggest non-deep-water port in the world. The city's seaports even rank above deep-water and transshipment ports as sizable as Colombo (Sri Lanka), Piraeus (Greece), or Dalian (China).
This informal title is not necessarily something to be proud of, but it makes it obvious that, although it is not a deep-water port by nature, HCMC's seaport system functions efficiently as Vietnam's import-export gateway, with Cat Lai Port leading the way.
The port area of Cat Lai is currently the first choice for shipping lines, import-export companies, and freight forwarders. It is true that the formation of the Cai Mep-Thi Vai port complex will trigger a shift of cargo away from the HCMC-based ports. Yet this has not happened, as Cai Mep-Thi Vai now mainly takes care of the goods bound for the U.S. and Europe. The reason is, while the previous versions of Vietnam's seaport planning tend to keep all the ports apart which creates fragmentation and unhealthy competition, Cat Lai is a highly concentrated port area, under the same management of Saigon Port Area 1 Customs Branch in terms of customs. What's more, despite the presence of many port rivals, only two main operators are effective in the entire region, Saigon Newport Corporation and International Transportation and Trading Joint Stock Company (ITC) .
Considering the characteristics of the shipping industry, certain ports should be placed adjacent to one another to make favorable the exchange of containers between them and to optimize their operational capacity. Meanwhile, shipping lines are able to minimize risks. All these points have benefited in one way or another businesses when they carry containers to and from Cat Lai Port.
It is customary that the world's container shipping industry is undergoing a consolidation and cooperation process. In the port industry in particular, there have been similar moves, for instance the top four port operators—Hongkong International Terminals (HIT), Cosco-HIT, Asia Container Terminals and Modern Terminals—formed an alliance to jointly manage and operate eight ports including 23 terminals in Hong Kong. Another example relates to Cosco Shipping Ports, Tianjin Port Holdings and China Merchants which reached an agreement on the merger of their terminals in Tianjin to optimize the common resources of all three parties. In Vietnam, Cat Lai should be a case of successful development, rather than being labeled as breaching the planning.
Vietnam's seaport development planning carried out in previous years is plagued with shortcomings. Therefore, such inadequacies should not be the ground for misjudging a case in line with market demand which achieves success.
Thu Thiem 2 Bridge completes installation of final steel beams
The last girder span of Thu Thiem 2 Bridge has been installed, connecting the two banks of District 1 and Thu Duc city.

On September 2, Dai Quang Minh Corporation – the investor of the Thu Thiem 2 Bridge construction project said that the final steel beam of the bridge has been completed. It is expected that by the second quarter of 2022, the main bridge would be basically completed and opened to traffic.
Thu Thiem 2 Bridge is one of the key construction works. The project was allowed to be constructed by the city People's Committee but has to ensure prevention and control measures against the COVID-19 pandemic.
The investor also face many difficulties to complete the work during the social distancing measures such as construction schedule disruptions and additional expenses.
However, the investor has still managed to arrange enough materials and fuel for construction, ensuring the project is implemented on schedule.
Kien Giang develops marine aquaculture towards sustainable development
The Mekong Delta province of Kien Giang will develop sea aquaculture, focusing on breeding fish in floating cages and bivalve mollusc farming effectively and safely, thereby contributing to enhancing agricultural economic growth in the context of the COVID-19 pandemic. 
The province's number of fish cages at sea will rise to 5,500 with an expected output of 5,200 tonnes in the remaining months of the year.
The bivalve mollusc farming area will cover 25,560 hectares and is hoped to produce nearly 75,000 tones while clam breeding area will account for 250 ha with a projected output of 150,000 pearl.
Organisations and households who take part in marine aquaculture will undergo training and be supplied with technical guidances on the fish cage and bivalve molluscs farming.
 A network of environmental monitoring and disease prevention and control relating to marine aquaculture will be built within areas approved by competent agencies.
Fish breeders will receive support in the application of scientific and technological advances with such new materials as plastic cage structures or lighting on rafts with solar energy./.
Thousands of MSMEs to receive support with digital transformation
Thousands of enterprises, including micro-, small-, and medium-sized enterprises (MSMEs), cooperatives, and even business households could benefit from the digital transformation programme in 2021-2025 to overcome woes and achieve sustainable growth.

The COVID-19 pandemic has been pushing up digital transformation efforts by companies across the globe. Recognising the importance of digital transformation, Industrial 4.0, and helping businesses to overcome their current challenges, the Ministry of Planning and Investment (MPI) is drafting a programme on supporting enterprises, cooperatives, and business households with digital transformation in 2021-2025.
The programme will promote digital transformation by increasing awareness among enterprises as well as supporting the digitisation of business activities, management processes, technology and production processes.
Bui Thu Thuy, deputy director-general of the MPI's Enterprise Development Agency shared, "A comprehensive digital transformation will improve the efficiency of production and business, enhance capacity and competitiveness, create new values for enterprises, cooperatives and business households."
By 2025, at least 500,000 production facilities and businesses will receive support from the programme in the form of training, consultancyof digital transformation. At least 800 businesses, 100 cooperatives, and 4,000 business households receiving this support will be conduct successful digital transformation.
Besides these, an expert network of at least 500 organisations and individuals will be gathered to advise and promote digital transformation in every enterprise, cooperative, and business household. A map and a database of at least 100 digital transformation technology solutions for production and business establishments will also be released.
"A programme website and a smartphone app have already been built and linked to the SME portal to publish all information related to SMEs, assistance for digital transformation, as well as connect SMEs with experts and technology solutions," Thuy shared.
Last week, 30 medium-sized enterprises from across the country from industries such as processing, manufacturing, and agricultural production have been selected to receive support and consultancy in the first phase of the Supporting Enterprises' Digital Transformation 2021-2025 project funded by USAID LinkSME (United States Agency for International Development Linkages for Small and Medium Enterprises).
They will get in-depth consultation to build a digital transformation roadmap from experts between August and October 2021.
Do Hoang Hai, an expert of the programme said, "The roadmaps will enhance the competitiveness of businesses, helping them to quickly resume operations after the pandemic and participate deeper in global value chains."
Since launching the programme, numerous forums have been organised and direct advisory has been provided to around 6,000 SMEs in Hanoi, Ho Chi Minh City, and Hue, setting up the foundation for the MPI to begin drafting the support programme for enterprises.
Particularly, in combination with the Ministry of Agricultural and Rural Development and the Vietnam Cooperatives Alliance, the programme supported SMEs, cooperatives, and business households with digitisation to boost agricultural products consumption. At first, localities applying social distancing received guidance to sell their agricultural products on digital platforms. After that, all cooperatives and business households will receive training to enhance their competitiveness and expand consumption markets domestically and globally.
Prime Minister Pham Minh Chinh's Decision No.942/QD-TTg dated June 15, 2021 approving the e-government development strategy towards the digital government in the 2021-2025 period with a vision to 2030 targets that every business household and SME will easily use a digital technology platform for production and business.
As of June 2021, there were about 870 enterprises, 26,000 cooperatives (including 6.8 million members), and over 5.1 million business households operating across the country. Micro- and small-sized enterprises account for an overwhelming 94 per cent.
Thai Binh 2 thermal power plant expected to join national grid by April 30, 2022
Deputy Prime Minister Le Van Thanh has asked the Vietnam Oil and Gas Group (PVN) to exert more effort to connect the Thai Binh 2 thermal Power plant to the national grid by April 30, 2022 instead of June 2022 as originally set out by PVN.
The Deputy PM made the request while visiting the plant in Thai Thuy district, Thai Binh province on September 4, his second visit to the plant within over the past month.
According to PVN, the group has set a target to connect the first turbine of the plant to the national grid on June 8, 2022 and put it into commercial operation on November 30, 2022 while the second turbine is scheduled to begin commercial operation on December 31, 2022.
PVN Deputy General Director Pham Tien Dung said that PVN calculated the necessary costs to complete the project by the end of 2022 to ensure that they will not exceed the total adjusted investment plan approved for the project.
Deputy PM Le Van Thanh lauded PVN for having addressed a number of issues in a short time, creating important initial changes to complete the project by the end of 2022 as requested by the government.
The government official said that he will inspect the construction site and hold meetings with the units in charge of the project once a quarter to solve problems in a bid to connect the plant to the national grid by April 30, 2022 because the operation of the plant will save tens of billions of Vietnamese dong per day.
He also suggested the organisation of three working shifts per day to accelerate the progress of the project while paying more attention to workers and giving rewards to collectives and individuals showing initiative in shortening the duration of the project.
Key report on Vietnam innovation landscape to come out in December
The Vietnam Open Innovation Landscape Report 2021, which provides an overview of the startups ecosystem in Vietnam for investors to learn and look for investment opportunities, will be launched at the end of 2021.
This is the first-ever inclusive report on the Vietnamese innovation ecosystem, developed by the one-stop innovation platform BambuUP with the support of the National Startup Support Centre (NSSC) of the Ministry of Science and Technology's (MoST) National Agency for Technology Entrepreneurship and Commercialisation Development (NATEC).
According to the General Statistics Office, there were 135,000 newly-registered enterprises and 3,000 startups in Vietnam last year. International organisations said that Vietnam is among top 3 most dynamic startups ecosystems in Southeast Asia.
In fact, along with the development of a startup ecosystem, an ecosystem of support and interaction among economic sectors to jointly innovate is gradually being established, shaping Vietnam's open innovation ecosystem.
They need comprehensive and up-to-date information about Vietnam's open innovation ecosystem, which helps startups innovative and businesses, domestic and foreign investors timely grasp the trends of innovation, new opportunities for cooperation and investment, and become greater than ever.
Nguyen Huong Quynh, CEO of BambuUP said, "During discussions and connection with businesses, startups, and investors, we realised that there are a lot of promising innovative solutions in Vietnam. So if startups can access financial support and opportunities to resolve the big troubles of businesses, they can benefit all sides and become the driving force of the economy. We hope that the report will contribute to the development of Vietnam's startups ecosystem and advertise it to foreign partners."
The Vietnam Open Innovation Landscape Report 2021 will provide comprehensive, multi-dimensional and updated information for state-run agencies, organisations, startups, enterprises, corporations, and investors to grasp the new and hottest trends.
It will also point out the trends of startups and innovation in Vietnam and over the world, analysis of innovation in some key industries, as well as the challenges and demands of startups.
A startup map across prominent economic sectors will be included in the report, including retail, fintech, edtech, health-tech, mar-tech and sales tech, sustainability, logistics, agritech and food-tech, and travel and tourism.
The COVID-19 pandemic has been a source of extreme economic challenges, pushing stakeholders towards technology and innovation to quickly resume operations after or even during the pandemic.
Pham Dung Nam, director of the NSSC said, "It is quite essential to adopt new mindsets for economic development at this time. This is contained in the three keywords: Innovation, Open, and Linkage, in order to mobilise the startup ecosystem to improve services, products, processes, and models, as well as further cooperation to create a larger value chain and stronger development."
The report is expected to be a foundation to promote and expand potential cooperation and investment opportunities among local and overseas startups, businesses, and investors. This will create a stronger push for innovation across economic sectors, contributing to active recovery and growth in the new normal. Information in the report will also be used to advise the government and policymakers in crafting development directions for the startup ecosystem and long-term open innovation.
John Kojiro Moriwaka, general director of Silicon Valley Ventures and CEO of Startup Grind Fukuoka said that the report would help investors, especially those from the US and Japan to learn more about startups in Vietnam. "I will cooperate with the one-stop innovation platform BambuUP to take the open innovation landscape of Vietnam to the world," he said.
Standard Chartered lowers Vietnam's 2021 GDP growth forecast to 4.7 per cent
The UK-backed lender predicts Vietnam's GPD growth in 2021 to be 4.7 per cent, instead of the previous forecast of 6.5 per cent.
Standard Chartered Bank has revised its GDP growth forecasts for Vietnam for 2021 to 4.7 per cent from 6.5 per cent and 7.0 per cent from 7.3 per cent for 2022 due to softening economic indicators, the worsening pandemic, and a still-slow vaccination rollout.
The bank anticipates a further downgrade and an interest rate cut by the State Bank of Vietnam (SBV) if COVID-19 cases are not brought under control by September. It sees a rebound in the fourth quarter and expects trade data to remain supported by improving global trade. Softer economic growth is expected in the third quarter of this year, Standard Chartered noted.
The COVID-19 situation will likely continue to dampen inward investment for the rest of 2021 and may create further tourism uncertainty.
"Vietnam's economy is being hit by the pandemic like many others in Asia and other parts of the world; however, we remain bullish on its economic prospects over the medium and long term," said Tim Leelahaphan, economist for Thailand and Vietnam, Standard Chartered. 
South Koreans strive to keep hold of production presence
Despite Vietnam's prolonged trade deficit with South Korea and continuing complexities with the pandemic, the latter is boosting its investment and exports to the former for production and re-export to take advantage of tax cuts under a trade pact.
Over the past few weeks, South Korea's LG Display Vietnam Haiphong Co., Ltd. has been boosting its recruitment of employees for its $1.5 billion plant in the northern city of Haiphong, producing OLED products for mobile phones, smartwatches, TVs, and tablets. The company is in need of lawyers, general affairs assistants, engineers for research and development, production, health and safety, and technology, and IT assistants as well.
Meanwhile, LG Electronics Vietnam Haiphong has been doing the same, with many engineers and staff required for its $1.5 billion facility making home appliances, smartphones, and car infotainment products.
South Korea's Samsung has also followed suit, with new employees to work for its plants in Ho Chi Minh City, Hanoi, and the northern provinces of Bac Ninh and Thai Nguyen, with total investment capital of over $17.5 billion and employing over 160,000 local workers. Samsung's production focuses on mobile phones and home electronics appliances, both locally consumed and exported.
Both Samsung and LG are taking the lead in Vietnam's export of electronics items. In the first seven months of 2021, the country earned $29.4 billion from exporting mobile phones and their spare parts, which accounted for 15.8 per cent of Vietnam's total export turnover and up 11.9 per cent on-year. The country also fetched $27.4 billion, up 16.5 per cent on-year from exporting laptops, their spare parts, and other electronics items.
However, according to the Korea Chamber of Business in Vietnam (KorCham), many of the 9,300 South Korean businesses in Vietnam have also boosted imports worth tens of billions of US dollars into Vietnam since early this year, in defiance of the health crisis. This has caused a trade deficit between both nations, whose trade relations are strongly increasing.
In the first seven months of this year, South Korea was Vietnam's third-largest foreign investor, with total new registered capital of $2.4 billion, after Singapore ($6.2 billion) and Japan ($3.2 billion).
Figures from the General Department of Vietnam Customs showed that in the first seven months of this year, Vietnam's total export-import turnover with South Korea hit $42.22 billion, or 11.25 per cent of Vietnam's total trade turnover of $375.12 billion, and up from $35 billion recorded in the same period last year.
Also in the first seven months of 2021, South Korea was Vietnam's fifth-largest export market with a total turnover of $12.15 billion, up 12 per cent on-year and accounting for 6.5 per cent of Vietnam's total export turnover of $186.35 billion – up 26.2 per cent as compared to that in the corresponding period last year.
Meanwhile, South Korea was also Vietnam's second-largest import market, with total turnover of $30.07 billion, up 21.4 per cent on-year, and occupying 15.9 per cent of Vietnam's total import turnover of $188.76 billion – a 35.8 per cent rise on-year.
Thus, in the first seven months of the year, Vietnam witnessed a trade deficit of $17.92 billion with South Korea (see box).
KorCham vice chairman Hong Sun told VIR that the trade deficit is not a negative for Vietnam, because many South Korean corporations have been boosting investment and imports of machinery, equipment, and materials into Vietnam to serve production. A large part of Vietnamese-made products are also exported to foreign markets such as South Korea.
"Many are showing their concern about a big trade deficit for Vietnam from South Korea. However, they shouldn't because Vietnam's imports from South Korea are largely conducted by South Korean businesses in Vietnam, especially major ones like Samsung, LG, Hyosung, and HanHwa that are implementing large investments here," Sun said.
Meanwhile, Vietnam's exports to South Korea, mostly end-products and consumer goods, have risen quickly by double digits over the past few years.
Under the Vietnam-Korea Free Trade Agreement, since 2018 over 90 per cent of the import tariff lines have been eliminated. Moreover, Vietnam will completely remove its import duties on nearly 90 per cent of all products from South Korea over a 15-year period from 2015.
Tariff reduction and elimination by South Korea are expected to offer new opportunity for export of Vietnam's important export-categories such as agro-products, pivotal aqua-products of shrimp, fish, tropical fruits, industrial products of garment, mechanical instruments.
South Korea is also committing to grant market access in service and investment and has agreed to promote economic cooperation, technical support in diversified sectors. South Korea, for the first time, opens its market for products of high sensitivity such as garlic, ginger, honey, shrimp, offering considerable opportunities for Vietnam in competition with other suppliers from across the region.
Vietnam commits to offer concession for South Korea in categories of industrial products such as garment materials and accessories, plastic materials, electronic accessories, trucks and cars having capacity of 2,500cc and more, car-parts, electrical home appliances, steel products, and cables.
On July 22, Prime Minister Pham Minh Chinh had phone talks with South Korean counterpart Kim Boo Kyum to discuss specific measures promoting bilateral strategic cooperative partnership, towards the 30th anniversary of bilateral diplomatic ties.
They reached a consensus on achieving the target of lifting two-way trade to $100 billion in a balanced trade manner, including facilitating Vietnam's key exports such as agro-forestry-fishery products and seasonal fruits.
Vietnam vowed to create all favourable conditions for South Korean businesses to continue expanding and shifting investment to the nation while actively assisting those hit by COVID-19.
Both nations are also expected to implement a plan on opening their doors wider to each other to boost trade and investment ties.
During an official visit to South Korea last November by Prime Minister Nguyen Xuan Phuc, now Vietnam's state president, President Moon Jae-in stressed that Vietnam is "a key partner in South Korea's New Southern Policy", and that South Korea wishes that both nations continue boosting the bilateral ties to new highs.
Figures from the Vietnamese General Statistics Office showed that as of August 20, South Korea is Vietnam's biggest foreign investor, with over 9,100 valid projects registered at $72.16 billion.
Samsung is now the biggest foreign investor in Vietnam. It is now constructing a $230 million research and development centre in Hanoi, which is expected to become operational in 2022, employing 2,200-3,000 people.
Despite massive difficulties, Samsung's export turnover last year sat at $57 billion, holding 20.16 per cent of Vietnam's total export turnover of $282.65 billion. This was an important milestone for the company as one of its most important branches, Samsung Electronics, aims to become the largest chip manufacturer in the industry, targeting a value of around $400 billion in the global market.
However, KorCham's Hong Sun said that many big brand names such as Adidas and Nike have delayed signing new contracts with enterprises in Vietnam for fear that they cannot meet the conditions.
"The Christmas holiday will see the biggest consumption of products and production must begin now, but producers are afraid that their partners will turn to India, Malaysia, or Pakistan which are also famous for footwear products," Sun said. "It is suggested that the Vietnamese government are flexible in controlling COVID-19 and supporting enterprises thoroughly." 
Steeper downturn in Vietnamese manufacturing sector in August
The Vietnam Manufacturing Purchasing Managers' Index (PMI) fell to 40.2 in August, down from 45.1 in July and signalling the worst deterioration in the health of the manufacturing sector since April 2020.
The downturn in the Vietnamese manufacturing sector intensified during August amid the worst outbreak of the COVID-19 virus in the country since the pandemic began. Restrictions leading to the temporary closure of some businesses, social distancing measures, and limits on travel to try and contain the spread of the pandemic resulted in accelerated declines in output, new orders, purchasing, and employment.
The unprecedented spell of supply-chain disruption continued amid transportation difficulties and pressure on capacity at the country's ports. This, allied with raw material shortages, placed upward pressure on input costs which continued to rise sharply.
COVID-19 restrictions meant that a number of manufacturers were closed temporarily, while others reported staff shortages and limits on their ability to produce. As a result, output declined at a substantial pace. The rate of contraction was the second fastest on record, behind only that seen in April 2020.
A similar picture was recorded with regards to new orders which decreased for the third month running and at the fastest pace in 16 months. The rate of decline in new export orders also accelerated as COVID-19 restrictions made exporting difficult. The sector's labour market also suffered amid social distancing restrictions.
A number of businesses indicated that they were operating the "three on the spot" policy to maintain some staff presence on site, but that not all workers were able to participate in this. Overall, employment decreased for the third month running, and at a sharp pace that was the steepest since April 2020.
Severe supply-chain disruption continued, with vendor delivery times lengthening at the sharpest pace on record for the second month running. Transportation issues were widely reported, with congestion at ports a result of them being unable to operate at full capacity. Raw material shortages was a secondary factor contributing to longer lead times.
Raw material shortages and transportation issues led to a further steep increase in input costs, with the rate of inflation remaining among the fastest in a decade. In turn, output prices were also raised, albeit to a much lesser extent than input costs as some firms offered discounts in order to try to secure sales.
August saw a near-record reduction in purchasing activity amid temporary company closures and lower output requirements. Despite the drop in purchasing, stocks of inputs increased for the first time in three months. The accumulation largely reflected the difficulties firms were having in maintaining production volumes.
Business sentiment hit a 15-month low in August as the severity of the current COVID-19 outbreak in Vietnam led a number of businesses to predict a sustained period of restrictions on their operations. That said, others were confident of a rebound in production.
Vietnam advised to speed up digital transformation for socio-economic development
ietnam will need to do more if it wants to become a digital powerhouse as envisioned in the socio-economic development strategy adopted by the Party in February 2021, said a report of the World Bank.
In its latest edition of Taking Stock – the World Bank's biannual update on Vietnam's economic performance, the WB stressed that Vietnam needs to ensure the development of a digitally skilled labour force, the emergence of a dynamic and agile local private sector, and good but secure access to information.
The report reviews the recent developments in the Vietnamese economy and discusses the economy's short- to medium-term prospects, highlighting domestic and external risks associated to the COVID-19 pandemic.
The report said that in order to improve its economic autonomy, Vietnam needs to take advantage of existing conditions to become a digital powerhouse.
"While downside risks have heightened, economic fundamentals remain solid in Vietnam, and the economy could converge toward the pre-pandemic GDP growth rate of 6.5 to 7 percent from 2022 onward", Rahul Kitchlu, World Bank Acting Country Director for Vietnam, said in the WB's recent press release.
Vietnam aims to be among the top 50 countries in the ICT Development Index as early as 2025, and its digital economy is hope to account for one third of the country's GDP by the end of the decade, instead of only 5 percent.
According to Jacques Morisset, WB Lead Economist for Vietnam, digital transformation is happening in Vietnam and the COVID-19 shock is a big driving factor. Since the appearance of the COVID-19 pandemic, Vietnam has witnessed a great change in the application of new digitization tools in both private and public sectors.
The WB estimated that in June 2021, about two-thirds of private enterprises in Vietnam have access to technologies related to the digital economy. This is a huge leap from the pre-COVID-19 period.
Vietnam still has a lot of work to do, Morisset said.
In addition to upgrading infrastructure, Vietnam needs to encourage the application of digital technology and attract investment to create conditions for small businesses to participate in the digital economy, he added.
He also underlined the necessity for Vietnam to upgrade digital technology infrastructures, and equip workers with digital skills to help them become more dynamic in adapting to new technologies.
In the short term, Vietnam can take advantage of the presence of many famous technology enterprises such as Intel, Apple and Samsung to learn and improve digital skills for local labourers working for these corporations, he said.
The Vietnamese Government can issue a series of initiatives to attract talents from expatriates working in digital technology fields around the world, he added./.
HCM City power utility eyes integration of private renewable energy
The HCM City Power Corporation is undertaking a number of projects to develop and integrate power sources such as rooftop solar.
This will allow several control measures such as active reduction of grid power consumption during peak hours, load curtailment and management of loads through the day.
According to EVNHCMC, since power sources such as rooftop solar have become increasingly popular around the world, cities with high urbanisation and population density are looking for suitable distribution solutions.
For the city, rooftop solar is currently the best option for efficiency and optimisation, and it not only helps customers reduce electricity expenditure but also cools their houses by reducing radiation and offers the option of selling excess production to the grid, it said.
Besides, it is a clean source of energy, it pointed out.
As of August 1 the city had 14,250 rooftop solar systems with a total capacity of 365 MWp.
EVNHCMC has set up a dedicated section for rooftop solar power on its customer care website since 2019, providing transparency on the feed-in tariff mechanism, power purchase and connection for capacity release procedures, incentive programmes, and a quick rooftop solar system investment cost/efficiency calculation tool.
It also carries out negotiations for rooftop solar system connections and power purchase.
It also plans to provide electric motorbikes to 400 of its electricians this year after already providing them at two of its subsidiaries, Saigon and Hoc Mon Power Companies.
It is also seeking to set up charging stations in co-ordination with electric vehicle manufacturer VinFast in anticipation of the enormous demand in the near future.
Source: VNA/VNS/VOV/VIR/SGT/SGGP/Nhan Dan/Hanoitimes  

Ports see increase in goods handling despite COVID-19