VIETNAM BUSINESS NEWS SEPTEMBER 15
Aviation stocks see gains on ease of restriction measures
Aviation stocks have enjoyed strong gains following the news that social distancing orders will be relaxed after September 15 and business will gradually resume after prolonged restriction measures.
Director General of the Civil Aviation Authority of Viet Nam (CAAV) Dinh Viet Thang has sent a written report to the Ministry of Transport asking for approval for the plan to operate regular domestic passenger routes during the COVID-19 pandemic prevention and control period.
Currently, only some cargo flights are allowed. In the near future, the CAAV plans to expand passenger routes within the country.
Shares of Vietnam Airlines JSC (HVN) have soared 28 per cent since early September. The State-run Airports Corporation of Viet Nam (ACV) have risen 8 per cent and low-budget carrier Vietjet (VJC) have gained 2 per cent.
On September 9, HCM City announced the plan of gradual easing of social distancing measures. According to a draft by the city's Department of Health, 'COVID-19 green cards' are applicable for those who have been fully vaccinated.
COVID-19 patients who have recovered or people under 65 years old who have had two doses are allowed to participate in activities in public places, go to school, go to work, even travel locally and abroad.
Prime Minister Pham Minh Chinh has agreed in principle with the Ministry of Culture, Sports and Tourism's proposal on a pilot plan to welcome international tourists with vaccine passports to Phu Quoc resort island in the southern province of Kien Giang for six months from October.
After the first and second outbreaks of COVID-19 in April 2020, the third and fourth wave returned, falling right in the peak flight season during the traditional Tet holiday and the Summer holiday season, causing airlines' revenue to decrease by over 90 per cent over the same period last year.
Airlines currently have to spend over VND100 billion (US$4.4 million) to pay for aircraft rental, bank loans, input service fees, aircraft maintenance and repair fees, as well as employees wages. This seriously affects the cash flow of the businesses.
Vietnam Airlines (HVN) had accumulated losses of over VND17 trillion as of June, and now has negative equity of VND2.75 trillion.
In 2021, the company plans to sell eleven A321 aircraft, allocating maintenance costs, disbursing a support package of VND12 trillion with the target to cut VND6.8 trillion costs.
It sets a pessimistic business plan with a consolidated profit after tax of negative VND14.3 trillion this year, increasing the loss by 30.5 per cent compared to 2020.
Low-budget carrier Vietjet (VJC) used to earn an average of VND5 trillion in annual net profit in the 2017-2019 period.
In the first half of this year, thanks to expanding financial investment, selling assets, VJC still made a gross profit, but the company suffered a big loss in its main business, which is air transport.
The State-run Airports Corporation of Viet Nam (ACV), operating in the aviation auxiliary industry, also saw a sharp decrease in revenue. In the first half of this year, ACV's revenue from ground services, baggage and passenger security screening services, all dropped sharply.
However, with a large amount of money, ACV was largely compensated by deposit interest with nearly VND1 trillion. The company has more than VND33 trillion in cash and deposits, equivalent to 60 per cent of total assets as of late June 2021.
The prolonged crisis sometimes caused the market prices of HVN, VJC, and ACV to halve and hit the bottom in April 2020. Although the business results have not recovered, these stock prices have still recovered by more than 50 per cent after the pandemic was brought under control in the third quarter of last year.
Since the first wave of COVID-19, HVN shares of Vietnam Airlines dropped sharply from VND30,000 per share to only VND15,000 per share, now have recovered to VND25,000 per share.
Vietjet's VJC also experienced a significant decrease during the first outbreak, from VND145,000 per share to the bottom of VND92,000 per share in April 2020, but has since increased to VND130,000 per share.
ACV now is hovering around VND84,000/share, doubling the bottom set in March 2020.
According to market experts, compared to the initial value, there is still large room for aviation stocks to grow. As a super-profitable industry, when the whole world and Viet Nam can control the pandemic, aviation is forecast to have a strong leap.
A recent report, Agriseco Securities stated that the aviation industry will recover strongly in the 2022 - 23 period. It also expects that business results and stock prices of aviation enterprises will return as before, and this is the time to accumulate this industry group in investors' portfolios.
Vietnam moves to fast-track site clearance for Long Thanh International Airport
The Vietnamese government on September 14 asked relevant ministries, agencies, and localities to quicken the site clearance of Long Thanh International Airport to ensure the construction schedule of the first phase.

The Government Office on September 14 issued Document No.6426/VPCP-CN on the direction of Deputy Prime Minister Le Van Thanh, asking the southern province of Dong Nai, where the airport is located, to accelerate compensation, support, and resettlement; deal with the problems facing the component projects; and develop out-of-boundary infrastructure to ensure the process of capital disbursement and construction.
According to Dong Nai, to serve the construction, the province has to clear an area of 5,000 hectares of land, including 2,532ha for the first stage. The province has handed over 1,284ha to Southern Airport Authority, or nearly 51 per cent of the total area for the first phase.
In spite of this, the Ministry of Transport said the site clearance remains sluggish.
Long Thanh People's Committee explained that the sluggishness in site clearance is mainly due to barriers to the performance of the policy on compensation, and support transfer of land use rights via written papers, and others. To fast-track the process, Dong Nai People's Committee has directed Long Thanh People's Committee to deal with this problem.
Worse still, COVID-19 is also slowing down the site clearance process.
The $16 billion Long Thanh International Airport was kicked off this January, with the first phase including one runway with a length of 4km, taxiways, an apron, and a passenger terminal with other auxiliary works to serve 25 million passengers and 1.2 million tonnes of cargo each year.
As planned, the pilot operation of the first phase is expected to start in the second quarter of 2025 and commercial operations would start in Q4 of the same year.
Vietnam to impose zero percent tax on 31 commodities imported from Cambodia
Vietnam will impose a zero percent tax rate on 31 commodities imported from Cambodia such as live poultry, poultry meat and by-products, lemons and rice.
The list also includes finished pork products and unprocessed tobacco leaves, among others, according to a decree issued by the Vietnamese Government on September 14.
Decree No. 83/2021/ND-CP stipulating special preferential import tariffs aims to implement an agreement on boosting bilateral trade between Vietnam and Cambodia in 2021-2022.
The document sets quotas for rice with 300,000 tonnes and unprocessed tobacco leaves, 3,000 tonnes each year.
To enjoy the tariff, the products must have certificates of origin (C/O) form S granted by Cambodia's authorised agencies and undergo customs procedures at border gates as mentioned in Appendix III attached in the decree.
The document will take effect from September 13, 2021 to December 31, 2022./.
VN-Index fall for second day on persistent selling force
Shares settled down on Tuesday as strong selling pressure weighed the market.
The market benchmark VN-Index on the Ho Chi Minh Stock Exchange (HoSE) ended lower for the second day after rising slightly in the morning trade. The index lost 1.73 points, or 0.13 per cent, to 1,339.7 points.
The market's breadth stayed negative, while the liquidity dropped sharply compared to the previous session. Of which more than 730.4 million shares were traded on the southern bourse, worth nearly VND19.7 trillion (US$867.1 million), down nearly 15 per cent.
The 30 biggest stocks tracker VN30-Index posted a loss of 6.83 points, or 0.47 per cent, to 1,438.16 points. Eighteen of 30 biggest stocks in the VN30 basket decreased, while only seven stocks climbed and five ended flat.
The benchmark plummeted as the selling force gathered enough strength to outweigh bullish sentiment.
Data compiled by vietstock.vn showed that profit-taking activities happened mostly in bank stocks.
Of which Vietinbank posted the biggest loss on Tuesday, down 2.04 per cent. Other big banks with losses of more than 1 per cent were VPBank (VPB), down 1.39 per cent, BIDV (BID), down 1.15 per cent, or MBBank (MBB), down 1.08 per cent.
Losses in large-cap stocks like Hoa Phat Group (HPG) or Vietjet Aviation JSC (VJC) also contributed to the downtrend.
However, the index pared some losses thanks to gains in some pillar stocks.
Masan Group (MSN) led the uptrend, with a gain of 3.75 per cent to VND135,500 per share. Saigon Beer - Alcohol - Beverage Corporation (SAB), Vietnam Rubber Group (GVR), Vietnam Airlines (HVN), FPT Corporation (FPT) and Vincome Retail (VRE) also recorded positive performance on Tuesday.
On the technical front, analysts from Saigon - Hanoi Securities (SHS) said that the index is struggling and will need a breakthrough in the near term to start a new trend.
SHS recommended investors with large stock proportions reduce their portfolios in recovery sessions. Meanwhile, investors with high cash proportions should stay outside and watch the market, avoiding chasing buying at the moment.
On the Ha Noi Stock Exchange (HNX), the HNX-Index also slid on Tuesday, down 1.19 points, or 0.34 per cent, to 347.86 points.
During the session, investors poured nearly VND3.3 trillion into the northern market, equivalent to a trading volume of over 170.9 million shares.
On the other hand, foreign investors continued to net sell in the country's stock market, with a value of VND551.77 billion. Of which, they net sold a value of VND738.41 billion on HoSE, while net bought a value of VND155.63 billion on HNX.
ASEAN Foundation and SAP announce National Champions for Viet Nam
The ASEAN Foundation and SAP SE have announced that three teams from RMIT University Vietnam, British International School, Foreign Trade University and Viet Nam National University have emerged as the winners in ASEAN Data Science Explorers (ASEAN DSE) 2021 National Finals – Viet Nam that took place virtually recently.
The three winners were judged based on their ability to design a best all-round concept that tackles ASEAN socio-economic issues, driven by data insights. The judging criteria look at the creativity, feasibility, innovation, and the team's ability to demonstrate the solution's implementation.
As the first winner, Team Dastronaut from RMIT University Vietnam will represent Viet Nam for the virtual Regional Finals of ASEAN DSE 2021 on October 6, 2021.
Team Dastronaut, comprising of Phan Le Minh An and Vuong Anh Chien from RMIT University Vietnam, took first place at the National Finals. Their project is aimed at revolutionising municipal waste through a combination of mandatory rules and incentives to promote trash sorting habits from residents, setting up an e-commerce waste app – where companies can log in and purchase waste products as input materials for their manufacturing process.
Amid the ongoing COVID-19 pandemic, ASEAN DSE continues to equip youth from across the region with essential digital skills by organising its key activities, such as enablement sessions and data analytics competitions, virtually. Running for the fifth year, ASEAN DSE has a renewed focus on sustainable development goals (SDGs) that target climate and sustainability.
In addition, the programme also collaborated with non-governmental organisations (NGOs) in ten ASEAN countries to deliver in-person enablement sessions to youth with limited access to technology and youth with disabilities.
"2021 marks the fifth-year milestone for the ASEAN DSE competition. Initially starting as a platform to empower youths with digital skills to grow the next generation of leaders, this year, we have added climate action as a key focus in our programme, aligned with our broader ASEAN and SAP priorities. I am proud of the diversity of the participants joining this initiative and their passion for creating and delivering social impact. ASEAN DSE augments the future workforce by enabling youth so that we, as one ASEAN, can be a sustainable economic powerhouse," said Nguyen Hong Viet, Managing Director, SAP Vietnam, who sits on the judging panel for the Viet Nam National Finals.
EGATi has yet to get Thai government approval for Quang Tri 1 thermal power plant
The Thai government has yet to license EGAT International Co., Ltd. (EGATi) – the investor of Quang Tri 1 thermal power plant – to invest in projects overseas, making construction plans uncertain.

EGATi has yet to get Thai government's approval to develop Quang Tri 1 thermal power plant (Illustration)
While EGATi is waiting for the Thai government's approval to invest overseas, it has proposed to allow an additional Thai joint venture to develop Quang Tri 1 thermal power plant.
EGATi has also yet to establish a build, operate, transfer (BOT) company in Vietnam to develop the thermal power plant. Previously, the investors originally planned to establish the company in June.
The investor is negotiating a series of contracts for construction, including the BOT and government guarantees and undertakings (GGU) contract, power purchase agreement (PPA), coal supply contract (CSA), coal transportation (CTA) contract, and lease land agreement (LLA).
In August 2013, the government approved EGATi to develop the plant in Quang Tri with a capacity of 1,200MW.
In March 2016, the project was added to the list of power projects for development in the 2016-2020 period with the expectation that its two turbines would come into operation in 2023 and 2024. Within the same year, the Ministry of Industry and Trade approved the project's feasibility report.
According to the plan, the project would be implemented under the BOT model with Ultra Super Critical (USC) technology.
In November 2019, EGATi kicked off the construction of the plant. Situated in Quang Tri Economic Zone, the plant has the total investment capital of $2.39 billion, with a planned capacity of 1,320MW (2x660MW). However, since then, the construction has yet to be implemented.
The local authorities urged the investor to start construction of the project many times, and the investor committed to officially implement the construction last September, however, to date, nothing has changed.
SCIC to hold 31.08 per cent of charter capital of Vietnam Airlines
State Capital Investment Corporation bought Vietnam Airlines (HSX: HVN) shares to hold at least 31.08 per cent of the charter capital to help the company overcome its difficulties amid the COVID-19 pandemic.

On September 13, State Capital Investment Corporation (SCIC) disbursed VND6.9 trillion ($300 million) to buy HVN shares, holding at least 31.08 per cent of the charter capital of Vietnam Airlines Corporation.
The purchase will supplement capital for production activities and improve Vietnam Airlines' short-term solvency. This is one of two solutions approved by the National Assembly to ease the airline's difficulties.
Specifically, the State Bank refinanced credit institutions to lend additional capital to Vietnam Airlines. At the same time, the company was allowed to offer more shares to existing shareholders to increase charter capital, despite having negative equity.
The rescue package through the two solutions is worth VND12 trillion ($521.74 million), including VND4 trillion ($173.9 million) refinancing for credit institutions to lend to Vietnam Airlines at preferential interest rates, and VND8 trillion ($347.83 million) from the issuance of shares to increase capital.
Regarding the VND4 trillion loan, on July 7, Vietnam Airlines signed credit contracts with three commercial banks, namely Southeast Asia Commercial Bank, Vietnam Maritime Commercial Joint Stock Bank, and Saigon-Hanoi Bank.
Vietnam Airlines claimed that it will soon complete overall restructuring to adopt to the new situation, overcome difficulties, recover, and develop sustainably.
In the context of business difficulties, high risk of loss, and negative cash flow, Vietnam Airlines expects its total revenue in 2021 to reach VND37.4 trillion ($1.63 billion), equal to 88 per cent of the 2020 performance; the consolidated net loss amounted to VND14.5 trillion ($630.43 million), much higher than the loss of VND11.2 trillion ($487 million) in 2020. The parent company's own loss was VND13 trillion ($565.2 million).
Seafood export showing falling sign in August
In August, seafood exports to all markets decreased by 16-50 per cent compared to the same period in 2020.

According to the Vietnam Association of Seafood Exporters and Producers (Vasep), in August, exports to China and Japan both decreased sharply by 36 per cent on-year , to the EU decreased by 32 per cent (the Netherlands decreased by nearly 50 per cent, and Germany decreased by 42 per cent). Exports to the US and Russia decreased by at least 16 per cent; to the UK fell by 48 per cent, and to Australia and Canada by 35 and 37 per cent, respectively.
In August, with a turnover of $588 million, seafood exports decreased by nearly 28 per cent on-year in most key products, including shrimp, pangasius, and tuna.
Compared to July as a month that still maintains an increase in turnover thanks to inventories, exports in August decreased by 31 per cent, of which shrimp decreased the most with 36 per cent, pangasius decreased by 31 per cent, tuna and other sea fish by 25 per cent, and squid and octopus by 23 per cent.
The COVID-19 pandemic had a strong impact on Vietnam's key seafood production areas in the south which account for 90-95 per cent of the country's seafood export turnover and the industry's labour force, causing difficulties and disruption for the business community.
Compared to July, the number of enterprises participating in seafood exports in August decreased by more than 100 units. Compared to the same period last year, the number was 150 units less.
In the first eight months, seafood exports reached nearly $5.6 billion, increasing by about 7 per cent thanks to high export results in the first seven months. Exports of shrimp increased by 6.4 per cent to $2.45 billion while pangasius reached $993 million, up 8.8 per cent. Tuna exports increased by 12 per cent and squid, octopus, and other fish increased by 4-5 per cent.
Throughout the first eight months, exports to the United States maintained a growth rate of nearly 27 per cent and to the EU increased by 10 per cent. Besides, exports to Australia and Russia after 8 months still maintained high growth, increasing by 25 per cent and 52 per cent respectively on-year. However, exports to China fell deeply by 14.6 per cent, to Japan decreased by nearly 3 per cent.
MSB to increase its charter capital to nearly $664 million
The State Bank of Vietnam has approved MSB to increase its charter capital by VND3.525 trillion ($153.26 million) to VND15.275 trillion ($664.13 million) through stock issuance to pay dividends.

According to MSB, this increase is equivalent to 30 per cent of the bank's current capital. Moreover, the bank aims to issue additional 352.5 million shares to pay dividends to its existing shareholders, bringing the total number of outstanding shares to nearly 1.53 billion.
The capital to pay dividends will be taken from retained earnings by the end of 2020 after having fully set aside funds and amounts in accordance with the law.
MSB said that the capital hike is slated to ensure its capital adequacy ratios and risk management, which is in line with international standards such as Basel II and Basel III.
In March, Prudential Vietnam and MSB have renewed their strategic bancassurance partnership for a 15-year term.
MSB officially made its debut on the Ho Chi Minh City Stock Exchange (HSX) on December 23, 2020.
The bank plans to sell 100 per cent of its stake in the consumer finance company FCCOM to a foreign investor after its failure to divest 50 per cent stake to South Korean partner Hyundai Card.
Offshore drilling corporation to supply self-elevating rig to Thang Long JOC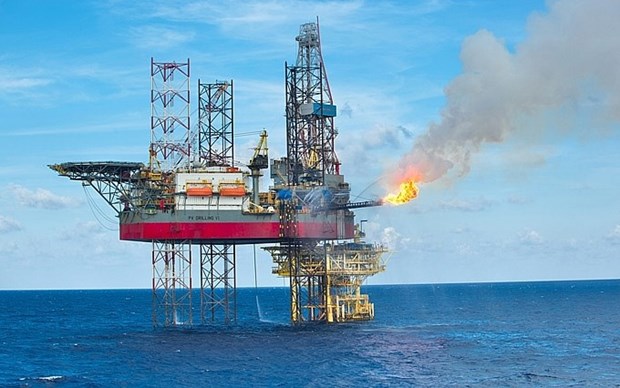 The PV Drilling VI jackup rig.
The PetroVietnam Drilling and Well Services Corporation (PVD) will supply drilling service using the PV Drilling VI jackup rig to the Thang Long Joint Operating Company (JOC).
The self-elevating rig, the most modern one of the PVD, was assembled and completed in February 2015. It can drill up to 9,000m at a maximum depth of 121m.
The PV Drilling VI will be used in a project of Thang Long JOC from mid-September at Block 15-2/01 offshore Vietnam.
At present, PVD is operating its drill rigs for customers at home and abroad, raising its competitive edge in the market with safe operations in various countries like Algeria, Malaysia, Thailand and Myanmar.
In the coming time, PVD will continue to expand its well drilling services and other supplementary ones in a bid to supply customers with bundled services./.
Deputy PM urges acceleration of projects in localities least-impacted by COVID-19
Deputy Prime Minister Pham Binh Minh on September 14 chaired a meeting of the PM's special working group on removing bottlenecks and promoting the implementation of investment projects across the country.
At the event, participants said that one of the reasons why capital disbursement in the first eight months lagged behind the pace in the same period last year is that 2021 is the first year of the mid-term public investment plan for the 2021-25.
This means new construction projects need time for completing necessary procedures.
However, the main cause of the slow capital disbursement is the prolonged social distancing due to the complex developments of COVID-19, which affected both public investment projects and those funded by official development assistance (ODA).
Deputy PM Minh underscored that the Government is determined to fulfil tasks in public investment capital disbursement set in the Government's resolution and the dispatch dated August 16 of the PM.
He assigned the Ministry of Planning and Investment to continue identifying current difficulties facing ministries, sectors and localities in carrying out public investment projects, so as to promptly seek solutions to remove them.
Ministries and agencies were asked to complete the allocation of this year's remaining capital.
The Deputy PM also ordered management agencies of national target programmes to quickly finish their investment dossiers to submit to the PM for approval./.
Ba Ria-Vung Tau talks ways to remove difficulties with business community
Leaders of the southern province of Ba Ria-Vung Tau are organising a two-day online meeting on September 14-15 with domestic and foreign businesses and investors in the locality to seek ways to remove difficulties facing the business community and help them maintain operations amid the COVID-19 pandemic.
Secretary of the provincial Party Committee Pham Viet Thanh said that the province will continue to apply social distancing measures on a narrow scale, focusing on high-risk areas, adding that adjustments will be made timely accordance to the developments in the pandemic situation.
The province will consider the reopening of the economy based on the level of pandemic control, so as to avoid the missing of opportunities for economic recovery and development, he said.
According to Thanh, under approved plans, in the fourth quarter of 2021, the province will receive enough COVID-19 vaccine to inoculate 95 percent of local residents from 18 years old and above .
Meanwhile, Japanese Consul General in Ho Chi Minh City Watanabe Nobuhiro said that if the current restriction measures are not loosened, it will be hard to meet the dual targets of controlling the pandemic and boosting economic development.
He said that Japanese firms have strived to maintain production safely amid the pandemic. However, the cost to apply the "three-on-site" model is high, putting a heavy burden on the firms.
He also mentioned the difficulties that Japanese experts face in entering Vietnam.
Business representatives said that it is necessary to give businesses time to make necessary preparations before pandemic prevention and control regulations are issued. They also suggested that Ba Ria-Vung Tau assist foreign experts in procedures to extend work permit and visa.
As of September 13, Ba Ria-Vung Tau logged 3,822 COVID-19 infections, including 35 deaths. The province had vaccinated 31.37 percent of its residents aging from 18 years old./.
Huawei Vietnam has new CEO
Huawei Technologies today, September 14, appointed Wei Zhenhua as its new CEO for Vietnam.
With more than 20 years of experience in the information and communications technology (ICT) industry and over three years holding a managerial position in Vietnam, Zhenhua will be responsible for the company's business operations, ensuring the implementation of Huawei's commitment to promoting the transformation of the energy system and zero-carbon industries, creating a new driving force for economic growth.
Zhenhua began working at Huawei in 2001 as an executive in charge of the business in China. Before being picked as the new CEO of Huawei Vietnam, he worked as the deputy CEO of Huawei Vietnam.
Zhenhua said, "A global green industrial revolution with the goal of achieving carbon neutrality is a top priority. The Vietnamese Government has also set out long-term goals in comprehensively responding to climate change. Huawei annually invests over 10% of its revenue in R&D to bring about value for the industry and the society through innovation. Thanks to that, Huawei […] is willing to coordinate with Vietnamese partners to reduce carbon dioxide emissions from ICT facilities."
Zhenhua added that Vietnam remains an important and strategic market for the company, which has been here for 23 years. In the Asia-Pacific region, Huawei pledged to invest US$100 million in the startup ecosystem in the next three years and will focus on developing four startup centers, including one in Vietnam.
Vietnam likely to lower GDP growth to 3.5 - 4% this year
Minister of Planning and Investment Nguyen Chi Dung says his Ministry is considering revising Vietnam's economic growth rate target to between 3.5% and 4%, as opposed to the 6.5% originally expected, due to the negative impact caused by the COVID-19 pandemic.

The COVID-19 pandemic has taken its heavy toll on Vietnam's economy which is likely to grow by 3.5-4% in 2022, much lower than the 6.5% target originally estimated.
This revised target will only be achieved if the prolonged COVID-19 pandemic is successfully brought under control by September and the country enters a new normal status, starting from the fourth quarter of this year, said Minister Dung during a conference held on September 14 in Hanoi to review socio-economic development and public investment.
In the event that the revised target proves to be realistic, 2021 will be the second consecutive year that Vietnam has failed to meet its growth target after recording growth of 2.91% last year.
"Though the revised rate is a bit low, the growth is quite impressive given global uncertainties," said Minister Dung.
According to the investment minister, the implementation of social distancing measures has dealt a heavy blow to business production and employment nationwide. In addition, the mobilisation of all resources for the COVID-19 fight has greatly affected budget revenue and expenditure, while the prolonged outbreak has also impacted the formation of new businesses and the attraction of foreign direct investment.
Minister Dung said that next year would present both opportunities and challenges due to the pandemic set to last for a long time and many countries now accepting that they must live with the virus.
"Extending social extending to a larger extent is not the way as it will lead to heavy consequences both economically and socially," he stressed, noting the fact that when the vaccination rate is high, many countries have begun to reopen their economies in parallel with implementing COVID-19 prevention measures.
In his opinion, the world economy is anticipated to gradually recover over the course of next year. However, its recovery will be slower than previously forecast and will be different in countries depending on their vaccination coverage. Global trade order and investment structure would inevitably change, including production and supply chains that would eventually affect Vietnam.
"It is necessary to identify opportunities to take advantage of the recovery process and at the same time to limit risks," he said.
Based on calculations, Minister Dung anticipates that Vietnamese economic growth will increase by between 6% and 6.5% in 2022.
The minister also added that the Government recently adopted a resolution to remove difficulties for businesses and people affected by the COVID-19 pandemic. He therefore suggested that localities must accompany businesses, listen to their opinions, and meet their requests in their capacity.
E-commerce promotes consumption of agricultural products
More than a month since its launch, the supply-demand connection website run by Working Group 970 under the Ministry of Agriculture and Rural Development (htx.cooplink.com.vn) has more than 1,400 registered units who regularly access the platform to successfully consume large volumes of goods for the southern provinces and cities.
Dang Van Thuat, chairman of the Board of Directors of Tam Hiep Agricultural Cooperative in Binh Dai District, Ben Tre Province, has been busy with calls asking for information about fruit products such as longan, coconut and others. "This is an unprecedented phenomenon", he said.
Thuat said that after registering information on the supply-demand connection website of Working Group 970, many traders have learned about the cooperative and contacted him tobuy fruit, clearing the bottleneck in consumption as southern provinces and cities are under social distancing according to Directive 16.
Further good news is that the cooperative connected with enterprises in Ho Chi Minh City to sell two tonnes of longan on the e-commerce platform Sendo.vn.
"This is also the first time we have bought and sold agricultural products on an online platform like this. If all goes well, the cooperative wishes to disseminate e-commerce knowledge to its members to expand product consumption channels in the near future," Thuat added.
Nguyen Dac Viet Dung, chairman of the Board of Directors of Red Lotus Technology Joint Stock Company, said that Sendo.vn has been and remains ready to help businesses, cooperatives, business households, and farmers to gradually turn to digitalisation to achieve stability and initiative in consuming their products.
At the same time, the platform pledges to provide1:1 support for new enterprises, cooperatives, and business households joining Sendo.vn for the first time to advise the opening of online stores and selling products on the platform. Besides, Sendo will also provide sellers with free shipping, advertising as well as methods to maintain long-term business on Sendo.
Tran Minh Hai, director of the Centre for Cooperative Development under the College of Management for Agriculture and Rural Development 2 (CMARD2) – a member of Working Group 970 – said the application of e-commerce in connecting agricultural supply and demand has brought about many practical results including fast and accurate reporting data, predictable trends of commodity supply and demand, adequate information on products for both buyers and sellers, and convenient transactions.
Thereby, it has helped shorten the time to deliver goods from other provinces to Ho Chi Minh City in the early days of implementing Directive 16. Statistical results show that this online platform has successfully sold 300-400 tonnes of agricultural products every day through sending a list of suppliers to purchasers such as supermarkets, stores, and wholesale markets via email and Zalo
It is worth mentioning that when participating in e-commerce platforms, many enterprises have been very surprised by the data on the supply of quality agricultural products in different regions.
Thus, they have planned to connect with local suppliers to build high quality raw materials areas for export in the near future, including an eel production area in Hau Giang Province, a concentrated jackfruit production area of ​​5,700 ha in Chau Thanh District (Hau Giang Province), a fruit growing area of ​​more than 1,100 ha of jackfruit and guava in Thap Muoi District (Dong Thap Province), a crayfish farming area in U Minh Thuong District (Kien Giang Province), and others.
The COVID-19 pandemic broke out in Bac Giang Province in early May 2021, coinciding with the harvest of hundreds of thousands tonnes of lychee. Thanks to e-commerce platforms such as Voso.vn and Postmart.vn, 215,852 tonnes of lychee were consumed. In which, 58.6% of the volume was consumed in the domestic market while 41.4% of the fruit was exported with an average selling price of VND19,800 per kg and total revenue ofVND6.8 trillion.
In particular, at the end of June 2021, more than three tonnes of Bac Giang lychee meeting GlobalGAP standards were exported and cleared through the e-commerce platform Voso.vn at Frankfurt Airport, Germany. This is the first time Vietnamese agricultural products have been exported to the European market under the "cross-border e-commerce" model.
These results demonstrate the effectiveness of e-commerce applications in the consumption of agricultural products, especially during the COVID-19 pandemic.
Customs clearance facilitated for 420 medical equipment consignments
The HCMC Customs Department yesterday said that its rapid response team has facilitated customs clearances for 420 consignments of medical equipment and supplies and biological products for Covid-19 prevention and control tasks.
The rapid response team under the HCMC Customs Department was established at the beginning of August to support the customs clearance procedures for import of medical equipment including ventilators, oxygen generators and medical devices for Covid-19 prevention and control tasks in the city.
The team has sent over 150 official letters to propose the acceleration of goods customs clearance procedures for the Covid-19 fight along with receiving and solving the problems of enterprises and agencies via its two hotlines.
Besides, the team also detected and reported difficulties in importing these products to its leaders to remove the obstacles.
At the same time, the unit also made recommendations to prevent cases taking advantage of the State's support on facilitating import of medical equipment and supplies to illegally import goods.
Vietnamese cashew nuts increase market's share in Russia
The share of Vietnamese cashew nuts in Russia's import of the product during the first half of 2021 reached 57.68 percent, increasing 7.4 percent year on year, according to statistics from the Federal Customs Service of Russia.
During the six-month period, Russia imported 4,870 tonnes of cashew nuts worth over 27 million USD from Vietnam, up 72 percent in volume and 29.2 percent in value compared to the same period in 2020.
Russia also increased its cashew imports from Belarus, but sharply reduced its imports from other markets.
The Ministry of Industry and Trade's Agency of Foreign Trade attributed Vietnam maintaining of its position in the Russian cashew nut market amid COVID-19 to stable supply sources and good quality.
For higher exports to the market in the near future, it recommended the cashew sector ensure clean criteria and exporters build close and long-term links with producers to create value chains and share responsibilities and benefits.
The agency also highlighted the need for packaging improvement, building of high-capacity processing plants, and proactiveness in raw cashew supply sources./.
Corporate bonds still attract investors
In the first two quarters of 2021, real estate companies are the winners of corporate bond issuance, with an issuance value of up to VND92.3 billion and an average interest rate of 10.36 percent per annum. In the context that interest rates on bank deposits stand at an extremely low level, corporate bonds remain attractive, especially for individual investors. On the other hand, many investors have been circumventing regulations over the past time.
The Ministry of Finance (MoF) said that the private placement corporate bond market had grown in the first seven months of this year. The volume of corporate bond issuance on the market increased by 17 percent over the same period last year. In the second quarter of 2021, the proportion of private placement corporate bonds accounted for nearly 90 percent of the total amount of VND164 trillion of corporate bonds issued.
The market also records that in August 2021, several large real estate enterprises announced to have successfully mobilized thousands of billions of Vietnamese dong through corporate bonds. Of which, some enterprises issued bonds with high interest rates of up to more than 13 percent per annum, 2-3 times higher than bank deposit interest rates.
According to current regulations, enterprises mobilize capital through private placement of corporate bonds on the principle of self-borrowing, self-paying, and self-responsibility, and State management agencies do not issue issuance permits. Because of the high-risk nature of corporate bonds, the Government's Decree No.153/2020 on private placement of corporate bonds stipulates that only professional investors can buy and trade privately placed corporate bonds.
Some securities companies and banks - one of the main investors in the primary private placement corporate bond market - have offered corporate bonds to individual customers. For being ineligible, some investors have sought to circumvent the law.
Hoai, a resident in Thu Duc City, said that she withdrew her savings account to invest in securities. Because she bought stocks when the market was making corrections, her investment capital evaporated by more than 20 percent within just four weeks. The broker of a securities company recommended her to buy corporate bonds from K. Real Estate Company, with the highest interest rate of nearly 11 percent per annum and a term from 3 to 15 months.
The consultant also promised that the securities company could help to prove that she was a professional investor through her investment contract with it, even if she did not hold stocks with a minimum value of VND2 billion (one of the conditions to become a professional investor).
According to Hoai, although the term of corporate bonds is three years, the consultant commits that she can transfer them after 6-12 months if she wants to withdraw money. "Because of high-interest rates, I invested about VND300 million in corporate bonds," said Hoai.
Corporate bond issuance is a large and important capital mobilization channel in the market besides the sources of credit from banks. However, many enterprises, most of which are real estate enterprises, have issued corporate bonds with high-interest rates, but the quality of collateral assets of bonds is limited because they are mainly investment projects, assets formed in the future, or shares of real estate enterprises. Meanwhile, ensuring the obligation to pay principal and interest of corporate bonds by stocks does not make much sense because when enterprises encounter insolvency, the value of shares used as collateral will also plummet seriously.
According to Dr. Nguyen Tri Hieu, a banking and finance expert, in the context of a prolonged Covid-19 pandemic, the real estate market is standing still, and the implementation and opening for sale of projects are interrupted. Moreover, public investment in infrastructure projects is also slower than expected. Hence, investors should be more cautious because when businesses face difficulties and cannot repay the bond principal and interest, investors will be empty-handed.
Facing the above situation, the MoF has just requested the State Securities Commission (SSC), the Vietnam Stock Exchange, and the Banking and Finance Department to strengthen inspection and supervision of the corporate bond market.
Regarding the above direction, SSC's representative also acknowledged that recently, there was a situation of circumvention of regulations on professional securities investors in the private placement corporate bond market. Some organizations were providing intermediary services to offer and distribute privately placed corporate bonds to individual investors. The SSC has had a plan to inspect some securities companies and will strictly handle if securities companies violate regulations.
A representative of the Finance and Banking Department under the MoF said that in case of circumventing regulations on professional securities investors by buying bonds through investment contracts with securities companies, investors are not the owner of corporate bonds, and the rights to corporate bonds under the commitments of issuers will not be guaranteed. Experts also recommend that investors should be cautious when deciding to buy corporate bonds, especially high-interest-rate corporate bonds often come with great risks.
Companies team up to improve animal protein value chain
Masan MEATLife JSC of Vietnam and Dutch-invested De Heus Co. Ltd have agreed to set up partnership to improve the productivity of the animal protein value chain in the country.
Under their MoU signed in Ho Chi Minh City on September 14, the two sides will consider a strategic partnership and explore cooperation chances towards optimising and raising the productivity of the animal protein value chain under the Feed - Farm - Food (3F) model.
Masan MEATLife will continue investing in the branded chilled meat production while De Heus will focus on supplying nutritional, breeding, and farming solutions.
They will also form close and long-term cooperation with independent livestock, poultry, and fishery farms, provide counselling and farming solutions, and step up the 3F model to meet the demand for chilled meat with reasonable prices in Vietnam.
De Heus is a global business with over-100-year experience in supplying advanced animal nutrition and farming solutions. It has operated in Vietnam since 2009. Meanwhile, Masan MEATLife is a member company of Masan, one of the leading consumer goods conglomerates in Vietnam.
Their cooperation is expected to help speed up the modernisation of the annual protein value chain./.
Quang Ninh eyes to be role model in pandemic prevention, economic development
The northern province of Quang Ninh is striving to become one of the typical Vietnamese localities in COVID-19 prevention and control and maintain double-digit economic growth momentum.
The statement was made by Secretary of the provincial Party Committee Nguyen Xuan Ky during the recent 16th meeting of the Party Committee Standing Board.
To achieve the target, the Standing Board emphasised the need to resolutely and persistently keep "green zones" safe, push ahead with measures that have proved effective, and take flexible solutions based on the reality.
The province looks to complete vaccination for 100 percent of eligible residents against COVID-19 this year, combined with boosting the adherence to the Ministry of Health's 5K principle ("khau trang" - wearing facemasks, "khu khuan" - disinfection, "khoang cach" - keeping distance, "khong tu tap" - no gathering, and "khai bao y te" - making health declarations) and technology application.
The standing board highly agreed with the growth scenario for the fourth quarter of 2021 and the whole year of 2021 to fulfill the target of gross regional domestic product (GRDP) growth of over 10 percent and total state budget revenue of over 51 trillion VND (2.23 billion USD). These are high figures, showing the northern province's determination to continue to promote the country's development aspirations.
To that end, Secretary Ky requested departments, sectors and localities to continue to remove difficulties for the coal industry, take full advantage of market opportunities, and maximise domestic production output.
It is necessary to step up administrative reforms, further improve the local business and investment climate, and enhance discipline at grassroots public service agencies, aiming to stay among the top provinces and cities in terms of the Provincial Competitiveness Index (PCI), the Public Administration Reform (PAR) Index, the Satisfaction Index of Public Administration Services (SIPAS), and the Provincial Governance and Public Administration Performance Index (PAPI), Ky stressed.
He also asked local authorities to promote the efficiency and effectiveness of state management over land and natural resources, and make detailed planning schemes for Ha Long city, the Quang Yen coastal economic zone, and others.
The apparatus of State agencies will be streamlined in tandem with bettering their performance efficiency and effectiveness.
Legal bottlenecks will be removed while poor-performing rice cultivation and forest land areas are converted, and site clearance for projects is accelerated. The coordination between state agencies and localities in Quang Ninh will be strengthened to boost the disbursement of all capital sources, thereby creating an impulse for growth.
In addition, provincial authorities are requesting investors to quickly complete infrastructure at Song Khoai, Nam Tien Phong, Bac Tien Phong, and Viet Hung industrial parks. They are also encouraging secondary investors to speed up manufacturing projects.
Quang Ninh is one of the three nuclei of the northern key economic region and viewed as a strategic destination in northern Vietnam.
It looks to raise its GRDP by 10 percent on an annual average during 2020 - 2025, and the per capita GRDP to over 10,000 USD by 2025. The urbanisation rate is expected to surpass 75 percent, while the rate of poor households to go down to below 1 percent. The province plans to complete new-style rural area building by the end of 2030.
Despite the complex COVID-19 situation, which has substantially impacted all socio-economic aspects, Quang Ninh has still managed to achieve the "twin targets" of curbing the pandemic and boosting socio-economic development.
The GRDP growth rate in the first nine months of 2021 is estimated at 8.2 percent.
In particular, the processing and manufacturing industry has increased 36.2 percent year on year, serving as the main driving force for the industrial sector. It has made up for the pandemic-caused downturn in services, tourism, coal, and electricity sectors.
Meanwhile, nearly 34.38 trillion VND (over 1.5 billion USD) has been collected for the State budget, equivalent to 67 percent of this year's target. Administrative reforms and the business environment have continued to be improved./.
Hai Phong works to better manage economic zones
The Hai Phong Economic Zone Authority (HEZA) on September 13 launched its management and operation system (e-HEZA).
The system is set to make it easer for the HEZA in the management work, while helping to reform administrative procedures, thus improving administration reform index of the authority.
Through the system, it takes only one day to complete the grant of licences instead of up to 20 days in the past. The system also shortens the timing of data reports by enterprises.
Le Anh Quan, Vice Chairman of the municipal People's Committee, said the launch of the system has mirrored the HEZA's strong determination to complete its assigned tasks.
The application of information-technology and digital transformation will contribute to raising the operational efficiency of the authority, and turning Hai Phong into an investment magnet, he said.
Quan asked the HEZA to coordinate with businesses in training officials in charge of the system, and ensure information security.
In the 2021-2025 period, the northern port city of Hai Phong plans to construct 15 new industrial parks with a total area of over 6,200 hectares.
Last year, the city ranked seventh out of 63 provinces and cities nationwide in the Provincial Competitiveness Index (PCI), and second out of 11 provinces and cities in the Red River Delta region./.
Him Lam selected to develop $400 million Tran Hung Dao Bridge
Hanoi People's Committee has appointed Him Lam Corporation to develop the Tran Hung Dao Bridge project, which will connect Hoan Kiem and Long Bien districts.

Under the build-operate-transfer (BOT) contract, Him Lam Corporation has just been asked to build an investment proposal and feasibility study for the public-private partnership project implementation and the BOT contract.
The bridge will be built during 2022-2025 with the total investment of VND8.9 trillion ($387 million), half of which will come from the state budget and the other half from the investor. The expected payback period is about 20 years.
Tran Hung Dao Bridge will begin at the five-way Tran Hung Dao-Tran Thanh Tong intersection in Hoan Kiem district's Phan Chu Trinh ward, and end at the intersection with Nguyen Van Linh street in Long Bien district's Gia Thuy ward. The bridge will be a total 5.5km long and will include six lanes.
Three designs were proposed for Tran Hung Dao Bridge, including a modern reinforced concrete extradosed bridge using five towers joined with cable stays; a steel arch bridge with a cable-stayed bridge shaped like a flying crane; and a prestressed reinforced concrete box girder bridge combined with classical tower pylons in the classical style of Indochina.
Finally, the council has chosen the third option, designed by Transport Engineering Design Incorporated (TEDI).
Tran Hung Dao Bridge is one of 18 bridges crossing the Red River that were approved in the master plan of the transport sector by 2030. Eight of these bridges have already been constructed, and an additional 10 will be built over the course of the next decade.
Efforts made to boost supporting industry's growth
Following directions of the Government, the Ministry of Industry and Trade has coordinated with relevant ministries, sectors and agencies to implement measures to improve the competitiveness of businesses operating in supporting industry, thus promoting the growth of the sector.
Boosting the development of the supporting industry is one of the important solutions for Vietnam to improve the quality of the economy, ensuring sustainable development avoiding the middle income trap and enhancing the country's capacity of attracting foreign investment.
The efforts are also expected to encourage and assist domestic firms to join deeper into the supply chain of foreign-invested companies as well as the global supply chain.
The Vietnamese Government approved Resolution 115/NQ-CP in August last year, which clarified solutions to promote Vietnam's supporting industries, giving specific goals for the sector such as ensuring high level of competitiveness in the next decade. Especially in 2025, Vietnamese firms are expected to meet 45 percent of the basic demands for domestic production and consumption with about 1,000 businesses capable to directly supply supporting products to assembling companies and multinational groups in the Vietnamese territories.
With the same purpose, in late 2020, the Ministry of Industry and Trade launched the Vietnam Technology Advice and Solutions from Korea Center (VITASK) and a mold technology centre.
The establishment of these facilities showed the desire to boost the growth of the supporting industry in a strong manner as well as promote cooperatikn and investment to enhance the capacity of Vietnamese firms in engaging deeper into the global supply chains, meeting the demand for seeking high quality human resources or promissing partners from the Republic of Korea in Vietnam.
Experts held that the Industry Agency under the Ministry of Industry and Trade needs to expand technical support centres across the country, while implementing activities to assist industrial production firms as well as relevant industrial service providers.
Such centres will not only focus on introducing technologies and supporting businesses in accessing advanced technologies through international cooperation and the Government's policies but also help them in research and development (R&D) activities, creating new added values for Vietnamese supporting products.
Currently, Vietnam has engaged many free trade agreements, including the Regional Comprehensive Economic Partnership (RCEP). Therefore, the demand for cooperation and partnership among domestic and foreign firms is very high, along with the demand to develop investment and production activities.
Such centres as the VITASK are expected to give strong support to domestic businesses in supporting industries to involve in the global supply chains, enhancing their capacity and meeting the demand for high quality human resources.
Vietnamese enterprises operating in the support industry account for 4.5 percent of the total number of enterprises operating in processing and manufacturing in the country.
Businesses specialising in supporting industries employ 8 percent of the industrial sector's workforce and contribute 900 trillion VND (39.5 billion USD) or 11 percent of the industrial sector's total revenue.
Vietnamese enterprises have many opportunities to provide products to assembling and manufacturing enterprises abroad, thus further expanding the country's supporting industry in the future./.
Vietnam sees car imports double over eight months
Vietnam spent US$2.35 billion on importing a total of 105,702 completely-built-up (CBU) cars in the first eight months of the year, marking annual increases of 91.3% in value and 95.6% in volume.

Vietnam sees car imports double over eight months amidst COVID-19 pandemic
Of the total, 72,355 are nine-seater cars, while the remaining 24,049 are trucks and specialised vehicles.
Typically, the country imports cars from Thailand and Indonesia, accounting for 80% of the total import volume of CBU cars.
August alone saw Vietnam import 10,179 CBU vehicles worth US$22.4 million, a drop of 29.3% compared to the previous month, according to figures released by the General Department of Vietnam Customs.
JAKS joins forces with Vietnamese partner to develop 1,500MW LNG power project
JAKS Resources Bhd., a construction and power holdings company from Malaysia, has inked an MoU with T&T Group JSC to explore possibilities to co-develop the 1,500MW Quang Ninh 2 liquefied natural gas (LNG)-to-power project in the northern province of Quang Ninh.

Malaysia's JAKS joins forces with Vietnamese partner to develop a 1,500-megawatt LNG-to-power project
According to the agreement, JAKS and T&T will agree on the approach to implement the LNG-to-power project, which covers the place, design, technology, and infrastructure related to the import terminal and the power plant, as well as the selection of LNG and gas-fired power solutions suppliers.
JAKS will act as the strategic investor in charge of the engineering, construction and commission process to facilitate the project's design, engineering, construction, and operations. Meanwhile, T&T Group will be accountable for all legal matters related to the LNG-to-power project.
Two scenarios for Vietnamese economy in 2021 and stellar expectations for 2022
HSBC is predicting two possible scenarios for Vietnam's economy until the year-end. Moreover, HSBC predicts Vietnam's GDP growth in 2022 reaching 6.8 per cent, with a bullish outlook for the mid and long term.

There is a saying that it is always darkest before the dawn. Fundamentally, this means one should not give up during hard times because things are hardest right before they start to get better. As a bank that has been in Vietnam for 151 years, we have been through ups and downs together with this country but we also know that Vietnam always finds a way to overcome obstacles and challenges. The national traits of perseverance and resilience will ensure this once again. Vietnam will prevail and the good times will return. We definitely believe this and despite this period of pain, we continue to have a positive outlook for the economy in the future.
We had high expectations for the economy this year after the strong performance in 2020 where Vietnam was one of the very few countries to evidence positive GDP growth as a result of a very effective handling of the pandemic. We all believed that the Year of the Ox, would bring in the same attributes as the Ox itself – strong, reliable, fair and calm after the frenzied Year of the Rat.
The year started very strongly with exports showing very strong positive momentum on the back of an opening up of the economies in the west who had been under lockdown in 2020 and the benefits of the large number of free trade agreements (FTAs) that Vietnam had signed started to bear fruit. The GDP growth forecast for the year by HSBC Global Research was 7.1 per cent and there was renewed confidence across the economy that this was eminently achievable.
What no one had predicted was that the COVID-19 virus would continue to mutate and mutate in a way that would make it far more virulent. Along came the Delta variant – a variant that spread so fast that it made it much harder to control. The impact of this variant as it spread across the country and in particular the economic heartland of Vietnam in the south, meant a swift re-introduction of lockdowns and travel restrictions. These in turn led to a decline in foreign direct investment (FDI) into the country. FDI in registered capital declined 11.1 per cent on-year in the first seven months of 2021 (a decline of 53.8 per cent in July alone).
However, on a more positive note, inflows of implemented capital were up 3.8 per cent on-year in the January-July period. The majority of the investment continued to be in the processing and manufacturing sector followed by electricity production and distribution.
Another impact of the lockdowns was that consumption took a significant hit. Retail sales fell by 19.8 per cent in July, the most since April 2020. Car sales dropped with passenger vehicle sales declining by 15.9 per cent on-year in June and commercial vehicle sales also dropped 1.8 per cent on-year.
The impact on the manufacturing sector intensified further in August and the ongoing restrictions lead to the temporary closure of certain businesses, while the social distancing measures and travel restrictions resulted in further declines in output, new orders, purchasing and ultimately employment. This in turn led to unprecedented supply-chain disruptions which were exacerbated by challenges around transportation and pressure on capacity at the country's ports. As a consequence, industrial production declined for the first time in five months due to weaker manufacturing output.
The current challenges are predominantly in the footwear and garment sectors, as it is the southeast region that has been hardest hit by the COVID-19 wave that is a major global manufacturing hub. Key global brands have seen challenges in their production, which is ultimately likely to affect Western consumers amid the holiday season. On a more positive note, mobile phone exports have stayed surprisingly resilient. This is due to the mobile phone assembly cluster being concentrated in the north, where operations have gradually returned to normal after being hit the hardest in May and June.
Unsurprisingly, the most recent August data reveals the pain that Vietnam's economy is facing. The impact is significantly more severe than that during the 3-week national lockdown in April 2020. On the domestic front, private consumption saw a substantial hit, as mobility fell by as much as 60 per cent on average from the pre-pandemic levels. This has resulted in a 40 per cent reduction on-year in retail sales. The situation is even more acute in Ho Chi Minh City where people's mobility fell close to 90 per cent, leading to a 51 per cent drop in retail sales on a year-on-year basis.
HSBC's current forecast for 2021 GDP growth has been amended to 5.1 per cent, reflecting the severe impact of the fourth COVID-19 wave.
The only way to come out of this situation is through active vaccination and ensuring that the medical professionals have the resources to handle those who are most adversely impacted from a health perspective by the virus.
After a faltering start, Vietnam has been able to obtain significant volumes of vaccines despite supply constraints impacting the world as production struggles to keep up with demand. Through a mix of effective ordering, lobbying, and donations, among others. The vaccine rollout programme has picked up pace with indications that the COVID-19 hotspot of Ho Chi Minh City has achieved administration of the first dose to nearly 90 per cent of the eligible population and a strong commitment to get a large majority of the population double vaccinated by the end of September.
The authorities are already talking about a gradual opening up of the economy and we forecast that this will start to gather pace from October onwards. The economic outlook by year end very much depends on the effectiveness of the vaccination rollout together with the effective and timely re-opening of the economy. However, I would not expect that we return to a totally normalised environment in the near future and therefore considering these factors, we are considering two scenarios for Vietnam's economy until year-end:
Scenario 1: GDP growth in the range of 5-5.5 per cent, depending on the speed and effectiveness of the vaccination rollout, the re-opening of the economy and the recovery and resumption of major export markets, given the challenges posed by Delta variant.
Scenario 2: If the vaccination programme is not fast enough and lockdown and social distancing continue to be lengthened, there will be more adverse impact to the economy and there will be increased pressure on supply chains and GDP may only reach 3.5-4 per cent.
Either scenario, the economy needs to be re-opened, though in a cautious and systematic way. As in other markets, there tends to be a strong bounce back in economic activity at the time of reopening and we anticipate a similar outcome in Vietnam.
We believe consumption will bounce back sharply once the current COVID-19 wave subsides. In addition, the State Bank of Vietnam (SBV) has introduced reforms lately to help support the economy. It has increased credit growth for some commercial banks from an earlier 10-12 per cent to 14-15 per cent for this year and hopefully consideration may be given for a further increase to support the corporate sector. This will help banks to lend additional loans that can help to counter the slowdown as lockdowns and social distancing have drained corporate cashflows. The central bank has also advised that the lending interest rates for business and people hit hard by the pandemic should be lowered. In response, 16 commercial banks have reduced interest rates on existing loans which should help corporates with their cash flows.
As the economy starts to reopen, supply chain challenges should subside, orders will resume and FDI should resume its cadence given stable government with consistent policies, hardworking/resilient workforce, large number of FTAs and a commitment from the government to spend 7 per cent of GDP on continuing to develop infrastructure.
Despite the current environment, Vietnam remains a highly attractive investment destination in the medium term. This is based on the country's robust fundamentals which many investors will look through the present COVID-19 volatilities. South Korean investors who know the market well are continuing their investments. Samsung is set to expand its phone plant as early as the second half of this year, aiming to ramp up its foldable phone production by 47 per cent to 25 million. While LG Display has just received approval for an additional investment of $1.4 billion in its Haiphong plant.
As more economies start to open up in the region on the back of large scale vaccine rollout, this coupled with the ongoing demand from the Europe and North America should see positive impact on the exports of technology related products, machinery, footwear, garments, furniture, food, and agricultural products.
The pandemic has accelerated the trends of automation and digitalisation and therefore Vietnam stands to benefit from this as a significant global producer of tech-related products.
Vietnam's strong fundamentals remain and the country has built an enviable position in the global supply chain over the past years through its set of FTAs. Strong foreign currency reserves coupled with a stable currency, inflation being under-control, continued strong FDI inflows with an emphasis on the manufacturing sector all position Vietnam will for the future. As a result, HSBC is forecasting GDP growth of 6.8 per cent in 2022 with a bullish outlook for the mid and long term.
Our guidance to our customers is that we need to look through this short term pain and to start to plan for the future when we come out the other side of this terrible pandemic. There will be opportunities, there will be economic growth, Vietnam will bounce back and once again prove that when it comes to overcoming a challenge or obstacle, no one does it better than Vietnam.
Agriculture minister urges for further linkage within 13 Mekong Delta provinces
Minister of Agriculture and Rural Development Le Minh Hoan has asked for the rethinking of two issues regarding the consumption of agricultural and aquatic products in the Mekong Delta region.
The two issues include connectivity within the 13 Mekong Delta provinces and cities and the role of traders in the purchase of agricultural products in the region.
The minister made the remarks at a seminar on connecting the supply and demand of agricultural products between the Mekong Delta region and Ho Chi Minh City held by Nguoi Lao Dong (Workers) Newspaper on September 14.
Hoan said the COVID-19 pandemic has revealed the lack of connectivity between the 13 provinces and cities in the Mekong Delta region. They should be considered and treated as a single economic entity, but we are treating these provinces and cities like 13 separate subjects.
He also noted that we have paid strong attention to enterprises and farmers during the pandemic but have forgotten the role of traders, an important part of the economy.
Sharing the same view, Deputy Director of the Department of Agriculture and Rural Development of Long An Province Dinh Thi Phuong Khanh said that as traders have withdrawn from the market due to the pandemic, it has created a great impact on the circulation of goods.
Nguyen Phuong Lam, director of the Vietnam Chamber of Commerce and Industry in Can Tho, said that in the recovery period in the near future, Ho Chi Minh City will likely recover faster than the Mekong Delta provinces because the city has a unified level of management while the Mekong Delta has 13 different provincial leaders with no consensus between provinces in terms of trading and regulations.
Thap Muoi rice harvesting aligned with pandemic prevention
Farmers in Thap Muoi District, in the Mekong Delta Province of Dong Thap, have begun to harvest the autumn-winter crop in 2021 with special attention paid to the prevention and control of the COVID-19 pandemic.
The COVID-19 pandemic situation in Thap Muoi has gradually been put under control but this does not mean that this locality is indifferent to the pandemic. During the implementation of social distancing according to Directive No. 16, Thap Muoi has implemented many measures to make it as convenient as possible for people to harvest rice while ensuring safety amid the pandemic.
Because Thap Muoi is strictly implementing social distancing under Directive 16, the rice harvest is very different from in previous years.
On village roads, only rice cutters and porters are working while there is a lack of the bustling atmosphere that is usually seen during the harvest season and there are no gatherings of chatting farmers.
Hoang Anh Quoc, a farmer in Hamlet 1, Tan Kieu Commune, said that before the harvest, local people here were very worried because they were afraid that they would not be able to hire combine harvesters from other localities to help with harvesting.
Understanding the concerns of farmers, local authorities devised optimal plans to help field owners in harvesting rice.
The local commune established trade union groups to help farmers with harvesting, from arranging cutting machines to loading and transporting rice.
"Thanks to the commune's trade unions, who are responsible for harvesting rice for farmers, the people here feel secure. Although the rice price is slightly lower than of previous years, it is good for in such a complicated epidemic situation. I am very happy that the rice harvest is being facilitated in line with ensuring safety during the pandemic," Quoc said.
Members of trade union groups are vaccinated and tested for SARS-CoV-2 every three days while their travel schedules are closely managed.
Le Van Lap, in charge of the trade union of My Hoa Commune, said "The trade union harvests rice for people in the commune and neighbouring communes. Before moving from one locality to another, the departure and arrival of the team must be approved by the localities while paying attention to 5K recommendations on disease prevention and control".
According to statistics, Thap Muoi currently has 389 combine harvesters, 1,597 machine workers and 940 members of trade union groups to assist farmers with harvesting rice, basically meeting the local demand during the main harvest.
In addition, about 183 rice traders are listed by the district as eligible to enter the locality to purchase rice.
"The district has created all favourable conditions for traders to approach farmers to buy rice. The district has also supported them by providing COVID-19 vaccination and rapid testing before meeting local farmers," Vice Chairman of Thap Muoi District People's Committee Le Van Ngot said.
Thap Muoi District currently has 217 cases of COVID-19, which makes it one of the localities with the lowest number of infections in Dong Thap Province.
The district has required its communes to create the most favourable conditions for rice harvesting while closely monitoring trade union groups and traders to prevent the spread of the pandemic.
Source: VNA/VNS/VOV/VIR/SGT/SGGP/Nhan Dan/Hanoitimes  

Banks on road for digital transformation