VIETNAM BUSINESS NEWS NOVEMBER 26
Aviation authorities proposes full resumption of domestic flights from 2022
The Civil Aviation Authority of Việt Nam (CAAV) has proposed the resumption of normal operations on all domestic routes from the beginning of 2022 after months of disruptions due to COVID-19.
According to the proposal submitted to the Ministry of Transport, the number of two-way flights on Hà Nội-HCM City, Hà Nội-Đà Nẵng, and HCM City-Đà Nẵng routes will be increased to 16 per day, per route during December 1-14, and to 20 per day per route from December 15-31. Meanwhile, the number of two-way flights on other routes will be no more than nine per day, per route.
The CAAV also proposed adjusting regulations on transferring passenger information from the PC-COVID application directly between the Ministry of Information and Communications and localities. Airlines do not need to transfer passenger destination information to the local authorities.
With this proposal, localities can update passenger information by themselves every 30 minutes from the PC-COVID application.
The current flight plan is only applicable until November 30, so airlines would have difficulty in planning their operations in the winter 2021/2022 flight schedule, especially during the Lunar New Year of 2022, the agency said.
At present, most domestic routes can only operate one flight per day.
VN-Index continues to hit higher
The market was mixed on Friday morning, with the benchmark VN-Index hitting a new peak on back of large-cap stocks.
On the Ho Chi Minh Stock Exchange (HoSE), the VN-Index inched 4.32 points, or 0.29 per cent, higher to 1,505.13 points. The index breached the historic high of 1,500 points yesterday.
The market's breadth was negative as 166 stocks increased, while 289 declined. The liquidity remained high, but fell slightly compared to yesterday. Accordingly, investors poured over VND20.1 trillion (US$888 million) into the southern bourse, equivalent to a trading volume of nearly 612 million shares.
Meanwhile, foreign investors net sold a value of VND900 billion on HoSE.
The benchmark's gain was driven by large-cap stocks, especially in real estate and banking sectors.
The VN30-Index, tracking 30 biggest stocks on HoSE, rose 8.33 points, or 0.53 per cent, to 1,580.79 points. Of the VN30 basket, nine stocks climbed, while 17 slid and four stayed unchanged.
Vingroup (VIC) led the market's uptrend this morning, up 4.89 per cent, followed by VPBank (VPB) and Novaland (NVL), up 2.89 per cent and 3.03 per cent, respectively.
However, strong gains yesterday triggered some profit-taking activities in many sectors, including manufacturing, utilities, transportation and information technology (IT).
On the Ha Noi Stock Exchange (HNX), the HNX-Index lost 1.09 points, or 0.24 per cent, to 458.58 points. 
Over 96 percent of companies in HCM City's industrial zones resume production
More than 96 percent out of 1,412 companies located in industrial and export processing zones in Ho Chi Minh City have resumed operations with up to 80 percent of the total number of labourers back to work.
According to Hua Quoc Hung, Director of the Management Board of HCM City Export Processing Zones and Industrial Park Authority (HEPZA), the stability in the direction of the economy for more than a month has helped foster the investment inflow into the southern city.
The investment capital in IZs in the locality, both new and additional investment, has so far this year reached 437 million USD, representing 80 percent of the year's plan.
After the period of social distancing for COVID-19 pandemic prevention and control, a number of new foreign investors have contacted the management board to inquire into the investment licensing process and land leases for building new factories with large capital. He said one of those potential investors is looking to pour about 200 million USD in a lithium battery production project which would cover 15 hectares in the northwest industrial park of the city.
Nguyen Van Be, President of the Association of Enterprises of Export Processing and Industrial Zones of Ho Chi Minh City, said the companies are ready to adapt to the new situation by ensuring the pandemic prevention and control measures are in place.
The city's export processing zones and industrial parks are home to 1,652 valid investment projects with a total registered investment capital of 11.49 billion USD, including 556 FDI projects with registered capital of 6.63 billion USD.
According to HEPZA, enterprises located in the city's EPZs and IPs earn 7 billion USD in export turnover and contribute 32 trillion VND to the State Budget each year./.
Vietnamese PM vows best conditions for Japanese investors in Vietnam
Vietnam is committed to providing the best conditions for Japanese investors to run stable, successful and long-term business in the country, Prime Minister Pham Minh Chinh told the Vietnam-Japan investment promotion conference in Tokyo on November 25.
The event's theme calls on the two countries to heighten relations and cooperation to develop together. Held as part of Chinh's official visit to Japan from November 22 – 25, it brought together ministers, officials and enterprises from both sides.
In his remarks at the event, Chinh highlighted the success of his talks with Japanese Prime Minister Kishida Fumio a day prior, saying the Vietnam – Japan relationship has never been as good as it is now.
The two countries have maintained a high level of political trust and sincerity, providing a good environment for both sides to accelerate exchange and development in all aspects, particularly cooperation for economic development, the PM said.
He thanked Japanese enterprises for sharing hardships and supporting Vietnam in the battle against COVID-19, and particularly appreciated Japanese investors for not only staying with Vietnam but also having plans to expand investment in the long run, notably in the country's prioritised areas.
He reassured the Japanese firms about Vietnam's political stability and security alongside a pool of skilled and resilient labour force, saying they can confidently carry on business in Vietnam in the long term.
He went on to mention global challenges Vietnam is also facing, namely COVID-19, climate change, ageing population and environmental issues, noting that they must be addressed with a global approach.
Like many developing countries, Vietnam needs to tackle various problems in terms of institutions, public administration and high-quality human resources, so the PM expected to receive continued support from Japanese companies and partners in institutional building, human resources training, green investment for development, technology and science, corporation and national governance.
He called on Japan firms to invest in Vietnam in the fields of digital transformation, climate change response, human resources development, infrastructure, green economy, circular economy, among others.
Chinh later witnessed the exchange of more than 40 cooperation documents in various areas signed between Vietnamese and Japanese ministries, localities and enterprises.
He took the occasion to host receptions for the co-chairmen of the Vietnam-Japan Economic Committee, Chairman of the Japan External Trade Organisation (JETRO) Sasaki Nobuhiko, Japanese Minister of Economy, Trade and Industry Koichi Hagiuda, Chairman of the Nippon Foundation Yohei Sasakawa, and leaders of several Japanese corporations./.
Japan regards Vietnam as a leading partner: Minister
The Government and the Ministry of Economy, Industry and Trade, as well as businesses of Japan always consider Vietnam as a leading partner in Asia and in the world, Japanese Minister of Economy, Trade and Industry Hagiuda Koichi said on November 25.
Hagiuda made the statement at a meeting with Vietnamese Minister of Industry and Trade Nguyen Hong Dien, within the framework of Vietnamese Prime Minister Pham Minh Chinh's official visit to Japan.
In the past time, Japanese businesses, especially those operating in the field of automobile manufacturing, have suffered negative impacts from the COVID-19 pandemic, he said.
The Japanese minister said he hoped that the Vietnamese Ministry of Industry and Trade would continue to accompany and support Japanese businesses investing in Vietnam to overcome difficulties and ensure the maintenance of the supply chains to best serve production and business activities given the complicated developments of the pandemic.
Dien noted with pleasure that trade turnover between the two countries has increased again, with a growth rate of 6.4 percent in the first ten months of this year compared to a decline of nearly 1 percent of last year, adding that the Vietnam-Japan trade balance has been still kept.
He suggested Hagiuda facilitate the penetration of Vietnamese goods in distribution channels in Japan, as well as support Vietnamese firms taking part in the supply chains of Japanese enterprises to maintain the balance of trade.
The Vietnamese government has applied a strategy on safe, flexible adaptation to and effective control of the COVID-19 pandemic, he said, adding that many policies were issued to support businesses in terms of tax, insurance and labour to support post-pandemic recovery. These measures have been helping enterprises and foreign investors in Vietnam, including Japanese investors, recover strongly, Dien added.
Regarding industrial development and digital economy, Dien said that Vietnam is implementing a digital transformation strategy as well as focusing on developing foundation industries and supporting industries.
Vietnam considers Japan a leading developed country with a lot of experience in the above fields, he said, suggesting Japan provide more new ODA support packages for the Southeast Asian country to develop digital economic infrastructure and assisting it in the development of foundation and supporting industries.
Agreeing with Dien's proposals, Haguida emphasised that Japan will continue to promote cooperation with Vietnam in the field of digital transformation.
Japan will also strengthen collaboration to improve industrial competitiveness of Vietnam through technology transfer, including effectively realising the "Vietnam-Japan Industry Innovation Cooperation Partnership" initiative, he said.
Related to cooperation within the multilateral framework, the two ministers pledged to continue working closely in the enforcement of the Comprehensive and Progressive Agreement for Trans-Pacific Partnership (CPTPP).
They affirmed that the cooperation relationship in the fields of trade, industry and energy between Vietnam and Japan in the coming time will become closer and more effective, continuing to make an important contribution to the good development of the extensive strategic partnership between the two countries./.
Three big railway projects proposed
The Railway Authority is seeking the Ministry of Transport's approval for three railway projects that have a total investment of VND125 trillion (USD5.43 billion).
The first project in Haiphong City starts from Du Nghia Station, running through Dinh Vu Peninsular and ends at Lach Huyen Port. It will have a capital investment of VND32.6 trillion.
The second project worth VND56.8 trillion will run from Dong Nai's Bien Hoa Station to Ben Dinh-Sao Mai Port in Ba Ria-Vung Tau Province.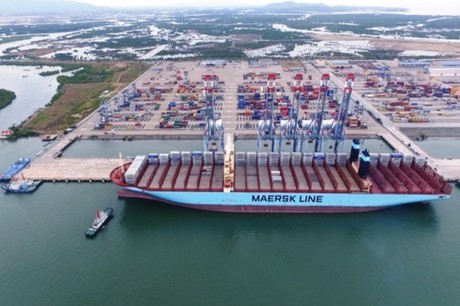 The department has also suggested a VND36-trillion railway route connecting Vung Ang Port in Ha Tinh and Mu Gia Pass in Quang Binh.

Foreign investors can participate in these projects by providing capital, offering technology transfer, setting up joint ventures, or buying shares.

Vietnam has a total of around 3,160 km of railways, including over 2,700 km connecting the north and south. In addition to upgrading the old routes, the country is planning to expand new lines worth billions of USD.
Two railway projects worth VND90 trillion proposed
The Vietnam Railway Authority (VNRA) has submitted a plan to the Transport Ministry, seeking foreign investment for two railway projects. One project links to the Lach Huyen port in Haiphong and the other connects with the Cai Mep-Thi Vai port in Ba Ria-Vung Tau Province, with a total investment of nearly VND90 trillion, or nearly US$4 billion.
Duong Hong Anh, deputy head of VNRA, said on November 23 that the railroad leading to the Lach Huyen port will start at the Du Nghia station of the Hanoi-Haiphong railroad and end at the Tien Cang station. It requires around VND32.6 trillion in investment, with a payback period of 25 years and a loan repayment period of 30 years.
As for the 84-kilometer-long Bien Hoa-Vung Tau railroad, it will run parallel with National Highway 51 to the Cai Mep-Thi Vai and Ben Dinh-Sao Mai ports. The project's capital is estimated at some VND56.8 trillion, with a payback period of 19 years and a loan repayment period of 30 years.
VNRA proposed calling for foreign investment for these two projects under the form of project financing or joint venture or capital contribution among others. The Bien Hoa-Vung Tau railway project, however, was already added to a list of projects whose investment will be implemented under the build-operate-transfer format.
According to Vietnam's railway zoning plan for the 2021-2030 period with a vision toward 2050, the country, before 2030,  will have the 102-kilometer Hanoi-Haiphong railroad running in parallel with an expressway and connecting the Haiphong International Container Terminal with the port areas of Dinh Vu, southern Do Son and Lach Huyen. In the south, there will be the Bien Hoa-Vung Tau railroad running from the Trang Bom station to the Vung Tau station.
Pharma giants beat revenue expectations
Pharmaceutical companies like Pfizer, Novartis, Roche, and GSK performed well in the first three quarters of 2021, with plans to venture further into the lucrative Vietnamese market.

Novartis Vietnam is seeking to deepen its footprint in the most profitable hospital channel in the country. On November 17, Novartis collaborated with the Health Strategy and Policy Institute on organising a workshop to improve appropriate hospitalisation in Vietnam.
The new Angiotensin Receptor-Neprilysin Inhibitor (ARNI) treatment developed by Novartis is already being applied in many hospitals in Vietnam, proving its efficiency as it helps reduce cardiovascular fatalities by up to 20 per cent compared to routine treatments.
Vietnam is facing a big burden of people suffering from non-communicable diseases like heart diseases, diabetes, and cancer – but it opens up a lucrative market for Novartis and other multinational corporations.
For instance, according to Assoc. Prof. Nguyen Ngoc Quang, deputy director of the National Heart Institute in Vietnam, there have not yet been official statistics about the number of heart failure patients. Yet, it is estimated that 320,000 to 1.6 million people are living with this condition and would need treatment.
With its third-quarter results, Swiss giant Novartis achieved earnings of $1.71 per share, increasing from $1.52 a year ago. Its sales went up 6 per cent, driven by the momentum from its key brands like Cosentyx, Entresto, and Zolgensma, as well as the launch of Kesimpta, which continues to accelerate. The company's innovative medicines division recorded sales of $10.6 billion, up 7 per cent on-year.
Likewise, Pfizer has benefited from worldwide use of its COVID-19 vaccine. The American group is also enjoying increased profits and revenues from its oral antiviral medication Paxlovid for the treatment of COVID-19.
The drugmaker saw its revenue increase 134 per cent to $24.1 billion in the third quarter from $10.27 billion in the same period last year. Seeing growing demand, Pfizer has raised its revenue forecast from coronavirus vaccine sales to $36 billion for the whole of 2021, up from the estimation of $33.5 billion in July.
Similarly, Roche Vietnam is among the world's leading healthcare companies and seeks to venture into the local oncology drug segment via a programme to raise people's awareness about innovative cancer treatment. In August, two such events were held by Roche Vietnam in collaboration with societies and hospitals where advances in the treatments of lung cancer patients and improvements in the treatment of breast cancer topped the agenda.
Roche is one of several multinationals in Vietnam's pharma industry that boasts strong cooperation with the Ministry of Health, societies, hospitals, and stakeholders.
Globally, Roche reported third-quarter 2021 sales at $17.24 billion, up from $15.87 billion last year, and with an average sales growth of 8 per cent. In October, Roche raised its 2021 sales forecast following the rising demand for COVID-19 tests and medicines.
The company now predicts that total sales for this year will grow in the mid-single digit range at constant exchange rates, having previously expected them to rise in the low to mid-single digit percentage range.
According to analysis from the People's Vaccine Alliance (PVA), Pfizer, BioNTech, and Moderna are making as much as $65,000 of combined profits every minute, based on calculations of the firms' earning reports. The profits are generated from their much-in-demand COVID-19 vaccines.
Long-term impetus sought for Japanese ambitions in mergers and acquisitions
Japanese investors continue to move forward and clinch deals with Vietnamese partners, bucking the trend of hamstrung transactions elsewhere in recent times.

Chubu Electric Power Co., Inc. last week announced that it had officially acquired 20 per cent of Bitexco Power Corporation (BPC) through Chubu Electric Power Co. Netherlands B.V., a wholly-owned subsidiary of Chubu.
BPC, a subsidiary of Bitexco Group, owns and operates 21 hydropower plants and one solar power plant in Vietnam, with a total gross generation capacity of over 1,000MW, as of February. This capacity makes BPC a leading renewable energy company focused on hydroelectric and solar photovoltaic generation in the Vietnamese private sector.
"With the anticipated continuing expansion of renewable energy in Vietnam, by becoming a vital partner of BPC we will contribute to the realisation of a carbon-neutral society," said Hiroki Sato, executive officer of Corporate Planning and Strategy at Chubu.
In October, RareJob, Inc., which utilises human-related data to develop global talents, concluded a capital alliance agreement with Dream Viet Education JSC, which runs Kynaforkids – an online English language training platform for students and adults in Vietnam. The financial terms of the transaction were not disclosed.
The investment in the Vietnamese company is part of RareJob's ongoing global expansion. The Japanese firm said that Vietnam has great potential in its English learning market and Dream Viet Education is the best partner to expand its business.
The impact of the pandemic has forced nearly all children to be educated online, rapidly growing the need for robust online learning models. By taking advantage of the situation, Dream Viet Education has been expanding its online English tutoring solution under the Kyna English 1-1 brand, both domestically and internationally, growing the number of users steadily.
Samuel Son-Tung Vu, partner at law firm Bae, Kim & Lee Vietnam said, "As many enterprises struggle due to the pandemic, investors with big reserves have more opportunities to select suitable candidates for their long-term strategy. These types of investors know that once Vietnam and the global supply chain recover, the economy will grow rapidly. Therefore, they can be cautious in choosing the company that can fit their portfolio but they can also be aggressive in spending more if the valuation can be justified in the long term."
Commenting on the key areas to attracting Japanese mergers and acquisitions, Vu explained that the Japanese yen has maintained stable and interest rates in Japan have remained relatively low for some time. Therefore, the most attractive areas would be banking and financial services, including consumer finance. He explained that the large population and low market infiltration rate in banking and finance make Vietnam a very attractive investment destination for Japanese investors, and not just during the pandemic.
"As the traditional brick and mortar banking and financial services are consolidating, it is exciting to see the next stage of development in the area of fintech and other technological-based solutions," Vu added.
To illustrate, the largest deal of the year was Japan-based SMBC Consumer Finance's $1.4 billion acquisition of 49 per cent in consumer loan provider FE Credit. The deal is part of SMBC Group's move to seek further growth opportunities in Asia, with FE Credit currently owning an estimated 50 per cent share in Vietnam's consumer finance market.
Meanwhile, MUFG Bank's arm, Thailand-based Bank of Ayudhya Public Co. Ltd, also spent $69 million to purchase SHB Finance from Saigon-Hanoi Commercial Joint Stock Bank. As a result of the mega deals, the financial services sector attracted the highest deal value across all sectors during Q1-Q3 2021, with a total of $1.5 billion in deals with disclosed values recorded, according to a report by international law firm White & Case.
Mapletree Logistics to purchase $1 billion assets in China, Japan, and Vietnam
Singapore-headquartered Mapletree Logistics Trust is expected to purchase assets in China, Japan, and Vietnam for more than $1.03 billion as e-commerce demand in these regions grows significantly.

Mapletree Logistics is a subsidiary of Mapletree Investments Pte, backed by Temasek Holdings Pte., a state financier.
According to a filing on the Singapore Exchange from late Monday, the real estate investment trust is acquiring 13 logistics buildings in China for S$870 million ($635.9 million), while the planned purchases of three comparable assets in Vietnam are worth S$129.9 million ($94.95 million).
Moreover, Mapletree Logistics has agreed to purchase a Japanese logistics facility in a deal worth S$416.3 million ($304.3 million), Bloomberg reported.
Mapletree Logistics also anticipates to fund the prospective acquisitions with a mix of stock and loans, noted Bloomberg.
The purchases in China and Vietnam coincide with increased e-commerce demand from an emerging middle class, which is likely to fuel stronger need for logistics.
Last year, Mapletree has completed One Verandah, a prestigious residential project located in a golden area of District 2 in Ho Chi Minh City.
Mapletree Logistics Centre is currently located in Vietnam Singapore Industrial Park, Thuan An district, Binh Duong province.
Dien Bien airport expansion approved
Dien Bien airport in the northern upland province of the same name will be expanded to accommodate larger aircraft and serve 500,000 passengers per year, up from the current 300,000 passengers per year.
The Transport Ministry recently approved the adjusted zoning plan of the airport in the 2021-2030 period. According to the plan, by 2025, a 15-meter-wide taxiway would be built at the airport to connect the runway with the apron, reported the local media.
The apron would also be expanded to make room for larger aircraft such as Airbus A320s, A321s or equivalents. Besides, the passenger terminal would be upgraded to increase its annual capacity from 300,000 to 500,000 passengers.
In March this year, the prime minister had approved the Dien Dien airport expansion project to accommodate jetliners such as Airbus A320s, A321s and equivalents, instead of smaller ones such as ATR 72s or Embraer 190s.
The Airports Corporation of Vietnam, under the Transport Ministry, has been tasked with implementing the VND1.5-trillion expansion project in 34 months from the date of the expansion project being approved.
Vietnam urged to stay ahead of the game in FDI attraction
The growing competition among developing countries for foreign direct investment has revealed many of the disadvantages of Vietnamese industrial zones and the need to upgrade their facilities to attract more investors.

According to Nguyen Thi Bich Ngoc, co-founder and CEO of Sen Vang Group, many industrial landlords' systems are not qualified enough to attract overseas tenants.
"Vietnamese industrial property developers are mostly building up their systems according to the same template, without higher level requirements such as a digital ecosystem and smart and green facilities. Thus, they are at a disadvantage compared to foreign competitors," Ngoc said.
Independent lawyer Tran Dai Nghia added that local landlords do not seem to be promoting themselves throughout the world. "If you have a good project, you should be showing off your advantages to potential tenants by using professional marketing strategies," said Nghia.
Pham Dinh Tung, director of Topland Global, commented that branding is the most critical factor to attract tenants, and that landlords must set up their strategy and build their brands.
"Vietnamese enterprises should concentrate on non-storage factories where many tenants can share a storage space to save costs. Moreover, smart warehouses and factories, together with human resources, must be improved, while support activities for tenants must be simplified and more flexible," said Tung.
Pham Thi Kim Thanh, sales and marketing director at Phu My 3 Industrial Zone, said that foreigners remain cautious about choosing the Vietnamese market for project implementation.
Among their concerns are the country's investment environment and competitiveness, which although improved, still cannot fully meet the requirements of international investors.
"Foreign direct investment (FDI) continues to pour into Vietnam, but many foreign-invested enterprises still complain about inadequacies in the investment environment such as cumbersome administrative procedures, weak infrastructure and supporting industries, and inflation," said Thanh. "The Law on Investment made many significant changes, but many still do not feel secure enough to invest. This is an issue that has been mentioned many times by them at domestic and overseas investment conferences every year."
Another issue is that the FDI sources often depend on a few large-scale projects, such as by Samsung and LG Display. These are projects with a scale that could bring billions of dollars. However, if these projects are not licensed or capital is withdrawn, it will significantly affect that locality.
Thanh thinks that Vietnam now must choose more quality investment ventures based on high technology, high added value, and with less environmental pollution, to improve its FDI quality.
"In the context of the Fourth Industrial Revolution, technology plays an important role in economic development as well as attracting FDI. However, limitations within the industrialisation and modernisation remain a big challenge for Vietnam," Thanh added.
According to Thanh, right now is the time with many opportunities for businesses to come up with ideas and prepare for new projects as well as find new directions in line with market needs. In addition, businesses also should focus on training staff and finding tech solutions to be able to turn business ideas into reality.
"To open global supply chains, businesses in Vietnam and the world have invested and focused on exploiting the advantages of digital transformation," Thanh added.
In recent years, many businesses in Vietnam have had a relatively successful digital transformation, creating breakthroughs in production and business. Through that, many companies have asserted their brands, signed large contracts to sell goods to domestic and foreign partners, and participated in global supply chains.
E-commerce upstarts commanding new strategies
Tech companies are gaining traction to catch up with the fast-paced development of the Vietnamese retail industry, promising a different approach backed by technologies ready to cope with the demands of customers.

Changing consumer behaviour is forcing companies to carve out more efficient space online, Photo: Le Toan
According to a study by Google, Temasek, and Bain & Company, Vietnam's digital economy is expected to reach a 31 per cent on-year growth in 2021, and reach a gross merchandise value of $21 billion. E-commerce is expected to grow by 53 per cent, while the food delivery and transport sector is projected to post a 35-per-cent increase.
Consumer good distributor One Mount has seen this growth first-hand through its business units. Since its introduction in 2020, its Vinshop mobile app has built up a network of more than 80,000 shop owners across 14 regions nationwide, offering a wide diversity of more than 2,000 consumer goods. This has helped establish the company as one of the country's largest consumer goods distributors. Meanwhile, the VinID super app has established itself as one of the largest loyalty platforms in Vietnam, reaching millions of users.
A representative of One Mount told VIR that the COVID-19 pandemic has underlined the importance of digitalisation for both consumers and businesses.
"We believe that retail tech will continue its upward trajectory for the foreseeable future, in line with the nation's digitalisation goals, as well as its objective of establishing the country as a regional technology hub – both of which One Mount supports," the representative said. "Our optimism is in line with the observations from the Google study that the stickiness of digital services adoption of consumers has remained high as digital consumption becomes a way of life."
Meanwhile, Kilo, a Vietnamese platform that aims to digitise enterprises, has raised $5 million in a pre-Series A. Founded in 2020, Kilo offers an online platform that connects wholesalers with retailers and helps them manage businesses across multiple sales channels. With Kilo, small- and medium-sized shopowners now have a one-stop shop where they can browse and buy with transparent pricing, with a wide array of goods and in-stock details. This helps them optimise inventory turnover, saving costs and reducing risks over the long term.
Kartick Narayan, founder and CEO at Kilo, told VIR, "Small- and medium-sized companies are the backbone of the retail economy in Vietnam and account for up to 80 per cent of total retail. Our vision is to use technology to connect, enable, and enhance the core components of the retail value chain with a deep focus on customer experience."
Narayan added that Kilo offers services in 24 provinces across the country, and customers across the nation have been very vocal about how it has kept their business running and families safe during the pandemic.
"Kilo will empower wholesalers and retailers with better end-to-end tools and systems to run a more efficient and profitable business," Narayan claimed.
Meanwhile Telio, Vietnam's first business-to-business e-commerce platform, has secured $22.5 million in funding from Vietnamese IT unicorn VNG, bringing its total investment to $51 million as of September 2021.
Founded in 2018, Telio connects small shops with brands and wholesalers on a centralised platform that offers a large assortment of items, competitive pricing, and efficient shipping. Telio is available on a variety of platforms, and has created a Teliobooks app to assist store owners in managing debts and revenues.
Bui Sy Phong, CEO and founder of Telio, said, "Vietnam's retail market is seeing big changes with more enterprises and retailers adopting IT to improve their business and quality. The cooperation between Telio and VNG will help us provide the most comprehensive services to everyone, from manufacturers and brands to retailers and customers."
The rise of retail tech companies is in line with the changing consumer behaviour during the pandemic. A survey by KPMG Vietnam revealed that the pandemic has boosted the Vietnamese consumer's receptiveness towards e-commerce and online purchasing channels, especially for certain product categories. Consumer companies should therefore strive to diversify their route-to-market strategies by establishing strong multi-channel – and eventually, omnichannel – capabilities, while working to overcome some of the existing logistical and customer acquisition issues posed by e-commerce channels.
Many tech companies are popping up with a mission to recolonise the traditional retail industry. SoBanHang is a Vietnamese bookkeeping software for small retailers and traders while KiotViet is a platform for retailers and merchants to manage orders from multiple sales channels. Another company, Sapo Technology JSC, is providing retail businesses with an overall sales and management platform from online to offline.
Callum Maxwell, senior consultant of business transformation consultancy TMX said, "The massive shift to e-commerce and the rush of organisations to reconfigure supply chains and fulfilment strategies makes the move to automation even more pressing. With demand for logistics automation already strong before COVID-19, the upcoming demand surge further underscores the need for digitalisation and technology adoption."
B.Grimm spends $7.1 million acquiring 48MW wind farm in Vietnam
B.Grimm Power PCL (BKK:BGRIM), Thailand's leading industrial power producer, has spent $7.1 million to scoop up an 80 per cent stake in a Vietnamese company developing a 48MW wind farm project.

Specifically, B.Grimm has bought into a majority stake in Huong Hoa Holding JSC, which owns a 100 per cent stake in the Huong Hoa 1 wind project in Quang Tri province. The project is being developed under a power purchase agreement with Electricity of Vietnam (EVN).
Truong Thanh Energy and Real Estate JSC (TEG), a subsidiary of Vietnam's TTVN Group, owns the remaining 20 per cent.
B.Grimm and TEG will begin collaborating on the wind project in the fourth quarter of 2021, as reported by newswire RenewableNow.
TEG and B.Grimm previously collaborated on the Hoa Hoi solar facility, which has been operational since mid-2019.
BGRIM's overseas investment started in 1999 in Vietnam by trading electricity purchased from an EVN subsidiary and supplying it to industrial users in Amata City Industrial Estate, Bien Hoa City, through its power network.
The developer also owned two solar farms, commercially operated in June 2019, namely Dau Tieng 1 and 2, with installed capacity of 420MW and Phu Yen TPP with installed capacity of 257MW.
Viet Capital Securities secures $100 million syndicated loan package from foreign banks
Ho Chi Minh City-based Viet Capital Securities JSC (HSX: VCI) has just announced its $100 million syndicated loan contract with a consortium of foreign banks.

The loan agreement could be extended to up to $150 million, the brokerage revealed.
In particular, the package has a short-term interest rate based on the international monetary market and is planned to be disbursed in two phases.
This is a syndicated loan arranged by Maybank Kim Eng Securities from a number of overseas banks, with Malayan Banking Berhad (Singapore branch) as one of the lenders.
First Commercial Bank, Hua Nan Commercial Bank, Taishin International Bank, Chang Hwa Commercial Bank, Taiwan Business Bank, Taiwan Cooperative Bank, KEB Hana Bank, and Sunny Bank are among the major banks involved in the loan syndication.
Prior to successfully arranging this loan, Viet Capital Securities negotiated an unsecured partnership loan of $40 million from a group of global financial institutions in the second quarter of 2020, including Sinopac Bank.
This has demonstrated the company's credibility among large institutions in the international financial market and it also serves as a foundation for Viet Capital Securities to continue to harvest syndicated transactions in the future. 
Japanese retail giant AEON targets to list on Vietnamese stock exchange
Besides its listing plan, AEON Group is promoting Vietnam's goods exporting to Japan and other international markets.

According to the latest Vietnamese government publication, Prime Minister Pham Minh Chinh met with leaders of a number of Japanese corporations on November 23 during his official visit to Japan.
Motoya Okada, chairman of AEON Group, expressed his intention to list on the Vietnamese stock exchange as well as encourage the sale of Vietnamese commodities to Japan, including seafood, clothing, and so on, during the meeting.
AEON is one of the world's largest retail organisations with a revenue of over $75 billion in 2020. AEON has ramped up its presence in Vietnam since 2014 and has spent a total of $1.18 billion of its investment here.
Furthermore, Japan's conglomerate is adopting a medium- and long-term strategy and intends to more than treble its commercial and retail centres in Vietnam in the coming time.
AEON, moreover, is involved in the digital transformation journey in Vietnam.
The Prime Minister praised AEON's recent effective business activities, reiterating that the Vietnamese authorities actively support the group's ambition of growing its operations in the country.
The retail market in Vietnam has a lot of potential and AEON may develop and expand its business ecosystem, and purchase all types of goods in various places including Quang Ninh, Haiphong, Thanh Hoa, and Nghe An, as well as the Central Highlands and the Mekong Delta.
Aeon may extend its business system while acquiring all types of commodities in numerous locations around the North, Central, and South of Vietnam, including Quang Ninh, Hai Phong, Thanh Hoa, Nghe An, Central Highlands, Mekong Delta...
The PM also praised the group's strategy for expanding local manufacturing and exporting Vietnamese goods to Japan and other renowned international markets in the context of multifaceted free trade accords.
"AEON's active involvement in Vietnam will help to further promote e-commerce, digital transformation, the quality of human resources, and managerial ability in the Vietnamese retail landscape," the PM said.
Bamboo Airways to file for IPO in Vietnam and New York next year
Bamboo Airways, a subsidiary of FLC Group, has announced plans to list on Vietnam's Unlisted Public Company Market (UPCoM) and the New York Stock Exchange in 2022.

Deputy general director of Bamboo Airways Nguyen Khac Hai stated that the airline is working on a plan to list on the UpCOM.
Hai stated, "The expected time is in the first quarter of 2022 and the estimated reference price is not less than VND60,000 ($2.60)."
Accordingly, FLC Group's Bamboo Airways is also scrambling to prepare and finalise the application for an initial public offering on the New York Stock Exchange (NYSE) in 2022.
The airline has targeted to generate $200 million by the issue of 5-7 per cent shares on the NYSE, bringing its market value to $4 billion.
Bamboo Airways continues to increase its charter capital from VND16 trillion ($695.65 million) to VND18.5 trillion ($804.35 million), according to the most recent updated company registration information.
This is Bamboo Airways' fourth capital adjustment since the beginning of the year.
Trinh Van Quyet, chairman of FLC Group, FLC Group, FLC Holding Capital, and FLC Faros are among Bamboo Airways' major shareholders.
Nearly 200 businesses in Hanoi praised for efforts in overcoming COVID-19 pandemic
A group of nearly 200 businesses representing the more than 318,000 businesses in Hanoi will be honoured at a ceremony scheduled to be held on November 27. 
The information was released the Hanoi Association of Small and Medium Enterprises (Hanoi SMEs) on November 24.
The event co-organised by Hanoi SMEs, the municipal Department of Planning and Investment, the municipal Department of Industry and Trade and the municipal Board for Emulation and Commendation.
Nearly 200 businesses representing the more than 318,000 businesses in Hanoi will be honoured at a ceremony scheduled to be held on November 27.
Hanoi SMEs said that the criteria for rewarding this year are different from the previous year due to the impact of the COVID-19 epidemic. Accordingly, businesses that can maintain their production and salary and income regime for employees, and have a recovery plan, will be praised.
In addition, businesses that have participated in social and community programmes and projects, applied technology and digital transformation will also be commended.
CME Solar and Swiss responsAbility fund cooperate in clean energy development in Vietnam
Swiss responsAbility Investments AG and the Vietnam-based renewable energy development CME Solar Investment (CMES) reached a loan agreement on November 24 to cooperate in developing clean energy throughout Vietnam.
The financing package aims to support CMES to promote green power for the commercial and industrial segment in Vietnam, as the company plans to expand its projects that allow clients to directly consume green energy through the "Zero Cost Investment" model.
Accordingly, CME is responsible for 100% of investment, installation, operation and maintenance of the solar system, offering customers green energy with special lower prices, while ensuring harmonisation of business development goals with socio-economic and environmental sustainability, meeting the United Nations Sustainable Development Goals.
In addition, the funding is also expected to allow CMES to enhance sustainable use of natural resources as well as preventing nearly 1 million tonnes of CO2 from entering the atmosphere every year.
The renewable energy sector gets wide approbation globally and Vietnam is no exception. As of December 2020, the total installed capacity of solar power across the country reached about 19,400 MWp, according to statistics from Vietnam Electricity (EVN).
Since 2018, CMES has served over 100 clients across 20 industries, with over 200 million MWp having been installed and over 2GWh of electricity generated each year.
Most recently, in January 2021, CMES inaugurated the first rooftop solar power project at the cargo port of Tan Son Nhat International Airport. The project provides 1.5 million kWh of electricity annually, reaching 40% of the cargo port's electricity demand and saves about 15% of energy costs, reducing emissions by 1.5 tonnes of CO2 each year.
As a sustainable asset manager, headquartered in Zurich, Switzerland, responsAbility Investments AG manages 3.5 billion USD of assets invested in over 250 ESG-managed companies across 68 emerging economies. Since 2003, responsAbility-managed funds have disbursed more than 10 billion USD in the financial inclusion, sustainable food, and climate finance sectors that directly support the United Nations Sustainable Development Goals.
The trend of "contactless travel" boosted amid pandemic
The prolonged impact of the COVID-19 pandemic has significantly changed the consumption habits of customers in all aspects, including tourism.
In addition to requirements of experience, visitors are particularly interested in the safety during their journeys. To meet this demand, "contactless travel" has been considered a solution as well as an appropriate direction to help tourism develop flexibly and adapt to the pandemic.
"Contactless travel" can be understood as a form of tourism towards providing services that help minimise direct contact among people to limit the risk of infection while still ensuring the products' quality and not affecting the tourists' experiences. Previously, all activities of ordering and using services as well as carrying out travel procedures needed the direct work with officials and employees from relevant units. However, "contactless tourism" will help these processes operate smoothly thanks to automation technology. At the airport, passengers can check-in automatically, get e-tickets, check in luggage online and make online customs declarations at e-kiosks.
These solutions not only help to save time for passengers but also maintain safety for passengers because they no longer have to queue to check in or worry about the risk of losing documents. At the hotel, instead of directly checking in, checking out and looking for travel itinerary advice directly at the front desk, guests can pick up and return the keys by themselves and turn on the equipment in their rooms via automatic technology and facial recognition features.
Over the past years, many travel businesses have actively accelerated digital transformation and the use of technological advances in the introduction of their products and supporting visitors to find out information, order and pay for tours online. A number of online travel platforms have been formed, allowing users to purchase packaged tours, air tickets and hotel rooms via online transactions.
In order to improve the ability to meet the tourists' demand amid the pandemic, potential corporations and businesses have also planned to invest in new technologies. Vietnam Airlines has developed a contactless check-in service for travelers via its website, mobile application and automated kiosk system.
SunGroup has researched the implementation of touchless technology in welcoming visitors. Meanwhile, Vinpearl has cooperated with VinBigdata Institute to launch the Smart Butler app that allows guests to give voice orders when they want to find out information about restaurants and amusement parks. The first "touchless hotel" chain named SOJO Hotels has appeared in Vietnam, providing guests with fully automated experiences, including receiving keys, opening rooms, turning on equipment and customising temperature and lights, through smartphone apps, creating a safe and convenient model amid the pandemic.
Along with speeding up technological apps in providing tourism services, some travel agencies have actively built new tourism products towards contactless and self-contained operation such as caravan tours by self-driving cars, cycling tours to explore the destinations, and tours to French architectural works inside Hanoi. These are good signs showing the active participation of tourism agencies in the new normal.
The development of "contactless travel" during the pandemic has continued to prove that digital transformation is the future of travel. To keep up with the trend and not lose the competitive advantage in tourism, businesses should pay great attention and give appropriate investment in technology. This process needs the companionship, support and facilitation from the authorities, especially when the majority of tourism businesses in Vietnam have small and medium sizes. However, due to mobilising the strengths of automation, "contactless travel" is still not really friendly for disadvantaged people who have difficulty in using technology such as people with disabilities or the elderly. It is crucial to have more research to help "contactless travel" in reaching more people. 
HCMC transport dept proposes prioritizing 54 infrastructure projects
The HCMC Department of Transport has written to the municipal government proposing prioritizing 54 traffic infrastructure projects from now until the end of 2025.
In the priority list of projects, the department proposed developing ring roads 2 and 3 in the initial period to make the ring road system complete. Work on the projects would begin in 2023.
According to the department's proposal, the next priority projects are expressways – HCMC-Moc Bai and HCMC-Chon Thanh – to improve regional connectivity and boost economic growth.
The city's first and second metro line projects are third on the priority list, with the first line stretching from Ben Thanh Market in District 1 to Long Binh Depot in Thu Duc City and the second line running from Ben Thanh Market to Tham Luong Depot in District 12.
As for information technology projects, the department proposed prioritizing installing road traffic surveillance cameras to improve traffic control in the city.
All 54 traffic projects will cost an estimated VND534 trillion, with some VND218 trillion sourced from the State budget, according to the municipal department.
Some projects, including ring roads 2 and 3, HCMC-Moc Bai and HCMC-Chon Thanh expressways and the Nguyen Khoai bridge and road in District 7, will need a total of over VND158 trillion, with some VND72.6 trillion from the State budget.
The approved mid-term public investment plan for the 2021-2025 period is a mere VND142.6 trillion, just enough for the projects now underway, making it tough to develop traffic projects.
The municipal department proposed the HCMC government ask for permission to raise its budget retention rate for the 2022-2025 period to focus on developing vital infrastructure.
CII tasked with preparing study for US$1.3-billion elevated road project in HCMC
The municipal government of HCMC has tasked HCMC Infrastructure Investment JSC (CII) with preparing a study for an elevated road project to be developed under the build-operate-transfer (BOT) format, with total investment for the project expected to reach some VND30 trillion (US$1.3 billion).
Specifically, CII was required to make the project proposal within six months using its own budget. If the project proposal is unfeasible, is not approved by competent agencies or remains uncompleted in the given six months, it would mean that the company refuses to join the study of the project and has to cover the costs spent on making the study.
According to CII, the elevated road will start from the intersection of Cong Hoa and Truong Chinh streets and run along Bui Thi Xuan Street, Alley No. 656 on Cach Mang Thang Tam Street, Bac Hai Street, Ly Thai To Street, Nguyen Van Cu Street, and Ong Lon Canal, before ending at Nguyen Van Linh Street. The route will be 14.1 kilometers long and 30 meters wide. The elevated parts will have four lanes and a width of 16 meters.
The road will combine with parts of the planned elevated roads No.1, 2 and 3 to form a north-south urban axial system. Also, the route will connect with the Ring Road No.2 to link the inner city with the city's outlying areas as well as the northern part of the city, including Tan Binh, Tan Phu, Binh Tan, Go Vap districts and District 12, and the Tan Son Nhat International Airport area with downtown HCMC.
Earlier, IDICO Infrastructure Development Investment JSC had proposed using its budget to study the first phase of the elevated route No.5 project under the BOT contract. This 21.5-kilometer-long route was planned to have four lanes, starting from the Station 2 intersection in Thu Duc City and ending at the An Suong intersection in District 12, with total investment exceeding VND15.4 trillion.
Besides, the elevated route No.1 project, which should connect Cong Hoa Street, Lang Cha Ca, Dien Bien Phu to the Thu Thiem 1 bridge, is some 9.5 kilometers long and requires over VND17 trillion in investment.
The elevated route projects No.1 and No.2 are considered among major components of the city's traffic system and are expected to help reduce traffic congestion at intersections.
According to the city's transportation master plan approved by the prime minister, the city would complete the construction of five elevated roads with a total length of 70.7 kilometers by 2020 at the latest. However, since the city outlined a plan in 2005 to build these elevated routes until now, it has yet to start work on any of them.
HCM City businesses manage to overcome COVID-19 woes
Some businesses in Ho Chi Minh City have been able to shrug off the difficulties caused by COVID-19 and achieve their targets thanks to thorough preparations.
DLG Ansen Electronic Co., Ltd. has been able to fulfil its contracts despite the pandemic, and even got plenty of new orders from satisfied customers.
Dang Cong Binh, director of the company, told Tuoi Tre (Youth) newspaper that many overseas customers had been greatly worried about whether the company could fulfil its orders, and so it had to prove to them production had not been interrupted.
"We had to live-stream our staff working normally and being healthy and show that we had abundant materials to sustain production to put our partners at ease."
After the city began to reopen, the company started paying for more worker shifts to increase its production.
The company also prepared for global supply chain breakages by stocking up on raw materials months beforehand, allowing it to continue production throughout the pandemic.
Unlike many other businesses, it did not have much problem with retaining staff, since it mostly employed local workers who were able to return to work easily.
It has also been more proactive in dealing with COVID-19 cases, setting up its own facility to treat patients.
Workers feel at ease since they are all fully vaccinated and people coming into contact with patients are stationed to work at separate locations and regularly monitored.
The company has its workers tested for COVID-19 every three days, and they all wear masks and face shields at work and are distanced from each other.
Supermarket operator Saigon Co.op began making contingency plans for various scenarios in the third quarter last year, basing them on what some neighbouring countries are doing.
Le Truong Son, deputy director of the company, told Tuoi Tre newspaper that the planning allowed it to adapt quickly and sustain its activities to ensure steady supply of food to the city.
"The company encountered many difficulties due to the pandemic. We had to make quick decisions and carry out new selling methods which we had never done before, such as selling to customers in quarantine zones and working with union groups and the military."
The city also greatly helped Saigon Co.op, he said.
Most businesses in HCM City have been able to reopen and resume production, but face problems such as low demand and high expenses.
The Ministry of Industry and Trade's Trade Facilitation Agency is organising a series of offline and online consultation programmes until the end of the year to offer businesses in a wide range of industries information and advice on import-export opportunities.
Minister of Industry and Trade Nguyen Hong Dien said these events are aimed at helping businesses overcome challenges and sustain exports./.
Petrol prices drop in latest review
 The retail prices of oil and petrol were adjusted down starting from 3 pm on November 25 following the latest adjustment by the Ministry of Industry and Trade and the Ministry of Finance.
Accordingly, the retail price of E5RON92 bio-fuel decreased 752 VND to a maximum of 22,917 VND per litre (around 1 USD) while that of RON95-III was also down 1,094 VND to 23,902 VND per litre.
Diesel 0.05S and kerosene are now sold at 18,382 VND and 17,197 VND per litre, down by 334 VND and 440 VND, respectively.
Meanwhile, the price of Mazut 180CST was cut by 344 VND to 16,477 VND per kilo.
The petrol price stabilisation fund has been used constantly over the past time to mitigate the impacts of global rising commercial oil and petrol prices and contribute to curbing inflation.
The two ministries review fuel prices every 15 days to adjust the prices in accordance with fluctuations on the world market./.
Hung Yen collaborates with Japanese firm in expanding industrial park
The northern province of Hung Yen will cooperate with Japan's Sumitomo Corporation in the implementation of the third phase of Thang Long Industrial Park II expansion project under a memorandum of understanding exchanged on November 25 within the framework of the official visit to Japan by Prime Minister Pham Minh Chinh.
Thang Long II Industrial Park has a favourable geographical position as it is only about 30km from Hanoi, 70km from Hai Phong port and about 110km from Quang Ninh deep water port.
In 2005, Hung Yen province allowed Sumitomo corporation and Thang Long Industrial Park Co. Ltd. to develop Thang Long II Industrial Park project on an area of 219.6 hectares. After that, the two parties agreed to establish Thang Long II Industrial Park Co. Ltd - the investor – which will operate the project.
The industrial park has so far attracted 105 foreign-invested projects with a total registered capital of nearly 2.95 billion USD. The occupancy rate of the IP is about 95.4 percent, of which 100 projects have been put into operation, with a total investment capital of about 2.4. billion USD, creating jobs for about 25,000 workers and contributing about 900 billion VND (45 million USD) to the State budget last year.
Last December, the Prime Minister agreed to expand Thang Long II Industrial Park - the third phase - with an additional area of 180.5 hectares to receive more investors.
Procedures relating to investment policy and planning for the expansion project are underway.
According to the Hung Yen provincial People's Committee, once Thang Long II Industrial Park and other projects in the industrial park come into operation, they will create a driving force in attracting investment and industrial development of the province while promoting the growth of service and supporting industries at the same time. In addition, this project will create more jobs for local workers and contribute to State budget revenue./. 
Golf tourism – Vietnam's new advantage
Golf tourism has emerged as a new advantage for Vietnam to attract international holidaymakers, especially after the COVID-19 is brought under control.

At a seminar in the northern province of Quang Ninh recently, the participants looked into issues regarding golf tourism development, and shared the view that Vietnam should target golf tourists from East-North Asia in the immediate future.
Vietnam has been named the World's and Asia's Best Golf Destination 2021 at the eighth annual World Golf Awards.
It is the second year that Vietnam has been honoured with the world title and the fifth consecutive year with the Asian title since 2017.
Quang Ninh province has been seen as a leading golf tourism destination in Vietnam.
Quang Ninh is also one of the five localities, along with Kien Giang, Khanh Hoa, Quang Nam and Da Nang, selected for the pilot programme to welcome foreign tourists after a long pandemic hiatus./.
Vietnam ranks third among seafood suppliers to RoK
Vietnam was the third largest provider of seafood products to the Republic of Korea (RoK) in the opening 10 months of the year, according to the Korean Customs Service.

Vietnam becomes the third largest seafood supplier to the RoK (Photo: thoibaotaichinhvietnam.vn)
The country exported a total of 124,300 tonnes of aquatic products worth US$625.2 million throughout the reviewed period, a drop of 0.8% in volume and an increase of 4.4% in value against the same period last year.
Currently, Vietnamese seafood accounts for 10.7% of the RoK's total imports, making Vietnam the third largest seafood supplier to this market, behind only China and Russia.
The RoK's seafood imports during the remaining months of the year and into early 2022 are anticipated to skyrocket, with its import demand for high-value aquatic products picking up, according to the Import-Export Department under the Ministry of Industry and Trade.
This will offer an opportunity for Vietnamese firms to boost the export of high-priced shrimp products to the RoK in the near future.
The RoK's seafood imports during the reviewed period increased by 5.9% year on year in both volume and value to 1.17 million tonnes worth US$4.49 billion.
Reference exchange rate down 2 VND on November 26
The State Bank of Vietnam set the daily reference exchange rate at 23,145 VND/USD on November 26, down 2 VND from the previous day.
With the current trading band of +/-3 percent, the ceiling rate applicable to commercial banks during the day is 23,829 VND/USD and the floor rate 22,442 VND/USD.
The opening-hour rate at commercial banks dropped.
At 8:30am, Vietcombank listed the buying rate at 22,545 VND/USD and the selling rate at 22,775 VND/USD, both down 10 VND from November 25.
BIDV also reduced both rates by 10 VND, listing the buying rate at 22,575 VND/USD and the selling rate at 22,775 VND/USD./.
During the week from November 22-26, the daily reference exchange rate followed an upward trend for most of the week before turning around on Friday. It ended the week up 27 VND from the rate on Monday./.
Source: VNA/VNS/VOV/VIR/SGT/SGGP/Nhan Dan

Foreign ship arrivals in Vietnam's seaports rise 30 percent