VIETNAM BUSINESS NEWS MARCH 29
HCM City unveils export targets for next decade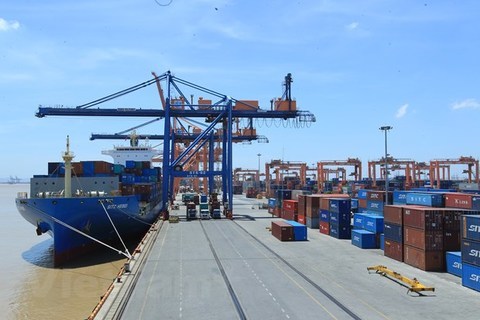 HCM City has set itself an export target of US$108 billion by 2030.
 
 
 
HCM City has set itself an export target of US$108 billion by 2030, up from the last year's $40 billion.
It is encouraging newly established firms to focus on key sectors like rubber, plastic, food and foodstuffs, IT-electronics-telecommunications, garments and textiles, and pharmaceuticals.
It wants to improve the industry and become involved in global value chains especially in the electronics, mechanical, and wood products, which it considers a key to its exports.
It plans to upgrade export infrastructure, and reform public administration directly related to foreign trade.
Head of the city's Statistics Office, Huynh Van Hung, said COVID-19 has largely been controlled in Viet Nam, causing a recovery in manufacturing.
But exporters continue to face difficulties since many major trading nations have yet to open their markets, he said.
The municipal Department of Industry and Trade is working with other relevant parties to develop the supporting industry supply chain, helping businesses cut input costs and improve their competitiveness.
It plans to enhance trade promotion and help businesses reach out globally.
Nguyen Phuong Dong, director of the department, said despite facing numerous challenges, exports of five goods last year exceeded $1 billion each: computers, electronic products and components ($17.8 billion); garment and textile ($4.3 billion); footwear ($2.2 billion); machinery and equipment and parts ($2.2 billion); and the rest ($6.9 billion).
Its key export markets remained China, the US and Japan.
China accounted for $10.5 billion worth of the city's exports, up 23.7 per cent from 2019. Exports to the US and Japan were worth $6.7 billion and $2.8 billion, down 0.2 and 16 per cent. 
Shares forecast to face sharp volatility this week
Vietnamese shares are forecast to encounter sharp volatility in the short-term as the market shows signs of correction after three consecutive weeks of gains, analysts said.
On the Ho Chi Minh Stock Exchange (HoSE), the benchmark VN-Index edged down 0.08 per cent to close Friday at 1,162.21 points.
The index had lost 2.67 per cent last week.
An average of 699.2 million shares were traded on the southern exchange during each session last week, worth VND16.4 trillion (US$713.6 million).
In the last session last week, losses were narrowed as a surge from large-cap stocks boosted indices but the market was still shaky due to strong selling pressure.
According to MB Securities Joint Stock Company (MBS), the VN-Index dropping to below support level of 1,150 points helped attract outside cash flow. Investors sought out stocks that had been hit hard in the previous session.
"Basically, the VN-Index is still fluctuating in the accumulation zone, so the overall trading strategy is to buy and sell at resistance levels," MBS said.
Tran Xuan Bach, a stock analyst at Bao Viet Securities Co (BVSC) added: "The market will have corrective movements early this week, before recovering at the end of the week. The 1,150-1,155 point area is still an important and decisive support area for the current market trend.
"If VN-Index fails to pass this zone, the market's trend will follow a negative direction in the short term. In this scenario, the index might drop to test the support level of 1,110 – 1,125 points."
Analysts from Phu Hung Securities Joint Stock Company (PHS) said the short-term downtrend was still dominating. Technical indicators showed negative signs, which meant correcting pressure hadn't finished.
The nearest support zones of the VN-Index maybe around 1,150 points and around 1,100 points, PHS said.
Saigon-Hanoi Securities Joint Stock Company (SHS) said the market had fallen after three consecutive weeks of gains. VN-Index could not surpass the psychological resistance of 1,200 points. The interrupted trading system made investor sentiment become more negative, leading to increased selling pressure.
"Liquidity increased slightly from the previous week, showing that selling pressure is quite strong, but technical signals also showed that bottom-fishing demand at low prices is still enough to keep the market to close above 1,155 points," SHS said.
According to Bao Viet Securities Co, Investors should maintain stock exposure at 35-50 per cent.
"Investors with high stock exposure can consider lowering the proportion of stocks in the recovery phases of the market.
"Investors with a cash-rich position should consider disbursing with a low proportion and give priority to existing stocks in the portfolio if the index falls to the support zone of 1,150-1,155 points," it said.
Information technology stocks fell the most last week with losers including FPT Corporation (FPT), down 4.6 per cent, CMC Corporation (CMG), losing 7.2 per cent.
It was followed by the construction materials group with Hoa Phat Group (HPG), down 2 per cent, Nam Kim Group (NKG), losing 5.8 per cent, and Hoa Sen Group (HSG), dropping 6 per cent.
On the Ha Noi Stock Exchange (HNX), the HNX-Index rose 1.41 per cent to close at 270.96 points.
It had lost 2.43 per cent to last week.
More than 171.6 million shares were traded on the northern bourse, worth VND2.6 trillion. 
Trade turnover with Cambodia reaches US$1.33 billion over two-month period
The initial two months of the year witnessed trade turnover between Vietnam and Cambodia stand at over US$1.33 billion, representing a year-on-year increase of 64%, according to figures released by the Vietnam Trade Office in Cambodia.

This comes as Vietnamese exports to the ASEAN partner raked in US$728.4 million, a rise of 8.6%, while Cambodian exports to the country reached more than US$603 million, up 335% compared to the same period from the previous year.
Most notably, major local export items to Cambodia included iron and steel, petroleum, garments and textiles, consumer goods, and other agricultural products such as fish, meat, and vegetables. In return, Cambodian exports primarily consisted of cashew nuts, rubber, along with timber and wood products.
Alongside promoting exports to Cambodia, the nation continues to provide tariff preferences for Cambodian exports to the Vietnamese market as a means of encouraging an increase in trade exchanges.
This represents great significance for the Cambodian Government and people as it has served to boost production and stimulate economic recovery amid the ongoing complicated developments relating to the global spread of the novel coronavirus (COVID-19) pandemic.
Foreign investment into Vietnam up 18.5 percent in first three months
As much as 10.13 billion USD worth of foreign direct investment (FDI) was injected into Vietnam in the first three months of the year to March 20, a year-on-year increase of 18.5 percent, according to the Foreign Investment Agency (FIA) under the Ministry of Planning and Investment.
Investment licences were granted to 234 new projects with total registered capital of 7.2 billion USD, rising 30.6 percent against the same period last year.
Meanwhile, 161 existing projects added 2.1 billion USD to their investment capital, a surge of 97.4 percent compared to the same time last year.
On the contrary, capital contributions and shares purchases by foreign investors were down 58.8 percent to stand at 805.3 million USD.
Foreign investors pumped capital in 17 sectors, with processing and manufacturing holding the lead with over 5 billion USD or 49.6 percent, followed by power production and distribution with 3.9 billion USD (38.9 percent), real estate 600 million USD, and science-technology nearly 167 million USD.
Singapore topped the list of 56 countries and territories landing investment in Vietnam, with nearly 4.6 billion USD, equivalent to nearly 45.6 percent of the total. Japan came second with about 2.1 billion USD (20.8 percent), and the Republic of Korea third with 1.2 billion USD (11.8 percent).
The FIA said the Mekong Delta province of Long An lured the lion's share of FDI in the reviewed period with 3.2 billion USD, accounting for 32.1 percent of the total. Can Tho city of the same region was the runner-up since it attracted nearly 1.3 million USD, or 13.1 percent. Hai Phong northern port city came third with 946 million USD (9.4 percent).
So far this year, the foreign-invested sector has earned close to 58.6 billion USD from exports, including crude oil, up 27.5 percent year-on-year, and making up 76.4 percent of the nation's total export turnover./.
Stock market expected to maintain growth path in 2021
Viet Nam's stock market is expected to maintain its growth momentum of last year at 15-20 per cent based on positive supporting factors, experts have said.
Speaking at a seminar on opportunities and challenges for the stock market in 2021 held in HCM City on Saturday, Cấn Văn Lực, chief economist of the Bank for Investment and Development of Việt Nam, said: "Việt Nam has successfully implemented the dual goal of containing the Covid-19 pandemic and reviving the economy.
"With its economic recovery momentum, most organisations forecast that Việt Nam's economic growth is likely to surge to 6.5‐7 per cent in 2021. And at the same time, we can control inflation well at below 4 per cent."
In this context, domestic and foreign investment flows to the country will be stronger than those of last year, he said.
The number of new trading accounts opened more than doubled last year, driven by the desire of local investors to achieve higher returns as the interest rates paid on their bank deposit accounts plunged. And the momentum will continue this year, he added.
Dr Võ Trí Thành, director of the Central Institute for Economic Management, said that production and trading activities have been maintained and export growth has recovered quickly, while the new generation of free trade agreements will also increase export and investment cooperation. 
This will help promote the stock market in 2021 and the years to come, he said.
Đặng Đức Thành, chairman of the Economists Club, said: "With the Government's promotion of public investment, policies to attract FDI investment, maintenance of low interest rates, adjustment of economic stimulus packages, and effective control of COVID-19, it has made an important contribution to boost the stock market's growth."
The VN-Index surpassed 1,200 points on March 18, creating optimism among investors, he said.
Dr. Nguyễn Sơn, chairman of the State Securities Commission's Việt Nam Security Depository, said that: "Having vaccines to prevent Covid-19 and the trend of shifting international capital flows from the banking sector (which yields low interest rates) to other investment channels such as stock and valuable assets such as gold and real estate will help the global stock market in general and Việt Nam's stock market, in 2021.
"Việt Nam continues to be evaluated as a bright spot for regional investment by international organisations as it is one of the few countries that has effectively controlled Covid-19 and achieved positive growth in 2020," he said.
He said the VN-Index would increase by hundreds of points this year.
Despite many opportunities, the stock market in 2021 still faces risks, notably the unpredictable development of Covid-19, an increase in trade defence globally, risks involved in inflation and exchange rates, and diversion of investment flows to other areas, they said.
Sơn also mentioned problems faced by the Vietnamese stock market, such as the slow process of equitisation of State-owned enterprises and divestment of State capital in equitised enterprises. Moreover, the upgrading of the market from frontier to emerging status still faces obstacles and the current IT system has not met the fast development of the securities market.
To enable the market to develop in a sustainable manner, the securities sector will focus on putting new regulations and policies in the Law on Securities into practice to support businesses and protect the legitimate rights and interests of investors, he said.
It will also map out a Stock Market Development Strategy for the 2021-30 period to shape goals, solutions and a roadmap for the development of the stock and capital market in the long run, he said.
In addition, the sector will enhance the modernisation of information technology systems and administrative procedure reform, launch new products, restructure the security market, and speed up equitisation and divestment of State capital in State-own enterprises and the listing of these firms on the stock exchange to increase market liquidity and supply, he said.
At the seminar, which was held by the Economists Club, Hồ Chí Minh Securities Corporation (HSC) and Green Plus Joint Stock Corporation, Green Plus signed a cooperation agreement with Japan's Sato Yakuhin Kogyo, HSC, and Vietcombank's Bình Tây branch. 
Vietnamese firms advised to promote online sale in Singapore
Vietnamese enterprises are looking to sell their products online in Singapore where 73 percent of its population regularly shop online and make cross-border transactions.
According to the Vietnamese Trade Office in Singapore, as many as 21 out of 25 global leading logistics service providers headquarter in Singapore - a major information, commercial, financial and logistics centre of the region and the world.
The Southeast Asian country is also a major international air transit hub, which is a very important gateway to Asia in general and Southeast Asia in particular.
If Vietnamese businesses can expand their exports to Singapore, they will have great opportunities to approach international partners who are present in the country, thus increasing the value of exports and brands of their goods.
Joining e-commerce activities, enterprises will have high interaction with consumers so that they can flexibly adjust production in accordance the demand of customers.
This will help enterprises save production costs and take the initiative in controlling their brands, the Vietnamese Trade Office said.
Singapore is now home to numerous e-commerce platforms such as Shopee, Lazada, Amazon.sg, Qoo10, Ezbuy, and Ebay.
In order to bring goods to the Singapore market in general and the e-commerce platform system in the country in particular, Vietnamese enterprises can set up their own companies in Singapore or find Singaporean importers.
The Singapore market is very suitable for small and medium-sized enterprises to begin cross-border sales, the Vietnamese Trade Office said./.
Fifty five firms to be honoured with Vietnam National Quality Awards 2020
Fifty-five businesses will be presented with the Viet Nam National Quality Awards 2020, including 19 winning the golden prize, according to a Decision issued recently by Prime Minister Nguyen Xuan Phuc.
Among those honoured with the golden prize, 15 are production enterprises, and four operate in services.
The remaining 36 award winners include 27 production enterprises and nine service companies.
The Viet Nam National Quality Awards are the Prime Minister's annual recognition for organisations and enterprises with remarkable quality achievements in production, business activities and services, helping to promote the standing of Vietnamese products and services in the domestic and foreign markets.
The awards, first presented in 1996, were initiated by the Directorate for Standards, Metrology and Quality under the Ministry of Science and Technology. 
SOEs need to enhance autonomy in operation: report
State-owned enterprises (SOEs) need to enhance their autonomy and responsibility under market mechanisms to contribute to the growth of the economy, according to a report by the Central Institute for Economic Management (CIEM).
Viet Nam has improved the legal framework to ensure the rights of autonomy and self-responsibility of SOEs closely following international practices, but the legal framework is still missing many components, according to a recent report on the autonomy and self-responsibility under the market mechanism of SOEs conducted by CIEM with support from the Australia-Vietnam Economic Reform (Aus4reform) Programme.
The State still intervenes deeply in the operation of wholly State-owned enterprises, leading to overworked agencies that manage State capital at enterprises, while the enterprises face many difficulties.
To enhance the autonomy and self-responsibility of State-owned enterprises, the CIEM research team said improving transparency is key.
SOEs should publish public reports on both financial and non-financial information according to international standards. Strengthening financial discipline for State-owned enterprises is another important recommendation.
In addition, the transformation of an SOE into a joint-stock company is the most important measure to improve enterprise autonomy.
Phan Duc Hieu, CIEM deputy director, said the "fair treatment" of State enterprises is a requirement in a market economy, along with the implementation of commitments on international economic integration.
During 35 years of reform, Vietnamese laws have been amended so that State enterprises are increasingly empowered with more autonomy and responsibility.
According to Pham Duc Trung, Head of the CIEM's Department of Enterprise Reform and Development Research, the Enterprise Law stipulates that a State-owned enterprise has the same rights and obligations as an enterprise of all economic sectors, including business autonomy, contract, and possession, use and disposition of property.
However, institutions and management mechanisms have failed to create full autonomy and self-responsibility for State enterprises. State management agencies decide many issues in the corporate administration of SOEs. That can weaken the motivation of enterprises' leaders to act in the best interests of the enterprise and its shareholders.
Besides that, many SOEs have fallen into dissolution or bankruptcy, but are still kept alive via State support.
Le Duy Binh, CEO of Economica Vietnam, said SOEs wanted to be like private enterprises with full autonomy, but the operation of SOEs was often dependent on the State management agency that represents the owner.
Le Tien Truong, Chairman of the Viet Nam National Textile and Garment Group (Vinatex), said SOEs must comply with the Law on management and use of State capital to invest in production and business.
Before approving decisions within the authority of a board of directors, the representative of State capital in the enterprise must consult the State agency that manages State capital at SOEs, then convene a meeting of the board of directors to approve those decisions for them to be executed. It can take one or two months for the State agency to respond.
When Vinatex was a wholly State-owned enterprise, it had to wait for a governing body to give it directions. The situation has continued even though Vinatex became a joint-stock company with 48 per cent of the charter capital belonging to non-State shareholders in 2015, so this process will make it difficult for the group (Vinatex), according to Truong.
"For a private company, a shareholder only votes on the company's strategic issues. Meanwhile, at an SOE, the shareholder must also vote on other normal issues. Thus, it has broken corporate governance practices," Binh said.
Nguyen Dinh Cung, former CIEM director, was quoted by the Vietnam News Agency as saying: "The State needs to create a business environment to promote and ensure State-owned enterprises operate and compete fairly according to market principles."
He said legal provisions should be revised to ensure full autonomy for State enterprises in investment and business.
In addition, there should be a legal system to improve business autonomy by fundamentally revising the Law on Management and Use of State capital to invest in production and business in enterprises.
Along with that, State agencies should not have the right to give decisions, but only give opinions and approve investment policies. In other words, the State should not decide on issues of corporate governance.
Experts have also recommended that, according to international practice on SOE governance, especially the OECD's guidance, to ensure the autonomy and self-responsibility of SOEs under market principles, the State - as the owner - needs to clearly define the reason or goal of maintaining ownership in the enterprise. The State should create conditions for the management board at the enterprises to operate autonomously and responsibly.
That means the thinking about SOEs and State management for these enterprises must change fundamentally. When operating under market principles, SOEs will play the right role in the economic recovery and growth, according to experts.
HCM City sets up teams to help foreign firms amid pandemic
The chairman of the HCM City People's Committee has pledged to improve the business climate for foreign investors by setting up two working teams to assist in their investments.
Speaking at a conference with city leaders and Korean firms on Thursday, Nguyen Thanh Phong said: "The city is committed to a better business climate by issuing more special incentives and policies to attract foreign investors, including those from South Korea."
The city has set up two "interdisciplinary working groups" in charge of promoting foreign investment and international cooperation with the aim of removing challenges facing foreign investors and promoting international cooperation.
"The working groups will increase exchanges with Korean businesses to remove problems facing them in a timely manner," Phong said.
The Department of Foreign Affairs will be the focal point between Korean businesses and concerned agencies, receiving comments and inquiries from Korean firms to forward to agencies, according to Phong.
Most Korean firms said they wanted to resolve problems related to credit support, registration procedures for new business, and renewal of licences in Viet Nam.
Kim Heung Soo, chairman of the Korean Business Association (KOCHAM), recommended that calculation of tax be based on the total tax in the previous year or on the actual sales of the previous quarters in the year, instead of relying on tax agency predictions.
He said that administrative procedures for FDI projects, the establishment of additional legal entities, entity conversion permits, and land transfer procedures for foreign projects remained complicated and should be further simplified or eliminated.
South Korea is one of Viet Nam's major economic partners with more than 5,600 Korean companies investing and doing business in the country.
It ranks third among 110 countries and territories investing in HCM City with a two-way trade turnover of US$66 billion last year.
Despite the impact of the pandemic, South Korea was the city's 5th largest export market with exports worth $1.8 billion last year, accounting for 4.5 per cent of the city's total exports and 9.5 per cent of the country's total exports to South Korea.
"The potential for cooperation between the two sides is great," said Phong.
The city's exports to South Korea were worth more than $366 million in the first two months of 2021, up 30.3 per cent over the same period last year, according to Phong. 
SMC lifts profit target on steel industry's positive outlook
Thanks to the optimistic outlook of the steel industry in the long-term on stronger demand from the recovery of the construction industry, SMC Trading Investment JSC doubled this year's profit after tax target.
On March 19, the Board of Directors of SMC approved the adjustment to increase 2021's profit after tax target to VND300 billion, an announcement published on its official website showed.
Earlier, the company made a cautious target of just VND160 billion, down 49 per cent over the result of 2020. The move suggested that SMC is optimistic about the industry outlook in 2021.
Another peer also increased its revenue and profit targets for 2021. Nam Kim Steel JSC (NKG) set a target of VND16 trillion in net revenue and VND600 billion in profit after tax, up 38 per and 103 per cent over the same period of 2019, respectively.
Right after the news, SMC shares hit the biggest daily gain to VND29,650 a share on March 22, up 52.1 per cent against the beginning of the year.
On Wednesday, SMC shares traded at VND28,500 a share, down 2.73 per cent, while NKG stayed flat to finish the day at VND21,700.
Brighter steel industry outlook
In 2020, the price of hot rolled coil (HRC) on the global market surged and even broke over US$700 a ton, pushing up the domestic price. As all of the company's main businesses need HRC, steel product prices rose dramatically in the last months of 2020.
The HRC price continued its rally since the beginning of the year on stronger demand from China. The most-active May HRC future contract on Shanghai Future Exchange was 5,130 yuan/ton (US$784.37 a ton) on Thursday.
According to a steel industry report released in mid-January by SSI Research, the driving forces of domestic steel demand include infrastructure investment and FDI inflows, which also help promote civil construction activities along with infrastructure and FDI projects.
Export demand is still positive. SSI Research estimated a single-digit growth in Viet Nam's steel exports. However, as the world supply becomes more stable, foreign sales are likely to face intense competition in export markets.
Many other securities firms expect a bright outlook for Viet Nam's steel industry.
Mirae Asset Securities (Viet Nam) Limited Liability Company (MiraeAsset) projected the country's steel production to increase by 15.7 per cent in 2021, three times higher than its expectation of world steel production.
Meanwhile, Vietcombank Securities Company Ltd (VCBS) has assessed that local steel demand will continue to grow on the recovery of real estate, as well as momentum from public investments. 
Consumer lending to grow again in 2021
The consumer finance market will have the chance to grow again in 2021 thanks to the country's economic recovery, experts forecast.
Vo Dai Luoc, former director of the Institute of World Economics and Politics, said the consumer finance market would resume rising this year as economic growth is expected at 6 per cent against 2.91 per cent last year.
In 2020, income of consumers was adversely affected by the COVID-19 pandemic, causing a decreasing demand for consumer loans.
According to Luoc, last year, the agriculture, forestry and fishery sector increased by 2.68 per cent, contributing 13.5 per cent to the growth rate of the whole economy. The figures for the industry-construction and services sectors were 3.98 per cent and 2.34 per cent, contributing 53 per cent and 33.5 per cent, respectively.
Besides the processing and manufacturing industries, the services sector, including wholesale and retail, financial activities, banking and insurance, would be continually one main driver of economic growth this year. Thus, the consumer finance market and consumer services would certainly play an important role in the economy, Luoc said.
According to economist Vu Dinh Anh, in the context of declining income due to the pandemic, consumer lending is an important factor to stimulate the increase in domestic aggregate demand through a rise in goods retail and consumption.
Despite higher risks than bank loans, the consumer lending market is still attractive to investors thanks to its profitability.
According to the State Bank of Viet Nam's statistics, finance companies have the highest profitability among credit institutions in Viet Nam. The latest updates available in October showed return on asset (ROA) and return on revenue (ROE) of finance companies were respectively 2.19 per cent and 10.55 per cent, highest among credit institutions. The ROA of finance companies was even 2.8 times higher than commercial banks.
Sixteen finance companies are licensed to provide consumer lending with their total charter capital worth more than VND22 trillion (US$948 million) as of the end of 2020.
Those with the largest charter capital include FE Credit (VND7.328 trillion), SBIC Finance (VND2.532 trillion), EVN FC (VND2.5 trillion), Home Credit (VND2.05 trillion) and HD Saison (VND1.4 trillion).
A number of banks have launched finance companies, such as VP Bank with FE Credit, HDBank with HD Saison, SHB with SHB Finance and MBBank with Mcredit.
Banking expert Can Van Luc said Viet Nam's consumer credit market had significant potential for development. Consumer loans are estimated to account for around 18-20 per cent of the total outstanding loans in the economy. 
Ha Noi property prices surge due to Red River urban planning reports
Property prices in some areas of Ha Noi have surged strongly after reports on draft planning for the Red River urban area were released in June.
The Red River urban planning project aims to develop an area of ​​about 11,000 hectares in 13 districts including Dan Phuong, North Tu Liem, Tay Ho, Ba Dinh, Hoan Kiem, Hai Ba Trung, Hoang Mai, Thanh Tri, Thuong Tin, Me Linh, Dong Anh, Long Bien and Gia Lam.
Per the project, there will be dozens of bridges built across the Red River and many parks, and cultural, tourist, service and entertainment works, modern ecological urban areas will also be built on both sides of the Red River.
The plans have led to expectations that property prices in this area will increase strongly, especially after the planning is approved.
The trading of property in ​Cu Khoi Ward in Long Bien District has increased strongly, reported the Vietnam News Agency.
According to Nguyen Quang Huy - a real estate broker - the current price is VND68-70 million per sq.m for a house with one frontage and VND70-72 million per sq.m for a house with two fronts, higher than the previous price of VND40-50 million.
If this urban project is approved, the land price would increase further, even up to VND80-90 million, Huy said.
Le Thi Minh, from Cu Khoi Ward, said in the last two weeks, many people had come to ask about land in this area, causing land prices to rise. The price had increased by VND5-10 million per sq.m to VND37-40 million for a plot of land in Cu Khoi Street.
In some areas in Dong Anh District, land prices have also surged by about VND10-12 million per sq.m, especially in the area of ​​Tam Xa and Xuan Canh communes overlooking the Red River urban area, to VND28-30 million against prices from a month ago.
Land near the Red River dike is also offered a price of up to VND50-55 million sq.m, nearly double from before due to the Red River urban area planning, a broker said.
Land price prices have also increased in Hoai Duc District, including Vuon Cam urban area, near Van Canh University, Lideco North 32, Kim Chung-Di Trach, Ha Do Charm Villas and An Lac Symphony.
Of which, the strongest increase in land price is Kim Chung-Di Trach Urban Area, where the price was only about VND20-35 million per sq.m in mid-2020 and has jumped to VND40-70 million at present. This price is expected to surge to VND55-95 million due to good infrastructure.
In the Me Linh District, the property price has increased to VND15-30 million per sq.m since the beginning of 2021 in many projects, including Cienco5, AIC, Diamond Park View, Ha Phong, Hoang Van and Melinh Vista City projects.
According to real estate experts, there are two trends for property investment on the banks of the Red River, including swing trading and buying of land for compensation or higher price in the future.
Experts believe the rising property prices are due to information about infrastructure planning and investment.
In the area along the Red River, land brokers have been accused of price manipulation to push the property price up 2-3 times. If the planning project is approved, both landowners and brokers may continue to take this advantage to push prices upwards.
According to Nguyen Van Dinh, deputy general secretary of the Viet Nam Real Estate Association, the increase in land prices usually depends on the level of investment in infrastructure. If there is planning in principle or drawings, an increase of about 3-5 per cent is reasonable.
If the land price is too high, it will hinder the development of the real estate market in those areas.
Ha Quang Hung, deputy director of the Housing and Real Estate Market Management Department under the Ministry of Construction, said land prices had increased by 50 per cent compared to 2019 in some places in Hoai Duc District and 20-30 per cent year-on-year in the districts of Dong Anh, Gia Lam and Long Bien.
The strong increase of real estate prices in some areas of Ha Noi was mainly due to speculators taking advantage of real estate information to create price fluctuations, such as urban planning and investment policies for major infrastructure projects.
To stabilise the real estate market, the Ministry of Construction this year would build a mechanism to minimise the imbalance in the product structure of the market.
The ministry would also propose solutions to strengthen supervision of the market to reduce price manipulation. 
MWG's profit up 18 per cent
As of February, Mobile World Investment Corporation (MWG)'s net revenue increased 6 per cent year-on-year to more than VND21.7 trillion, with its profit after tax also up 18 per cent despite disruptions due to new COVID-19 cases.
A monthly report published on MWG's website showed in February, the company's net revenue rose 34 per cent from the same period last year to VND10.67 trillion, leading to an increase of 73 per cent in profit after tax to VND505 billion.
In the first two months of 2021, MWG posted a climb of 6 per cent year-on-year to more than VND21.7 trillion in net revenue. Profit after tax in the same period was VND999 billion, 18 per cent higher than that of last year.
In the report, MWG said the accumulated data of the first two months of 2021 doesn't precisely describe precisely the company's business activities due to the Tet (Lunar New Year) holiday.
Revenue from online transactions rose 34 per cent year-on-year to nearly VND1.64 billion, accounting for about 8 per cent of its total revenue.
Sales of household appliances, laptops, and watches posted growth during the period, while sales of mobile phones and refrigerator were unchanged compared to last year. Sales of electronic products fell due to weaker demand during Tet.
Many MWG stores had to close or limit the number of customers in stores during this period due to the outbreak of new COVID-19 cases in the peak shopping season started from the end of January to February 10, the company stated in the report.
On the Ho Chi Minh Stock Exchange (HoSE), MWG shares finished last Friday at VND130,000, up 0.93 per cent.
Demand for plant-based foods, fake meats on the rise
Demand for meat alternatives and plant-based products has grown significantly and will continue to rise in the global market, including Viet Nam, experts have said.
A study by US market intelligence and consultancy firm Polaris Market Research said the global plant-based meat market is likely to grow at 15.8 per cent a year to reach US$35.8 billion by 2027 compared to $11.1 billion in 2019.
The main factors driving the trend are health concerns due to the upsurge in food-borne illnesses through animal meat, awareness of food safety and nutrition and environmental concerns.
In Viet Nam, according to global data and consulting company Kantar Worldpanel, consumers are eating and drinking plant-based alternatives that are perceived to be natural and healthier.
Speaking at a seminar on green food potentials and trends in HCM City last week, Ho Thanh Nhien, founder of Bewina Company, a plant-based food supplier, said with their living standards rising Vietnamese are increasingly concerned about the safety of their daily meals and drinks.
Consumers have in recent years become interested in safe, organic and plant-based foods, with many opting for a vegetarian diet, she said.
Vu Kim Hanh, chairwoman of the Business Association of High Quality Vietnamese Goods, said: "The plant-based food market is attractive.
"Being an agricultural country, Vietnamese firms could exploit this niche market at home and abroad."
Nhien, saying the global plant-based meat industry has become lucrative in the last five years, hoped that one day it would source everything from Viet Nam.
With more people shifting away from meats towards cleaner, plant-based protein alternatives, many food manufacturers ranging from start-ups to leading consumer goods, and even meat companies, are embracing plant-based meat products to meet the demand, she added.
Firms are also conducting research to come up with kitchenware that help retain the nutrition and colour of foods and do not generate toxins during cooking, speakers told the seminar.
Ly Ngoc Minh, general director of Minh Long I Co Ltd, said kitchen utensils help increase the taste of food, but cooking also affects the quality of food, directly affecting human health.
That is why his company constantly researches and develops premium porcelain cooking product lines (macrobiotic cookware) which do not need water when stir-frying or steaming food, he claimed. 
Mekong Delta continues to develop transport infrastructure
The Mekong Delta is working with the Ministry of Transport to improve the local transport infrastructure and thus trade flows, the Can Tho Branch of the Vietnam Chamber of Commerce and Industry has said.
The Trung Luong - My Thuan Expressway, for example, is expected to significantly speed up product delivery once it opens for traffic this year.
The Ministry of Transport plans to build another expressway between Can Tho city and Ca Mau province.
In the last five years, highways and bridges have been upgraded as have navigation channels in the Hau river, while the Cho Gao Canal in Tien Giang province has been dredged.
Lam said: "Poor transport infrastructure is a major obstacle for the Mekong Delta. Implementation of key projects by the Government is still slow."
The Government has approved an allocation of 2.5 billion USD for infrastructure development over the next five years.
Annually the delta exports 17-18 million tonnes of goods, but 70 percent has to be shipped from major ports in Ho Chi Minh City and Ba Ria - Vung Tau province, which increases transportation costs by 10-40 percent.
"It costs 5 million VND (216.6 USD) to transport 10 tonnes of catfish from our company in Can Tho city to HCM City. If we could use Cai Cui seaport in Can Tho city instead, it will cost only 1.5 million VND (65 USD)," Tran Van Quang, Chairman of Southern Fishery Industries Co Ltd, said.
The Cai Cui Port was built to handle vessels of 20,000 tonnes, but now only those of up to 7,000 tonnes can enter it due to the difficult access through small canals.
Investment in transport infrastructure would help the delta cut logistics costs.
An official from Ca Mau province's transport department called for prioritising investment in inland waterways that are connected with roads to improve transportation throughout the delta and exploit the waterway system linking HCM City with other provinces and cities.
Next month the ministry will seek approval from the Government to build the Tran De deep-water port in Soc Trang Province capable of receiving vessels of up to 100,000 tonnes.
The port, not to be funded by public funds, is expected to achieve a throughput capacity of 50-55 million tonnes by 2030.
Setting up logistics centres
According to the Vietnam Chamber of Commerce and Industry (VCCI) and the Fulbright School of Public Policy and Management, logistics activities in Mekong Delta remain largely unplanned.
More than 85 percent of its ports are scattered with each having a capacity of handling less than 10,000 tonnes of cargo annually.
The region also lacks a synchronised transport system, logistics centres, warehouses, and container yards, and companies have to send their products to HCM City for sterilising and irradiating, all of which increase logistics expenses.
Le Duy Hiep, Chairman of the Vietnam Logistics Business Association, said the delta is the country's agricultural export hub but logistics costs are 20-25 percent compared to 10-15 percent in neighbouring countries.
Besides, for a long time, Delta localities have only focused on stages between the field and factory, but paid little attention to transporting them to ports, shipping, packaging, and inspection despite their decisive role in the competitiveness of agricultural products.
"That is the reason why it is very important to develop logistics centres capable of handling all stages of agricultural production," Lam said.
"This would reduce the waiting times and cumbersome procedures."
Ho Thi Thu Hoa, head of the Vietnam Logistics Research and Development Institute, said a national plan for developing logistics by 2015 had included two second-level logistic centres in the region, but they remain on paper.
Recently the first phase of the Hanh Nguyen Logistics Centre, a self-contained logistics hub for agricultural exports, began operation in Hau Giang province. The province targets having five such centres by 2025.
The opening of a logistics centre will help connect all stages in the agricultural supply chain./.
Long An targets at least 60,000 tonnes of aquaculture production
The Mekong Delta province of Long An targets at least 60,000 tonnes of aquaculture production this year, about 2,000 tonnes higher than in 2020.
Of the total, the output of brackish water shrimp is to reach over 15,000 tonnes, while freshwater shrimp is to exceed 45,000 tonnes, up 1,500 tonnes and 500 tonnes, respectively, compared to 2020.
The provincial agricultural sector is focusing on guiding farmers on crops and conducting environmental monitoring to give them timely alerts. The sector is also strengthening the quarantine of fishery varieties, and supervising the development of diseases in different aquatic farming areas.
The province will continue applying technologies in aquatic farming while focusing on upgrading infrastructure for farming activities.
Long An has concentrated on developing brackish water shrimp production regions in Can Duoc, Can Giuoc, Tan Tru, and Chau Thanh districts, on a total area of about 6,800 ha, while piloting the high-tech farming model in a number of areas.
It targets at least 1.3 trillion VND in shrimp farming production value by 2025.
The province will also develop freshwater aquatic products in the Dong Thap Muoi region, such as Tan Hung, Vinh Hung, and Tan Thanh districts.
According to the provincial Department of Agriculture and Rural Development, the province's aquaculture has seen strong growth in recent years, with expanded farming areas and models boasting high efficiency, such as brackish water shrimp farming and tra fish farming.
The province had nearly 5,500 ha of brackish water shrimp area last year, with an output of 2.7 tonnes per ha and total production of over 13,600 tonnes. At the same time, its total freshwater aquatic production was nearly 44,500 tonnes./.
GDP increases by 4.48% in first quarter
The gross domestic product (GDP) during the initial quarter of the year is estimated to have recorded an increase of 4.48% compared to the same period from last year, according to data released by the General Statistics Office (GSO) at a press conference held on March 29 in Hanoi.

The agriculture, forestry, and fisheries sector witnessed a rise of 3.16%, thereby contributing 8.34% to the general growth rate due to strong rice productivity, the successful control of African swine fever, and positive results achieved in timber and forestry exports.
The industrial and construction sector also recorded an increase of 6.3%, while the processing and manufacturing sector continued to represent the driving force for the national economy with a stellar growth rate of 9.45%.
Furthermore, the service sector enjoyed a growth rate of 3.34%, constituting approximately 35.7% of general growth, the wholesale and retail sector saw growth of nearly 6.5%, whilst the finance and banking sector saw a rise of 7.4%.
Nguyen Thi Huong, director general of the GSO, said these positive outcomes during the first quarter prove the great efforts made by Prime Minister Nguyen Xuan Phuc and relevant units in successfully containing the novel coronavirus (COVID-19) epidemic. This has contributed to effectively implementing the dual goal of combating the pandemic, and simultaneously accelerating economic development.
Moreover, the average consumer price index (CPI) in the first quarter of the year increased by 0.29%, a figure which is considered the lowest growth rate over the past 20 years, the GSO representative stated.
The CPI growth in March endured a decline of 0.27% over the previous month, although it represented a rise of 1.31% compared to December, 2020, according to Huong.
This drop in CPI growth during March can largely be attributed to the decline in shopping demand of consumers following the Lunar New Year festival or Tet, and the abundant supply of food items.
The inflation rate in March also dropped by 0.12% over the previous month, whilst expanding by 0.73% over the same period from last year, thereby making average inflation in the first quarter of the year enjoy an annual rise of 0.67%.
The price index of export goods in the first quarter of the year increased by 0.75% compared to the fourth quarter of last year, whilst decreasing by 0.3% against the same period from 2020.
According to the GSO representative, the domestic gold price is currently fluctuating in line with global gold prices.
Vinh Long calls for $1.06 billion into 10 key projects
Vinh Long People's Committee has issued a decision to call for a total of investment VND24.37 trillion ($1.06 billion) into 10 projects.
These 10 projects are part of the investment promotion programme of Vinh Long province for this year.
The list includes several exceptional projects, such as Binh Tan Indstrial Zone (IZ) located in Tan Quoi town, Binh Tan district with a total area of 400 hectares and an investment value of VND2.9 trillion ($126.1 million).
In the agricultural sector, the province is calling for investment in a 50-100ha high-tech agricultural manufacturing project in Vinh Long city that has a total investment capital of VND250 billion ($10.87 million). The province is also promoting an agricultural goods manufacturing and processing project in Binh Minh town, with the area of 10.6ha and VND400 billion ($17.4 million) of capital.
In the urban and housing sector, the province is looking for investors for the 500ha My Hoa new urban project stretching across Binh Minh and My Hoa communes and Binh Minh town with a total investment capital of VND8.05 trillion ($350 million). There is also a provincial urban and administrative project worth VND7.5 trillion ($326.1 million).
However, the province has yet to issue the criteria to select investors for these 10 projects.
At the same tie, the province is also mobilising resources to promote tourism development with the aim of turning tourism into a spearhead economic sector by 2030.
The authorities have been reviewing and issuing support and incentive policies to encourage investment in tourism, while also building infrastructure, adjusting the planning of tourist areas to attract more investment, and developing unique tourism products. It has also promoted the application of technology and improved the quality of human resources serving tourism development.
Vinh Long welcomed over 6.1 million domestic and foreign visitors in 2015-2019, earning nearly VND1.7 trillion ($73.9 million). The number of tourists and revenue increased by 11.6 per cent and 25.7 per cent per year on average.
SBV provides refinancing loans worth VND4 trillion for Vietnam Airlines lenders
The prime minister has signed a decision allowing the State Bank of Vietnam (SBV) to provide refinancing loans worth VND4 trillion to credit institutions that are lenders of the national flag carrier Vietnam Airlines.
The decision is in line with a resolution which the National Assembly adopted last year to authorize SBV, the nation's central bank, to help Vietnam Airlines deal with losses caused by the Covid-19 pandemic.
Interest rates for refinancing loans are set at 0% per year, which is also applicable for any extension for such loans. The refinancing period follows the request from credit institutions but will not exceed 364 days.
SBV will complete disbursement no later than December 31, 2021.
The credit institutions will be responsible for their loan agreements with Vietnam Airlines. The agreements must be weighed carefully based on the credit institutions' capacity and Vietnam Airlines' financial conditions. The total value of the loans for Vietnam Airlines must not exceed VND4 trillion.
In 2020, Vietnam Airlines suffered a loss of VND14.4 trillion due to the negative impact of Covid-19. The airline operated 96,500 flights, carrying 14.23 million passengers and nearly 195,000 tons of cargo last year, down 48%, 51% and 47% year-on-year, respectively.
In the 2021-2025 period, Vietnam Airlines will focus on its recovery, while continuing to push for the restructuring process.
The Vietnam Aviation Business Association forecast that revenue of Vietnamese air carriers would continue plunging this year, with airlines expected to suffer losses of over VND15 trillion from air transport activities.
Source: VNA/VNS/VOV/VIR/SGT/Nhan Dan/Hanoitimes