BUSINESS NEWS SEPTEMBER 22
Enterprises to manage tax risks with digital change

Local companies should invest more time to learn more about new tax regulations, according to experts speaking at a seminar in Ha Noi last week.
More than 400 people from different businesses gathered at the seminar, organised by Ernst & Young Vietnam and Viet Nam CFO Club, to discuss how to better accommodate to increasingly stringent tax administration system driven by digitalisation.
According to the accounting experts, together with the effect from trade wars, political instability and rapid technology advancement in the world, the local tax policies have changes and reforms to reduce costs and better fit with the international standards.
The revised Tax Administration Law, which takes effect from 1 July 2020, introduces tax administration rules for e-commerce activities. Specifically, it introduces some new regimes on the implementation and management of taxes on the internet platform (e-tax). It also sets regulations on e-invoices, which requires goods sellers and service providers to issue e-invoices connected with the local tax system to their customers.
Many enterprises thought the changes affected their business and expressed concerns about new regulatory compliance, especially e-invoicing, transfer pricing and personal income tax.
Nguyen Kim Anh, an independent accountant told Viet Nam News: "There are a lot of things to update with the change. They (the tax officials) want to digitalise everything but we (enterprises) cannot have all things digital at once."
Kim Anh, who does the tax for three small companies at the same time, added: "Though going with the changes is difficult, I have to keep updating with them and get familiar with the new system or I can no longer keep the job."
Huong Vu, General Director, EY Consulting Vietnam explained: "The inspection activities will be more effective given the aid of advanced technology, businesses must be better compliant to avoid tax penalties."
As of August, Viet Nam has more than 734,000 businesses, or 99.4 per cent of all businesses using e-tax declaration services, 99.8 per cent of total operating firms, according to the General Department of Taxation.
The department said the e-tax refund service was also launched in 63 cities and provinces nationwide. It was estimated there were more than 5,500 businesses using the service so far this year with total value of more than VND50.4 trillion (US$2.17 billion).
In addition, 255 firms joined a pilot programme to use the e-invoice system. The total verified revenue of 825,078 e-invoices sent through the programme was more than VND19.35 trillion ($838.8 million), with total verified tax of nearly VND1.7 trillion (about $73.7 million).
Vietjet's ancillary revenue ranks among the world' top 12

Vietjet is recognised as the world's 12th airline in terms of ancillary revenue to total air transport revenue ratio by the 2019 CarTrawler Ancillary Revenue YearBook, which comprises statistics from more than 100 airlines' audited financial statements.
Vietjet's audited business results in the first half of this year showed revenue of passenger transport stood at more than VNĐ18.98 trillion (US$815 million), an increase of 17 per cent year-on-year.
During the period, its ancillary revenue of passenger transport topped VNĐ5.43 trillion, up 43 per cent year-on-year mainly thanks to the growth of international passenger transportation. The proportion of ancillary revenue in total air transport revenue was 27 per cent.
According to the sustainable development model of low-cost carriers (LCCs), ancillary revenue is a decisive factor in the success of a carrier when its profit margin reaches over 90 per cent.
In order to expand its services and continue on a path of sustainable development, Vietjet has planned to provide ground services for itself at Nội Bài International Airport in Hà Nội from 2020. This would bring benefits to both customers and the airline, including improvement of service quality and ancillary revenue, Vietjet said in a statement.
The airline aims to reach the Top 5 airlines for ancillary revenue in the future. 
TTC Sugar sells shares to a board member

A member of the board of directors at Thanh Thanh Cong-Bien Hoa JSC (TTC Sugar) will buy 33.5 million shares of the company.
Huynh Bich Ngoc's stake will increase to 49.1 million shares, equal to a 8.4 per cent stake, from 15.55 million shares, equal to a 2.65 per cent stake.
The transactions will be carried out between September 17 and October 16 on the stock market.
Ngoc is the wife of the firm's chairman Dang Van Thanh.
TTC Sugar shares were up 0.6 per cent to VND17,950 (US$0.78) each on Friday.
At that level, the value of the deal is more than VND600 billion ($25.8 million).
TTC Sugar has recently decided to sell all of 61.6 million treasury shares to increase the volume of voting shares and raise capital to restructure its debts.
The company hopes to receive about VND1.1 trillion from the treasury share sale.
In addition, TTC Sugar plans to raise VND2.4 trillion worth of convertible bond notes with minimum maturity of three years.
The bond notes can be converted into common stocks a year after issuance. 
Sacombank signs deal with Alliex to deploy shared POS infrastructure

Sacombank and Alliex Vietnam JSC have signed a deal to create shared POS payment infrastructure that is integrated with many banks and allows many different payment methods.
Alliex will invest in shared POS infrastructure including servers, NAC / NCC, transmission lines, management software, and consumables.
It will develop and operate a network of POS processing terminals, and incorporate new features based on agreement with Sacombank.
Sacombank will be responsible for handling accounting operations such as credit advice to card accepting units, collecting fees, making statements, VAT invoices, and others.
Speaking at the signing ceremony, Nguyen Hoang Minh, deputy director of the State Bank of Vietnams HCM City branch, said the implementation of non-cash payments will be an important task of the banking industry.
Cashless payments would bring great benefits to the banking industry, businesses and the public, he said.
"Sacombank is one of the leading players in technology and has undertaken many practical activities that effectively promote cashless payment activity.
"On behalf of the SBV, I appreciate and believe that the collaboration for deploying shared POS infrastructure will be a new step in Sacombank's operations and contributions to the banking industry."
Nguyen Minh Tam, deputy CEO of the bank, said: "Instead of each bank and each payment method using an independent device as they do now, the development of shared POS services will offer more convenience and contribute to promoting electronic payments in accordance with the Governments scheme fordeveloping non-cash payment in Viet Namin 2016 –20. This is also the goal Sacombank has been trying to achieve.
"Sacombank highly appreciates leading fintech solutions that Alliex has successfully offered in Japan, South Korea and Viet Nam, especially technologies in the field of money transfer and online and offline payments.
"We believe Alliex is competent to provide Sacombank with advanced technology solutions through proven experience and investment in cashless payment infrastructure across Viet Nam.
"At the same time we expect the project will help Sacombank reduce equipment costs, attract new customers and expand its customer base, including Korean businesses."
Heo Jung Wooc, deputy director of Alliex Vietnam JSC, said: "With strong investment in advanced infrastructure and technology for shared POS systems, we are committed to helping Sacombank promote electronic payment in Viet Nam.
"A shared POS system is the foundation of a cashless payment service and provides a solid infrastructure, effectively supporting banks, retail businesses and consumers in many commercial activities.
"Alliex will invest and develop a shared POS network at Vietnamese stores, operate a network of card accepting units, and incorporate new features in its advanced POS lines meeting regulations and customers tastes."
Alliex has pledged to invest over $700 million in the next five years to develop the shared POS infrastructure in Viet Nam, which will translate into a network of 600,000 card payment devices across the market.
Sacombank is one of the first two lenders in Viet Nam to tie up with Alliex to deploy a shared POS infrastructure to promote non-cash payment. 
Vietnamese-invested bank's contributions to Cambodia's economic growth hailed
Cambodian Deputy Minister Men Sam An has lauded contributions of the Bank for Investment and Development of Cambodia (BIDC), a subsidiary the Bank for Investment and Development of Vietnam (BIDV), in boosting Cambodia's economic growth.
The BIDC has played a leading role among Vietnamese businesses operating in Cambodia, with strong performance in connecting economic-trade-investment activities of the two countries, she said at a ceremony to mark the 10th founding anniversary of the BIDC in Phnom Penh on September 19.
Formerly known as the Prosperity and Investment Bank, the BIDC became operational in September 2009. Over the past 10 years, the bank has become one of the biggest commercial banks in Cambodia with total assets exceeding 750 million USD and outstanding balance of more than 600 million USD.
Governor of the National Bank of Cambodia Chea Chanto said the BIDC has helped connect the Vietnamese and Cambodian economies, especially in agriculture and rural development.
He recognised the significant role of the bank in Cambodia's banking system.
The BIDC and other BIDV trade representatives in Cambodia have made considerable contributions to clinching a stable position for the Vietnamese firms in the country, promoting economic development programmes between the two countries, and fulfilling social responsibilities.
According to Vietnamese Ambassador to Cambodia Vu Quang Minh, Vietnam ranks third among investors in Cambodia with total investment of more than 3 billion USD.
Vietnam-Cambodia trade reached 4.7 USD in 2018 and is expected to hit 5 billion USD in 2019, he added.
PM to chair conference on SOEs
Prime Minister Nguyen Xuan Phuc will chair a conference on renovating and improving the operational efficiency of State-owned enterprises (SOEs), slated for late September or early October.
Regarding the upcoming event, Deputy Prime Minister Vuong Dinh Hue has asked ministries, ministerial-level and Government agencies, People's Committees of centrally-run cities and provinces, along with State-owned economic groups and corporates to make reports on business restructuring under their jurisdiction.
Those reports must be sent to the Ministries of Finance, and Planning and Investment, and the Government Office before September 25, he said.
The reports should cover such issues as the implementation of business restructuring plans approved by authorised agencies between 2016 and August 2019, including equitisation of SOEs and state capital divestment, advantages and difficulties in the work, and recommendations.
The Ministry of Finance will present a general report on the restructuring as well as tasks and solutions to improve operational efficiencies of SOEs.
Meanwhile, the Ministry of Planning and Investment will report on the building of relevant mechanisms and policies, such as the draft Law on Enterprises and the draft decree on the organization and operation of SOEs.
The Ministry of Environment and Natural Resources will give an insight into the settlement of issues relating to land in localities and of enterprises involved in equitisation and state capital divestment.
The Committee for Management of State Capital is required to report on its operation at the conference.
Vinh Phuc: new firms pump over 9.6 trillion VND into economy in 9 months
The number of newly-established firms in the northern province of Vinh Phuc in the first nine months of this year is estimated at 835, an increase of 8 percent from the same period last year.
Those new firms have total registered capital of more than 9.6 trillion VND, up 95 percent year-on-year.
During the period from January 1 to August 31 this year, the province issued business registration certificates to 803 firms, both domestic and foreign-invested ones, up 6 percent on a year basis. Those firms have total registered capital of over 9.25 trillion VND, a surge of 102 percent.
The cumulative total number of firms in the province as of August 31 this year stood at 10,306, with total registered capital of nearly 96.6 trillion VND.
The increase in the number of new firms is partly attributable to the provincial administration's efforts to reform administrative procedures, train local workforce, promote vocational education and support investment extension activities.
Hai Duong likely to welcome 4 million visitors in 2019
Recent developments in the tourism sector are boding well for the northern province of Hai Duong's plan to greet 4 million tourists this year.
Number of visitor scaling up over years
During 2010 – 2014, the number of tourists to Hai Duong just surpassed 2 million on an average annual basis. The figure increased to 3.12 million in 2015 and to 3.95 million in 2018.
In the first half of 2019, about 2.18 million holiday-makers chose the province for their vacations, up 17.4 percent on year. This meant that there is a great possibility that Hai Duong will achieve an important landmark of welcome 4 million tourists this year. With this trend, the ambitious goal of 4.65 million visitors set for 2020 is likely to be achieved by the end of this year.
To make such figures a reality, a significant workload is needed to be done, as the province is yet to fully tap its potential. There is no large-scale tourism site that integrates a wide range of services for visitors from sightseeing, accommodation, shopping to entertainment. There is also a shortage of diverse tourism products with high quality at the moment. The shortcomings are attributable to the lack of big investors in Hai Duong's tourism sector and state funding falling short of demand.
Currently, Hai Duong is working with other localities in the northern key economic region to build inter-provincial tourism routes, while investing in improving its popular destinations and offering more services at traditional craft villages.
It is calling for investment in developing services in the Con Son-Kiep Bac relic site, and in building a Vietnamese village resort, a conservation museum of water rice paddies in Thanh Ha district, the Dao Co (Stork Island) community-based tourism site in Thanh Mien district, and the Ben Tam eco-tourism site in Chi Linh city.
In the coming time, the local tourism sector prioritises the organization of communications campaigns and tourism promotion programmes in Vietnam and abroad. It will also seek approval from the provincial People's Committee for a project on developing smart tourism in Hai Duong for 2019 – 2025.
Significant tourism potential
With its beautiful landscape together with rich cultural value plus a favourable geographical location and convenient transport system, Hai Duong aims to turn tourism into an economic spearhead by 2020.
Formerly called "Thanh Dong" – meaning the city to the east of Thang Long royal citadel, the province has been well-known for its rich culture, both tangible and intangible, which is typical of the Red River Delta. The province was a cradle of cheo (traditional opera), ca tru (ceremonial singing), chau van (spiritual singing) and water puppetry.
The locality boasts 2,207 historical and cultural relic sites, including 144 ranked as national relic sites and four included in the list of special national relic sites.
Among the four special national relic sites, Con Son-Kiep Bac is arguably the most well-known one. The site is closely associated with the lives and careers of outstanding national hero Tran Hung Dao, the great writer Nguyen Trai, and the great teacher Chu Van An.
Meanwhile, Mao Dien Temple of Literature is the second largest of its kind in Vietnam after the temple in Hanoi. Built during the early period of the Later Le Dynasty in Vinh Tuy commune, Binh Giang district in the 15th century, it was later moved to Cam Dien commune, Cam Giang during the Tay Son Dynasty (1788 – 1802). The temple is a place where worshippers come to pay homage to Confucius as well as some 600 Confucian doctors of the province that have been honoured over more than 500 years.
Hai Duong is also famous for local specialties such as glutinous rice, lychees, green bean cakes, and gai cakes (glutinous rice cake dyed black with a concoction of pinnate leaves). Local craft villages like Kinh Chu stone carving village, Dong Giao wood carving village, Chau Khe jewelry village, and Cay and Chu Dao ceramic villages also preserve their traditional crafts which have been passed down many generations.
Agriculture shifts towards commodity scale in northern mountainous region
Agricultural production in the northern midland and mountainous provinces has gradually shifted towards commercial scale over the past years, creating remarkable changes in the sector.
The trend was confirmed at a conference held by the Ministry of Agriculture and Rural Development in Hanoi on September 20.
Thanks to the shift, the regions recorded a 4.87 percent growth in yearly agricultural production value as compared to the national rate of 4.6 percent during the period 2014-2018.
A number of agricultural commodity areas have been formed such as tea, rice and fruit, among others. The northern midland and mountainous localities have the second largest orchard acreage in the country with 174,000 hectares, up 48,000 hectares as compared to 2004.
Regarding forestry production, the regions have a high forest coverage rate of 55.6 percent, making contributions to protecting local biodiversity and creating stable income for residents.
Director of Son La province's Department of Agriculture and Rural Development Nguyen Thanh Cong said that the province has shifted from crops of low economic value to fruit trees, and paid special attention to developing agricultural cooperatives.
Besides, the province is giving support to local cooperatives to find markets for their products, he added.
Cong also recommended the Government design support policies for agricultural commodity production areas rather than for each province.
During 2014-2018, the agriculture ministry spent over 18.22 trillion VND (784 million USD) developing agricultural infrastructure in the area. The move has helped develop agricultural production, ensure sufficient water for cultivation, reduce flood for lower basin, and create more jobs for local people.
According to Deputy Minister of Agriculture and Rural Development Le Quoc Doanh, localities in the regions should promote agricultural restructuring in tandem with new-style rural area building.
Although the provinces have high forest coverage, they should improve forest quality as well as enhance processing so as to increase value for forestry products.
Doanh said special policies must be outlined for the regions, especially transport policy in order to improve the regions' connectivity with other localities.
Korean auto part maker inaugurates plant in Ninh Binh
The Republic of Korean-based automobile part manufacturer ESMO Corporation inaugurated its 12.9-million-USD plant in the northern province of Ninh Binh on September 20.
Located at the Gia Phu industrial cluster in Gia Vien district, the ESMO VINA plant, built at a cost of more than 300 billion VND (12.9 million USD), spans 63,600 square metres.
The facility, capable of producing about 450,000 items annually, will become operational in early 2020.
Speaking at the inauguration ceremony, Lee Huyn Chul, CEO of ESMO VINA, said the plant is ESMO's new move to make inroads into the Southeast Asian market.
He hopes its operation will create stable jobs for locals and contribute to socio-economic growth in Ninh Binh.
Nguyen Ngoc Thach, Vice Chairman of the provincial People's Committee, said Ninh Binh will continue its administrative reform to attract more domestic and foreign investors, particularly those from the RoK.
Ninh Binh is home to eight industrial parks and 27 industrial clusters.
Vinh Tan 4 thermal power plant inaugurated
The Vinh Tan 4 thermal power plant, an urgent project helping to ease the electricity shortage in the southern region, was officially inaugurated in the south central province of Binh Thuan on September 21.
The coal-fired plant is part of the Vinh Tan Power Centre in Vinh Tan commune of Tuy Phong district.
Invested with over 36 trillion VND (1.5 billion USD), it has the total capacity of 1,200 MW and will generate about 7.2 billion kWh of electricity each year, mainly for the southern region that is witnessing robust economic growth.
It is expected to greatly help with power supply, especially in the dry season.
Work on the Vinh Tan 4 plant began in March 2014. It has produced more than 10.6 billion kWh of electricity for the national grid so far.
Addressing the inauguration ceremony, Deputy Prime Minister Truong Hoa Binh said the plant can supply a considerable amount of electricity for the national grid, helping to ensure power supply, particularly amidst many other big projects lagging behind schedule.
It is also one of the preconditions for Binh Thuan to become a national energy hub, he noted.
As every year, Vietnam needs to have new power generating sources with the total capacity of 5,000 – 6,000 MW to serve development demand, Binh asked the Ministry of Industry and Trade, the Committee for Management of State Capital at Enterprises and the Vietnam Electricity group to facilitate investment into power projects, including those using non-State capital, to improve power supply.
Deputy PM attends opening ceremony of 16th CAEXPO, CABIS
Deputy Prime Minister Vu Duc Dam attended the opening ceremony of the 16th China-ASEAN Expo (CAEXPO) and China-ASEAN Business and Investment Summit (CABIS) in Nanning, capital of China's Guangxi Zhuang Autonomous Region, on September 21.
In his speech at the ceremony, Deputy PM Dam highly valued the role of the two events in promoting economic-trade ties between ASEAN and China.
He stressed that Vietnam always join efforts by ASEAN and partners to step up the creation of a favourable environment for business, investment and sustainable development on the basis of ensuring countries' legitimate interests and compliance with international law, thereby contributing to peace, cooperation and prosperity in the region and the world.
On this occasion, the Deputy PM had talks with Chinese Vice Premier Han Zheng and received Secretary of the Communist Party of China Committee of the Guangxi Zhuang Autonomous Region Lu Xinshe.
During the meetings, Deputy PM Dam emphasised that Vietnam attaches importance to developing the friendly neighbourliness and comprehensive cooperation with China.
He urged the two countries' governments to support and create optimal conditions for exchanges and mutually beneficial cooperation between border localities. He also called on China to take actions to reduce Vietnam's trade deficit with it and properly resolve outstanding problems in the projects with Chinese businesses' involvement which are drawing the Vietnamese public's concern.
Deputy PM Dam also clarified Vietnam's stance on the East Sea issue, demanding that China respect Vietnam's rights and legitimate interests and not continue the complex situation at sea.
Speaking highly of the new strides in cooperation between Vietnamese localities and the Guangxi Zhuang Autonomous Region, he affirmed that Vietnam treasures the friendship and mutually beneficial cooperation between the two countries' localities, especially border ones.
He said he hopes that Guangxi will work closely with Vietnamese ministries, sectors and localities to effectively implement existing mechanisms, step up mutually beneficial partnerships in economy – trade, culture, tourism, education and border management, thereby helping with economic development in their border areas.
For their part, the two Chinese officials also affirmed their country's respect for the friendly neighbourliness and all-round cooperation with Vietnam.
Vice Premier Han Zheng took note of Vietnam's opinions about its trade deficit with and farm produce export to China, along with the problems related to some big projects in Vietnam. He suggested that authorised agencies of both sides continue working together to expand and improve mutually beneficial cooperation in all fields.
Deputy PM attends opening ceremony of 16th CAEXPO, CABIS hinh anh 2
Deputy Prime Minister Vu Duc Dam (centre) and other officials cut the ribbon to inaugurate the pavilion of Vietnam at the CAEXPO (Photo: VNA)
During his stay to attend the CAEXPO and CABIS, Deputy PM Dam attended the opening ceremony of the national pavilion with An Giang province chosen for the "City of Charm" of Vietnam, and the trade zone of the country.
The CAEXPO and CABIS have been held annually in Nanning since 2004.
This year's CAEXPO features 5,000 booths covering 104,000 sq.m. of 2,500 ASEAN and Chinese businesses. The 150 participating Vietnamese firms showcase their products in 250 booths, covering 5,000 sq.m. – the largest area among ASEAN countries at the event.
Vinh Phuc to develop Vinh Son into snake farming-tourism site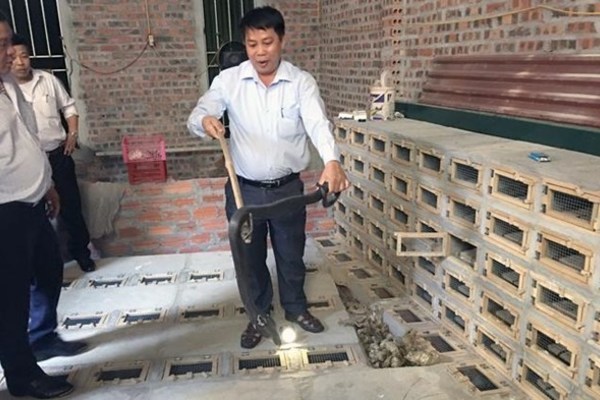 Nguyen Tien Dung, Chairman of the Vinh Son People's Committee, introduces the local snake caged farming system (Photo: vinhphuc.gov.vn)
The northern province of Vinh Phuc is working to sustainably build Vinh Son commune into a destination of concentrated snake farming and related tourism-services.
Located 50km from the capital city of Hanoi, the area has 800 households, or 60 percent of its total, running snake farms, with key products being snake meat and eggs.

In recent years, the number of small-scale businesses has fallen to give way to large-scale firms and larger investment in technological application for increased productivity.
Originally, locals raised snakes in their fields via natural reproduction. Over the past decade, they have followed modern practices of caged farming that makes it easier for them to control and adjust nutrition for the animals and offers better quality products.
However, shortcomings have been seen in product diversity, processing methods and promotion activities, which harm the sector's economic value.
As such, local authorities have approved a development project for the commune by 2020, which will turn it into a snake business-tourism village. The village is set to consist of farming-processing and tourism-service areas.
Currently, tourists to Vinh Son can take tours to snake farms and shopping areas.
Green building week slated for late September
The 2019 Vietnam Green Building Week will take place in Hanoi from September 23 to 27 in response to the World Green Building Week this year.
Aiming to advocate the sustainable construction trend that is in its early stage in Vietnam, the event will feature a host of practical activities to boost awareness of public agencies and people on the role of green buildings, materials, and technologies.
There will be professional training courses, an award ceremony to honour winners of a green architectural design contest for students, as well as seminars on green high-rise residential building and sustainable solutions for high-rises.
Currently, Vietnam has 104 properties with 2.5 million square metre of floor have green building certification, a small proportion considering that 58 million square metres of properties were developed in 2018 alone.
Cup-lending startup AYA solves plastic issue for coffee stores?
The appearance of AYA, a startup specialised in lending cups, is expected to resolve the single-use plastic issue of coffee store chains.
Instead of bringing tumblers or using single-use plastic cups for takeaway drinks, customers can now borrow AYA cups for a deposit of VND50,000 ($2.17) which they can get back after returning the cups at 20 coffee stores that entered into co-operation with AYA.
"Some customers told me that they found lugging along their tumblers every day inconvenient. And they are busy all day, so they keep forgetting the tumblers," said AYA's founder Le Thuy Linh. "Therefore, the launch of AYA aims to help them better protect the environment and take away their guilty for constantly using single-use plastic cups."
In fact, similar services have been popping up in developed countries like in Germany where they drew more than 2,500 coffee stores and restaurants on board. Learning from the model, Linh started AYA in Vietnam in late 2018. As of August 15, the startup was officially launched in Ho Chi Minh City's District 2. Accordingly, more than 20 coffee stores have partnered with AYA to carry out the new service.
"Some young people have shown a great deal of interest and are now getting used to borrowing cups in their local café," said Linh.
For now, coffee stores working with AYA are not charged additional fees – they only need to collect the cups and the deposits, and wash the returned cups to hand out for the next customer. AYA's staff visit the stores each month to check and refill the store's cups.
Linh said that stores could make sizeable savings by partnering with AYA, even if the startup will charge fees in the future. The cost of a plastic cup and a straw is around in VND2,000-3,000 ($0.087-0.13). "We intend to charge VND600,000 ($26) per month, which comes to only VND20,000 ($0.87) per day, much less than what they spend on plastic cups and straws."
As of the end of 2019, AYA set the target of partnering with 100 coffee stores. However, approaching large chains is seemingly out of reach until the startup can perfect its system and answer concerns relating to stock control.
Linh said that she keeps finding strategic partners who can help AYA reach higher, after successfully calling investment from the Vietnam Silicon Valley in May, 2019.
Green finance for renewable energy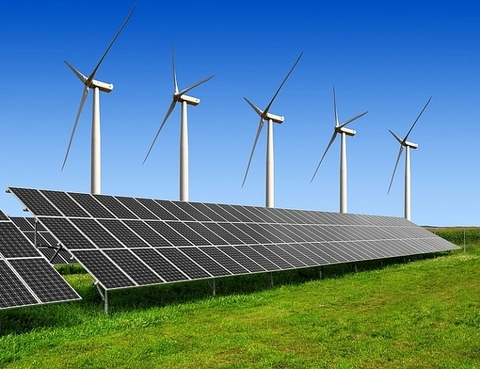 In order to meet the electricity demand, Viet Nam needs investment of about US$7.8-9.6 billion per year from 2016 to 2030. — Photo nangluongsachvietnam.vn
Renewable energy has great potential to meet growing demand if it has appropriate policies and financial support.
The statement was made by Simon James, Climate Change and Energy Adviser at World Wildlife Fund (WWF) in Viet Nam, at a conference held in Ha Noi on Wednesday.
The workshop aimed at updating the situation of renewable energy development, opportunities and difficulties when investing in renewable energy and green financial initiatives.
According to the WWF's energy outlook, a transition to 100 per cent renewable energy by 2050 is possible.
In 2018, a total of more than 3,460MW of renewable energy was installed; 93 solar power projects and 54 wind power projects with total capacity of more than 10,000MW have been planned in Viet Nam.
However, one the challenges for the renewable energy industry is the shortage of capital investment. Currently, investment costs are still high for some new technologies; therefore, renewable energy still struggles to compete with fossil fuels.
Along with that are internal weaknesses such as lack of qualified human resources, poor grid capacity and complicated regulatory frameworks causing many large projects to be delayed.
It is forecast that from now until 2030, Viet Nam's economy will continue to grow at a high level, from 6.5 per cent to 7.5 per cent per year. The Government of Viet Nam has a number of policies to encourage and promote the development of renewable energy, gradually reducing the dependence on traditional forms of power generation, so as to protect the environment and for sustainable development.
In order to meet the electricity demand, Viet Nam needs about US$7.8-9.6 billion per year from 2016 to 2030; in which, the 2021-25 period needs over $39 billion ($27 billion for generating electricity and more than $12 billion for grid connection); in the 2026-30 period, it needs more than $48 billion (more than $32 billion for generating electricity and nearly $16 billion for grid connection).
James said, according to estimates, the cost of renewable energy projects is decreasing, the construction of solar and wind power plants will be cheaper than building coal power plants after 2020.
However, it is necessary to create incentives for investors such as FIT (feed-in tariff) prices, preferential credit interest rates, or land use tax exemption and long-term power purchase contracts, James added.
Sharing experiences in developing renewable energy and green financing in the region, taking experience from the Philippines, Marlon Joseph Apanada, specialist of Green Financial Initiative, and director of Allotrope Partners, Philippines, said the total value of outstanding loans from Green and Sustainable Bonds of ASEAN region is up to $1.6 billion; in which, construction is the category with the largest amount of green bond funding (43 per cent by market volume), followed by energy at 32 per cent.
Apanada also expressed a hope to strengthen the capacity of Southeast Asian financial institutions to actively participate in the green financial system, with the ultimate goal of reducing capital investment in factories using traditional fossil fuels, while rapidly promoting and scaling up investments in renewable energy.
The event was organised by the Viet Nam Sustainable Energy Alliance, in collaboration with the Green Innovation and Development Centre.
It is in the framework of the Viet Nam Renewable Energy Week 2019, taking place from September 17 to 20 in Ha Noi and the southern province of An Giang.
Vietnam, Laos central banks foster collaboration
The State Bank of Vietnam (SBV) and the Bank of the Lao PRD (BOL) held a conference on September 17 to share experience in macro-economy management, particularly in the finance-banking area.
At the event, co-chaired by SBV Governor Le Minh Hung and BOL Governor Sonexay Sithphaxay, the two sides evaluated outcomes of their cooperation in finance and currency over the years, while discussing measures to enhance collaboration in the future.
They exchanged views on macro-economic and currency policy as well as the method of management over commercial banks run by the State and related matters.
Addressing the conference, SBV Governor Hung said that in the future, the bank will continue cooperating and sharing experience with the BOL in various banking areas.
The two sides agreed to continue foster affiliation in professional activities and information technology application.
They vowed to encourage and create favourable conditions for commercial banks of each other to seek partnership and invest in each other's country to promote the banking system in Vietnam and Laos, thus better serving investors of both sides in investment, trade and business activities.
Within the framework of the conference, representatives of Vietnamese banks shared their experience in operations in Laos, thus seeking measures to deal with difficulties and obstacles facing six commercial banks of Vietnam operating in Laos, namely Vietinbank, Vietcombank, MB, SHB, Sacombank and LaoVietbank.
Binh Duong continues to host Horasis Asia Meeting
The southern province of Binh Duong will be hosting the Horasis Asia Meeting again this year, the provincial People's Committee announced on September 18.
The meeting is slated for November 24-26 and expected to attract about 400 high-ranking guests from 60 countries and territories worldwide and 350 Vietnamese delegates.
Following the success of the Horasis Asia Meeting 2018, this year's event will include four plenary meetings and 35 dialogues with the participation of world leading speakers. The sessions will focus on international and regional economic issues and new technological development trends.
Prime Minister Nguyen Xuan Phuc has recently assigned the Binh Duong People's Committee to work with the Ministry of Foreign Affairs and relevant agencies to organise the meeting.
The Horasis Asia Meeting is an opportunity for Binh Duong to introduce its potential and cooperation opportunities. It also helps local enterprises to meet and connect with partners and leaders of Asian leading businesses.
Founded in 2005, the Horasis Asia Meeting is an international investment promotion organisation with an aim of connecting investors who are multinational groups.
Garment firm reports growth in August revenue

TNG Trading and Investment JSC (HNX: TNG) has announced its revenue in August rose 20 per cent yearly to VND553 billion (US$23.8 million).
In August, net profit was VND30 billion.
After eight months, the firm's revenue and net profit were up 34 per cent each year on year to VND3.16 trillion and VND157 billion.
In 2019, the company has operated one new factory and another is expected to start running in the fourth quarter of the year.
With the two new factories, TNG will have the biggest cotton production in the north.
As of August 14, total garment and textile contracts signed were worth VND4.7 trillion, up 13 per cent from this year's target and 30 per cent higher than last year's.
After eight months, TNG has fulfilled 76 per cent of both revenue and profit plans targeted for 2019.
The company's shares edged up 0.6 per cent to end Wednesday at VND17,900 per share.
Sugar firm to meet shareholders at end of month

Son La Sugar JSC will hold its annual shareholders' meeting for the financial year 2019-20 on September 26.
Its financial year started on July 1 and ends on June 30 the following year.
The company said total revenue in the last financial year was VND890 billion (US$38.3 billion), 1.2 per cent lower than the full-year target.
However, the post-tax profit was VND63.2 billion – triple the year's target. Earnings per share was VND6,458.
Though total area of sugarcane increased by 23.4 per cent yearly to more than 9,380ha, productivity still missed the full-year target, the company said.
Average sugar price in financial year 2018-19 was VND10,156 ($0.44) per kilo, down 25 per cent from the previous year.
The company plans to pay a 50 per cent dividend worth VND49 billion to investors for its results in the past financial year.
In financial year 2019-20, the firm targets full-year revenue of VND864 billion, post-tax profit of VND25.5 billion and a 10 per cent dividend payout.
The company's stock soared 8.7 per cent to end Wednesday at VND43,600 per share.
Blockchain community asks for a sandbox
Representatives of the blockchain industry in Viet Nam have asked for a 'sandbox' for the technology while meeting with Government agencies at a conference on Wednesday in Ha Noi.
The conference, held by the Ministry of Justice (MoJ), included different dialogues on the legal framework relating to the development of blockchain technology in Viet Nam.
The sandbox concept, which was developed in a time of rapid technological innovation in financial markets, is a framework set up by a financial sector regulator to allow small-scale, live testing of innovations by private firms in a controlled environment under the regulator's supervision.
In the region, some sandbox models have been launched successfully in Singapore, Malaysia and Japan, according to Vuong Quang Long, CEO of Tomochain, which last year issued 50 million Tomo tokens worldwide, drawing in US$8.5 million from 50 domestic and international organisations.
As there is no legal status for blockchain yet in Viet Nam, Long's Tomochain is headquartered in Singapore.
Agreeing with Long, Dao Minh Tung, CEO of the VCC digital asset exchange (VCCE) told Viet Nam News: "The country should have a legal system that helps develop digital asset trading in Viet Nam and helps local investors feel safe and secure with the service."
"While no exchange can be registered in Viet Nam, the local digital asset trading traffic is always in the global top five."
"Such a situation has created many fake exchanges and put investors at risk of losing money," Tung added.
As the result, he also set up VCCE in Singapore and now it is a secure exchange for local investors with a Vietnamese website and 24/7 hotline.
Hoang Manh Khoi, CEO of Stably, an American platform which is building the blockchain economy through the stable coin of USDS, said: "A sandbox will help enterprises in Viet Nam to mobilise their capital and attract more customers with their own coins."
Not only digital assets and coins, Chris Berg, Senior Research Fellow at RMIT University's Blockchain Innovation Hub defined blockchain as a consensus over the contents of a shared programmable ledger through the use of economic incentives where code and protocols replace rules, while smart contracts replace traditional ones.
Berg added blockchain technology possesses high security features which can prevent network security risks better than the old technology in terms of hacks, thus receiving special attention of many firms.
Previously, experts from global law firm Duane Morris LLP thought Viet Nam has the potential to become the next blockchain hub so a conducive, practical legal framework for crypto assets could further assist in growth.
According to an MoJ representative, seeing the use of blockchain in financial technology, banking, industrial production, service, supply chain and education, it would like to collect comments from the blockchain community to build the framework.
Acknowledging the fact that many Vietnamese start-ups set up in Singapore or elsewhere instead of Viet Nam due to the lack of legal framework for development, Phan Chi Hieu, deputy minister of Justice said: "The MoJ will review all blockchain-related matters to make a legal framework to submit to the Prime Minister."
Last year, Deputy Prime Minister Vuong Dinh Hue asked the MoJ to hasten and complete the legal framework for managing virtual currencies in Viet Nam.
Da Lat-based plant ships 4 tonnes of sheep wool yarn to Japan
The Da Lat Worsted Spinning Limited Company in Da Lat city, the Central Highlands province of Lam Dong, has exported the first batch of 4 tonnes of sheep wool yarn to Japan.
The plant, whose construction began in June last year, is expected to ship 300 tonnes of yarn abroad this year.
It has a total investment of 50 million USD and is a joint venture between Germany's Südwolle Group and Lien Phuong Textiles Industry Company based in Ho Chi Minh City.
With an annual designed capacity of about 4,000 tonnes of yarn, the wool spinning plant is set to earn from 100-120 million USD each year.
Up to 90 percent of the finished wool yarn from the factory will be shipped to textile companies using sheep wool worldwide.
The project contributes to the job generation for locals, with the need to employ up to 400 people.
In addition to the production function, the factory will be open to visitors who can watch the whole process of producing yarn from natural wool.
Vietnam to invest in human capital: World Bank chief economist
Vietnam has set up initiatives to foster innovation and ramped up the application of science and technology in socio-economic development and state management.
It has worked to innovate and promote start-up ecosystems, according to Minister of Planning and Investment Nguyen Chi Dung at the Vietnam Reform and Development Forum in Hanoi on Thursday.
"The world we are living in is changing rapidly with ever-increasing complexity and growing economic competitiveness. The Industry 4.0 is one of groundbreaking technology which can change the operations of businesses and the whole economy. The sharing economy and circular economy are becoming popular. In this new socioeconomic context, developing countries, including Vietnam, need to seize opportunities and address challenges to keep up with developmental trends. Moreover, in realizing the goal of prosperity, overcoming the middle-income trap alone is such a challenge, requiring Vietnam to push innovation and reform its institutions," Dung said.
It was suggested at the forum that Vietnam cement its modern economic system, free its market of production bottlenecks, refine administrative operations, and increase the added value of processed or manufactured products.
Pinelopi Koujianou Goldberg, the World Bank chief economist, said Vietnam should participate more in global value chains, improve its human resources, and continue on in its international integration.
She said: "It becomes more challenging, then, its skilled labor force and increases in human capital are crucial, and that is the stage in which Vietnam finds itself right now. So the main message of our work at the WB is that countries that want to move up in the global value chain need to invest in human capital. When it comes to making it to the top stage, so participation in innovation and intensive activities, in some senses, the requirements are similar to the ones that are needed for countries who participated in advanced manufacturing, so one is its skilled labor force, one is human capital."
Prime Minister Nguyen Xuan Phuc said Vietnamese enterprises should make full use of their innovative labor force and step up the application of new technologies to gain greater benefits when joining the global value chain.