BUSINESS NEWS SEPTEMBER 18
Vietnamese firms to attend India-CLMV trade meeting in India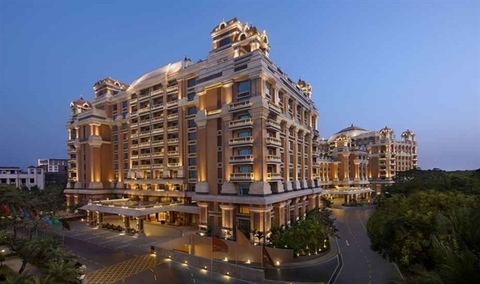 The First India-CLMV Reverse Buyer Seller Meet will be held at Hotel ITC Grand Chola, Chennai, India. — Photo yatra.com
Vietnamese business delegations will attend the First India-CLMV (Cambodia, Lao PDR, Myanmar and Viet Nam) Reverse Buyer Seller Meet in India next month.
Next month's event will be held in Chennai City and aims at implementing Indian cooperation activities with the CLMV countries, as part of the Indian Government's Act East Policy, with a focus on promoting cooperation with the ASEAN region, including CLMV nations.
Viet Nam's Ministry of Industry and Trade (MoIT) will be the focal point for Viet Nam to organise a delegation of 15 Vietnamese enterprises to attend this event to learn about import and export potential between Viet Nam, CLMV countries and India; as well as the needs, requirements and standards of the market.
The event will also promote and introduce Vietnamese goods and learn about Indian goods and those of other CLMV countries.
Vietnamese companies will join business to business (B2B) trade connection, connect directly with CLMV and Indian businesses, meet and work with a number of large distributors in the Indian market.
MoIT also revealed that the participating firms major in the field of agriculture and fisheries; chemicals and petrochemicals; medical and pharmaceutical products; recycled energy; building infrastructure for connection; devices; cars and automobile components; and service.
The event is organised by Confederation of Indian Industry (CII) in association with Department of Commerce, Ministry of Commerce & Industry, Government of India.
It will take place from October 14 to 18, 2019 at Hotel ITC Grand Chola, Chennai, Tamil Nadu.
Dung Quat Oil Refinery finds potential crude oil exporters

Leaders of Dung Quat Oil Refinery met potential exporters of crude oil at a recent international conference in Singapore.
Leaders of Binh Son Refining and Petrochemical Joint Stock Company (BSR), which operates the Quang Ngai Province-based refinery, met with potential partners such as Shell, Vitol, BP, PVOSN, PETCO, SOCAR, Glencore, Gazpromneft, Repsol and Sumitomo at the 35th Annual Asia Pacific Petroleum Conference last week, said a BSR representative.
According to the representative, Shell and BP look forward to co-operating in supplying crude oil for Dung Quat Oil Refinery, adding the two corporations suggested some different crude oils to serve different stages of the refinery.
Meanwhile, SOCAR pledged a long-term supply of strategic Azeri crude oil to the refinery if the import tax for the product is adjusted to zero.
Recently, BSR has been importing crude oil in large quantities with a batch of nearly one million barrels of US West Texas Intermediate (WTI). BSR will continue to import another two batches (one million barrels in each) of WTI crude oil. Of which, the first batch is expected to be delivered in October and the second batch is expected in December.
BSR is also considering buying and processing the first batch of crude oil from West Africa in October. So far, together with the domestic crude oil source, BSR will import about 9 batches of crude oil with a total volume of about 7.45 million barrels.
The US$3-billion Dung Quat is the first-ever oil refinery in Viet Nam with an annual capacity of 6.5 million tonnes of crude oil. The refinery applies cutting-edge technologies from the US and the EU and is capable of processing about 57 different types of crude oil with high API quality and low sulphur content.
BSR has maintained the stable operation of the refinery at an average output of 103-105 per cent of its designed capacity. The refinery uses 85 per cent of locally-sourced materials and 15 per cent of imported materials.
VN-Index almost falls, real estate and consumer firms advance

Vietnamese shares traded marginally Tuesday morning while large-cap residential real estate and consumer goods companies advanced to cushion the market.
The benchmark VN-Index on the Ho Chi Minh Stock Exchange inched up 0.08 per cent to close at 990.63 points.
The VN-Index gained slightly by 0.27 per cent on Monday.
Nearly 105 million shares were traded on the southern bourse, worth nearly VND2 trillion (US$86 million).
The market sentiment turned negative as all sub-indices fell in the morning session.
The large-cap VN30-Index, mid-cap VNMID-Index and small-cap VNSML-Index dropped between 0.10 per cent and 0.35 per cent.
Retailers, banks and tech firms kept being hit by profit-taking pressure after strong gains last week.
The three sector indices were down between 0.2 per cent and 0.5 per cent, data on vietstock.vn showed.
Among decliners were Vietinbank (CTG), Military Bank (MBB), HDBank (HDB), Mobile World Investment (MWG) and FPT Corp (FPT).
However, good growth of large-cap residential real estate and consumer goods stocks helped boost the VN-Index above its reference line of 989.86 points.
Those companies were Vinhomes (VHM), Vincom Retail (VRE), dairy producer Vinamilk (VNM), brewer Sabeco (SAB) and Masan (MSN) with growth rates ranging from 0.5 per cent to 1.6 per cent.
On the Ha Noi Stock Exchange, the HNX-Index fell 0.65 per cent to end at 101.55 points.
The northern market index finished Monday at 102.21 points, almost unchanged from last week's end of 102.20 points.
More than 17.7 million shares were traded on the northern bourse, worth VND224.5 billion.
The afternoon trading session starts at 1pm.
FPT's after-tax profit rises by 30% in the first eight months

FPT Corporation' s revenue and pre-tax profit in the first eight months of the year increased by 21.1 per cent and 27.9 per cent year-on-year, reaching VND17.03 trillion (US$733.67 million) and VND 2.99 trillion ($129.88 million), respectively.
Profit after tax (PAT) and PAT attributed to the parent company was VND2.49 trillion and VND2 trillion, up 27 per cent and 29.5 per cent over the same period last year.
Earnings per share were VND2,961, up 29 per cent year-on-year.
As a key growth driver in the technology sector, FPT recorded revenue and profit before tax of VND9.53 trillion and VND1.24 trillion in the first eight months of the year, a year-on-year increase of 25.9 per cent and 43.4 per cent.
In August, FPT entered into two digital transformation agreements with DPDgroup, Europe's second-largest parcel delivery network, and RWE, Germany's largest utilities.
Telecom sector revenue rose by 17.3 per cent to VND6.68 trillion, equal to 103 per cent of the year-to-date target. Its profit before tax was VND1.13 trillion, up 13.5 per cent.
In the first eight months, overseas markets brought FPT revenue of VND7.17 trillion, up 30.8 per cent and profit before tax of VND1.14 trillion, up 34.3 per cent.
Resources firm buys tungsten facility from Germany-based business
Masan Resources Corporation (MRC) said its Masan Tungsten Limited Liability Company has recently signed a contract to acquire the tungsten business of Germany-based H.C. Starck Group GmbH.
With almost 100 years of experience, H.C. Starck is a leading premium supplier of the technology metals tungsten, molybdenum, tantalum and niobium, and high-performance ceramics, with production facilities in Europe, North America and China as well as customers across the world.
The tungsten business purchase is a strategic step of the MRC to become a world-leading high-tech industrial material manufacturer based on integrated supply chain platform.
MRC's stable supply of Ammonium Paratungstate (APT) at low costs, coupled with H.C. Starck's scrap recycling platform, will help the corporation gain competitive edge over its global rivals. Besides, the move will enable it to expand its market scale by 3.5 times, from 1.3 billion USD to 4.6 billion USD.
With the deal, the MRC expects to become a leading supplier of midstream tungsten products for important industries like mechanical engineering, tool making, mining, automobile, energy, aviation and chemicals. This will increase the firm's value as prices of high-tech tungsten products range 30-50 percent higher than current APT products.
Workshop reviews Vietnam's growth model reform
Vietnam's economic restructuring and growth model reform in 2016-2020 have been benefiting from positive changes in policies and achievements in the 2011-2015 period, according to economist Nguyen Dinh Cung.
The former Director of the Central Institute for Economic Management (CIEM) made the remark at a workshop in Hanoi on September 17 to announce the CIEM's report reviewing the outcomes of restructuring the economy and reforming the growth model in 2016-2020. The event was within the framework of the Australia Supports Economic Reform in Vietnam (Aus4Reform) programme.
The report looked at macro economic stability and the economy's resilience, growth and growth quality, and restructuring of investment, credit organisations and State-owned enterprises.
Cung noted that during 2011-2015, Vietnam began to adjust its policies in the direction of promoting economic restructuring and changing the growth model for rapid and sustainable growth.
Accordingly, macro policies were gradually tightened with flexible adjustment to stabilize the macro economy, while a series of pgorammes and projects were carried out to shift the growth model towards higher quality, greater efficiency and better competitiveness.
The 2016-2020 tenure saw more favourable conditions thanks to the policy adjustment in the previous term. During the term, Vietnam has kept the inflation rate at a reasonable level of under 4 percent. The State budget collection has been significantly improved. However, State budget expenditure remained high, accounting for nearly 29 percent of the gross domestic product (GDP).
Besides, public debts and foreign debts have been decreased, Cung said, adding that those debts are still at a high level compared to other countries in the region.
He attributed those positive outcomes to the shift of focus in economic reform and administration of socio-economic development since 2011.
In the period, the country focused its efforts and resources on stabilising the macro economy and restoring business production, thus creating a new momentum which was strong enough to mobilise more social resources, allocate and use them more effectively, and gradually form a more rational and dynamic economic structure, Cung said.
However, he also pointed to the need to reduce the economy's dependence on foreign direct investment (FDI) enterprises.
Addressing this imbalance does not mean limiting or constraining foreign investment but instead helping the domestic private economic sector develop at a faster and more even speed, he said.
Besides, it is necessary to forge connection between economic sectors, he suggested.
VietinBank inaugurates headquarters in Laos
Vietnam Joint Stock Commercial Bank for Industry and Trade (VietinBank) on September 17 inaugurated the headquarters in Vientiane of its affiliate VietinBank Laos.
The inauguration ceremony was attended by Lao Deputy Prime Minister and Finance Minister Somdy Duangdy, Lao Minister of Industry and Trade Khemmani Pholsena, Governor of the Lao central bank Sonexay Sithphasay, Governor of the State Bank of Vietnam Le Minh Hung, and many officials of the two countries.
VietinBank began its operation in Laos from February 2012. In August 2015, the Lao branch was officially upgraded to Vietnam Industry and Trade Limited Bank (VietinBank Laos) which operates under the wing of VietinBank.
With commitments to long-term investment and operation in the neighbouring country, VietinBank Laos opened a branch in Champassak province in September 2016.
In his remarks, Lao Deputy Prime Minister and Finance Minister Somdy Duangdy hailed the business outcomes of the bank over the past 7 years. He said the new headquarters will contribute to raising the brand name of the bank, and giving a facelift to Vientiane and Laos in general.
On this occasion, VientinBank presented 100,000 USD to the Lao Government to support victims of Storm Podul in several provinces in central and southern Laos.
Auto stocks to grow thanks to rising consumption
Automobile stocks are expected to lure more investment thanks to the growth of market consumption, forecast to reach over 500,000 vehicles per year from 2021.
On the stock market, shares of TMT Motors Corporation (TMT), a prominent importer and assembler in the capital city, closed September 13's trading at 5,800 VND (0.25 USD) per share, down 37 percent from the beginning of the year. TMT has experienced a significant decline over the past four years.
TMT recorded an all-time peak of over 59,300 VND per share in October 2015, then plunged to its current value. The stock liquidity was also low, with only a few thousand units matched each session.
The slump of the TMT stock price is attributed to negative business results. In the first six months of 2019, TMT recorded revenue of 734 billion VND (31.4 million USD), up 6.8 percent.
However, the company suffered a loss of 5.9 billion VND due to higher costs of goods sold, up by 192 billion VND, equivalent to an increase of 120 percent. Selling expenses rose by over 8 billion VND, equivalent to 106 percent.
TMT also saw a loss of 10.6 billion VND in the same period of 2018.
With GGG stock of Giai Phong Automotive Joint Stock Company, the situation is even worse.
Since early this year, GGG has witnessed few transactions, reaching only some 1,000 units per session, if any. The highest price that GGG achieved this year was 2,200 VND per share, in June.
GGG hit the daily limit decline of 7 percent on September 13, closing at 1,200 VND per share.
GGG recorded a loss of 9.8 billion VND in 2018 and 7.2 billion VND in 2017.
Let alone the poor performers, automobile companies with positive business results have not received much attention from investors either.
For example, at the end of the first half of 2019, Truong Long Auto & Technology Joint Stock Company (HTL) reported a pre-tax profit of 18.1 billion VND, up by 11 times over the same period of 2018 thanks to an increase in consumption.
HTL shares lacked resilience, currently fluctuating around the threshold of 17,000-18,000 VND per share.
From the beginning of the year, HTL has recorded an increase of about 10 percent. Liquidity remained very low, with the average matched the volume of 10 sessions being only some 1,000 shares per session.
Hang Xanh Motors Service Joint Stock Company (HAX) closed September 13 at 19,450 VND per share, up 21.4 percent compared to the beginning of the year.
However, the liquidity fluctuated and was generally low. The average matched volume in the most recent 10 sessions was about 24,000 shares per session.
In the first 6 months, HAX achieved 2.4 trillion VND in revenue, up 9.43 percent over the same period of 2018. Pre-tax profit was 38.7 billion VND, down 16.8 percent mainly due to increased competition.
In an interview with Dau Tu Chung Khoan (Securities Investment) newspaper, a representative of HAX said the number of distributed vehicles had risen sharply since the beginning of September and this is likely to continue until the end of this year, thereby helping the company improve sales and profits.
In a recent report, FPT Securities (FPTS) recommended that investors pay attention to HAX because its Mercedes' sales would rise as the middle and upper classes in Vietnam are increasing in size.
With the EU-Vietnam Free Trade Agreement (EVFTA) coming into force, import taxes on cars and car parts from Europe will be reduced, making Mercedes' prices more competitive.
HAX is also expanding the popular Nissan vehicle segment to diversify its products.
The auto market of Vietnam boasts huge growth potential from now to 2025, according to the Industrial Policy and Strategy Institute (IPSI).
The institute forecast the consumption scale of Vietnam's automobile market is forecast to reach over 500,000 vehicles per year from 2021 onwards.
The domestic auto manufacturing industry will grow by about 18.5 percent annually between 2018 and 2025 and 13.8 percent between 2025 and 2035, raising the car output to nearly 531,600 units by 2025 and 1.76 million units in 2035.
With the growing middle class, car sales are set to respectively rise by 22.6 percent each year from now to 2025 and 18.5 percent in the following years.
Accordingly, Vietnam's population was estimated at over 96 million at the end of 2017. This figure is expected to rise to 98.2 million by 2020, 101.1 million by 2025 and 107.8 million by 2035.
Per capita GDP in the country was 53.5 million VND (2,385 USD) in 2017, which will increase by 6.8 percent annually to 7,780 USD by 2035. More than half of the Vietnamese population will enter the global middle class by 2035 with the average daily spending of at least 15 USD.
Expecting huge potential in the automobile market, many firms have moved into this field, such as local Vingroup with the recent launch of automobile brand Vinfast.
Phu Nhuan Service JSC (Maseco) has also participated in the automotive business after exiting the Ariang electronic product distribution channel.
Meeting seeks countermeasures to India's incense import restriction
Businesses and State agencies met in Hanoi on September 16 to discuss measures in response to India's recent restriction of incense stick imports, which is considered a serious trade barrier.
Tran Thanh Hai, Director of the Export-Import Department of the Ministry of Industry and Trade (MoIT), said the Indian Ministry of Commerce and Industry issued a notification on August 31 changing the incense import policy from free to restricted, requiring importers to ask for licenses for each batch of goods from an inter-ministry committee. The policy became effective right on the date of approval, with no license granting criteria enclosed.
As India is an irreplaceable market for incense sticks and similar products, this restriction has immediately caused stagnation in all production and trading of incense destined for India.
Nguyen Thi Thu Trang, Director of the WTO and Integration Centre of the Vietnam Chamber of Commerce and Industry (VCCI), said there are many signs indicating the restriction violates India's commitments in international agreements.
There are about 100 businesses in the Vietnamese incense industry with about 25,000 workers, most of whom are from vulnerable groups like elderly or disabled people in rural areas. Therefore, supporting the industry is needed to not only "save" businesses but also assist the workers, she stressed.
Chairman of Truong Giang, an incense exporting firm, Vo Xuan Hoi proposed the Government ask India to suspend the restriction imposition to give Vietnamese firms time to re-arrange their goods and employees. The immediate enforcement of such a policy is unprecedented in the world, except for in the case of epidemics.
He called on the Indian government to re-consider the decision, adding that such regulatory barriers will greatly affect both Indian and Vietnamese businesses.
Trang said it will difficult to ask the Indian government to cancel a regulatory document, but the two countries' governments should convene a working session soon to postpone the enforcement of the restriction and discuss the legality of the move.
According to Hai, erecting import barriers on some commodities is not a new issue, but the Indian policy has been applied immediately without any time for businesses to adapt or prepare.
India was unable to give any appropriate reasons for the restriction, he noted.
The official said in the current context, enterprises should connect with one another to share information and have a common voice to improve their associations' operations. They also need to stay ready to deal with other countries' trade barriers while promoting their competitiveness and diversifying markets.
He also suggested Vietnamese firms work with Indian importers, who have also been harmed, to demand their legitimate interests be protected. Meanwhile, the MoIT will work with the Ministry of Foreign Affairs to take more drastic actions.
Data of the MoIT shows that Vietnam ships about 10,000 – 12,000 tonnes of incense sticks worth 7 million USD to India each month.
India imported about 83.58 million USD worth of incense and similar products in the 2018-2019 fiscal year. It imports both finished products and materials from many countries, mainly Vietnam and China. The Vietnamese products make up 90 percent of India's incense import revenue, according to the Indian Ministry of Commerce and Industry.
The import policy change by India is reportedly to defend its incense production industry, which is worth about 900 million USD, in the face of a surge in incense imports in recent years.
Cars, showrooms: Peugeot brings European standards to Viet Nam

Peugeot showrooms in Viet Nam are built to its global standard, 3S, in prime locations to provide customers with maximum convenience and European-class products and services.
Since entering Viet Nam in 2013, Peugeot, the legendary car brand from France, has increasingly attracted customers. In the first eight months of 2019 a total of 2,200 Peugeot cars were delivered to Vietnamese customers.
Peugeot Vietnam also had an unexpectedly successful year in 2018, selling more than 4,400 units, the highest ever and 10.6 times the previous years sales.
With a history of more than 200 years, Peugeot cars with their sophisticated design, modern technology and strong performance have brought European luxury and elegance standards for cars to Viet Nam.
Besides, Peugeot is one of the European car manufacturers to attach special importance to expanding its showroom network in Viet Nam to provide comprehensive services from sales to after-sales services to customers.
Peugeot currently has 14 showrooms with3S(sales-services-spare parts) facilities and four with 1S facilities across the country, and this number will increase to 22 by the end of 2019. Peugeot now has a total of 25 showrooms and dealers across the country.
In the northern market, the Peugeot brand is present in six major cities -- Ha Noi, Bac Ninh, Quang Ninh, Thai Nguyen, Vinh, and Hai Phong. In the south, Peugeot has showrooms in nine major cities and provinces -- HCM City, Binh Duong, Dong Nai, Can Tho, Binh Dinh, Quang Binh, Vung Tau, Da Nang, and Nha Trang.
In the near future Peugeot's services network will be expanded to other provinces and cities to offer customers the opportunity to discover and experience top-quality cars and at the same time enjoy comprehensive customer services that offer the highest satisfaction.
Considered an ideal destination for customers who love European cars, Peugeots showrooms are all situated in prime locations with convenient transportation and built to Peugeot Groups 3S global standard.
They must meet the strict requirements of the French car brand, and are checked by Peugeot before they are opened.
The car exhibition zones (sales zone) at Peugeot service centres are very luxurious and modern. This is the place to display the latest models in each segment such as the 3008, 5008 and Traveler. 3008 and 5008 are SUVs that have greatly contributed to developing the Peugeot brand and its success in the Vietnamese market.
The spacious and airy showrooms, scientifically laid out, offer maximum comfort to customers who visit and choose their favorite Peugeot models.
The elegance and sophistication of the showroom also come from the application of Amplified Experience virtual reality technology. This AE technology is compatible with most of today's smart devices, allowing users to test drive using 3D virtual reality.
The customer lounges are extremely comfortable.
With the aim of increasing the service value for customers, the service zones at the ​​Peugeot showroom network are equipped with modern equipment, ensuring the utmost efficiency.
The service zone is divided into separate areas for warranty, maintenance and repair and painting. The showrooms also have a warehouse that stock a full range of high-quality genuine parts.
In addition to providing customers with top-quality European products, the Peugeot showrooms in Viet Nam also pay special attention to service quality through a professional and devoted team of consultants and well -trained technicians with in-depth knowledge of the products and their warranty, maintenance and repair, ensuring total peace of mind for customers using the services.
Besides, Peugeot Vietnam is always trying to improve its service quality with superior after-sales policies to increase the benefits for car owners. For example, through the Peugeot Total Care programme, customers get a five-year warranty together with a physical insurance package worth up to VND25 million in the first year of purchase.
From now until September 14, customers will receive a number of preferential services when booking an appointment with Peugeot Service Centres via the My Peugeot application (booking priority appointment, a 10 per cent discount on lubricants, spare parts and maintenance costs, excluding painting service).
Peugeot's Mobility Service, meanwhile, gives customers more time and flexibility when their cars are under maintenance or repair.
For customers in areas that do not have Peugeot service workshops, the Peugeot Service Clinic will consult, share and answer users' questions. Besides, customers can enjoy free vehicle inspection with specialized diagnostic equipment, preferential costs for maintenance by skilled and experienced technicians and practical gifts from Peugeot Vietnam.
Together with the network of showrooms and authorized dealers nation-wide, these attractive after-sales policies show how Peugeot is constantly striving to bring the best quality products and services as well as most convenience for customers, and help consolidate Peugeot Vietnams strong development.
HDBank gets green light to embrace Basel II standards ahead of schedule

The HCM City Development Joint Stock Commercial Bank has received approval from the State Bank of Viet Nam to adopt Basel II standards from October 1.
It received a communication from the central bank on September 12 to apply Circular 41/2016/TT-NHNN on capital adequacy ratio for banks and foreign bank branches.
The SBV's decision indicates that HDBank's risk management capacity has met its stringent standards for the finance and banking sector to ensure safer and more efficient, sustainable and transparent business operations.
Following the approval, HDBank will adopt Basel II standards for capital safety earlier than originally planned in late 2019.
Since 2015 HDBank has actively researched and co-ordinated with prestigious international consulting units to implement Basel II.
Besides, it has always actively participated in the SBV's programmes, complied with credit risk management measures and focused on operational risk management to ensure transparency and sustainable development.
Basel II is an international benchmark for risk management that the Vietnamese commercial banking system is aiming to gradually adopt to strengthen risk management and improve operational efficiency.
To get approval to adopt it, banks have to meet a number of strict regulations on capital, risk management systems and investment in modern technology to control all risks.
With its orientation towards strong and sustainable growth and effective risk management, HDBank has maintained the best asset quality in the banking sector for many years.
In addition, its return on assets and return on equity, which are profitability indicators, have always been at high levels.
Its bad debt ratio is well under control at only 1 per cent.
State domestic revenue rises 14% to US$34.8 billion in eight months

The State budget's domestic revenue in the first eight months of 2019 is estimated at VND808.8 trillion (US$34.8 billion), according to the Ministry of Finance.
The figure is equal to 68.9 per cent of the full-year plan and up 13.9 per cent year on year.
The domestic revenue is made up of a variety of taxes and charges, and collected from different sources such as State-owned, FDI and private enterprises, agricultural land use, personal income and vehicle registration.
It is also estimated that domestic revenues collected by 55 of all 63 provinces and cities have beat the full-year target, which is set at 65 per cent. Of the figure, 46 provinces and cities recorded that their domestic revenues fulfilled 68 per cent of the year's target.
Besides domestic revenue, State budget collection from exports rose 10.3 per cent year on year to VND147.2 trillion in the first eight months, fulfilling 77.8 per cent of the full-year target. Tax deduction is estimated at VND85.9 trillion, equal to 77.2 per cent of the year's plan.
However, revenue from oil production and exports in January-August fell 6.8 per cent yearly to VND38.78 trillion, which accounts for 87 per cent of the 2019 target.
As of the end of August, it was recorded that eight of 12 State budget revenue items had fulfilled at least 68.9 per cent of their full-year plans. The items with high State budget revenues were land and housing (88 per cent of the year's target), lottery (83.9 per cent), and licensing of mining and water businesses (126.6 per cent).
State budget revenue in four of the 12 items was less than expected, which were State-owned enterprises, FDI companies and private firms with fulfilment rates of 62.1 per cent, 64.9 per cent and 66.2 per cent, respectively.
According to the Ministry of Finance, the general tax department pushed its agencies to improve tax collection, monitor local tax payers and administrate businesses over their tax payments.
In addition, the General Department of Customs worked closely with local authorities and other Government agencies to fight State budget losses, smuggling, trade fraud and fake goods. The customs office also modernised its administrative system to speed up the processing of customs procedures.
In the eight month period, total State spending was up 2.8 per cent yearly to VND901.35 trillion, equal to 55.2 per cent of the year's plan.
The figure included spending for investment and development (VND161.27 trillion), interest payments (VND76.76 trillion) and regular spending (nearly VND645 trillion).
As of August 31, the State Treasury had settled VND570.8 trillion worth of State regular spending, 54.7 per cent of the full-year target, and disbursed VND153.8 trillion worth of procurement, 41.5 per cent of the plan.
In addition, total VND152 trillion worth of Government bonds were raised in the first eight months with average maturity of 13.48 years and average per-annum yield rate of 4.89 per cent.
Total State budget collection in the first eight months reached nearly VND1 quadrillion, up 12.4 per cent year on year and equal to 71 per cent of the year's plan.
More local firms join global supply chains

More and more Vietnamese enterprises have become suppliers of supporting products to overseas markets such as the US, Republic of Korea, Japan and Europe.
Representatives of local firms said at a recent conference on the supporting industry held in HCM City that their companies had joined global supply chains and were seeking opportunities to expand their overseas markets.
The conference was held to provide opportunities for local and foreign firms to look for manufacturers of components for products in the fields of electronics, automation, motorbikes, automobiles, and health care.
Nguyen Kim Chai from Hanel Viet Nam said his company had supplied products to the Japanese market for more than 20 years. The products include components and spare parts for electrical transformers, household electronic equipment, automobiles and telephones.
To act as a supplier for its Japanese counterpart, the company has not only ensured quality but also changed technologies.
To cut production costs and make its products more competitive, it has improved automated capacity management for its production lines and lowered the ratio of scrapped products, according to Chai.
Meanwhile, other local suppliers said that Vietnamese firms supplying products to Japan were capable of meeting the demand of global supply chain.
Numerous free trade agreements signed between Viet Nam and other countries have helped promote Vietnamese exports and expand overseas markets for Vietnamese goods, they said.
These free trade agreements have also helped foreign-invested firms manufacture end-products in the country.
According to Nguyen Phuong Dong, deputy director of HCM City Department of Industry and Trade, the percentage of products supplied by local firms to the local market since 2017 has risen by 10 per cent to 30 per cent. Products supplied by local enterprises have also changed, from simple to high value-added products.
Dong said the country's potential to was huge, and that the Ministry of Industry and Trade and HCM City authorities had helped local enterprises by removing technical barriers related to capital, investment, production lines and high-level human resources.
Manufacturers in the supporting industry in HCM City are eligible to receive preferential loans (zero per cent interest rate) for seven years to invest in building factories, with loans amounting to VND200 billion (about US$8.65 million) for each project, he said.
Since 2018, over 30 enterprises have applied for these preferential loans, and nine of them have been eligible for loans of more than VND943 billion, he said.
More than 300 supporting-product companies and foreign-invested companies specialising in manufacturing end-products attended the conference held by the HCM City Department of Industry and Trade on September 11.
Of the attendees, there were 100 enterprises specialising in supporting products from HCM City and other localities across the country.
The conference also saw the participation of 25 foreign-invested enterprises that manufacture end-products, up by 40 per cent compared with last year.
These include Samsung, Daeyong Harness, GST Viet Nam, Backer, Heating, Minamida Viet Nam, Hanel PT, Bosch, Nipro, Panasonic, and Datalogic Viet Nam.
According to the organisers, the firms, which specialised in end products for the electronics, automobile and mechanics industries, connected with about 80 local supporting enterprises, and held 242 meetings with partners during the event.
After the conference, 92 per cent of end-product manufacturers were considered potential customers, while 36.4 per cent of buyers asked suppliers to send them price lists.
In addition, 47.5 per cent of buyers proposed visits to suppliers' manufacturers, while 85 per cent of them agreed to have further meetings after the conference.
Vinh Phuc: 8-month industrial production index up 11.8 percent
The industrial production index of the northern province of Vinh Phuc in August increased by 1.6 percent from the previous month and 12 percent from the same period last year.
The growth was led by the manufacturing-processing, water supply and waste treatment, mining, electricity generation and distribution, and gas industries.
The industrial production index for the January-August period went up 11.8 percent from the same period last year. Industries with high growth rates were electronic appliance (44.5 percent), metal (25.4 percent), non-metal (23.6 percent), and electrical appliances (22.4 percent).
Products with high increases in output included sport shoes (more than 4.8 million pairs, up 30.5 percent), wall and floor tile (99.6 million cubic metres, up 23.6 percent), air conditioners (over 18,200 units, up 28.7 percent), electricity (over 3.9 trillion kWh, up 15.2 percent).
The socio-economic situation in the province stayed stable in the reviewed period, facilitating local production and business activities.
Hanoi to host agriculture, aquatic product fairs
The 2019 International Agriculture Trade Fair (AgroViet) and an aquatic product fair will be held in Hanoi in coming weeks, heard a press conference hosted by the Ministry of Agriculture and Rural Development (MARD) on September 17.
After 18 years, AgroViet has been the most prestigious international expo in agriculture and rural development of Vietnam. This year, the event is set to house 250 booths of nearly 200 firms, introducing agricultural machinery, veterinary medicine and safe agro-forestry-fishery products, among others.
Director of the MARD's Trade Promotion Centre of Agriculture Dao Van Ho said the annual trade promotion activity aims to expand business cooperation and connect firms and consumers. It offers chances for businesses to study customers' demand in a bid to improve product quality and competitiveness.
The expo, running from September 26 to 29, will also seek to promote the image of Vietnam's agriculture sector, honour high quality products and introduce new technologies in the field, as well as foster Agriculture 4.0 to create additional value for the country's farm produce.
Meanwhile, the aquatic product fair this year will introduce prominent products of Vietnam which hold huge potential for export, including those of freshwater aquaculture in northern localities.
With about 100 pavilions, it will help businesses to meet with their partners and consumers to bolster sale in both domestic and international markets.
About 1,000 farmers and producers nationwide will attend the fair, which will take place from October 8 to 13.
Vietnamese, Bangladeshi firms seek cooperation opportunities
The Vietnam Chamber of Commerce and Industry (VCCI) held a seminar in Hanoi on September 17 to introduce trade and investment opportunities to Bangladeshi firms in Hong Kong (China).
Speaking at the event, VCCI Vice President Doan Duy Khuong said two-way trade between Vietnam and Bangladesh soared to 813.5 million USD last year from 14 million USD in 2002. The figure reached 527.8 million USD in the first eight months of this year, he said.
Vietnam's exports to Bangladesh are mostly clinker, cement, steel billets, and mobile phones while imports include garment materials, leather, footwear, pharmaceuticals and sesame.
As of April 2019, Bangladesh's total investment in Vietnam was 1.18 million USD. Meanwhile, Vietnam invested in a project worth 27,900 USD in Bangladesh which is now placed at 68th out of 72 countries and territories invested by Vietnamese companies.
Bangladeshi Ambassador to Vietnam Samina Naz lauded the event as a good chance for both countries to boost bilateral economic, trade and investment ties.
In order to achieve 1 billion USD in two-way trade this year or by 2020, efforts by the two chambers of commerce and industry are necessary, she said.
Chairman of the Bangladesh Metropolitan Chamber of Commerce Hong Kong Limited Fazle Azim said Vietnam and Bangladesh are well-positioned to further promote bilateral ties to a new height.
Participating Bangladeshi enterprises mostly operate in real estate, garment and materials, cement, construction materials, chemicals, minerals, e-commerce, banking, maritime transportation, food and beverages, power generators, and trade.
Vietnamese, Russian firms seek to foster trade ties
Vietnam and Russia boast a lot of potential for stronger trade cooperation in various areas, especially agriculture and technology, heard participants at the Vietnam-Russia trade exchange programme in Ho Chi Minh City on September 17.
Andrey Naryshkin, director for international development at the Russian Export Centre, said that Vietnam is a strategic market in Russia's plan to expand exports in Southeast Asia thanks to the long-standing cooperation between the two countries.
He noted that bilateral trade relations have seen great progress since a free trade agreement between Vietnam and the Eurasian Economic Union came into force.
In 2018, trade between Vietnam and Russia reached 6 billion USD, adding that Vietnam, with high demand for products serving production and consumption, is a promising market for Russia.
Naryshkinsaid the Russian Export Centre will support Russian companies increase their exports to Vietnam, while encouraging Vietnamese companies and investors to seek opportunities in Russia, to help bring bilateral trade to 10 billion USD in the near future.
At the event, Vietnamese firms recognized good quality of Russian products. However, they suggested that Russian exporters should pay greater attention to packaging, while adding label in Vietnamese to meet the demand of local consumers.