Vietnam automobile industry on recovery path despite Covid-19
Vietnam's rising income per capita would soon move cars from a luxury product with a passenger vehicle density of 34 per 1,000 to a more ordinary one with a density level comparable to countries in the region.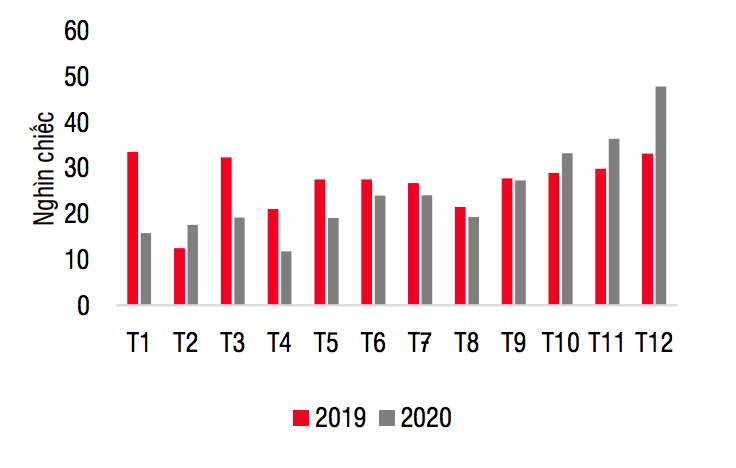 Car sales number 2019-20. Unit: thousand cars. Source: SSI
In spite of severe impacts from the Covid-19 pandemic, Vietnam's automobile industry is set to grow by 16.3% year-on-year this year in terms of car sales number, according to a study from the SSI Securities Corporation, citing high demand from the domestic market for cars.
"Since the outbreak of the pandemic last year, demand for cars were heavily affected as people opted for staying at home," noted the SSI.
However, once the situation is put under control, customers would quickly turn to cars to take advantage of sales promotion programs being offered by car dealership.
"The majority of customers looking to buy cars are of the middle to high income groups, so they are less affected by the pandemic compared to other lower income groups," said the SSI.
According to the SSI, Vietnam's income per capita is on the rise and set to grow at an average of 8-10% in the next decade.
"Compared to regional countries, the current income per capita is fast approaching to a point of bursting demand for cars," asserted the SSI, adding cars would soon move from a luxury product with a passenger vehicle density of 34 per 1,000 to a more ordinary one with a density level comparable to countries in the region.
Meanwhile, car production capacity domestically is increasing rapidly to meet customers demand, a key step to lower car prices, noted the SSI.
With more cars manufacturing and assembling plants scheduled to complete in the 2022-23 period, the SSI expects a heating up car markets with steep discount policies to drive up domestic car demands.
Along with existing Vietnam's support policies for the automobile industry, the National Assembly is currently discussing a possibility of reduce the excise tax rate for locally made cars, in which the specific reduced rate would be in line with the localization rate of each car, aiming to boost sales of affordable car models.
"The move, however, is unlikely at the current Covid-19 crisis, given the contribution of excise tax for cars making up 4.4% of state budget revenue," said the SSI.
Domestic car market large enough for manufacturers to move in
The SSI also pointed to a key factor that the domestic car market is big enough for car manufacturers to shift from importing cars to assembling/manufacturing domestically.
At present, six major car manufacturers of Thaco, Huyndai, Toyota, Mitsubishi, Ford and Honda account for 90% of the market share in Vietnam with a combined production capacity of 30,000-60,000 units per year, exceeding the break-even point for domestically-produce cars of 30,000-40,000 cars per year for an assembling plant, or 10,000-20,000 units for each car model.
Over the past two years, four global car manufactures have announced their plans of investing in large-scale assembling/producing car plants in Vietnam.
"More assembling car plants in Vietnam would boost demand for auto parts and eventually the development of the car supporting industries," stated the SSI, saying this would mean higher localization rate.
Hanoitimes

Cars in Vietnam since 2021 are subject to new regulations such as registration fee, import tariff, and higher emission standards.