Use of Fintech services rises 3.5 times in 4 years in Vietnam
In only four years, the rate of Vietnamese using services of Fintech companies has increased from 16% to 56%. 
Finance and banking is one of the fields experiencing the strongest digital transformation process, said Bruce Deltiel, Managing Director of McKinsey & Company Vietnam during a recent talk held by the Central Economic Commission and IEC.
Bruce said that digital transformation in the financial and banking industry is changing very quickly.
A recent personal finance survey conducted by McKinsey shows that the rate of people using digital banking services at least once a month in Vietnam is 82%, double the previous survey (41%).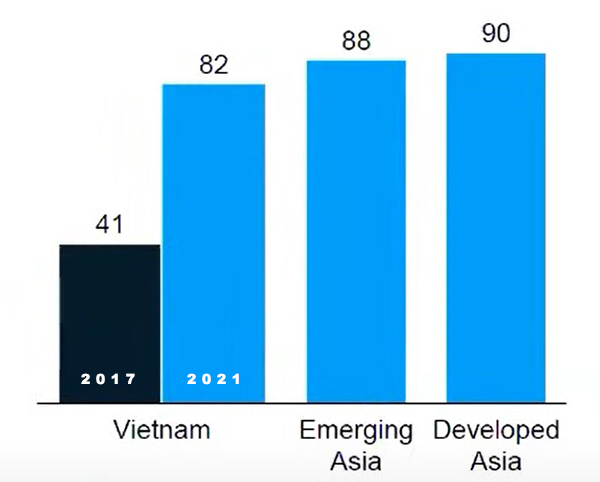 The rate of users of digital banking services in Vietnam compared with developing and developed countries in Asia (Unit: %). Data: McKinsey & Company
The proportion of users of services of Fintech (financial technology) companies in Vietnam has increased from 16% in 2017 to 56% in 2021.
McKinsey & Company said the scale of Vietnam's digital ecosystem is estimated at $50 billion and could increase to $100 billion by 2025.
Digital users can start their journey from e-commerce platforms, then progress to payment and use of digital banking services. To foster the ecosystem, a seamless experience for users is needed.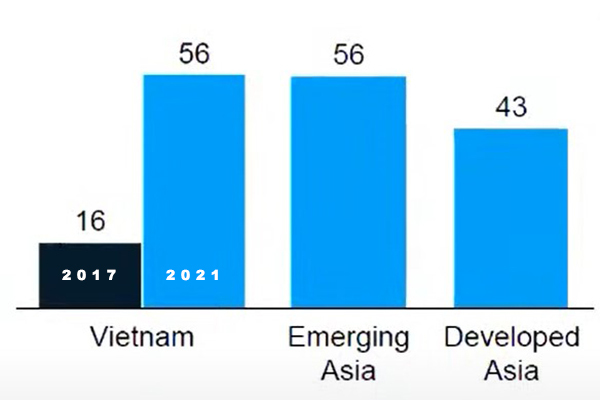 The rate of users of Fintech services and e-wallets in Vietnam compared with developing and developed countries in Asia (Unit: %). Data: McKinsey & Company
According to Bruce, unlike many other emerging markets in Asia, cash is still "king" in all payment segments in Vietnam.
However, the level of openness of Vietnamese users to e-commerce is very high. Consumers are willing to spend digitally, even with complex financial products involving mortgages, investments, and insurance contracts.
In Vietnam, 70% of respondents said they were willing to make a purchase on digital channels, but less than 30% actually did so. The large gap indicates the lack of necessary technical services, the lack of information or an acceptable reason for users to accept the digital transaction channel.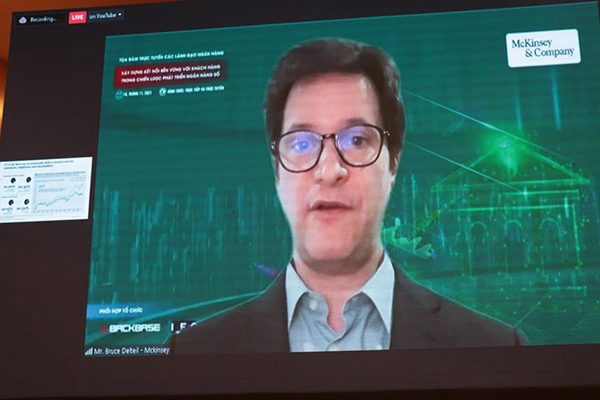 Photo: Bruce Deltiel, Managing Director of McKinsey & Company Vietnam.
Half of respondents to a survey conducted by McKinsey & Company cited poor digital experiences as the top reason for their decision to change banks. Banks therefore must strengthen the provision of new digital services to compete to make a difference.
"In the coming years, the personalization of digital financial services will be very important. When users use the service, the banking app must know who that person is and make recommendations that suit their individual taste instead of a common product for everyone," said the representative of McKinsey & Company.
Cashless payments to thrive
Discussing the trend of cashless payment in Vietnam before and after the Covid-19 pandemic, Tran Manh Nam, Head of VNPAY card payment service department, said that people and businesses understand the value of cashless payments.
The technology of electronic payments before and after the pandemic is not different, but its application is. It is still the same payment method, such as scanning QR codes, or paying by cards, but the applicability is now very high. In addition, the coordination between payment solution providers and businesses is getting better, Nam said.
It is not possible to require the buyer to pay by one method or another. The choice of payment method is entirely up to the consumer. However, if there is an "all in one" payment solution, it will be better for everyone.
Nam said that the non-cash payment habit will continue to be promoted in Vietnam after the pandemic.
Previously, because of habit, users were afraid to change. The Covid-19 pandemic forced people to switch to cashless payments more, helping them understand the value of cashless payments. Even after the pandemic, when it is convenient, people will still use this payment method, Nam said.
Trong Dat

According to a new scheme approved by the Prime Minister, the value of non-cash payments would be 25 times higher than GDP and the proportion of the payment method in e-commerce would account for 50% by 2025.

The Government has issued a resolution to create a sandbox for financial technology (Fintech) in the country's banking sector.