US imposes tax on Chinese goods, affecting Vietnamese businesses

Chinese and South Korean partners in June unexpectedly announced the cancellation of contracts signed with Zara, a yarn producer in Dong Nai province.
Since the US has now imposed a high tariff on Chinese products, the textile and garment partner is finding it difficult to enter the US market.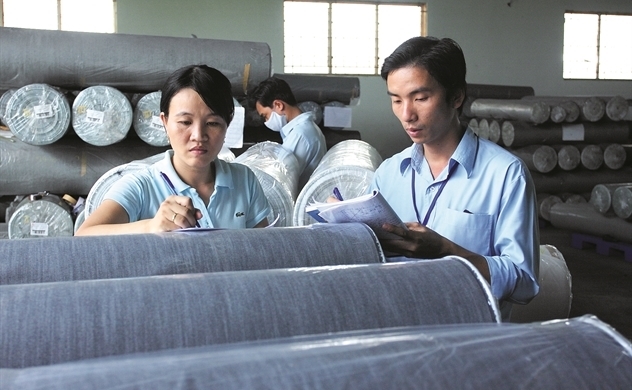 The company has incurred big losses because of exchange rate fluctuations, which increased cotton prices. Since March, Zara's mill has been running at just 40-50 percent of capacity, hoping that new policies will change the situation.

"There are only 100 spinning mills in Vietnam, and most of them are facing b'difficulties," said Luong Vu Ngoc Duy, director of Zara.

Vu Duc Giang, chair of the Vietnam Textile and Apparel Association (Vitas), confirmed that because of the trade war, enterprises in the textile and garment industry are having oroblems, especially in exporting yarn to China.

Since the US has now imposed a high tariff on Chinese products, the textile and garment partner is finding it difficult to enter the US market.
In previous years, Vietnam exported more than $3 billion worth of yarn each year, including $2.4 billion to China. But now, Chinese enterprises have reduced t'yarn imports, because their textile and garment exports to the US have been cut as a result of the high taxation. They also have tried to force the price down by 15 percent.

Vu Thanh Tu Anh, a respected economist, commented that the US-China trade war has dealt a blow to the exchange rate.

The Chinese yuan has depreciated against the US dollar, which means an appreciation of the Vietnam dong against the yuan. This is why more Chinese products have entered Vietnam and why it is more difficult to export to China.

The negative impact caused by the trade war can be seen not only in the garment industry, but also in other business fields. Vietnam's exports to China have dropped sharply, especially in farm, forestry and seafood produce.

According to the Vietnam Chamber of COmmerce and Industry (VCCI), Vietnam's farm produce exports have decreased by 9.7 percent, and seafood 3.9 percent compared with the same period last year.

"The export decrease can be seen in all markets, not only in China," Nguyen Thi Thu Trang, director of VCCI's WTO and Integration Center, noted.

Vietnam had a 7.1 percent growth rate in export by mid-June 2019 compared with the same period last year, a relatively modest figure, according to the General Department of Customs (GDC).

Rong Viet Securities has predicted that Vietnam's export growth rate in 2019 may, for the first time in the last decade, be lower than the nominal GDP growth rate.

GDC predicted that Vietnam's exports would grow by 8 percent this year, lower than the 14 percent figure in 2018. 
Mai Chi

Foreign firms usually apply the 'China+1' model, which means that they build a facility in China and then look for a new destination to become an intermediary location or to serve as a target for expansion and relocation in the future.

The US-China trade war is giving opportunities to Vietnam to diversify material supply sources, increase imports from the US to reduce the trade surplus with the country, and reduce the trade deficit with China.