US and Viet Nam sign $42 million deal to strengthen bilateral partnership

The US Agency for International Development (USAID) and Vietnam's Ministry of Planning and Investment (MPI) on Wednesday virtually signed a US$42 million agreement to advance Vietnam's economic competitiveness.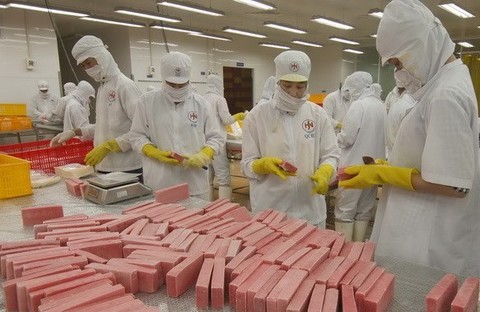 A seafood processing line at the Hong Ngoc Seafood Company in the southern province of Phu Yen's Hoa Hiep Industrial Park. The Viet Nam private sector's competitiveness, innovation and start-up system are expected to be enhanced through a $42 million agreement aided by the US. 
USAID technical assistance activities under this agreement will enhance the capacity of Vietnamese small and growing businesses, including those led by vulnerable populations, by facilitating access to competitiveness-enhancing technology, business management skills, and capital.
The agreement will also foster greater entrepreneurship; enable deeper linkages of Vietnamese start-ups to corporations, investment capital, and other supporting organisations in the international innovation and startup ecosystems; and strengthen high-quality human capital needed for a robust knowledge-based economy.
Speaking at the signing ceremony, US Ambassador to Viet Nam Daniel J. Kritenbrink said this agreement reflects the US' continued commitment to support Viet Nam's efforts to become a more open, innovative and inclusive economy.
"Through close collaboration with the Government of Viet Nam, we can ensure that USAID's development assistance will meet our two countries' mutual vision for a prosperous and independent Viet Nam," he said. VNS