Upward trend persists for M&A in real estate
The recent trend of transferring sub-projects to other developers in large-scale real estate complexes is considered one of the efficient ways to bring many benefits to developers, investors, and buyers.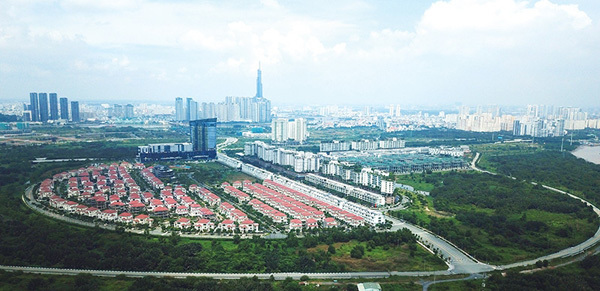 Acquiring part of a project allows developers to concentrate on a suitable financial scale. Photo: Le Toan/ VIR
According to Ben Gray, director of Capital Markets at Cushman & Wakefield Vietnam, the concept of sub-project transfers is known in the market by some consultancies in both legal and real estate, which should be comfortable to demonstrate or discuss precedents, as there are some larger developers who are able to carry out such transfers.
"The process itself is relatively straightforward with investors and developers considering counterparty risk being the first hurdle to overcome," Gray told VIR.
If satisfied, Gray added, commercial terms tend to follow and can be negotiated to mitigate execution risk and other matters of concern. The advantage to a buyer working within this framework is that they can enter into a robust contractual arrangement with a seller, allowing them to receive land within a reasonable period of time.
Moreover, Gray stressed that this method would take away a lot of the risk associated with land transfer in Vietnam.
"In principle, this process will inject some certainty into the market. However, key to this is that the master developer, the seller, and transferor, must be able to do this. If they are trying to perform a sub project transfer whilst engaging with buyers, it will cause confusion and delays and could be detrimental to the market," he added.
According to Michael Piro, COO of Indochina Capital, the option to buy parts of an existing real estate project to further develop or manage the asset was allowed following the passing of the 2014 Law on Real Estate Trading.
"It expanded the market creating additional demand, encouraging interest and investments in Vietnam real estate, and contributed in growing the number of merger and acquisition (M&A) deals in Vietnam's real estate market," said Piro.
He added that acquiring part of a project allows developers and owners to focus on an asset at a scale suitable to their financial capacity, management ability, and expertise.
"With the right investor, the overall development's value will receive a boost with fresh ideas and an incentive to increase returns. The disadvantages of such deals lie in the timeline as additional steps are required to register and acquire legal documentations related to the land use rights and ownership of sub-investors. Nonetheless, with the right consultants and determination from both parties in the transaction, this type of deal could unleash synergies between both firms, enhancing positioning and operations management for the entire project," Piro explained.
Exciting developments 
Nguyen Hoang, an M&A real estate consultant said that both Ciputra and Starlake are offering special advantages to attract sub-investors.
The two ventures have a completed inner infrastructure and are offering single buildings which are appropriated to the tastes of various buyers.
"Sub-investors would not have to face any difficulties when receiving those land plots, especially regarding legal procedures, because those land plots were approved to its planned design already. The buyers and sellers just have to deal with price only, and then they can start their projects soon," said Hoang.
Land plots for developing residences have dominated M&A trends in the first nine months of the year.
Hanoi People's Committee revealed that the Tay Ho Tay Development Ltd., backed by South Korean Daewoo E&C of the Starlake project in the city, is seeking approval from the Prime Minister to transfer three land plots to sub-investors.
Licensed in 2006 and officially breaking ground in 2014, the Starlake project is designed with premium hotels, international schools, supermarkets, and 25 office and residential buildings.
As one of the largest-scale real estate projects in Hanoi, Starlake is now being developed over 206 hectares right next to West Lake. The project is the latest golden land area to be developed at the west-side of the lake, and is on the radar of many sub-developers wishing to get their hands on ventures in the area.
Transaction land plots are also being seen at Ciputra Hanoi, a 300-hectare and modern residential project located near Nhat Tan Bridge.
Invested in by a joint venture between Indonesian developer Ciputra Group and the domestic Urban Development Infrastructure Company, Ciputra Hanoi had also proposed being permitted to transfer three land plots.
Starting construction in 2003, Ciputra is now one of the most well-known urban development projects in Hanoi, with total investment capital of $2.1 billion and space for 50 high-rise buildings and 2,500 townhouses.
Ciputra's developer had previously offered a range of land plots to other sub-investors. In 2018, Ciputra transferred a 7.3-ha land plot which was planned to be used for a mall by Lotte Group, after many years of delay.
Lotte Hanoi Mall, with total capital of up to $600 million, is being built as a trading centre complex, with serviced apartments, hotel, and leisure facilities. The project is now under construction and expected to have its first phase finished next year.
In the southern provinces, residences remain attractive for the likes of Mitsubishi Corporation and Nomura Real Estate Development Co., Ltd., which bought 80 per cent (equivalent to over $900 million) of the second phase of the Vinhomes Grand Park project, invested in by Vingroup in Ho Chi Minh City's District 9.
Expected to be completed in 2023, this initiative is equipped with nearly 50,000 residences as well as schools, hospitals, and commercial centres.
The residential segment is also attracting a Singaporean consortium led by KKR that includes Temasek, which in June acquired a minority equity stake in Vinhomes JSC for a total of VND15.1 trillion ($650 million).
Attracting commitment 
According to Ashish Shastry, co-head of Private Equity for KKR Asia-Pacific and head of Southeast Asia, the company was honoured to have the opportunity to invest in a successful and leading business like Vinhomes, which is an integral part of the consumer service ecosystem within the Vingroup family.
"This investment exemplifies the type of platinum brands and management teams KKR looks to work with in Southeast Asia. It also further underscores our strong commitment to Vietnam, where KKR has been active and present for nearly a decade," Shastry said.
Figures from Ministry of Planning and Investment show that Vietnam has attracted $23.48 billion worth of foreign direct investment (FDI) in the first 10 months of this year, equal to 80.6 per cent of the figure in the same period last year.
Processing and manufacturing remains the most attractive sector for foreign investors, drawing in $10.7 billion and representing 45.7 per cent of committed FDI.
Power production and distribution follows, with over $4.8 billion (20.5 per cent of the total), then real estate and wholesale with $3.5 billion and $1.4 billion respectively.
One notable project is the office building located in Hanoi's Lieu Giai Street, invested in by Singaporean CapitaLand, which has increased its investment capital by an additional $246 million. VIR 

Nguyen Quoc Bao - Deputy general director, Danh Khoi Real Estate Corporation 
Mergers and acquisitions (M&A) are the quickest way for investors and developers to expand their land fund as well as help the market reconstruct itself.
However, even though some opportunities are open, the land race is very tough. Developers who want to move into the M&A game must have a strong financial source and a long-term development strategy which is appropriated with the current transport and urban development plan of the local authorities.
Ngo Quang Phuc - General director, Phu Dong Group 
More and more offers are appearing in the market, both from sellers and buyers. Meanwhile, distressed projects are coming due to their owners facing difficulties in finances and legal procedures.
Thus, this time presents an opportunity for both sellers and buyers who are hunting for new projects and releasing their financial burdens. We cannot know how long the difficulties of the real estate market will last; however, M&As are still occurring regularly. However, many of them are under the table because both sellers and buyers are not releasing any information about them.
Jack Nguyen - Partner, Mazars Vietnam 
Vietnam's real estate M&A have typically involved large-scale projects, newly developing urban areas, resort properties, and luxury hotels in various beach areas across the country.
At Mazars in Vietnam, we have noted that international investors on the hunt in real estate are mostly from Japan, South Korea, Hong Kong, Indonesia, Singapore, China, and more recently from the Middle East. Many of them look for projects that will generate good cash flows, stable profitability, and long-term appreciation.
Rather than outright purchase of a project, international investors normally place money through a joint venture. They typically have the financial capabilities, while local companies have the projects secured, hence creating an ideal synergy. VIR
Bich Ngoc

The real estate market is facing difficulties because of both Covid-19 and legal problems. Businesses with powerful financial capability are now hunting for land and projects, reported Doanh Nhan Sai Gon.

The southern real estate market has witnessed a series of impressive mergers and acquisitions (M&A) deals. This trend is expected to be more vibrant in the near future.