Transport Ministry proposes support policies for Vietjet, Bamboo Airways
The Ministry of Transport has proposed the Government work out policies to support Vietjet and Bamboo Airways, 
which have been severely affected by Covid-19, including through loans with preferential annual interest rates of 0%-4%, extension of tax and fee payment deadlines and tax and fee reductions.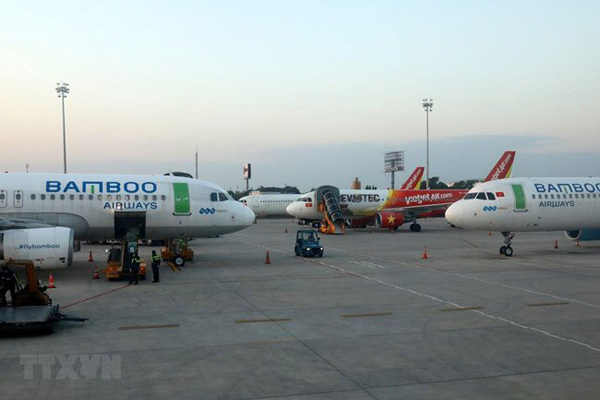 Aircraft of Vietjet and Bamboo Airways are parked at the Noi Bai International Airport. The Ministry of Transport has proposed support policies for the two air carriers - Photo: VNA
The ministry has proposed the Government consider policies and solutions to support enterprises in the transport sector, including air carriers, Tien Phong newspaper reported.
Accordingly, the ministry proposed the prime minister direct the State Bank of Vietnam to weigh the proposals of aviation firms on credit support.
The ministry suggested extending the period for halving take-off and landing prices as well as flight operation service fees for departures and arrivals of domestic flights, and continuing to apply a minimum fee of zero Vietnamese dong on specialized aviation services until the end of this year.
To date, the Government and the National Assembly have agreed to offer VND4 trillion with preferential interest rates for only Vietnam Airlines.
After that, Vietjet and Bamboo Airways, despite reporting profits in 2020, proposed the Government provide them with financial aid packages such as the one granted to Vietnam Airlines.
Specifically, Vietjet asked for loans of VND4-5 trillion for the 2021-2023 period with an interest rate of 4%.
Meanwhile, Bamboo Airways sought loans of some VND10 trillion, including loans worth VND5 trillion with preferential rates offered by commercial banks and VND5 trillion without interest rates under the refinancing form.
According to the Vietnam Aviation Business Association (VABA), although private air carriers posted consolidated profits, they incurred losses in their air transport activities, with total losses reaching over VND18 trillion.
This year, the aviation market will continue facing difficulties as the number of domestic passengers has fallen, especially during the Tet holiday, and the international network has yet to be reconnected. Therefore, airlines may continue suffering losses of over VND15 trillion this year and face a high risk of cash exhaustion, according to VABA.
The association also proposed the Government work out solutions to help airlines enjoy a 2% reduction in the interest rates of their current loans and extend the payment deadlines for loans in 2020-2021.
In addition, the environmental protection tax on jet fuel should be reduced to VND900-1,000 per liter until the end of this year.
SGT

A credit package of VND12 trillion has been approved to help Vietnam Airlines, which has been hard hit by the impact of Covid-19. Private airlines have also asked for a VND15 trillion loan.