Trade plummets at HCM City's wholesale markets after second COVID-19 outbreak
Wholesale markets in HCM City are facing a serious crisis due to the second COVID-19 outbreak.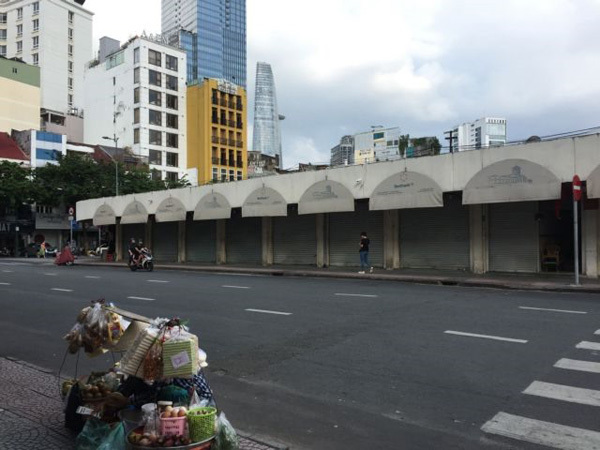 HCM City's Ben Thanh Market, one of the city's oldest markets, is seeing only dozens of visitors on weekends due to the second COVID-19 outbreak. VNA/VNS Photo Anh Thu
District 1's Ben Thanh Market, one of the city's oldest markets, is seeing only dozens of visitors on weekends while the previous number was several thousands.
Most of the 3,000 stalls, offering food, garments, footwear and handcrafts, have closed.
Shops selling Vietnamese handicrafts and food like fried seafood, favoured by both foreign and local visitors, have been closed since March. 
"The impacts of the COVID-19 pandemic on my business have started since mid February," said Nguyen Ngoc Anh, a handicrafts shopkeeper at Ben Thanh Market. 
"I stopped operations to cut losses." 
Anh's shop offers Vietnamese handicraft products from just VND22,000 (US$1) to over VND1 million ($45) per item. Her customers, particularly Japanese and South Korean, like Vietnamese handicrafts because they are traditional and the price is reasonable.
Her shop used to attract 120 customers daily. 
Tran Minh Trung, owner of a shop selling vegetables and fruits, is luckier than Anh. His shop opens only in the morning and attracts around 20 customers. Consequently, his revenue has fallen 80 per cent.
"My shop used to open daily, from 5am to 5pm, and attracted 150 customers, not including dealers from rural districts. But now, everything is different. However, my business has survived," said Trung, who has done his household business for 15 years at the market.  
Ben Thanh Market began when street vendors gathered near the Ben Nghe River in the early 17th century. It was established by the French colonialists after they took over the Gia Dinh Citadel under the Nguyen Dynasty in 1859.  
In 1912, the market was moved to a new building more than 13,000sq.m of land located on what are now the streets of Phan Boi Chau, Phan Chu Trinh and Le Thanh Ton. 
At the Ben Thanh Market, customers are free to bargain, but many vendors offer fixed prices.   
The market normally attracts more than 7,000 Vietnamese and foreign visitors a day during the Christmas and New Year holidays. 
According to Anh, Ben Thanh's stalls begin preparing for the Christmas and New Year holidays in October and for Tet (Lunar New Year) in December.
"We now have no hope for our business in the future," she said. 
A similar situation has been reported in other wholesale markets in HCM City, including An Dong in District 5, Binh Tay in District 6 and Soai Kinh Lam in the Cho Lon (Big Market) in District 5. 
Stall owners used to hire at least three salespeople, but they now have had to let staff leave because they cannot afford to pay them. Many of them have had to shut their shops due to a lack of customers.  
"It's common to see 'Shop closed' at Binh Tay Market these days," said Lam Phu, a Chinese-Vietnamese shop owner. 
Phu's shop offers vàng mã (votive paper), paper items burned during the Buddhist Vu Lan festival and Tet to wish departed loved ones or forsaken spirits a happy and lucky life. 
"I used to receive several hundred customers daily during the Vu Lan festival on the 15th of the seventh lunar month. This year, I served just around 20 people daily and my revenue has fallen 90 per cent," said Phu. 
"Many of my customers, who go to the market daily, told me that they have not been to the market for the last two months. They use delivery services offered by supermarkets and stores instead." 
"As the COVID-19 pandemic has impacted all aspects of life, people have changed their daily habits."
The 90-year-old Binh Tay Market has 1,500 shops selling a variety of quality goods, including art objects, souvenirs, clothes and traditional Vietnamese dried foodstuff and medicinal herbs.  
"We will face challenges in the last three months of the year if the pandemic continues to be serious," said Phu.  VNS
Thu Anh 

Migrant workers in HCM City are seeking part-time work to compensate for reduced hours after the second COVID-19 outbreak.

Ho Chi Minh City's office market has started to feel the effects of the COVID-19 pandemic, with grade A buildings impacted more than grade B, experts have said.