Trade deals trigger foreign investments in Vietnam's food sector

According to forecasts of BMI Research, Vietnam's food industry is expected to achieve annual growth of 10.9% in 2015-2020.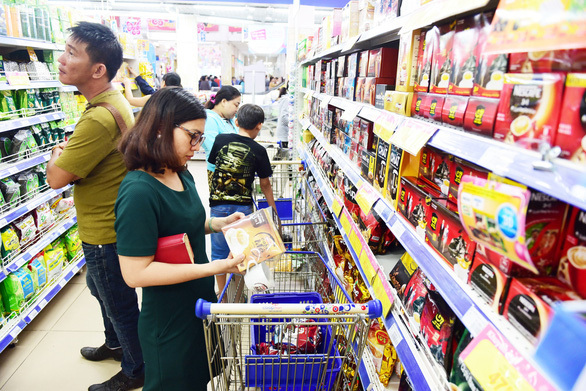 Vietnam's food industry is expected to achieve annual growth of 10.9% until 2020.
Numerous international players, especially those from countries that Vietnam signed free trade agreements with, have been seizing the opportunity to enter the Vietnamese food market to take advantage of the deals.
Keith Colwell, Canadian Nova Scotia's Minister of Agriculture and Minister of Fisheries and Aquaculture, said that Canadian food businesses have shifted their focus to Vietnam after developments in the Chinese market and thanks to tariff reductions under the Comprehensive and Progressive Agreement for Trans-Pacific Partnership (CPTPP).
These companies want to bring high-end Canadian products like seafood, agricultural products and beverages to new markets like Vietnam, Colwell said, explaining that tariff reductions under the CPTPP have helped Canadian products become more competitive in Vietnam.
Besides Canadian businesses, more Japanese enterprises also want to invest in Vietnam's agriculture, including food, according to Japan External Trade Organization (JETRO).
Hironobu Kitagawa, chief representative of the JETRO office in Hanoi, said Vietnam has many advantages for agricultural development, but its potential has not been fully utilized. Japanese investors have a lot of experiences in high-tech agriculture development, and they want to invest in Vietnam and bring into play their strengths.
Meanwhile, foreign investment in the Vietnamese food industry is also being facilitated as food processing is one of the industries that the country gives priority to in its growth plans until 2025 with vision until 2035.
With the priority, the government is offering preferential tax policies to the industry, including an import tax exemption for technologies to upgrade the production chain in Vietnam.
According to Le Hong Minh, director of the Investment Promotion Centre for Industry and Trade under the Vietnam Trade Promotion Agency, total FDI poured into Vietnam's food processing sector was estimated at US$11.2 billion with 717 projects, not to mention foreign investors buying shares or conducting mergers and acquisitions.
Most of the FDI projects in the food processing sector were concentrated in big cities and provinces like Hanoi, Ho Chi Minh City, Binh Duong, Dong Nai and Long An.
High growth outlook
Statistics from the Ministry of Industry and Trade show that Vietnam's annual food consumption is estimated at 15% of GDP. Over the past five years, the average annual consumption of processed food and beverages has grown at 9.68% and 6.66% respectively.
According to forecasts of BMI Research, Vietnam's food industry is expected to achieve annual growth of 10.9% in 2015-2020, which makes it a very attractive field for investors.
The potential of the food sector lies not only in domestic consumption but also in exports. A diverse range of Vietnamese agricultural products are exported to over 100 nations and territories.
Vu Ba Phu, head of the Trade Promotion Agency under the Ministry of Industry and Trade, said that Vietnam has signed 12 free trade agreements with other countries. This enables Vietnam-based food processing businesses to expand their market size, increase export output, and reduce the import expenses of raw materials, machinery, and equipment, which will be manifested in product prices and the sector's improved competitiveness.
To boost the development of the food industry, Phu said that the Ministry of Industry and Trade will continue to work with the Ministry of Planning and Investment and the Ministry of Agriculture and Rural Development and other agencies to offer the most favorable conditions for investors in the food processing industry.
Besides, the Trade Promotion Agency will also focus on organizing more trade promotion activities for enterprises in the food industry, he said. Hanoitimes
Anh Hong

New-generation Free Trade Agreements (FTAs) are expected to help Viet Nam become more competitive if the country reduces trading costs and improves its business environment, experts said on Tuesday at a conference in HCM City.  

Vietnam has signed many free trade agreements (FTAs) since 2010 but its participation in so many FTAs makes no sense, noted Tran Toan Thang from the National Center for Socio-Economic Information and Forecast.