To develop Vietnam's supporting industries

The supporting industries are having fresh opportunities amid the inflow of foreign capital and orders into Vietnam. However, local enterprises have to overcome multiple challenges to be able to take advantage of such opportunities.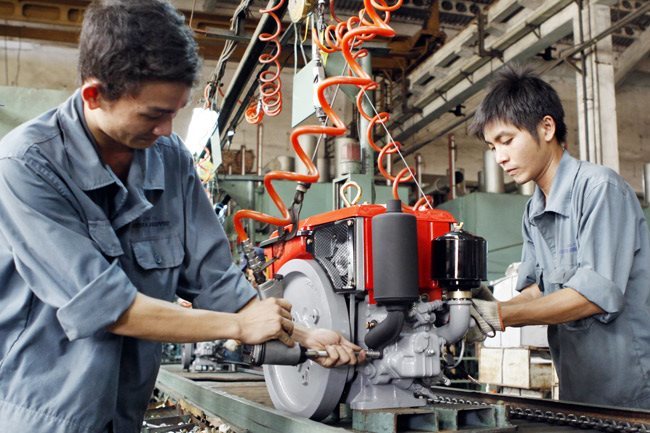 Despite the significant progress, Vietnam's supporting industries are still at a "very primitive" stage, especially as compared with Thailand's. According to the leaders of Reed Tradex Vietnam, the local content of Thailand's auto industry is 60-70% versus Vietnam's 7-10% 

Over the past months, CNC Tech, a precision mould manufacturing company with factories based in Binh Duong and Vinh Phuc provinces, have had to operate at full capacity due to a surge in orders.
Nguyen Van Hung, general director of CNC Tech, said previously his customers were mainly Japanese companies, but orders from new markets like the United States and Europe have now surged strongly.
Hung attributed the order shift to the Sino-U.S. trade war.
Amid the tense trade war, Vietnam is seen as one of the countries to receive capital as well as orders shifted from China. This can be an opportunity for the development of the local supporting industries.
Vu Trong Tai, director of Reed Tradex Vietnam, noted that Vietnamese enterprises are growing strongly and they have great demand for machinery import.
"The supporting industries exhibition is a thermometer to gauge the market as well as the demand for specific machinery. More than 11,000 visitors have come to the exhibition we have just organized this year, an increase of 40% against the visitor figure of last year's event," Tai said.
Vietnam's supporting industries, which started nearly from scratch in the 1990s, have made much progress to date.
Many enterprises have penetrated the global supply chain and developed close cooperation with foreign direct investment (FDI) companies.
Choi Joo Ho, general director of Samsung Vietnam, said the number of Samsung's tier-1 suppliers is expected to increase to 42 by the end of this year from 35 last year.
"We expect that 50 Vietnamese enterprises will be tier-1 suppliers by the end of next year," Choi said. In the early period when Samsung began to set foot in Vietnam, Vietnamese enterprises supplied mainly packaging and printing products. They have now participated in different phases of the supply chain like equipment automation, he added.
Despite the significant progress, Vietnam's supporting industries are still at a "very primitive" stage, especially as compared with Thailand's.
According to the leaders of Reed Tradex Vietnam, the local content of Thailand's auto industry is 60-70% versus Vietnam's 7-10%. Thai enterprises can supply nearly all components for different industries.
The competitiveness of Vietnam's supporting industries remains low against those of regional countries.
According to a report of the World Bank, local private enterprises are still unable to connect with FDI enterprises.
They participate mainly in the final assembly phase which requires much labor. Many export goods have high value but the imported value is also high, thus they have low added value.
Therefore, the net contribution to the gross domestic product (GDP) of FDI enterprises versus the total FDI capital in the economy is not high.
In the list of the quality of local suppliers in the World Bank's Global Competitiveness Index report, Vietnam is ranked 109th among 138 economies, after the Philippines (74th), Thailand (77th) and Malaysia (22nd).
Michael Greene, director of the United States Agency for International Development (USAID) in Vietnam which is cooperating with Vietnamese agencies in a program to enhance connection between Vietnamese small and medium enterprises (SMEs) and the global supply chain, said the supporting industries plays a very important role in Vietnam's industrialization and is a springboard for a sustainable, competitive economy.
According to figures from the Ministry of Industry and Trade, there are 1,800 supporting industries enterprises in Vietnam but only 300 are participating in the supply chain with high added value in manufacturing industries.
"This is a low participation rate compared with international and regional standards. Vietnam's supporting industries have yet to meet the demand of the domestic market and leading companies in the supply chain," said Greene.
To seize opportunities
According to Nguyen Minh Cuong, chief economist of the Asian Development Bank (ADB), the trade war has changed the shift of capital and commodity flows. Whether the supporting industries are able to take advantage of this shift depends on its capacity to utilize the capital flow.
Figures of the General Statistics Office (GSO) show that the total fresh and added FDI capital in the first nine months of this year fell nearly 20% year-on-year but the disbursement of FDI capital increased 7.3% to US$14.2 billion. The capital inflow through share purchase surged as high as 82.3% from the year-earlier period to US$10.4 billion.
"The capital inflow through share purchase has surged strongly. What local enterprises should do to leverage the fresh capital flow to develop the supporting industries?" Cuong raised the question.
To take advantage of this capital flow, local enterprises should first overcome their weaknesses.
Michael Green noted that Vietnamese supporting industries enterprises still have poor production capacity, little technology application, weak human resources both in skilled labor and management expertise, few experiences in cooperation with big companies, insufficient knowledge of the demand of supply chains, and inadequate access to capital.
A USAID study shows that the key for Vietnamese SMEs to forge linkage with big companies is to know clearly the demand of buyers and to actively seize opportunities.
The demand is quite various, and Vietnamese SMEs must understand clearly not only the global trend but also the specific demands of buyers, such as those regarding quality, quantity, price, standard, data exchange, customer service, environmental, health and safety issues, labor standards and language.
Cuong pointed out three main reasons for Vietnamese enterprises' difficulty in accessing the global value chain, namely poor competitiveness, hard access to financial sources and market approach. In addition, the limited distribution chain is an important factor which makes it difficult for local enterprises to participate in the supply chain of foreign companies.
Even when Vietnam can make an ultra modern smartphone, it would be hard to sell the product because of no distribution chain available. 
"Therefore, the domination of the domestic market is a matter of life-and-death, especially when Vietnam has a huge domestic market with nearly 100 million people and a fast growing middle class," Cuong said.
Emerging economies, and even China, have to rely on the domestic market for development. That's why they have strong protection for their markets, he added.
Cuong argued that with an economy with great openness like Vietnam where local enterprises have little protection and have to compete fiercely with foreign rivals, it will be hard for not only the supporting industries but other industries to develop if the domestic market is abandoned. SGT 


Vu Dung

Analysts say Vietnam's supporting industries are seeing new opportunities as orders have increased and the capital continues to flow into Vietnam.