The costly competition in the retail industry

Foreign retailers, from Metro, Auchan, Casino Group to Parkson, have had to leave Vietnam because they did not understand the market well.
Nguyen Anh Duc, deputy general director of Saigon Co-op, said he once criticized Co-opmart SCA Hanoi, a branch of Saigon Co-op, because the supermarket displayed old bananas for sale on inauguration day.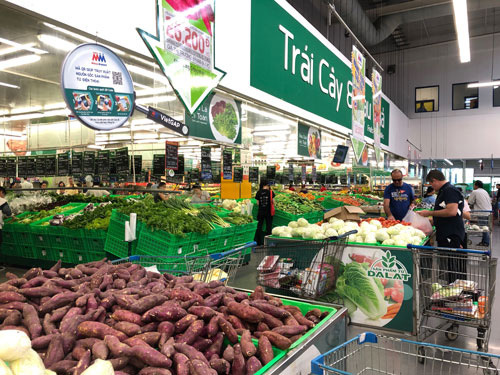 He said northern people don't use old bananas for worship, but prefer large and areca bananas, and retailers need to understand consumers to succeed. They need to adjust the lists of products depending on local culture and customers' habits.

"They key to success is understanding the market and consumers," he said, adding that if necessary, the logos of retailers should also be adjusted to fit the taste of consumers.

Le Huu Tinh, Marketing Director of Emart, said Emart reserves a specific area to display South Korean products but the retailer just wants to create a difference to lure more customers.

Experts all agree that the deep understanding and ability of retailers to satisfy customers' needs through localization and personalization play an important role in the competition among retailers today.

Dinh Thi My Loan, chair of the Vietnam Retailers' Association, said personalization is a growing tendency. 

Foreign retailers, from Metro, Auchan, Casino Group to Parkson, have had to leave Vietnam because they did not understand the market well.
Localization means gathering the tastes and shopping needs of local consumers to build up a list of products for supply that can satisfy needs.
Personalization is understanding shopping culture and demands for experience during the shopping process in order to offer new creative shopping models to attract customers.

According to Loan, only when understanding the market and locals' shopping habits will retailers be able to expand the market coverage. Some retailers such as Saigon Co-op, Satra, Hapro and Vincommerce have begun applying the trend, but the levels and strategies are different.

VinCommerce, which owns Vinmart and Vinmart+ chains, has drawn up a product strategy and created differences through localization and personalization for the next five years.
Nearly 2,600 supermarkets and sale points in 50 provinces/cities throughout the country and the data about 8 million customers are the important factors for VinCommerce to build a strategy.
The product lists will be designed for each locality, while the retailer will closely cooperate with local suppliers to satisfy the needs of every group of customers, according VinCommerce's CEO Thai Thi Thanh Hai.

Together with the localization and personalization, multi-channel retail is also a growing trend which is expected to lead the Vietnamese retail market in the upcoming period. However, retailers are cautious about multi-channel retail because it is a very costly.
Mai Lan 

Vietnamese conglomerate Vingroup said on December 3 it has entered into a share swap agreement to merge its retail and agriculture arms with Masan Consumer Holdings, to create the country's biggest retail company.
Foreign retail groups undoubtedly are a powerful influence in the domestic market. However, Vietnamese retailers are vowing to 'play big' to gain the upper hand in the home market.