People is the target of development: Prime Minister
Vietnam has regarded people as the centre, subject and driving force and target of development, PM Pham Minh Chinh told a plenary session of the third annual high-level forum on the fourth industrial revolution in Hanoi on December 6.
He said amid the COVID-19 pandemic, the Government has flexibly adopted many policies to ensure social security, helping to stablise people's lives.
Over the past two years, under the leadership of the Party and the State, as well as with the consensus of businesses and people, and international support, Vietnam has basically brought the pandemic under control, the PM noted.
Thanks to joint efforts, the macro economy has remained stable, inflation has been controlled, major economic balances have been ensured, while foreign direct investment (FDI) has increased and the production and supply chains have been resumed, thereby helping to strengthening the confidence of people, businesses and investors, he said.
For the socio-economic recovery programme, the PM stated that Vietnam has been closely, flexibly and effectively combining fiscal, monetary, trade and investment policies, among others.
The country will also work to maintain macro-economic stability, curb inflation, and ensure major economic balances, while focusing on social security and people, corporate development and strategic infrastructure, including infrastructure for digital transformation, PM Chinh said.
Regarding the pandemic combat, the PM affirmed that the public's health is a top priority, adding that apart from the phased vaccine rollout, Vietnam will take solutions to ensure safety at industrial parks, gradually open schools, resume international flights, and restore tourism and international trade.
In infrastructure development, priorities will be given to transport, power and telecom infrastructure, especially in remote, border and island areas, according to the government leader.
The PM also reiterated Vietnam's foreign policy of multilateralisation and diversification, adding that the country develop relations with its partners in a more practical and effective manner in the spirit that Vietnam is a friend of all nations and it will make positive contributions to building and maintaining peace, security, safety and stability in the region and the world at large.
The forum, held both in online and in-person forms, saw the participation of foreign ambassadors in Vietnam, Vietnamese ambassadors in foreign countries, representatives from international organisations, experts, scholars and business people at home and abroad.
Prior to the plenary session, there were 10 thematic seminars from November 9-18, bringing together nearly 8,000 delegates.
They discussed smart production, smart city development, green and new energy, new business models, e-government building towards digital government, digital infrastructure, digital technology and digital workforce.
Technology key to Vietnam's development: summit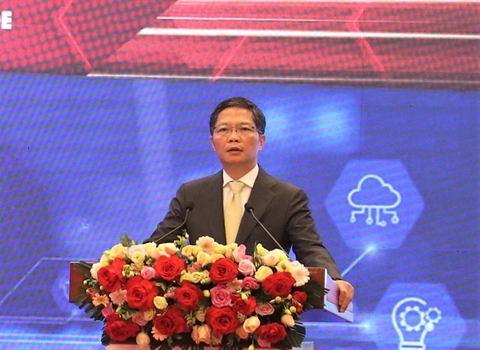 Head of the Central Economic Committee Tran Tuan Anh gives a speech at the Industry 4.0 Summit in Ha Noi on Monday. — VGP Photo
Experts discussed these issues, and economic recovery in a post-pandemic world, at the Industry 4.0 Summit, held on Monday in Ha Noi.
Technological limitations, overreliance on external factors, a lack of focus on supply chain and poor productivity were detrimental to Viet Nam's socio-economic development, said head of the Central Economic Committee Tran Tuan Anh at the forum.
The Southeast Asian economy has made significant progress in recent decades by maintaining an average 6.6 per cent GDP growth in 2000-19. Viet Nam ranked 67 out of 142, moving up 10 places in 2018 and 2019 in the Global Competitiveness Index, while moving up 16 places from 58th to 42nd in the United Nations Industrial Development Organization's ranking in 2019.
The country has also been constantly making improvements in terms of its innovation capacity, ranking 44 out of 126 in the Global Innovation Index.
However, Anh, a former minister of industry and trade, said the country's development still lacked long-term objectives and sustainability and there is a need for a comprehensive strategy for the development of industries and rural areas.
He stressed the importance of technology, especially digital technology in the country's socio-economic development in the next ten years, saying the fourth industrial revolution is to fundamentally impact all industries, agricultural production and the service sector.
Addressing the event, Prime Minister Pham Minh Chinh said two months since Viet Nam implemented a number of policies and measures to speed up recovery in the new normal there have been positive signs that the economy is bouncing back strongly.
"The Vietnamese people are at the core of Viet Nam's socio-economic development strategy and objectives," said the PM.
He said the government has set a target to vaccinate 100 per cent of the country's adult population in December, start rolling the third booster shots and vaccinate children 12-18 years old.
In addition, measures are being taken to strengthen medical facilities' ability to receive and treat COVID-19 patients as well as to protect industrial zones and gradually open tourism and international trade.
Speaking at the event, Caitlin Wiesen, UNDP Resident Representative in Viet Nam, said the country must continue to nurture and support national export champions, and focus on public investment, especially strategic investment in transport, power, logistics, research, education and training can help domestic firms lower costs and achieve greater competitiveness.
She said successful industrialising countries have also used long-term finance as a tool to promote innovation and help companies achieve economies of scale. Finance will be crucial to the development of new industries and to achieve the commitments set out at COP26 to shift investment from extractive to carbon-neutral opportunities to accelerate climate resilience, biodiversity protection and sustainable development.
While Viet Nam is well placed to benefit from IR 4.0, the country must also be mindful of the risks of allowing the digital divide to widen. She pointed out that there was a large divide between access to the internet and access to local e-government portals for administrative services. Only 4.5 per cent of those who did their administrative services in 2020 used national and provincial e-service portals, although access to the internet improved in most of the provinces in 2020 compared to 2019.
"Our ongoing research on access to e-services in mountainous provinces where ethnic minority populations account for a large number, e-services are almost unused and access to the internet remains much poorer than in centrally-governed municipalities and lowland provinces. Therefore, advancing e-services while improving digital inclusion is an area that will require urgent attention for sustainable socio-economic rebound," Wiesen said.
In order to speed up economic recovery, the UNDP representative called on the government to accelerate electronic registration and payment for social assistance programmes to reduce administrative costs and cash transfer delivery times and to increase transparency, pointing out that the ability to register and make payments electronically, if it had been established prior to the pandemic, would have greatly improved the effectiveness of government assistance programs in 2020 and 2021 in reaching people in need.
During the conference, policymakers and experts are to discuss the following main topics: policy-making for Viet Nam's socio-economic recovery in the new normal, how to speed up the country's process of industrialisation and modernisation using science and technology and how to realise the objective of transforming Viet Nam into an advanced country and an economic hub of Asia by 2045.
Source: VNS