Tax reduction could help businesses recover from Covid-19

The tourism and service industry in Danang is expected to suffer losses of  US$30.4 million due to strong decreases among key tourist markets in the two months since the coronavirus (Covid-19) outbreak in Wuhan, China.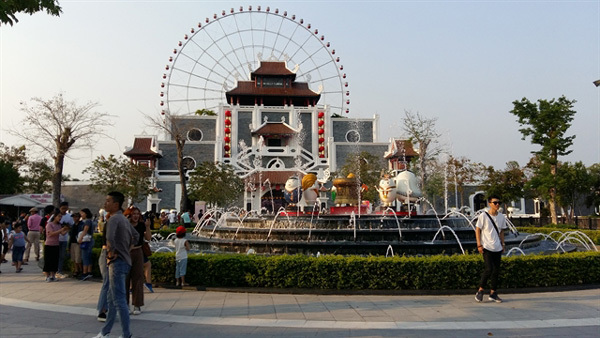 Two foreigners ride bicycles on the beach in Da Nang. The city confirmed beach destinations are still safe.
The city's tourism association said the epidemic would result in a 31.2 per cent drop in the number of tourists visiting the city and a 20.7 per cent decrease in revenue in the first quarter of this year.
It said the city's tourism industry saw more than 600,000 tourists coming to the city in the first month of the year, bringing in revenue of VND2.5 trillion ($109 million).
However, 70 per cent of tours and room bookings from Korea and China – two major markets – had been cancelled in February, and that would cause a $213 million loss in revenue in the first quarter.
Director of Vietravel's Da Nang branch, Doan Hai Dang, said tourism businesses in the city were badly impacted by the cancellation of booked tours from domestic and foreign partners.
He said businesses (travel agencies, resorts and hotels, restaurants and destinations) still paid their bank loans and taxes, but revenue from tours and service saw negative growth.
"Banks and financial agencies should consider extending terms of loan interest payments for travel businesses, while tax agencies could defer tax payment for income tax, value added tax (VAT), land-lease and fees," Dang said.
Two foreigners ride bicycles on the beach in Da Nang. The city confirmed beach destinations are still safe.
"Almost 80 per cent of investment for restaurants and hotels comes from bank loans, and they (businesses) need 50 per cent exemption as the city's tourism association offered," he said.
A source from a private air carrier said it still paid at least $15,000 for a pilot and air-hostess despite flights stopping operations. Each flight needs at least three crew members for operation, excluding parking fees and services at the airport (about $200,000 each day).
Chairman of the city's tourism association, Cao Tri Dung, said the association had submitted a proposal to the city on supportive measures for tourism businesses.
He said the association would host a mass promotion campaign to foreign markets in the second quarter, including Russia, India and Australia, as well as preparations for re-hosting tours from China, Japan and Korea after epidemic eases.
Nguyen Duc Quynh, vice chairman of the city's hotel association, said some two and three stars hotels had closed due to cancellations from partners in China and Korea.
He said big resorts and hotels had their own solutions to reduce losses, by cutting costs, offering vacations for staff as well as improving facilities, instead of suspending services during the Covid-19 period.
Chairman of Quang Nam provincial tourism association, Phan Xuan Thanh, also suggested support measures by reducing tax and delaying payments for businesses.
He said the provincial tourism industry had 100 per cent of booked tours from China and Korea cancelled.
Thanh said 60 per cent of air travel bookings from European and American markets to Vietnam via Hong Kong, Singapore and Korea were also postponed.
He said there needed to be an urgent support policy from the government helping the tourism industry in different key provinces and cities.
Bicycle trips are popular among foreign tourists in Hoi An. — VNS Photos Cong Thanh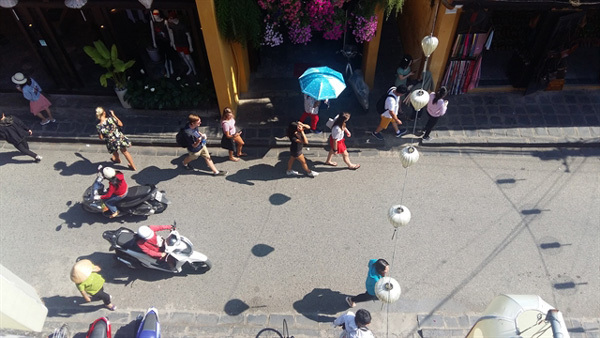 Tourists walking on an old street in Hoi An. Almost all bookings from China and Korea to Hoi An and Quang Nam Province were cancelled.
In Hoi An, the number of tourists buying tickets at popular destinations including the Old Quarter, Thanh Ha pottery village and Tra Que vegetable garden witnessed a considerable drop in February.
The city's culture and information centre said the number of foreign tourists visiting the Old Quarter in February decreased 70 per cent compared to January, while other destinations suffered a 50 per cent reduction in the number of tourists.
During a working trip in Hoi An last weekend, chairman of Quang Nam Provincial people's committee, Le Tri Thanh confirmed to foreign tourists that Hoi An and Quang Nam were still safe destinations.
He said the province would host a meeting with the local tourism association and businesses to actively seek ways to limit losses from Covid-19. — VNS
Feeling the bite of the ongoing coronavirus (COVID-19) outbreak, many businesses in retail and services are coming up with measures to soften the blow.
The novel coronavirus, now officially named Covid-19, has dealt a blow to both small and large firms.  

The national tourism sector is looking at ways to rebound in the second quarter of the year with strategies to promote growth after the COVID-19 epidemic subsides.