Sugar stocks expected to benefit from trade remedies
Sugar producers expect the 2021-2022 crop, which is starting from July 1, will be more prosperous.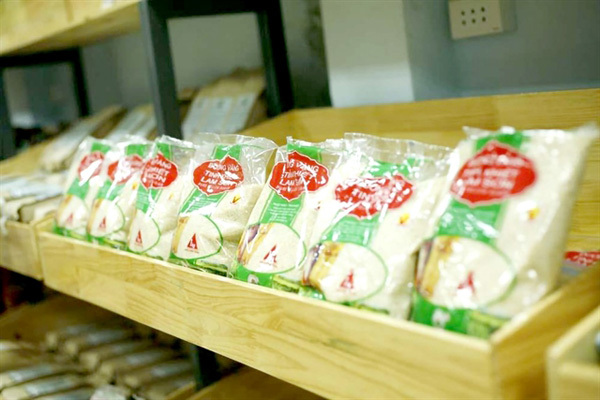 Lam Son Sugar's products on a shelf in a supermarket. — Photo tinnhanhchungkhoan.vn
Lam Son Sugar JSC (LSS) plans revenue and profit growth of 15-20 per cent in the new crop year, partly supported by increased protection measures for the domestic sugar industry, Le Trung Thanh, Vice President of the Board of Directors of Lam Son Sugar, told tinnhanhchungkhoan.vn.
On September 21, the Ministry of Industry and Trade issued Decision 2171/QD-BCT on investigating and applying measures to prevent evasion of trade remedies, including anti-dumping and anti-subsidy measures, on sugar products originating from Thailand.
The probe is based on the accusation of representatives of the domestic industry and the Vietnam Sugar and Sugarcane Association (VSSA) as they believed that Thailand's sugar products have evaded trade remedies through five ASEAN countries including Laos, Cambodia, Indonesia, Malaysia and Myanmar.
Malaysia does not grow sugarcane, while Indonesia and Cambodia do not produce enough sugar products and often have to import sugar. But now there are sufficient sugar products to export to Vietnam.
"The decision to investigate circumvention of trade remedies on sugar originating from Thailand will bring fairness to domestic sugarcane businesses," Trung added. 
"The move is right and timely. Many countries don't grow sugarcane, hence don't produce sugar, but import sugar from Thailand and then export to Vietnam, causing damage to Vietnamese businesses and taxes. 
"We expect that in the new crop year, the sugarcane industry will thrive on the positive impacts of this investigation."
Previously, the Ministry of Industry and Trade has imposed anti-dumping and anti-subsidy duties at the rate of 47.6 per cent on refined sugar and raw sugar imported from Thailand for five years, effective from June 16.
VSSA said that since the imposition of the duties, sugar imports from Thailand have dropped to a low of 15,000 tonnes in June compared to a peak of 183,000 tonnes in April 2020. Smuggled sugar has been strictly controlled as the country closed its border to control the COVID-19 pandemic. However, Thailand's sugar products have reportedly evaded taxes by transiting in other ASEAN countries before arriving in Vietnam. 
Spreading momentum
With the tax rate of 47.6 per cent imposed on imported refined sugar and raw sugar, small factories importing raw sugar will not be profitable, said SSI Securities Corporation (SSI). Therefore, the expansion of sugarcane areas is very important for the growth of the sugar industry in the coming years.
Many enterprises such as Lam Son Sugar, Quang Ngai Sugar SJC (QNS) and Son La Sugar JSC (SLS) have been focusing on expanding sugarcane growing areas.
In the 2021-2022 crop year, VSSA expects the sugarcane growing areas to increase by about 10-20 per cent and the expansion may continue in the following years when farmers reap good profits from sugarcane.
"Enterprises have the motivation to invest in expanding productivity, raising output, expanding sugarcane planting areas in the new crop year, as well as supporting farmers to push the price of sugarcane higher. In the future, the price of sugarcane may climb by 15-20 per cent," Trung from Lam Son Sugar said. 
Meanwhile, Quang Ngai Sugar expects the output of sugarcane in the current crop year to rise by 50 per cent and by 40 per cent in 2022-2023. Increased operating capacity will boost revenue and profit. 
Similarly, Son La Sugar sees sugarcane output increasing in the next crop year.
SSI said that in the current crop year, Son La Sugar's consumption volume will grow by 14 per cent year-on-year, with an estimated gross margin up 25 - 29.5 per cent on the expectation of 31 per cent higher selling prices and 77 per cent increase in operating capacity. 
It is forecast that the world's sugar deficit is 3.8 million tonnes of sugar in the 2021-2022 crop year, after being short of 3.1 million tonnes in the previous year. 
Bullish sentiment on stock market
The sugarcane industry is a cyclical group, with enterprises' revenues and profits often fluctuating according to the selling price. With the positive outlook from the policy to protect domestic sugar products and the uptrend of sugar prices, businesses in the industry have foundations for growth in 2021 - 2022, helping stock prices to move positively. 
Since June, when the Ministry of Industry and Trade imposed anti-dumping and anti-subsidy duties on sugar products originating from Thailand, sugar stocks jumped.
During June 1 - September 22, LSS's share price surged 74 per cent and QNS shares rose 36 per cent. These companies' share prices are only equivalent to the prices at the beginning of 2021.
Thanh Thanh Cong - Bien Hoa JSC (SBT) shares struggled, mostly in the range of VND18,000 - 22,000 per share. Given the positive news for sugar producers, investors expect that the stock group will continue to rally in the near future.
Currently, businesses in the industry have not announced business plans for the fiscal year 2022, starting from June 30, 2021 to June 30, 2022, but with positive signs from the market, SSI believes that SBT can reach VND19.8 trillion in revenue and VND825 billion in profit, up 33 per cent and 32 per cent over last year, respectively.
In the past five years, sugar stocks have been valued at a low level due to fierce competition from Thailand's sugar. But as trade remedies are effective for the domestic sugar industry, this issue will improve, creating a bullish sentiment for the stocks.
Source: Vietnam News

The domestic sugar industry looks brighter in 2021 on the effort to control smuggling and the imposition of duties on sugar imported from Thailand.

The Ministry of Industry and Trade has issued a decision to investigate the evasion of trade remedies for cane sugar products originating from...