State to divest from six major enterprises, raking in US$600-800 million in Q1/2022
The State Capital Investment Corporation (SCIC) is expected to divest capital from six major enterprises in the first quarter of next year, fetching between VND15 trillion and VND20 trillion (US$652-870 million) for the State budget.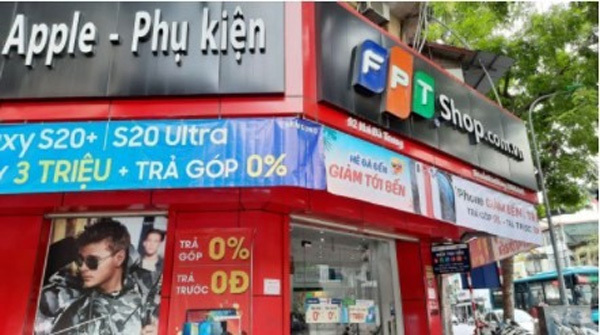 An FPT shop in Phan Boi Chau Street in Hanoi. FPT Corporation is among six enterprises the State will divest capital in the first quarter of next year. VNS Photo Mai Huong
This is part of the State divestment plan for 2020 revealed by the Corporate Finance Department under the Ministry of Finance.
The finance authority has developed a plan to withdraw state capital from six enterprises under the management of SCIC in two scenarios.
In the first scenario, the State will divest from five enterprises including FPT Group (FPT), Bao Minh Insurance Corporation (BMI), Tien Phong Plastic Joint Stock Company (NTP), Vietnam National Reinsurance Corporation (VNR) and Vietnam Infrastructure Investment & Development Joint Stock Company (VIID).
Based on the share value of these companies on the stock market on August 23, 2021, the State budget is expected to rake in at least VND10 trillion ($440 million) from the divestment.
In the second scenario, besides the above-mentioned enterprises, the State will also sell equity in Saigon Beer Alcohol Beverage Corporation (Sabeco, SAB). Divestment from six companies is expected to bring in no less than VND30 trillion-VND40 trillion ($1.3-$1.7 billion) to the State coffers.
To ensure the revenue from State equitisation and divestment during 2022-25, expected to be VND248 trillion, the finance department has urged SCIC to focus and complete the equitisation of Vietnam Mobile Telecom Services Co Ltd (MobiFone) in 2022-23, Vietnam Posts and Telecommunications Group (VNPT) and Vietnam National Chemical Group (Vinachem) in 2023-24.
After equitisation, the State holding in these enterprises would be 51 per cent.
In addition, the department also suggested the State Bank of Vietnam and the Ministry of Construction prioritise equitisation of the enterprises under their management, including the Bank for Agriculture and Rural Development of Vietnam (Agribank), Vietnam Cement Industry Corporation (Vicem) and the Housing and Urban Development Investment Corporation (HUD) in the 2022-24 period.
According to the finance department's report, State divestment and equitisation are falling short of target this year as revenues from these activities only reached VND336 billion in the first eight months, far behind the target of VND40 trillion set for the whole year.
Source: Vietnam News

The world is changing, with many great opportunities opening up for Vietnam.

This would be the first step for Vietnam's state firms to list shares on international stock exchanges.