Stability sought for Thu Duc City prices
The just-established Thu Duc City is already witnessing skyrocketing property prices, with hikes of around 30 per cent reminding local authorities of the need for special policies to manage the market.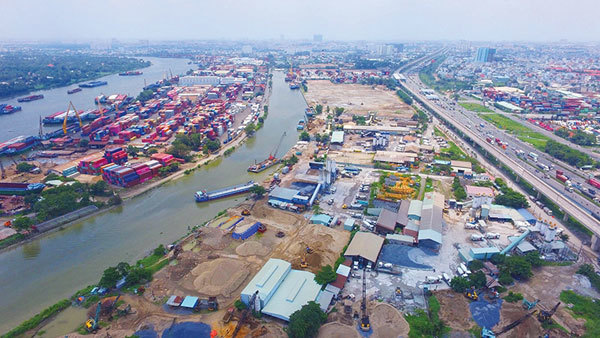 Property prices have been spiralling out of control since the establishment of Thu Duc City. Photo: Le Toan/ VIR
Nguyen Minh Tuan, a resident in Phuoc Long Commune of the former District 9, was interested in a land plot in Dong Tang Long New Residential Area. However, this plot's price has increased by more than 40 per cent compared to mid-2019 when Thu Duc City was yet in the pipeline.
"The prices in this area have increased a lot; however, local landlords still predict that the prices will even further increase towards the end of the year. That is why buyers will certainly make a profit if they buy land plots right now," Tuan told VIR.
Prices in the area could sit anywhere at VND30-40 million ($1,300-1,750) per square metre depending on the location in 2019, but are now usually around VND50-70 million ($2,200-3,000) per sq.m.
In Tam Da Street in the former District 9, a 50-sq.m land plot is now quoted at $3,000 against the $1,750 at the end of 2020.
This January, when Thu Duc City was officially established on an area spanning across the old districts 2, 9, and Thu Duc, apartment prices at the King Crown Infinity – a project developed by BCG Land located – soared to over VND95 million ($4,100) per sq.m – the highest valuation ever for an apartment in the area.
A general trend of appreciation was also observed in land plots and houses in the area of the former District 9 with outstanding increases of 20-30 per cent compared to mid-2020.
The most buoyant area was Truong Tho Commune, the centre of Thu Duc City, where property prices are quoted at more than VND160 million ($7,000) per sq.m.
This 500-hectare area is close to major transport facilities such as Metro line No.1 and Hanoi Expressway, and is planned to become a new residential area.
According to Nguyen Huong, general director of Dai Phuc Land, the price increases in areas with good planning and improved infrastructure are nothing extraordinary. Mirae Asset Securities also ascribed the recent surge in Thu Duc's prices to the continuous infrastructure developments.
Of the total VND350 trillion ($15.2 billion) spent on infrastructure in Ho Chi Minh City since 2010, as much as 70 per cent has gone into what is now called Thu Duc city.
"These price hikes take into consideration the market's expectations for the future of the area in the next 10 or even 20 years," Huong said.
Concerns rising 
Skyrocketing real estate prices steadily exceeding realistic valuations are concerning interested parties, and could cause untenable development trends in the newly established city.
Huong from Dai Phuc Land also warned of realtors or brokerage agencies that are potentially driving prices higher to increase profits on properties in the area.
"Buyers must carefully consider all aspects of a project, including location, nearby infrastructure, facilities, and construction progress," Huong added.
Right after official establishment of Thu Duc City, Ho Chi Minh City Party Secretary Nguyen Van Nen warned of prices spiralling out of control, requesting local authorities to halt all brokerage activities which could destabilise the market.
The party secretary also suggested increasing the proportion of affordable and social housing, as well as publishing information related to housing projects so that buyers can make fully informed decisions.
According to Ho Chi Minh City People's Committee, Thu Duc City will be developed in three phases. The first lasts from 2020 to 2022 with the target of creating land funds and setting up usage plans, while the second phase to 2030 will see the approval of projects in transport improvement, digital infrastructure, and urban design. Developers will implement projects based on these plans from 2030 to 2040 in the final phase.
According to Phan Cong Chanh, a freelance real estate consultant, the formation of the city will take a long time, during which urban planning might change and adjustments could take place.
"Therefore, if land prices rise too quickly, they could pose many risks for investors and disrupt capital mobilisation for projects in the area," Chanh said. "Buyers and sellers are all very excited. However, land prices in different areas could be subject to different dynamics and could even decrease with time, depending on factors like planning."
In addition, climbing land prices would also make it difficult to attract investments in Thu Duc City later by affecting business plans and reducing profitability for those buying for investment purposes.
According to Colliers International, more than 40,000 apartment units will be finished and handed over to customers in Ho Chi Minh City in the next year. Of these, Thu Duc occupies roughly 76 per cent, positioned mainly in the mid- and high-end apartment segments.
Special polices required 
Thu Duc City, according to experts, should enjoy its specific jurisdiction to better implement Ho Chi Minh City's specific mechanisms, with the new administrative unit set to be more active and innovative to fulfil the assigned establishment goals.
"Since a merger of small administrative units into a larger one means a jurisdiction upgrade, it is nonsensical for such a city with over one million residents and a surface area of more than 210 square kilometres to merely have the same jurisdiction as District 4 with 200,000 residents on an area of 4.2 sq.km," said major General Phan Anh Minh, former deputy director of Ho Chi Minh City Police Department.
"The new jurisdiction should allow Thu Duc city to implement special policies, preferential methods, and to simplify business forming procedures to create a friendlier environment for startup activities and the innovative economy. This could, in turn, transform the city into the startup centre of the whole country," Minh said.
Proper policies for financial promotion and tax exemption could also be considered to boost the growth of high-tech and scientific parks and automatic manufacturing centres.
"The customs-related procedures should be simplified to better exploit the strengths of Cat Lai Port. The use of traffic facilities, infrastructure, and land should be boosted to build an innovative centre inside Thu Duc City," Minh added.  VIR

Kevin Hawkins - Partner, DFDL
 
The establishment of a city within a city is an unprecedented development in Vietnam. Long-term advantages can be achieved through improvements in digital governance, sustainability, and infrastructure, as well as through the creation of opportunities in investment and real estate. Enabling the local population and businesses to reap such anticipated benefits is of paramount importance.
Notably, the accumulation of financial, educational, and alternative energy high-tech hubs along with the existence of industrial parks in neighbouring areas creates favourable conditions towards sustainable development and the provision of state-of-the-art services and products. This could create an innovative ecosystem capable of attracting top talents, enhancing professional and educational opportunities for local youth, and supporting Vietnam's Industry 4.0 ambitions.
Peter Hong - General secretary, Association of Vietnamese Entrepreneurs Abroad
Every year overseas Vietnamese send more than $5 billion of remittances to Ho Chi Minh City, and this is a remarkable financial source for it to invest in its development. Many overseas Vietnamese are keen on contributing to the country, but they do not know how to do it in detail. The city authorities can appeal to these businesspeople to invest in infrastructure and projects.
Transforming Thu Duc into a successful urban project is not just a matter of vision, planning, and district merging but also of an appropriate implementation roadmap and specific mechanisms in socioeconomic management, urban areas, and investment attraction.
With such an implementation strategy, it is necessary to determine the overall investment infrastructure and calculate total capital needs. From there, the plans to mobilise investment capital for each project should be determined.
VIR

The news about the establishment of Thu Duc City has pushed up land and house prices in the eastern part of HCM City.

The HCMC government is studying a general plan for Thu Duc City with an area of more than 21,000 hectares to boost its transit-oriented development, green traffic and flood control.