Solar PV market under duress from dependence on imports
As one of the fastest-developing countries in solar thanks to the current feed-in tariff, Vietnam's billion-dollar solar panel market is mostly dominated by foreign investors and depending on imports.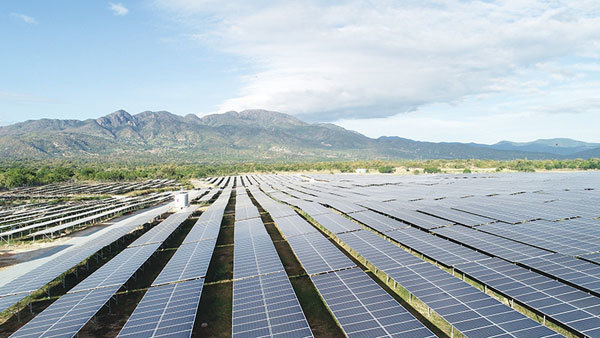 The large solar panel market in this country is currently presided over by overseas investors.
The Indian Ministry of Commerce and Industry a fortnight ago launched an anti-dumping probe into solar cells originating from China, Thailand, and Vietnam, following a petition by the Indian Solar Manufacturers Association. The move has shocked Vietnam-based panel producers.
The ministry said that solar panel products originating or imported from the three countries have a high margin of dumping, exceeding the minimum threshold of 2 per cent.
The Trade Remedies Authority of Vietnam under the Ministry of Industry and Trade said producers and exporters should contact the Indian ministry to register for questionnaires and keep abreast of relevant information coming from India. Any action deemed uncooperative could lead to India imposing anti-dumping duties, it warned.
"The imposition of a high anti-dumping tax will reduce competitive advantages and lose part or all of the Indian export market to competitors from India and other countries," warned a representative of the Trade Remedies Authority of Vietnam.
However, according to the General Department of Vietnam Customs, last year Vietnamese groups imported 114.6 million photovoltaic (PV) panels with a value of up to $2.4 billion, a substantial increase on 2019's figures of 36.2 million panels imported at around $845 million.
Some developers as well as engineering and procurement companies said that with the boom in solar power in Vietnam over recent years, many projects have raced to commence operations and seize the incentives on offer, leading to large import demand.
Nguyen Thuy Ngan, brand director of locally-invested Solar BK, said that it is the only domestic enterprise producing solar cells with international standards at a competitive price, but accounts for less than 1 per cent of the market share in Vietnam. "We have policies to encourage renewable energy but there is lack of policy for PV manufacturers. Therefore, the market share worth billions of US dollars is mostly in the hands of foreign enterprises, mostly China," Ngan said.
China is the world's largest producer of PV equipment and some well-known Chinese manufacturers including Trina Solar, JA Solar, and Bowerway Group have their facilities to Vietnam.
The northern province of Bac Giang currently hosts eight projects belonging to Chinese and Taiwanese investors, which will form the largest solar energy equipment manufacturing chain in the country with a total capacity of 5,200MW per year.
In 2018, India imposed a safeguard duty on solar cells imported from China and Malaysia for two years, a move that was expected to increase costs and push up tariffs from record lows. Under that, a levy of 25 per cent was imposed on imports in the first year starting July 30, and 20 and 15 per cent for two subsequent six-month periods, respectively.
According to a TechSci Research report on Vietnam's solar PV equipment market, it is forecast to cross $3.7 billion in value by 2025. Market growth can be attributed to the increasing electricity demand from industrial and commercial as well as residential end-user segments, rising investments in solar energy, and favourable regulatory scenarios, the report explained.
The electricity demand in Vietnam has grown by around 30 per cent since 2000 and is expected to continue growing over the next decade. By 2025, the solar PV equipment market is anticipated to witness robust growth on account of increasing investments in solar projects and a government focus on reducing carbon emissions.
VIR

Solar power capacity is increasing thanks to significant changes in feed-in-tariff.

Nguyen Duc Ninh, Director of the National Power Regulation Centre, has said Vietnam will cut its renewable electricity capacity due to oversupply.