Sharp Vietnam denounces Asanzo to investigative police

Sharp Electronics Vietnam has sent a letter of denunciation to investigators of the Ministry of Public Security, denouncing local electronics firm Asanzo for using falsified documents to prove its business ties with a Sharp subsidiary.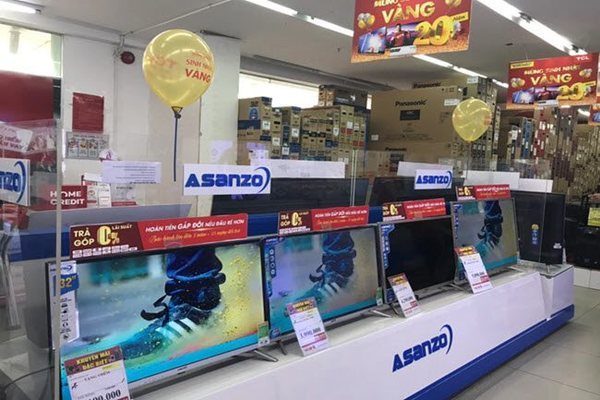 Asanzo-branded TVs are displayed in a store. Sharp Vietnam has denounced Asanzo to investigative police - PHOTO: THANH NIEN
Sharp said in the letter signed by its general director, Masashi Kubo, that it was authorized by Japan-based Sharp Corporation to denounce Asanzo, reported Tuoi Tre newspaper.
Sharp learned that Asanzo had claimed during a press briefing on September 17 that it owned Japanese technology and was collaborating with Sharp-Roxy Hong Kong (SRH).
Asanzo also presented a confirmation letter to the media, allegedly issued by SRH on September 12, 2019, to prove that Asanzo used Japanese technology.
Sharp asserted that Asanzo had provided completely inaccurate information and that the confirmation letter was fake.
Sharp Corporation and Roxy Electronics Company had earlier jointly founded a joint venture called Sharp-Roxy. However, Sharp ended its business alliance with Roxy on September 25, 2016, and SRH became Sharp's wholly-owned subsidiary.
The change of the company name from SRH to Sharp Hong Kong Limited was completed on October 31, 2016. Since then, Sharp has not had any business dealings with Asanzo.
In light of these facts, Sharp Vietnam concluded that Asanzo's claim that its business contract with SRH was still valid and covers various fields, such as electronics spare part sales, software transfers, technology, manufacturing and related services is untrue.
According to the letter, Asanzo had intentionally falsified the documents in an attempt to deceive local consumers, leading them to believe that Asanzo was working in collaboration with Sharp Corporation and that all Asanzo-branded products came from Sharp.
Asanzo's fake documents have seriously damaged the prestige of Sharp and affected the interests of consumers, the letter stressed.
Accordingly, Sharp Vietnam proposed the investigators examine the documents that Asanzo publicly disclosed on September 17 and punish the company in line with prevailing regulations. SGT

Sharp Electronics Vietnam has complained that Asanzo Vietnam had given fake evidence about its co-operation with Sharp Roxy Hong Kong.

The group was found to have complied with the country's existing laws and regulation on product origin.