Selling cars and smartphones, Vietnam's No. 1 billionaire earns huge profits
The first quarter profit of Vingroup, owned by Vietnam's richest man Pham Nhat Vuong, increased five times over the same period last year thanks to three major real estate projects and high growth in sales of VinFast cars and smartphones.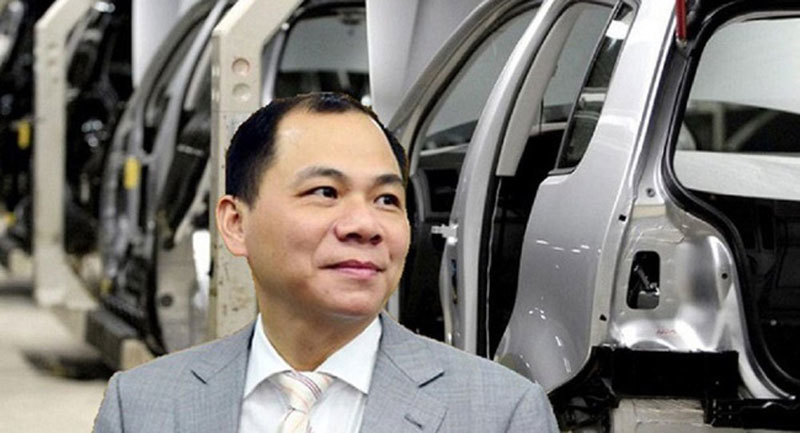 Billionaire Pham Nhat Vuong, Vingroup Chairman.
Vingroup (VIC) has announced its consolidated financial statements for the first quarter of 2021 with a net profit of VND2.1 trillion, nearly five times higher than the same period of 2020.
According to the report, the total consolidated net revenue in the first quarter of Vingroup reached nearly VND23.3 trillion ($1 billion), a sharp increase of 52% year on year.
Vingroup recorded total assets at a high level, nearly VND420 trillion. Equity slightly increased by 3% to over VND139.7 trillion.
Vingroup's revenue increased strongly thanks to three major estate projects: Vinhomes Ocean Park, Smart City and Grand Park. In addition, the cash flow to Vingroup also came from the sale of VinFast cars and mobile phones.
The sharp increase in sales compensated for the decline in revenue from financial activities. Vingroup was also affected by the Covid-19 pandemic. Revenue from tourism and entertainment activities in the quarter fell 48% year-on-year due to entry restrictions on international tourists.
Notably, sales of VinFast cars, electric motorbikes and Vsmart smartphones increased by nearly half to more than VND4.8 trillion.
Previously, two Vingroup subsidiaries Vinhomes and Vincom Retail recorded impressive business results despite the Covid-19 epidemic. Vinhomes Joint Stock Company (VHM) recorded a surge in revenue in the first quarter of 2021 by 2.1 times year on year to nearly VND13 trillion and profit of VND7.05 trillion. Vincom Retail (VRE) recorded a 32% increase in consolidated revenue in the first quarter of 2021, with VND2,226 billion.
Billionaire Pham Nhat Vuong has made many bold business decisions. Recently, according to Bloomberg, Vingroup (VIC) is considering an initial public offering (IPO) in the US for its car manufacturer VinFast, and is expected to raise about $2-3 billion.
In the mobile phone segment, Vingroup has also achieved many positive results, with the number of Vsmart phones sold in the country continuously increasing over the past year, although the leading private corporation in Vietnam just entered the smartphone market in 2018. Vingroup has become the third largest smartphone manufacturer in Vietnam, behind only Samsung Electronics and Oppo.
V. Ha
Billionaire Pham Nhat Vuong's company has recorded impressive business results despite the Covid-19 pandemic. 

Vingroup's billionaire Pham Nhat Vuong is taking an unexpected step entering the world's largest electric car market.