Securities regulator unveils corporate governance code

The first ever Viet Nam Corporate Governance Code of Best Practices, a set of recommended practices for Vietnamese public companies, has been issued by the State Securities Commission of Viet Nam.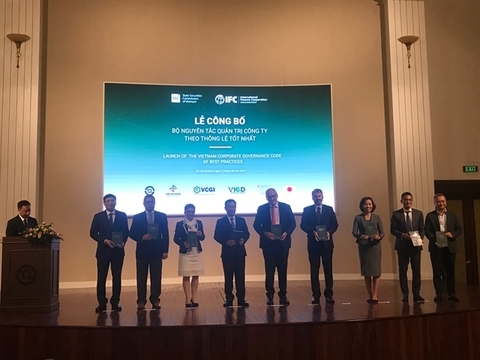 The Viet Nam Corporate Governance Code for Best Practices for public companies was launched on August 13.
It was developed with technical support from the International Finance Corporation (IFC) and assistance from the Swiss State Secretariat for Economic Affairs.
With practices that go beyond the minimum legal requirements, it aims to encourage companies to work towards international best practices and integrate with ASEAN markets that have similar codes.
It contains 10 main principles with detailed recommended practices covering key issues in corporate governance.
Six of them focus on how boards of directors should operate - an area where Vietnamese companies need to improve - while the rest cover topics such as control environment, transparency and disclosure, shareholder rights, and stakeholder relations.
It also includes responsible business practices such as promoting gender diversity and focusing on the environment.
Tran Van Dung, chairman of the SSC, said the code would help improve the quality of companies listed on the stock exchanges, promote investor confidence and develop the Viet Nam capital market.
"Investors have greater confidence in companies with good corporate governance and in markets that are backed by sound legal and regulatory regimes," Philippe Le Houerou, chief executive officer of the IFC, said.
Vu Bang, a member of the Prime Minister's Economic Advisory Group, said good corporate governance helps companies operate more efficiently and be more stable, urged companies to adopt the code.
The SSC will work with the HCM City and Ha Noi stock exchanges to push for the application of the code and monitor its voluntary adoption.
Other businesses are also recommended to adopt the practices.
The launch of the code was held on August 13. — VNS