Rising land rents make manufacturers' life miserable

Constant rises in land rents at industrial parks (IPs) lessen the chance for Vietnamese enterprises to build new factories or relocate their production facilities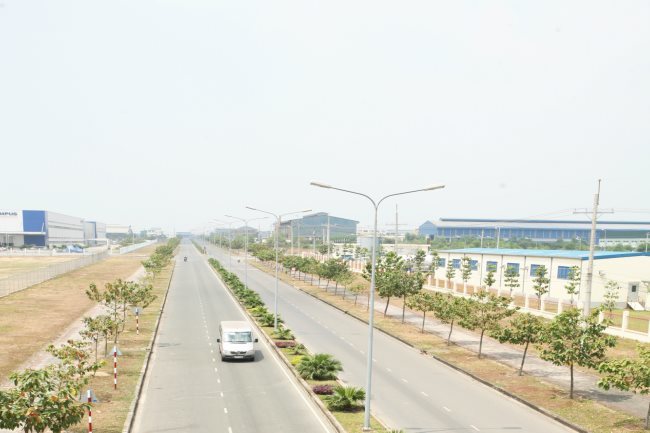 Vietnam has attracted greater FDI inflows into manufacturing, leading to the burgeoning demand for workshops and industrial land, which may further push up IP rents
More than half a year has passed since a food processing company began to look for a plot of land in Binh Duong and Dong Nai to develop a factory so as to move its production facilities away from HCMC. 
However, it has not found a suitable location while industrial land prices in these two provinces keeps going up, says the company's boss.
Two years ago, Long An was the locality chosen by this company for their relocation plan because this province borders HCMC.
Unfortunately, the land rates for industrial facilities in Long An increased earlier than other localities did because of its convenient location, which helps shorten the time of transporting goods to HCMC and the Mekong Delta—the market the food processing company is targeting.
"Industrial land rents in these localities averaging US$90-110 per square meter, or up to US$130 in some cases, are too high whereas our capacity and production scale remain modest," says the company's CEO.
"Such exorbitant rates also make it very difficult for other small and medium enterprises. I'm now considering another option, which is to rent a factory instead."
Many other small and medium-sized companies have faced with similar dilemma. Tran Viet Tien, member of the Standing Committee of the Handicraft and Wood Industry Association of HCMC (HAWA), says many HAWA members are very worried as industrial land rents had been escalating with no end in sight.
The wood industry which makes furniture and handicrafts requires spacious premises, so the surging industrial land rents make it really hard for them to relocate their production facilities or expand their scale, Tien says.
Reasons behind the soaring rents
IP infrastructure developers have forecast IP land rents will further jump as vacant lots are more scanty, especially in the context the wave of foreign investment in Vietnam is rising.
In Binh Duong, areas within a radius of 40-60 kilometers away from HCMC have virtually no more land for IP development.
In Dong Nai, the occupancy rate at local IPs by the middle of this year has grown to over 75%. In Long An, where 16 IPs are operating, the occupancy rate is higher than 80%.
The price of industrial land for rent in this locality is up to US$100-140 per square meter depending on location.
Studies done by real estate consulting companies also point to a constant rise in industrial land rents in recent years.
As per a survey by Jones Lang LaSalle Vietnam (JLL), land rents in HCMC by the end of June 2018 had surged to US$150 a square meter for each cycle, versus US$143 in the fourth quarter of 2017.
This June, land rents at IPs in the city kept up the momentum, hitting US$162 per square meter.
For the whole southern market, industrial land rents escalated from US$72 per square meter in the second quarter of 2018 to US$80 in the fourth quarter, and reached a new peak of US$95 per square meter for the cycle until June 2019.
This is considered a very high rent increase margin for the industrial real estate market.
Long An may arguably be a new option besides the two traditional destinations for industrial investment, namely Binh Duong and Dong Nai, recording the highest rent growth rate in the last quarter.
Currently, the average IP land rent in Long An is over US$100 per square meter for each cycle, only behind HCMC in the southern market.
At present, the average occupancy rate at IPs and export processing zones in the south is as high as 81%, with HCMC, Binh Duong and Dong Nai as the strongest magnets regardless of the surging rents.
The monthly rent of ready-built factories is US$3.5-5 per square meter, for a minimum term of 3-5 years.
This rate is slightly higher than the updates of the previous two quarters, thanks to the growing demand for this category of land.
By the end of Q2, the total area of IP land for rent in the southern region had reached 25,060 hectares, 2.5 times greater than in the north.
Since industrial land in the southern provinces now has a high occupancy rate, this market tends to provide new supply.
As the first destinations for industrial development in Vietnam, Binh Duong and Dong Nai are still the most sought-after by fresh manufacturers due to solid foundation for production development that comprises a synchronous system of infrastructure and administrative procedures well established to assist business operations.
JLL Vietnam and realty consulting firms believe, as the U.S.-China trade tensions are likely to keep escalating, the shift of production facilities from China to Southeast Asia will further boost the demand for industrial estate.
In addition, Vietnam's efforts to expand the free trade area, with the EU-Vietnam Free Trade Agreement (EVFTA) just signed in late June, are expected to enhance the appeal of her industrial market and push up the price of industrial properties.
Notably, according to experts, Vietnam has become a destination for many international investors whose committed capital remains at a high level, especially in the manufacturing industry.
In the first six months of this year, foreign direct investment (FDI) pledged for the processing and manufacturing sectors picked up again, from 46.7% in 2018 to over 70% of the total registered investment capital.
The Comprehensive and Progressive Agreement for Trans-Pacific Partnership (CPTPP), which came into effect earlier this year, has also helped Vietnam attract a greater FDI inflow into manufacturing, leading to the burgeoning demand for workshops and industrial land, which may further push up the rents. SGT
Le Hoang
Preschool education in export processing zones and industrial parks in HCM City must receive more support to meet workers' childcare needs, education officials said.  

Tran Duy Dong, director general of the Department for Local and Regional Economy under the Ministry of Planning and Investment, speaks to Industry and Trade newspaper about the development of eco-industrial parks in Vietnam.