Ride hailing market heats up, four CEOs resign

Four CEOs of ride-hailing firms had to leave in 2019. Go-Viet witnessed the biggest high-ranking personnel changes.
In March 2019, Nguyen Vu Duc and Linh Nguyen resigned from the posts of CEO and deputy CEO of Go-Viet, just six months after the e-hailing app made its debut in Vietnam.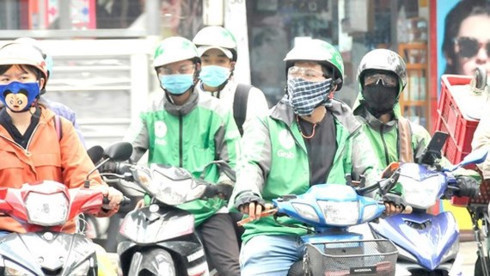 One month later, Go-Viet announced the appointment of Facebook Vietnam's former CEO Le Diep Kieu Trang to the post of CEO of Go-Viet. Trang is a well known businesswomen as she has held important posts in Misfit, Fossil and Facebook Vietnam.

However, Trang also resigned from the post after five months of working as CEO. She is now the co-founder of Alabaster, a venture capital fund.

Four CEOs of ride-hailing firms had to leave in 2019. Go-Viet witnessed the biggest high-ranking personnel changes.
As of August 2019, when Go-Viet had been operating in Vietnam for one year, it had provided 100 million trips.

However, according to ABI Research, Go-Viet only held 10 percent of the ride-hailing market share in the first six months of 2019 with 21 million trips.

Go-Viet has not revealed the date when it would provide the car transportation service though it has the nod from the HCM City Transport Department.

It also has not launched the e-payment service Go-Pay, though it began seeking a legal director and business development director in July 2018.

Unlike its rival, Go-Viet now only accepts one payment method – in cash.

Just a short time after Duc left Go-Viet, the founder and CEO of AhaMove Nguyen Xuan Truong also left his post after 3.5 years of operating the on-demand delivery startup.

Pham Huu Truong, who was then CTO, was appointed to the post.

Sources said while CEO and deputy CEO of Go-Viet left the company because of a disagreement with Go-Jek (the holding company) on the legal status of Go-Viet, the members of AhaMove's leadership disagreed on business strategy.

Later, Truong also left AhaMove to take the post of P2P director for MoMo, an e-wallet.

Under Pham Huu Ngon, the new CEO, Ahamove's business has gained considerable improvement. In mid-September 2019, Ngon said AhaMove implemented 60,000 orders a day.

'be' is the youngest player in the market as it made its debut in December 2018. At that moment, Tran Thanh Hai, CEO of beGroup, stated the firm strived to have 6.6 million downloads and 105 million trips after one year of operation.

To date, 'be' is known in nine cities/provinces. The app has been downloaded to 5.5 million mobile devices and attracted 60,000 shippers. About 350,000 orders are made every day.

However, 'be' unexpectedly announced the resignation of Hai from the post of CEO in mid-December.
Linh Ha 

Such trend would help better meet transportation needs at more affordable prices, ensuring convenience, safety and improving service quality of both taxis and electronic-contract based vehicles, stated Prime Minister Nguyen Xuan Phuc.

Tran Thanh Hai, CEO of the ride-hailing service Be, has stepped down after two years at the head of the service, which he joined in the beginning days.